Jared Bolton
TimeThursday, July 6, 2017 | 7:35 PM
AMSOIL is proud to present the new AMSOIL Garage for the 2018 GNCC Racing season. Located in the Finish Line Village apart of the KR4 Arrive-N-Ride team pit area, the AMSOIL Garage will be the one-stop-shop for all of your oil needs, as well as advice and assistance on minor repairs or installation. Staffed by professional mechanics and an AMSOIL dealer, stop by and visit the AMSOIL Garage at each of the 13 rounds of the GNCC season. 
Welcome to Quick Fill.
It's hard to believe that the summer break is just around the corner, but there's still one event standing in the way before that time comes, and that's this weekend's John Penton GNCC. While there's been rain on and off throughout this week leading up to the event, the weekend is looking pretty great and we're fully prepared to go racing this weekend.
As usual, I'll have the low-down on the course coming up a little later in this week's edition of Quick Fill. However, before that time comes I do want to put a little food for thought in everyone's heads coming into this weekend. We talk about this each year leading up to the event, but I think a good refresher is always great!
The John Penton GNCC is the oldest event on the GNCC schedule having originally joined the series in 1990 as the Burr Oaks GNCC. The event was renamed in 2002 to pay tribute to the legendary John Penton, who is responsible for many, many advancements in the world of off-road racing. For starters, after seeing a need for lightweight, off-road specific motorcycles, John would partner with an Austrian bicycle manufacturer to begin producing his own Penton branded motorcycles. Eventually this brand would evolve into KTM as we know it today.
In addition, he was also responsible for creating Hi-Point Boots, which were produced by a ski boot manufacturer called Alpinestars, and would later begin creating riding boots of their own. These are just a few of the things that John is responsible for. In many ways, credit is due to him in helping turn the world of off-road racing into what it is today. When you see him at the track this weekend, say hi and say thanks because he's an excellent guy who definitely deserves it!
That's it for the intro this week. Good luck this weekend!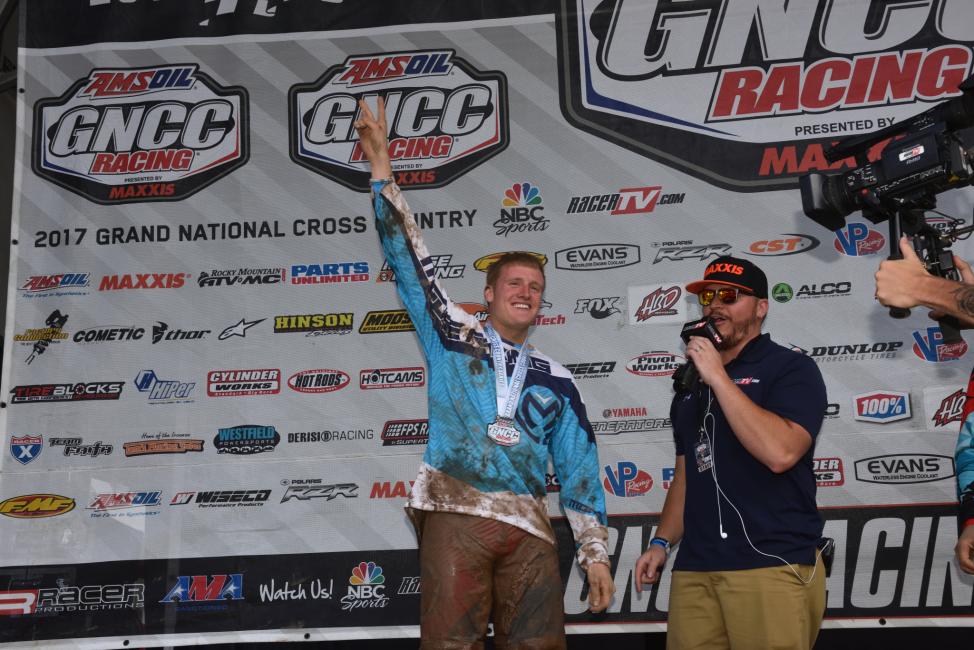 Weekly Updates (Chelsea Taylor)
What an epic weekend we had at Snowshoe! To be honest, it's weird to remember that we aren't quite on summer break yet, but on the bright side you won't have to go as long without GNCC Racing as you expected over summer! Hopefully you enjoyed your July 4th holiday weekend. I was able to head to the RedBud Pro Motocross event, Cedar Point and enjoy some time on the lake with a few of my coworkers. Before we move onto The John Penton GNCC, I'd like to take a few minutes to wrap-up Snowshoe.
Of course, Snowshoe is always unpredictable and we always see new names emerge coming out of this race. One name that normally sticks out to me at Snowshoe is Loic Leonard from Canada. Loic is a full-time college student so he doesn't get to race the full series, but he normally makes the trip to West Virginia and does well in the amateur overall standings, but he wasn't listed as racing this weekend. I know the last race he mentioned that after he graduated he wanted to race the full GNCC series, so hopefully we will see him back soon.
Thank you to all the racers and parents who were so patient with us as we were waiting for the results for the ATV youth race on Saturday. I know Bryce Husband, who took his first-ever overall GNCC win, was eager to get on the podium but we really appreciate everyone's cooperation during that time! It continues to amaze me the sportsmanship that the youth racers have for each other. I think Layne McCormick was more excited for Bryce than he would have been if he won! Congrats Bryce, we'll see you back on the podium soon!
During the 10 a.m. ATV race Kevin Trantham took his first 4x4 Pro win of the season along with helping us in the announcer booth during the 1 p.m. Pro race. Not only did Kevin dominate his race, but he also did an awesome job announcing! It was nice to have a racer's perspective during the show and we hope to continue bringing this insight to you as the season goes on.
Kevin's teammate, Graham Widdicombe, also took his first GNCC win in the 4x4 Senior class. I haven't spoke to Graham personally, but Kevin said that he ended up crashing and wanted to quit, but his pit crew encouraged him to keep going and finish the race. Not only did he win, but he also finished an impressive 18th overall.
Then Kevin Yoho landed his first overall podium of the season in the afternoon race. We haven't seen Kevin as much as we used to, due to his full-time job, but to get your first podium finish at Snowshoe must feel great!
Continuing with the list of "firsts" from two weekends ago, was Peyton Whipkey who claimed the bike youth overall win. Peyton has been so close the whole season, and finally put it all together at Snowshoe to top the podium. Of course, the weekend ended with Ricky Russell racing his way to the middle of the box for the first time in his career. His teammate, Josh Toth, also finished on the overall podium in second.
Finally, congratulations is due to Kenny Hawkins. Kenny raced the Super Senior 45+ class on Saturday and finished third in class. Then he turned around and got second in the Super Senior A 45+ division on Sunday and placed third overall in the 10 a.m. race.
Hopefully you got the chance to speak with Hiroshi Yamamoto – our guest racer from Japan. He is now safely back in Japan and had an excellent trip! We'd like to say a big thank you to Randy Hawkins and Yamaha for helping make Hiroshi's race possible.
Congratulations to Donnie Emler Sr. and Eddie Lojak Sr. for being the two newest AMA Hall of Fame Members. They will be inducted at the American International Motorcycle Expo on September 22 in Columbus, Ohio. To read the full release from the AMA, click HERE.
DJ Judd will be onsite this weekend at The John Penton GNCC and we will also have the slip-in-slide on Saturday night. Make sure to pack a swimsuit and we'll see you in Ohio!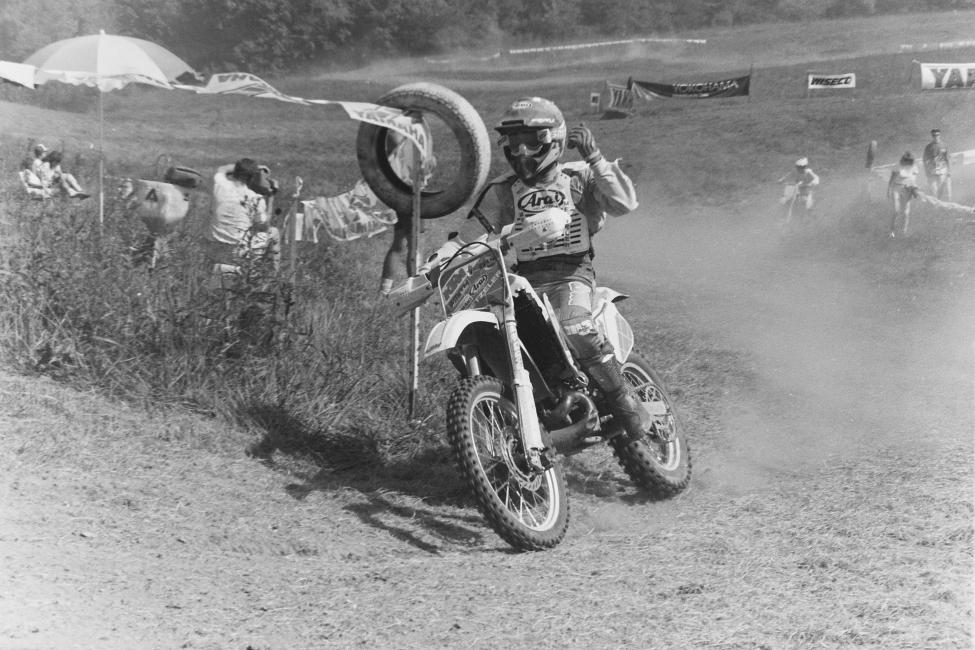 A Historical Event (Rodney Tomblin)
The 28th running of the Wiseco John Penton GNCC is nearly here and will mark the final round before the now shortened summer break. Under normal circumstances we would be relaxing this weekend, or vacationing, or racing somewhere else but due to the rescheduling of the event, here we are. It is one of the most prestigious events on the tour by name and by its age. We speak of the stories that come from the Penton GNCC and sometimes it just doesn't register how much significance this event holds.
Being that it is the longest standing race on the schedule, I felt it only fitting to give you just a few historical highlights of what this event has produced. It may hold more history than what you even realize and it is also likely to create even more. So I scanned through some records and came up with a few notes that most may find interesting.
The John Penton GNCC, then known as the Burr Oaks, was where Barry Hawk captured his first ever overall win. It happened on September 16, 1991 and was the first of 68 overall wins that Barry would achieve throughout his amazing career. The last time Barry captured the checkers there on a quad was in 1997 and was still called Burr Oaks at that time. The first ever Burr Oaks ATV race was ran in 1990 and won by Chuck DeLullo, who went on to win the championship that year.
The 2005 John Penton GNCC was also the site of Adam McGill's first podium. He was still in High School, running in the Pro Am class and literally left the podium celebrations to go to his prom. Adam shared the spotlight that day with 9-Time GNCC champ Bill Balance, who took the win and William Yokely who finished third. Another interesting note from that day would be that Chad DuVall (Thad's Dad) took fifth place and was also in contention for a podium spot.
Even though Chris Borich has not won a race since 2014, he has posted six total wins at this location. He shares that honor with Bill Balance, who also has six wins at this location over it's long history. Chris Borch's six wins make up half the amount of the 12 times a winner from the state of Pennsylvania won an ATV while Bill Ballance's six wins makes up most of the seven wins that came from the state of Kentucky.
As far as state wins go, Pennsylvania leads the record books with 12 as mentioned. Then second on that list would the state of Kentucky with seven followed by West Virginia and Ohio with two wins from those states riders and one winner from Tennessee. As mentioned, only two riders came from the state of Ohio that has won the John Penton and they are Kim Kuhnle and Walker Fowler.
As far as the two-wheel side of history at John Penton goes there is a lot of history here as well. Duane Conner (Scott Plessinger's Brother in law) won the inaugural Burr Oaks race in 1990 and it served as the season finale its first run. The event took on a life of its own after that as has produced some historic moments in our sport.
As far as multiple winners of the John Penton GNCC is concerned, there are a few. Riders like Scott Summers, Scott Plessinger and Fred Andrews have won the event three times each. Paul Whibley has actually won here four times and is a part of five different international riders to win this event.
An Ohio born rider has won the John Penton bike race a total of 15 times and Kailub Russell has the most of those with now four total wins. Russell has also finished on the podium here for the past six seasons. Kailub Rnow has a four win race streak at this venue and is hoping the magic here at his family farm returns to put him back to his winning ways.
As mentioned riders from Ohio have won here 15 times in the history of the event with other states weighing in like Kentucky with three (all from Scott Summers), Pennsylvania with two (Duane Conner and Barry Hawk), Washington (Jason Raines) and California (Rodney Smith) have both seen one winner. Former GNCC Champ Paul Whibley (New Zealand) also won here four times during his career in the US.
In the beginning the Burr Oaks seemed like another event on a growing schedule. No one knew or expected that it would not only stand the test of time but would host some the most memorable events in our history. Everything from the worst dust you may have ever seen, to the muddiest and stickiest conditions you may ever face in your life. The John Penton GNCC holds a lot of memories and helps make a big part of its history. The fact that this weekend could see another historic moment is almost inevitable. The championship is tighter now than it has been in some time at this point in the season and will offer some great racing. What will come from this weekend is unknown but I feel that this time next week we will all be scratching our heads in amazement of what has taken place. Hold on and enjoy the ride is all I can say. If you cannot attend make sure you catch us live on RacerTV.com at 1:00pm Saturday and Sunday to make sure you don't miss a moment of this history-making weekend.
That's it for me for now. Till next time, God Bless Your Heart and All Your Vital Organs.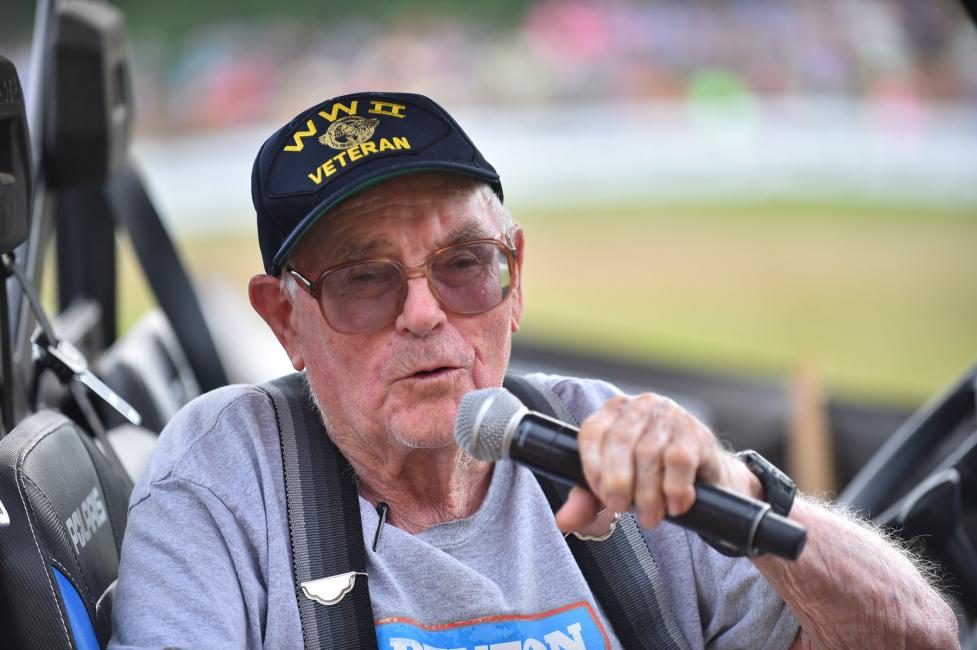 John Penton Preview! (Jared Bolton)
This year's John Penton course is much of the same and much different at the same time. I realize that may not make perfect sense, but when you think about it, it really does! For starters, there's many sections of trail that has been used in the past but there's also a few of those sections that are hooked together a little different than what we're used to. It's always good to see something a little different but it's also really unique when you think you may know where you're going, but you suddenly end up getting there a totally different way than what you expected!
From the start, you'll cross over the road and work your way straight up the hill and pass the four-mile mark. You'll work your way through a mix of some tighter, twisty trails and a couple of short field sections before jumping into a long section of woods that will take you out the five-mile mark. There's a cool little hill climb in there and some slower, twisty trail that will lead you over to the six, where you'll jump out into another short field section before dropping into the woods again.
That leads you to another twisty trail that will open up before going downhill to a small creek crossing. It's hard bottom and will be easy to get through so that will help make the short hill on the other side nice and easy. That will take you to a section of trail that is a little tight and is a mix of old trail plus a couple pieces of new trail over to the seven-mile mark.
Just past the seven, things open up a little bit before you drop down to a big, flat rock crossing and into some technical trail out to the eight-mile mark, then down a creek run that leads you back past that flat rock, and into some open trail all the way to the nine-mile mark. A little field section past the nine will lead you to the hillclimb behind the concession stands and beyond that is a long section of trackside pitting.
That brings you all the way around to the ten-mile mark where you hit a section of open woods before more trackside pitting to the eleven-mile mark. There's another open woods section at the eleven that brings you all the way onto the motocross track. You'll work your way around the motocross track, skipping a few jumps in places, and over to the finish. From there, it's a short section of motocross before running up the big hill by the bike pro pits, and a technical section out to the one-mile mark, then some faster woods back to the bike pro pits and to the two mile mark.
You'll then drop back across to the road to a good grass track section back past the start and work towards some open woods to the three-mile mark and back to the start again. All in all it's going to be around 11.5 miles for the afternoon ATV race! As for you guys in the Afternoon bikes, you'll run the same course but you're also going to have the famous John Penton section. It's a good bit on the technical side this year and it's pretty tight! I spent several hours in there Wednesday working on it and will be putting the final touches on it Friday but I feel like it's a lot of fun… Oh and if you're not a fan of the tight stuff, don't worry; there's some grass track to break it up as well. It's a little over three-miles long, which will make the afternoon bike race nearly 15 miles long to complete one lap!
Good luck to everyone this weekend and we hope you enjoy it!