KR4 on Top at the Tomahawk
TimeTuesday, June 13, 2017 | 4:20 PM
The Rocky Mountain ATV*MC / KR4 Arrive-N-Ride / Husqvarna Team competes at the Tomahawk GNCC RD 7 at Seneca Highlands
The team traveled to Odessa, NY this weekend with beautiful mountain scenery and a lovely breeze that blew all weekend. Although the temperature crept up to almost 90 degrees on Sunday, the low humidity and breeze made for great spectating. Conditions on the track were tough. The uphills were slick from plenty of rain early in the week and the heat was an opponent as well. The ground was soft and muddy in the low-lying areas.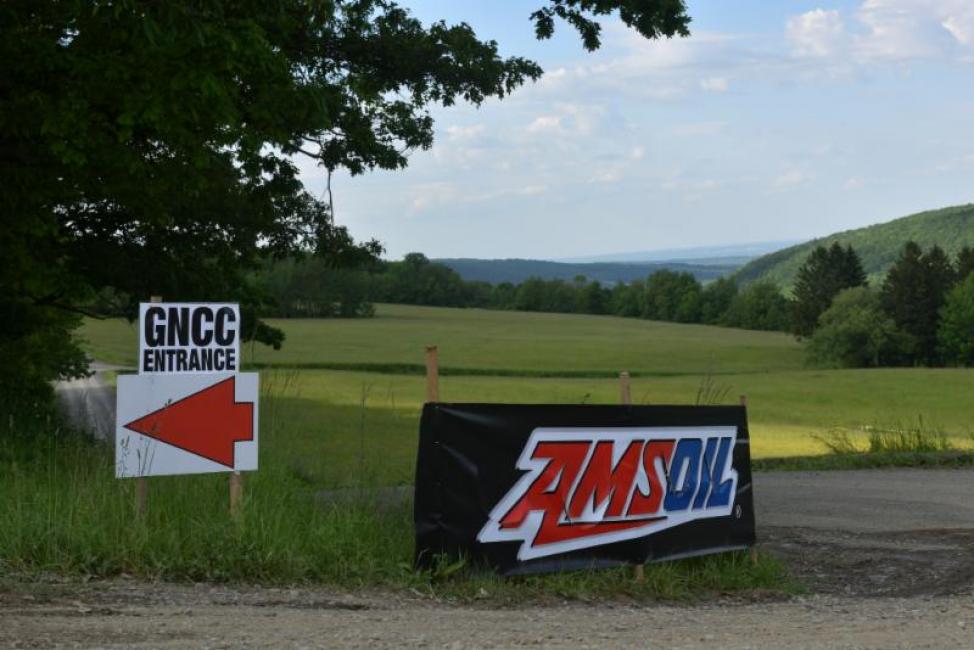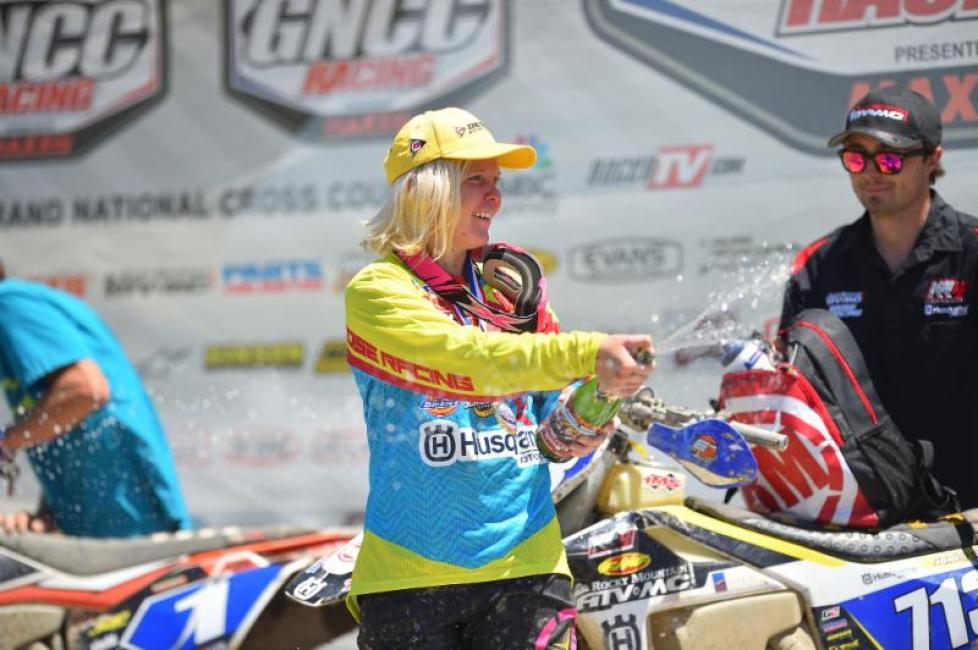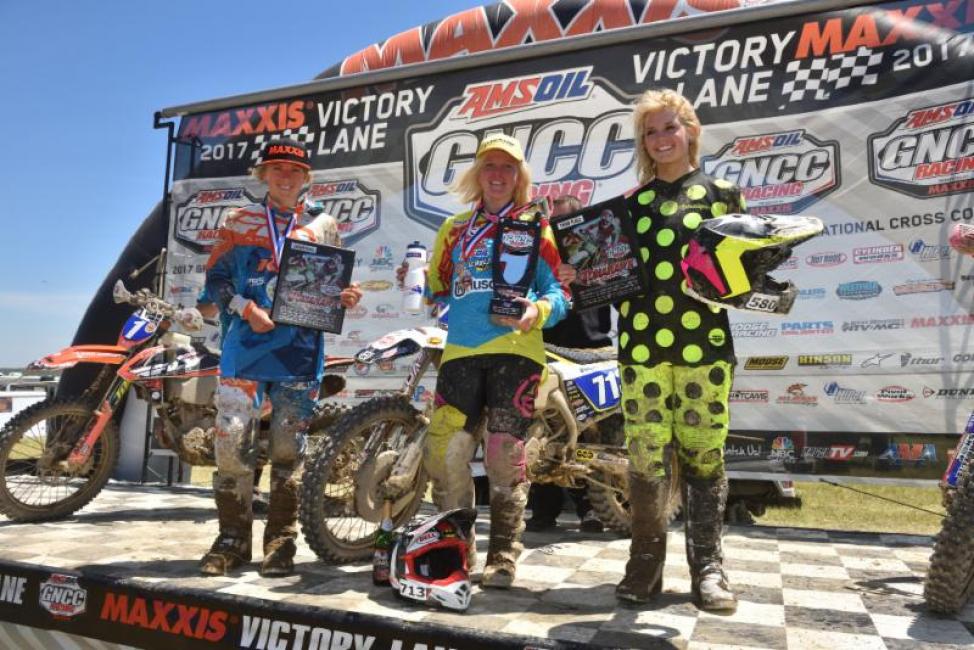 "The race this weekend was pretty tough. I had a couple of big crashes on the first lap which put me back a fair bit. I knew the track was going to be slick and I was just pushing too hard so once I calmed down and found a flow I started to move up and by the end of the second lap the top 3 were in a bunch battling it out. I just rode my own pace and once I got in the lead I stayed focused and minimized mistakes to take the win. All in all, even with the crashes, I had a good weekend and am glad to be back in the middle of the box after sitting out the last round." -- Tayla Jones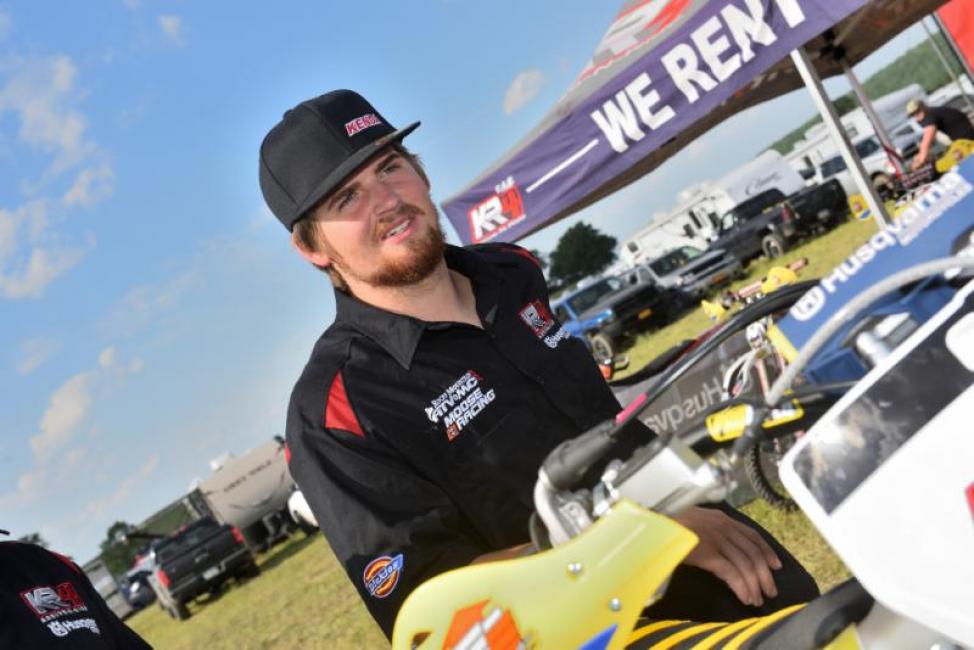 Grant Baylor had his best XC1 finish of the season, working his way from 10th to 6th place.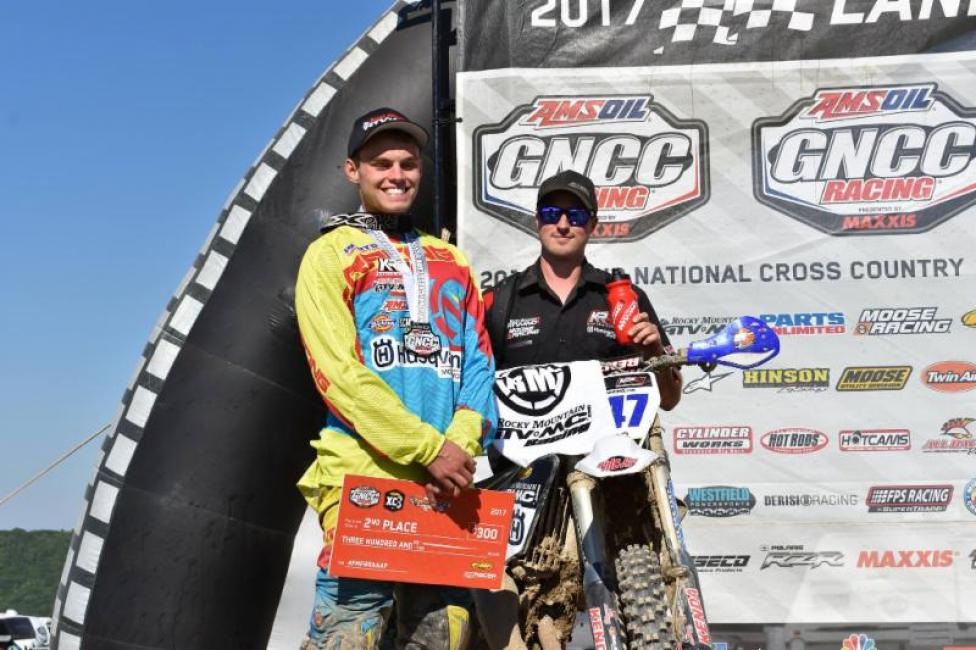 In XC3 action, Hunter Neuwirth battled and got second in the class. "I really just focused on racing the track and not the other riders. With the set backs I had heading into this race I knew I just had to make the best of it. And most importantly I had fun; that's what it's about!" -- Hunter Neuwirth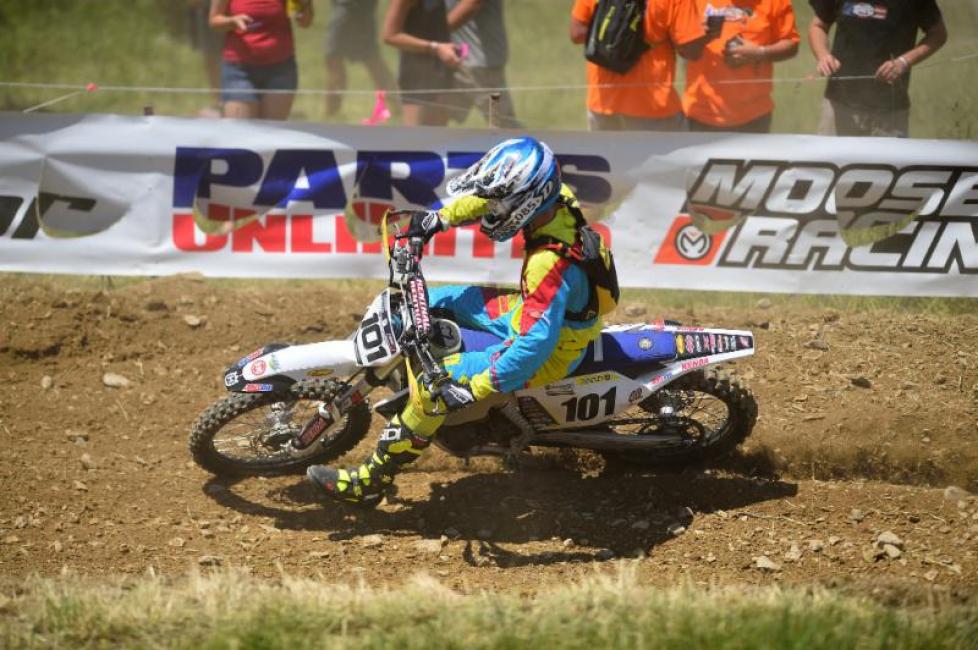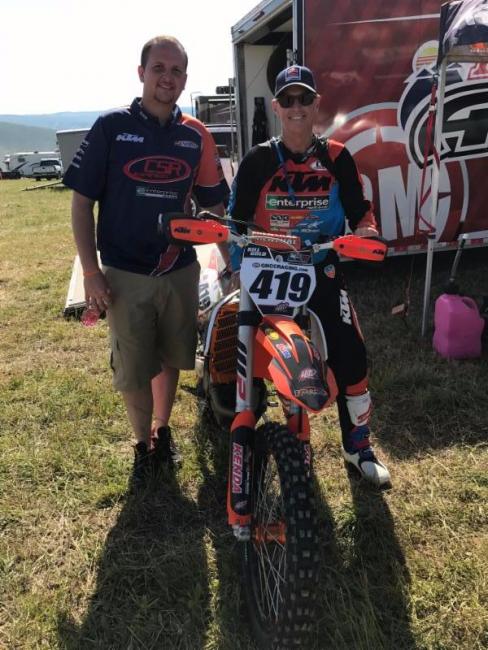 Bill Gold had his best finish ever at the GNCC this weekend. He took first in his Silver Masters A 55+ class and an impressive 13th overall out of over 400 bikes! Bill uses our transportation and prep services for his bike throughout the 2017 race season.
This weekend the team was pleased to host 3 riders for their first Arrive-N-Ride experiences. We welcomed Viktor Ahlquist from Sweden, who raced the 200C Schoolboy Class finishing 4th and 38th overall. Also from Sweden, is Tony Landh, who raced the Silver Masters B 55+ class and finished 9th. Dan Heim from Portland, Oregon checked an item off his bucket list by racing a GNCC event. He raced in the Golden Masters 60+ class, finishing 8th. A great time was had by all the riders.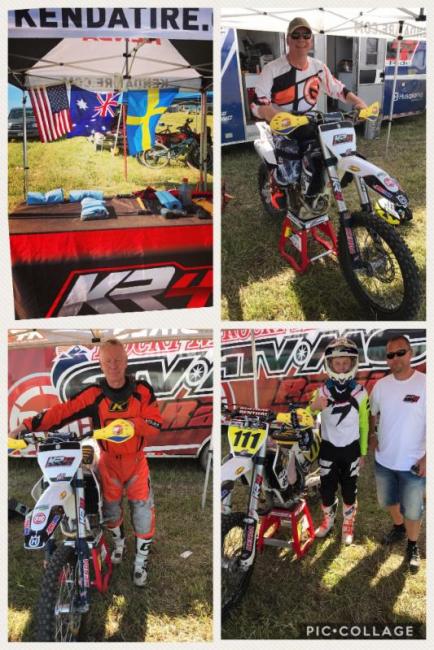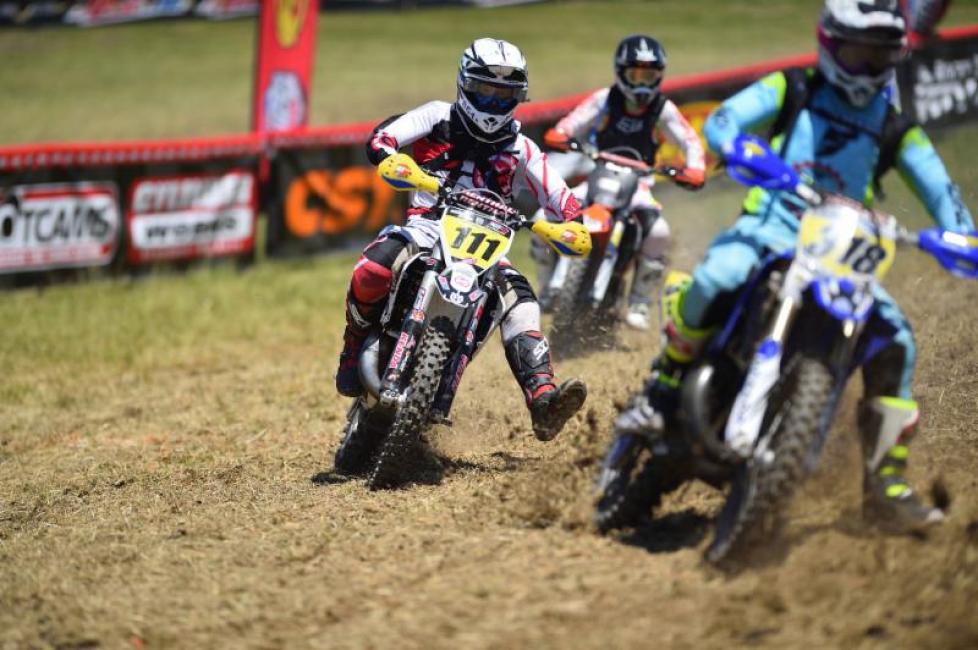 Other KR4 Team Results
Arrive-N-Ride:
Troy Horbaty DNF
Conner Keegan 5th 4-Stroke A Lites
Colin Keegan 12th 4-Stroke A Lites
Chase Sweda 6th 250B
Brandon Keegan 3rd 200B
Scott Grills 13th XC1
Grass Roots Riders:
Will Bryan 9th Vet B 30+ c
Michael McLean 12th Open B
About GNCC Racing
The AMSOIL Grand National Cross Country Series presented by Maxxis is America's premier off-road racing series. Founded in 1975, the 13-round championship is produced exclusively by Racer Productions. Cross-country racing is one of the most physically demanding sports in the world. The grueling three-hour GNCC races lead as many as 2,400 riders through tracks ranging in length from 8 to 12 miles. With varied terrain, including hills, woods, mud, dirt, rocks and motocross sections, GNCC events are tests of both survival and speed. The series draws talent from all over the U.S., Central America, South America, Europe, Japan, Australia and New Zealand. GNCC Racing is televised weekly on NBC Sports and RacerTV.com. For more information, please visit www.gnccracing.com
About KR4 Performance
KR4 Performance is a leading professional and amateur race team that participates in the Grand National Cross Country Championships (GNCC), the Full Gas Sprint Enduro Series (FGSE), and the National Enduro Promotions Group (NEPG) Series. KR4's team won the 2016 Kenda Full Gas Sprint Enduro Championship. KR4 Pro, Grant Baylor, was a member of the 2016 Junior American ISDE team, which placed 2nd in the 2016 International Six Day Enduro. KR4's solid team structure is made up of former GNCC pros, expert motorcycle mechanics, and industry enthusiasts that are 100% dedicated to helping clients achieve their racing goals. Visit www.kr4performance.com for more information.
About the KR4 Arrive-N-Ride Program
KR4 is paving the way for the future of off-road racing with its unparalleled Arrive-n-Ride Program, saving riders time, money, and hassle. For an affordable fee, KR4 can offset the cost of racing and have everything ready for riders on race day. With the KR4 Arrive-N-Ride program, bikes are prepped by the KR4 team before a race and delivered with gear to riders on race day to the location of their choosing. To learn more or sign up for the Arrive-n-Ride Experience, please contact [email protected]om or visit www.kr4performance.com. For additional information, follow the team on Facebook, Twitter, Instagram. For the team's photo gallery, visit their Flickr page.