FMF/RPM/KTM Race Report: Steele Creek GNCC
TimeFriday, April 14, 2017 | 3:35 PM
This weekend was a bit of a mixed bag for the FMF/RPM/KTM race team, with finishes near the top and the bottom. Starting off, the team entered the weekend a rider down. After his second bad concussion of the season at the Cannonball GNCC last round, Jesse Ansley has made the wise decision to sit out the next few rounds to recover. Concussions, especially successive ones, can cause serious problems that will affect a rider long after their career is over, so the team is completely on board with Jesse's decision. Since the 250 A class only counts nine of thirteen total rounds over the course of the season, this is a setback for Jesse but not necessarily a season-ender. His plans for moving forward are to "just to heal up as fast as I can. Even though it's a brain injury and you can't really rush it … It's tough to say when I'll be back. I'm going to get another MRI and have another doctor's appointment so we'll see where it goes from there. I'm still able to work out at about 80%, so at least I'm able to stay in shape for when I can get back on the bike. I mean it sucks now but it's fueling the fire to get back out there and do well."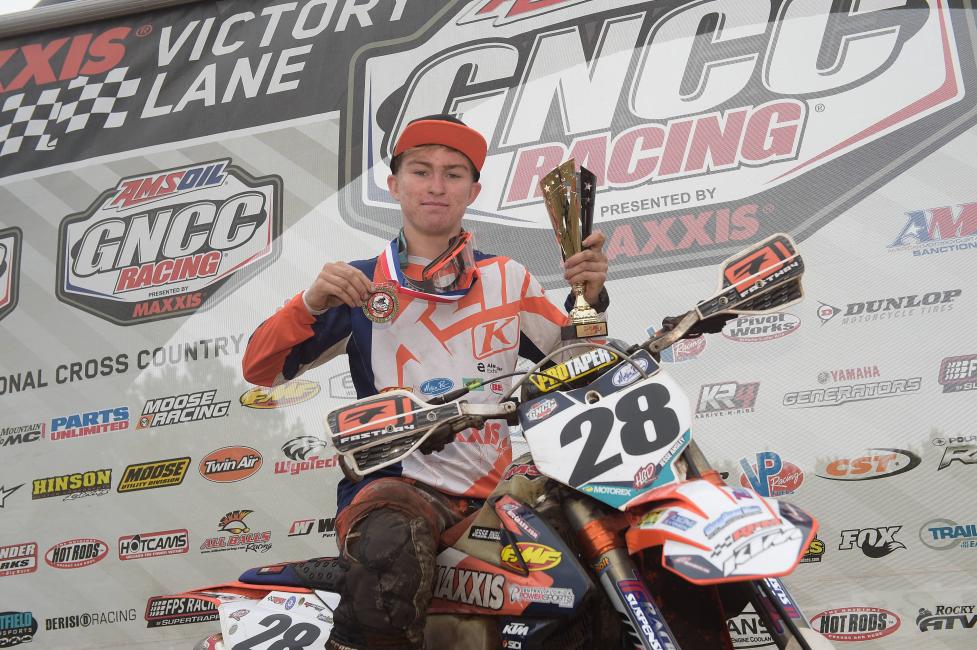 Our WXC (Women's Pro) rider Rachel Gutish turned in her first podium finish of the season and a second overall (out of 600+ bikes) in the morning race to boot. She came in a couple minutes behind Tayla Jones, and just seconds ahead of Becca Sheets and Mackenzie Tricker, who were third and fourth respectively. Rachel's podium moves her up to fourth place in the points standings, just six down from Tricker. While the track was not super tough or challenging, Rachel definitely put her technical riding skills and quick thinking to use. "The congestion here was about the worst I've seen anywhere. There was this one nasty bottleneck at a hill with traffic backed up nearly a quarter mile down the trail. I refused to just sit there and wait, so I blazed a trail up a steep embankment covered in slick leaves and logs. It was challenging, but eventually I was able to make it to the front of the line. That's really where I made up some good time today. We've really been focusing on bike setup the past couple weeks, and I think it's finally dialed. I expect to be making many more trips to the podium this season." Rachel would like to thank her personal sponsors: Spyke's KTM of Layfayette, Indiana, TF Suspension and Carbsport.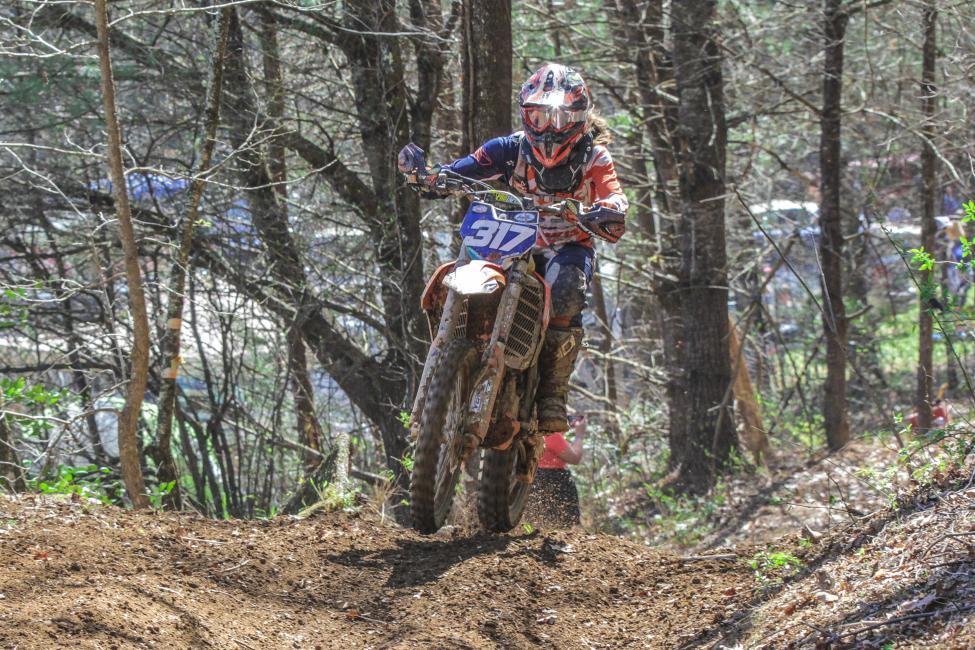 RPM's premier XC1 rider Chris Bach, on the other hand, struggled with bike setup throughout the day. After a "decent" start and he said that he felt comfortable with his bike at the pace the pack was running – at least at first. He indicated that as the pace increased over the next lap, Chris started to notice more and more issues. The primary problem, according to his mechanic, was front end stability, cornering and bite. As he dropped back further and further in standings, he decided to take a different approach. Realizing that there was no way to salvage a reasonable finish, he decided to use the rest of the race as a "testing day" to try and iron out the bike issues that have dogged him the last two races. His mechanic put on three different sets of suspension and made numerous other adjustments as well. When asked if they had at least made some progress, Chris said "We don't really know what's causing the problems - I wish I had some answers. It feels like we're chasing a ghost with the setup. This sucks for sure, but we're gonna keep plugging away and get it figured out. Things can only get better from here." Chris would like to thank his personal sponsors: Central Florida PowerSports of Kissimmee, Florida, and TF Suspension.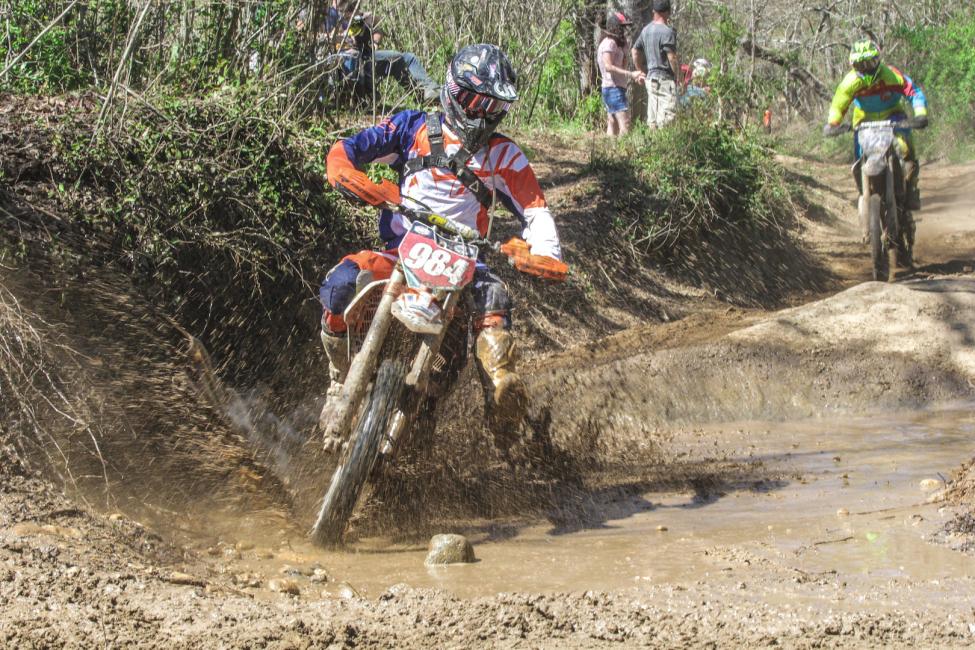 Despite a rough start, XC2 rider Mike Witkowski had a sweet 3rd place finish. Off the start, Mike was unable to get his bike started and was last into the first corner. However, there was a large pileup which he was able to sneak around through the inside. He made a few more passes and was all the way back up to 5th going into the woods. He spent a lap or two battling with Austin Lee for 3rd place, but Mike was able to pull away as the race wore on, and by the end was hunting down Craig DeLong (2nd place), who finished only eighteen seconds ahead of Mike. "The (PM) bike-only single-track got really rough. It was sandy and one-lined with some rocks getting exposed. I got hung up once, but otherwise I rode a pretty smooth race. I'm definitely confident going into the next round: two podiums in a row [second last round] feels pretty good – hopefully it'll be a number one next time!" Mike would like to thank his personal sponsors: Spyke's KTM of Layfayette, Indiana and V3 Offroad.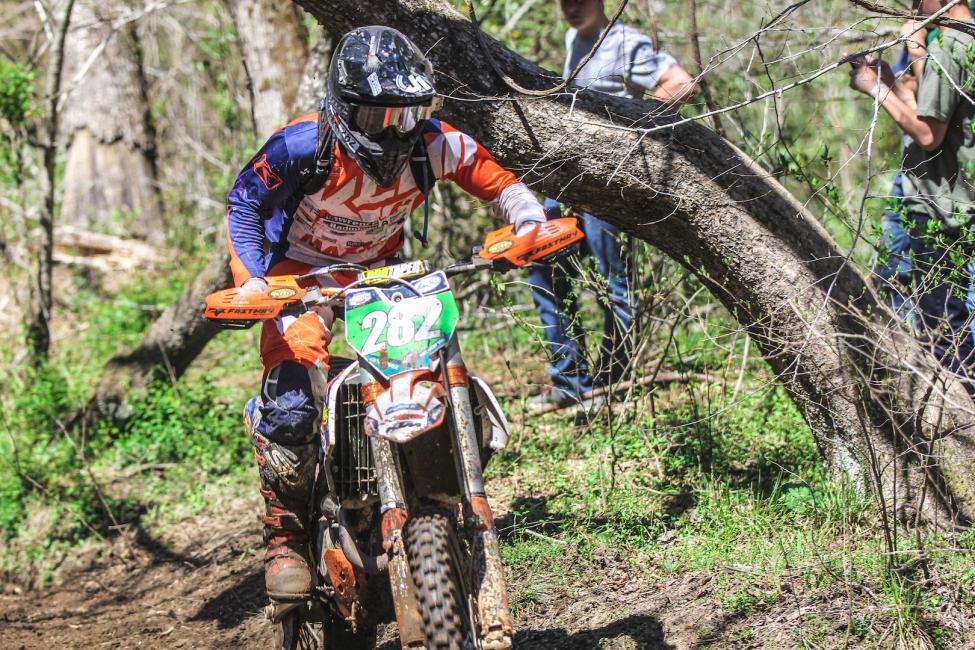 RPM would like to thank all of our team sponsors: KTM Factory Racing, Just1helmets, Maxxis Tires, KLiM, ProTaper, Motorex, Motion Pro, Sidi Moto USA, TM Designworks, Engine Coolant, Pro Moto Billet, Arc Levers, DID, DP Brakes, DT-1 Filters, Danco Performance, FPS Radiators, GPR Stabilizer, HBD MotoGrafx, Hot Cams, IMS Products, Leatt Protectives, Mass Brothers, Matrix Concepts, Nihilo Concepts, Pivot Works, Seat Concepts, Rekluse Motor Sports, Shorai, Acerbis, Vertex Pistons, Hammer Head Designs, BulletProof Designs, Inntech USA, Specbolt Fasteners, Hot Rods, Alexander Exhibit.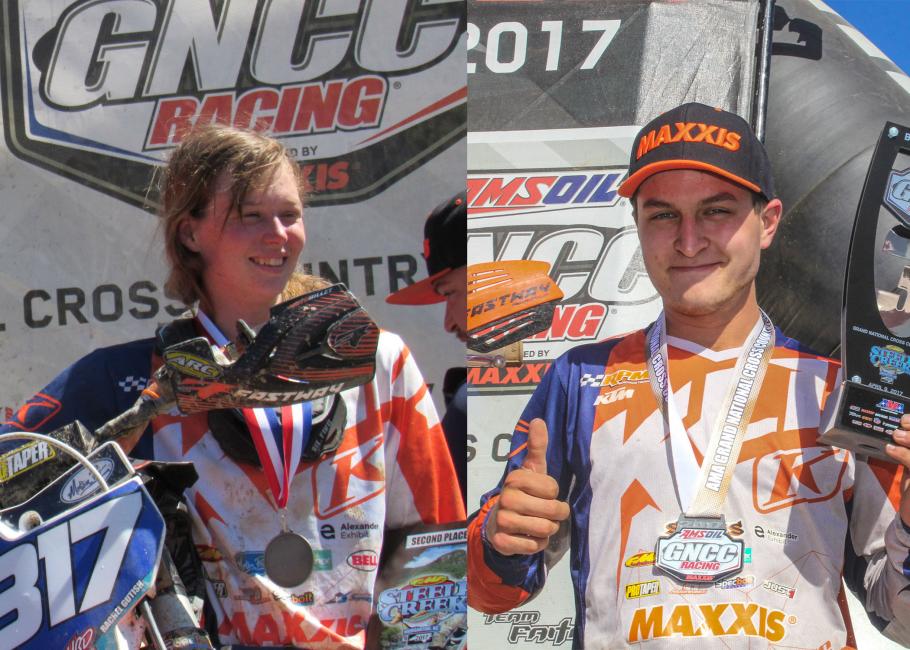 Steele Creek Results:
WXC
1st – Tayla Jones
2nd – Rachel Gutish
3rd – Becca Sheets
4th – Mackenzie Tricker
5th – Brooke Cosner
XC2
1st Josh Toth
2nd Craig DeLong
3rd Mike Witkowski
4th Austin Lee
5th Layne Michael
XC1
1st Kailub Russell
2nd Thad Duvall
3rd Stu Baylor
4th Trevor Bolliger
5th Josh Strang
………………
17th Chris Bach
Story by: Rachel Gutish
Photos by: Beth Latham