Jared Bolton
TimeThursday, April 13, 2017 | 3:45 PM
AMSOIL is proud to present the new AMSOIL Garage for the 2018 GNCC Racing season. Located in the Finish Line Village apart of the KR4 Arrive-N-Ride team pit area, the AMSOIL Garage will be the one-stop-shop for all of your oil needs, as well as advice and assistance on minor repairs or installation. Staffed by professional mechanics and an AMSOIL dealer, stop by and visit the AMSOIL Garage at each of the 13 rounds of the GNCC season. 
Welcome to Quick Fill.
Another week has passed, and another round of GNCC Racing is in the books. Steele Creek has become one of the larger events of the GNCC season and while parking, getting in and out of the facility, and just generally navigating the parking area can be almost as challenging as the race itself, it's like that for a reason. People love Steele Creek and it sounded like a good number of people really enjoyed the racecourse this year as well. I ended up doing final sweep in the 1PM bike race and I have to say, even at the very end of the weekend when the course is as rough as it's going to get, that was still a really fun sweep lap!
We now turn our attention to round five with the CST Camp Coker Bullet GNCC in Society Hill, South Carolina. This was a new addition last year and while the crowd was a little down, it sounds like the buzz from those who made the trip has a lot of people looking forward to this year. The whole facility is an amazing piece of property and the track is an absolute blast.
Last year's addition of Camp Coker led many to believe that it would be a second "sand race" but that's not exactly the case. While the area is definitely a sandy type soil, it's nowhere even close to the type of sand we're used to down in Florida. This sand has more of a mix with loamy black dirt and tends to stay a little harder packed than the sugary sand in Florida. It's actually a lot of fun to ride in as you can really throw your machine into the corners and it doesn't really get quite as rough as you would think.
This will also be a little bit tighter course than what we're used to. The master plan is to also find some cool bike-only sections for Sunday to keep things fresh for the bikes as well. Overall, you've got over a week to plan for Camp Coker, so don't miss out because this is a great event and if you didn't make it last year, you really don't want to miss out this year!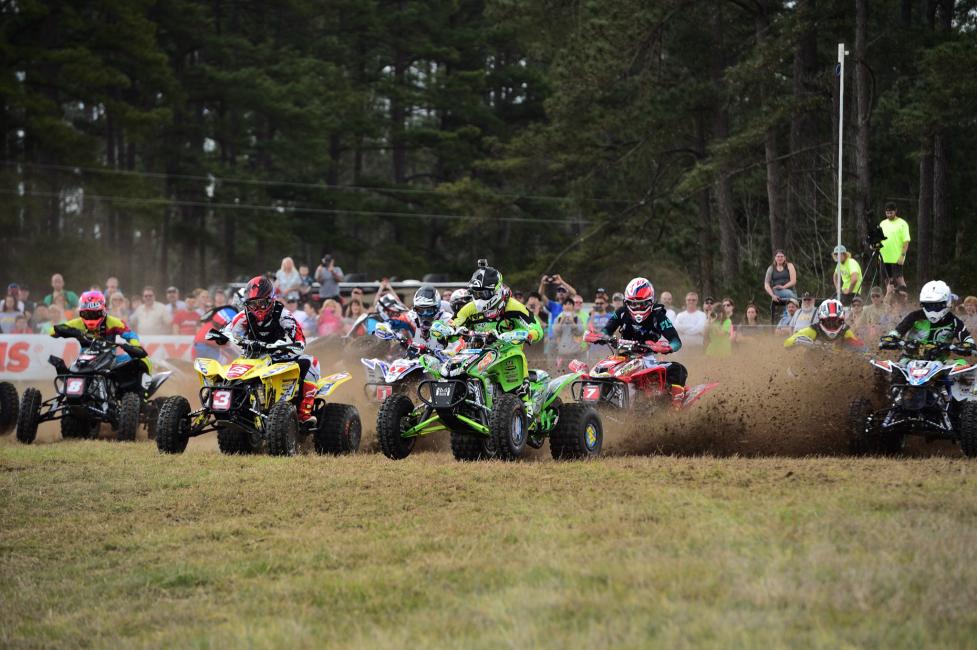 Weekly Updates (Chelsea Taylor)
Another race weekend is now over, and what a weekend it was! Like I said last week, Steele Creek is always one of my favorite races and it definitely didn't disappoint this year. The pro ATV and bike photo galleries are now up and you can watch the archived live shows on RacerTV.com.
Hopefully you all were able to stop by the Racer X booth and pick up a signed Kailub Russell poster along with your subscription. Don't forget that it takes 6-8 weeks until you receive your first magazine in the mail. The June edition just came out and there's an article about the Wild Boar GNCC in addition to some snapshots in the Pit Pass section.
A repeat airing of the Big Buck GNCC cable television show will air next Wednesday at 4:30 p.m. and features the bikes. You can catch ATV action on the Wild Boar GNCC show on April 29 at 5 p.m.!
That's all for the updates this week, make sure to check back next Thursday for info regarding the Camp Coker GNCC!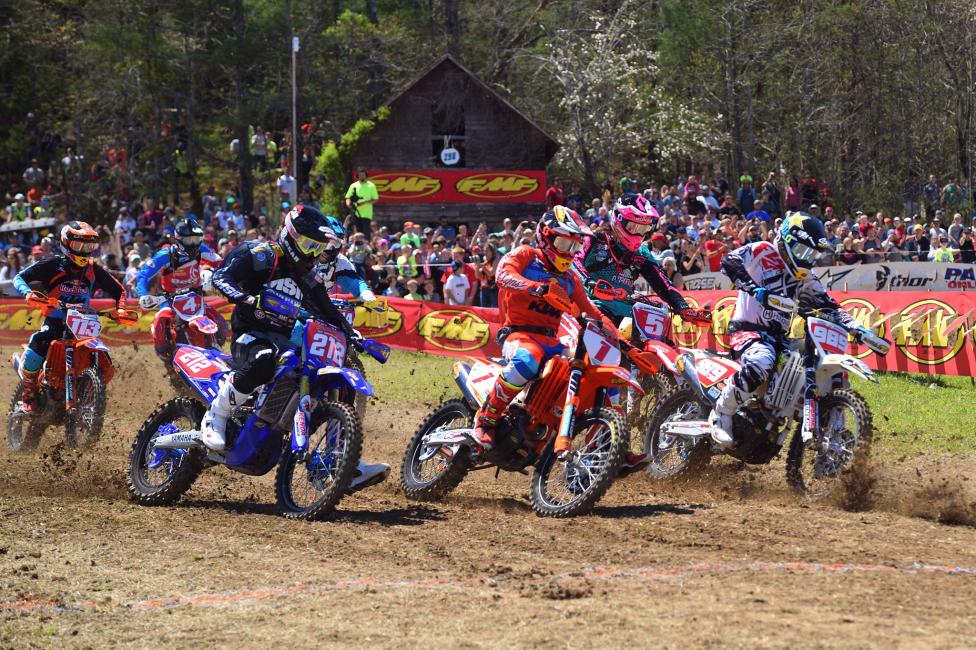 Championship Battles (Jared Bolton)
It's been said that it's really never too early to start talking about battles for championships. While that may be true, I often like to start looking closely about four or five rounds in. By that point, the mood for championships has been set and the battles are really beginning to take shape. As you look through the various bike classes, there are quite a few battles beginning to take shape. We'll start at the forefront of it all with the battle for the GNCC National Championship.
I talked a bit about this a few weeks ago but Steward Baylor came out swinging in round one by taking an impressive win over defending champion, Kailub Russell. However, since then, it's been back to business as usual for Russell as he's claimed the last three overall wins and has worked his way into a 22-point lead. Of course, this hasn't really come easy as both Thad Duvall and Steward Baylor have been putting in solid rides of their own. Duvall had some tough luck in the first round, scoring zero points and making things very difficult for a championship bid. However, he's still hanging tough in third place just 18 points behind Steward Baylor for second place.
Thad has spent the past three rounds chasing Kailub Russell and has been right on his heels for the majority of these races, even taking the lead at times. This has made for some exciting racing but at the same time, Kailub has been able to keep Thad behind him and continue to claim wins. The benefit for Thad is that he's able to learn from his mistakes and see exactly how Kailub goes so darn fast. If Thad can ride mistake-free in one of the upcoming races, we very well may see him in the center of the podium. Of course, you can't count out Stu Baylor either as he's been riding very impressive as well, not having finished off the podium thus far in 2017 and he often does so coming from way behind!
Josh Toth continues his winning ways in the XC2 class as he's now four for four thus far in 2017. He's another rider that can seemingly come from behind to win but it definitely hasn't come with ease. Craig Delong, Layne Michael, Mike Witkowski, Jesse Groemm and others have all been at the front of the XC2 class as well. These guys have all taken turns on the podium but none have been able to topple Toth. At least not yet! Things could get pretty interesting in the XC2 ranks as the season wears on, so be sure to keep an eye on these guys!
The same can be said for the FMF XC3 Pro-Am class. Jack Edmondson is also undefeated thus far in 2017 but Jason Thomas has definitely kept him close! The question is, can Thomas step up and become only the second rider to ever claim an XC3 class win? It's definitely doable and Thomas is likely to do it but these guys have a couple of other challengers who are looking to claim wins as well. Mark Heresco and Hunter Neuwirth have been putting in strong rides in the XC3 class, they just haven't been able to topple Edmondson and Thomas just yet.
With racing this exciting so far, it's going to be pretty interesting to see what happens next. Anything is possible in the world of GNCC Racing and you definitely don't want to miss out!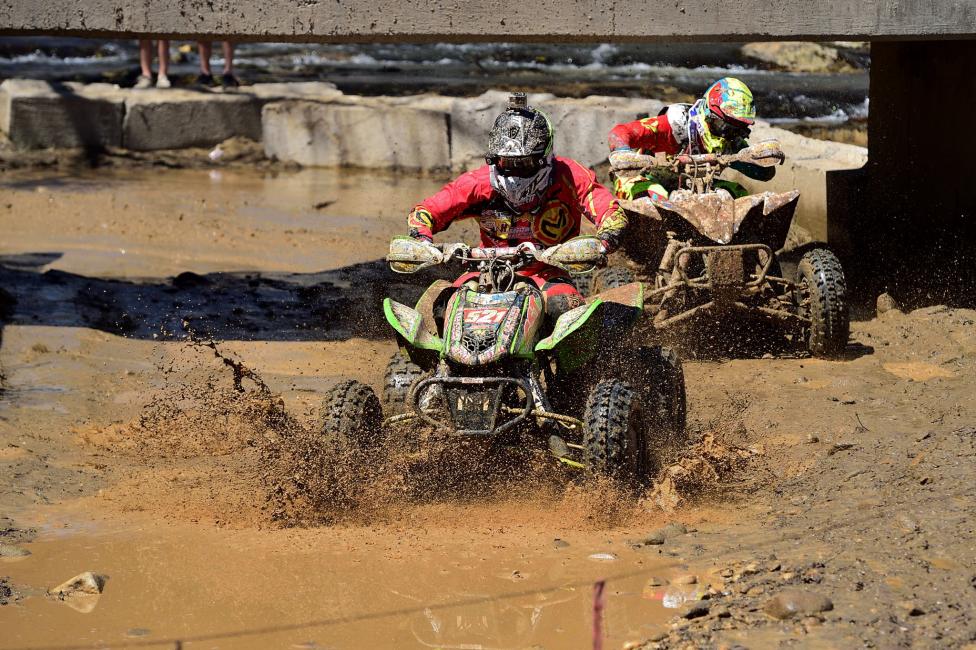 Cloud of Mystery (Rodney Tomblin)
The fact of the matter is that the FMF Steele Creek GNCC has come and gone, and just as expected we left there in a cloud of mystery. Maybe not so much in knowing that Walker Fowler made it four wins in a row to start the season and Kailub Russell won another knock down drag event that kept the fans on their feet. One thing different though is Thad Duvall did not get hauled away, and he even lead the race for about thirty seconds at one point. It may not have been a race win for Thad, but it was a win against the mountains of Steele Creek when you look at the history he has there.
I am honestly at a loss for words after this event as the one thing that kept crossing my mind is that this was only round four of the championship and so much has seemed to happen already. If it feels like this now, what does the rest of 2017 hold? It's a good question and all I can seem to answer with is "a whole lot more!" What is "the more?" That remains to be seen but the feeling I get is that the drama is only beginning to build and once we reach summer break there may be a few more surprises that have popped up.
Can Walker Fowler sweep the entire season and not lose an overall in all thirteen rounds? That is a question that has been asked in recent years of Kailub Russell and a little further back of Chris Borich. The answer is "yes he can," but still will he be able to do it? He is in as good a position as anyone to make it happen. However, the kicker is that no matter how good you are you have to have 13 perfect rounds in GNCC, and that seems a little out of reach. Though the flip side of that is that Walker did it in the Pro-Am class if I remember correctly and honestly looks poised to do it in the XC1 Pro class as well.
This past weekend at Steele Creek proved that it is going to be fierce and very competitive across the board in nearly every class. If you watch the Pro and Pro-Am divisions then you know that each class is building dramatic battles that will translate into the best season of racing in quite possibly the history of our sport.
The attention and focus now moves forward to round 5 at Camp Coker in South Carolina. The questions once again begin to loom and the conversations turn into debates. Who is the fastest or who is the most consistent? Who is tougher and willing to hang it out? They are debatable questions for fans each round.
The great thing about it for fans is that there are so many names to throw in the mix of the things and one key name to remember is Adam McGill. If anyone has the experience at slowing Fowler's progress down, it is McGill. Looking at the points Adam sits way back and may not be a huge threat for the title, but the season is still young and if he can reel off a few wins he could be right where he wants to be. It's been done before and may be about to happen again.
In closing this week I can say that I am glad Steele Creek is over with this year. The mysteries that come from this place are sometimes overwhelming and lessons or even what happened here sometimes takes weeks to realize. When it finally hits you, you will have to smile and say that you were warned. The good news is that we are moving past that and looking for a big race at one of last year's newest stops on the schedule. I can't wait to get back to Society Hill.
That's it for me for now. Till next time, God Bless Your Heart and All Your Vital Organs.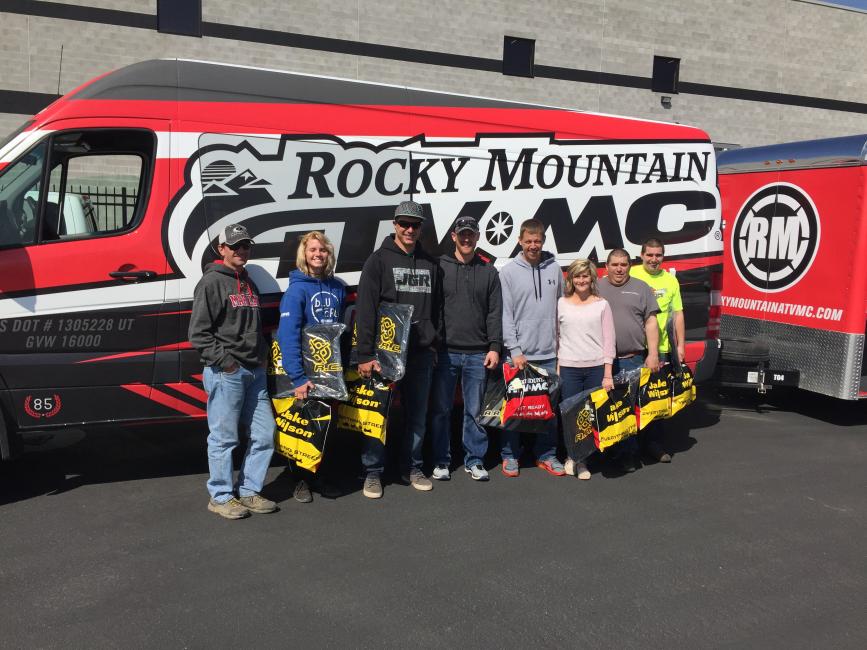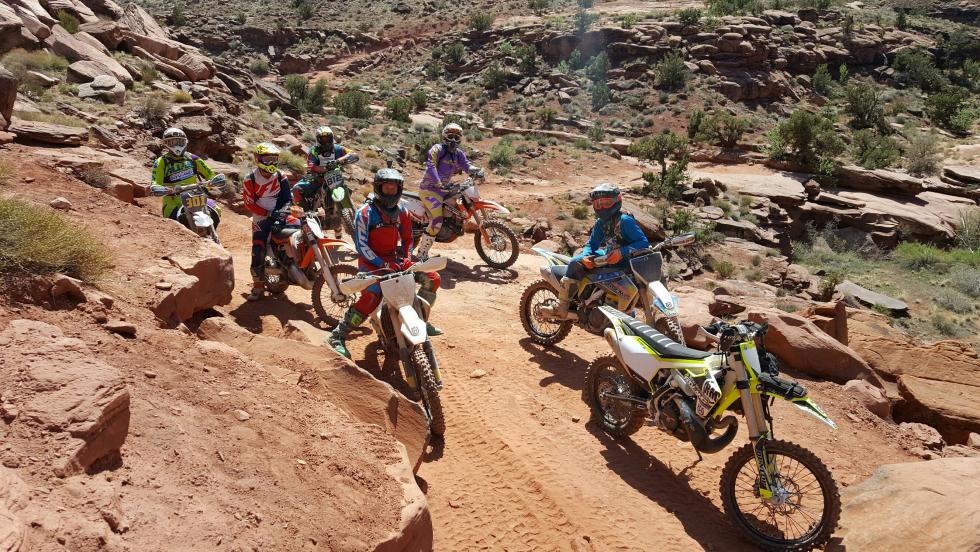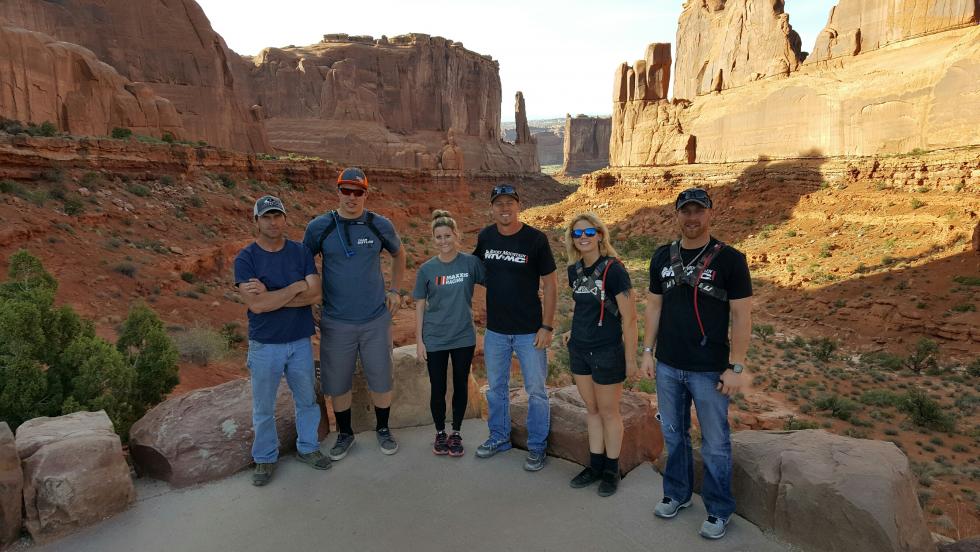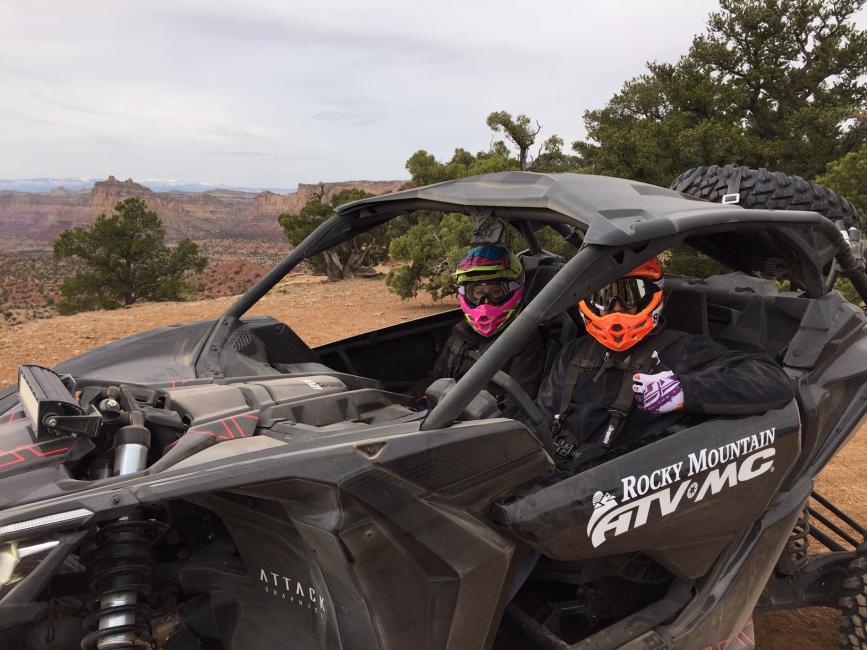 Ticket to Ride (Chelsea Taylor)
At the banquet in November, four lucky recipients were called on stage to receive a trip of a lifetime – the Rocky Mountain ATV/MC Ticket to Ride. The Ticket to Ride Program provides an ultimate riding experience in Moab, Utah where Rocky Mountain is headquartered. Dustin Hendershot and Ryan Beauvais were selected on ATV night, and Brooke Cosner and Andrew Boggs took home the big ticket on bike night.
After racing Steele Creek, everyone packed up and headed home before flying out on Monday morning. After speaking to Dustin he informed me that the race was still on as they ran through the airport in Chicago to barely catch their connection flight to Salt Lake City. Once everyone arrived in SLC on Monday, they headed over to the Rocky Mountain Headquarters and toured the whole building including the retail, shipping, warehouse, and the new manufacturing and research and design areas! Rocky Mountain even gave out some SWAG bags, which I learned that SWAG stands for "stuff we all get" this weekend on the podium courtesy of our announcer, Mikey Waynes!
After the tour was complete, the group headed to Green River and ate where their view overlooked the river. Then Tuesday morning they headed out to the riding area near Goblin Valley State Park. On Monday, the UTVs and Bikes went the separate ways, but both rode around 80 miles. The UTV crew found some canyon sand washes, a herd of wild horses and did some rock crawling. Dustin said the terrain is unlike anything he's ever seen or rode before, and reminds him of a Western movie.
On the other hand, the bike group found some jumps. One of which had about a 100-foot face to a step up. Justin, who works for RM and is one of the leaders for the bike group, let me in on a little secret about the boys… He said they were all wore out after the first day, but Brooke was eager to get back riding on the second day. Just a little bit of girl power if you ask me!
Wednesday they traveled back to Moab to ride on the popular Slick Rock bike trail, and the UTVs focused on rock crawling. There is also a Jeep Safari week going on at the same time, and Dustin said it's fun to be around other trail enthusiasts. After day two riding was done the whole group visited Arches National Park where they got to see "Balanced Rock." Thank you to RM for providing this opportunity for not only members of our racing family, but also for everyone else to be able to able to live through their experience.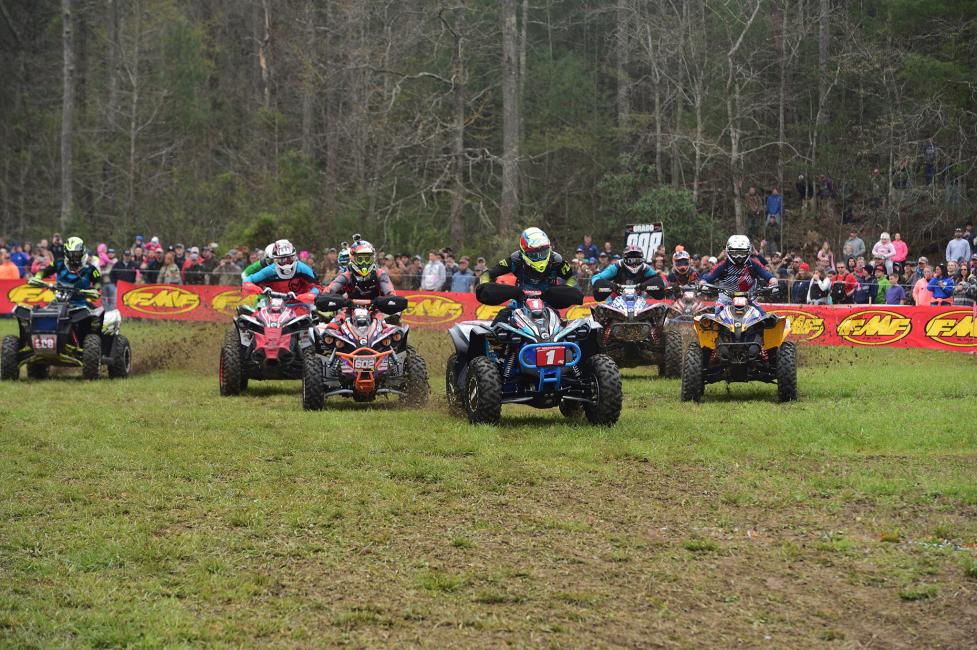 4x4 Action (Jared Bolton)
Since I gave a bit of insight into some two-wheeled racers who have gone four for four thus far, we might as well take a look at another class who's points leader has been undefeated thus far. I'm of course talking about the 4x4 Pro class where defending champion Kevin Cunningham has swept all four wins thus far in the 2017 season. Since it's inception in 2014, the 4x4 Pro class has been a pretty exciting class to watch and even though this is the first time we're seeing someone truly dominate this class, it doesn't make anything less interesting!
In years past, this class has seen the likes of Bryan Buckhannon, Kevin Trantham and Michael Swift at the forefront of the class. However, Kevin Cunningham came in last season and became just the second rider to claim a 4x4 Pro title. This year, he came out swinging and has yet to be defeated. Of course, those challengers are still there. Last season, UTV National Champion Cody Miller made his bid for 4x4 Pro class wins but decided not to contest the class this season to focus on the UTV side of things. However, this doesn't mean there's one less challenger!
2016 4x4 A/B class champion Robbie Pecorari stepped up to the 4x4 Pro class this season and with two podiums in the past two races, he currently sits tied for second place in class points with Kevin Trantham. Kevin has also been a consistent podium threat this season but a tough race in Georgia has hurt his point standings ever so slightly. Two-time 4x4 Pro champion Bryan Buckhannon missed last weekend's Steele Creek GNCC to compete in the Hunt The Wolf extreme ATV race in Romania but has been on the podium the rest of the season.
Of course, the big question on everyone's minds will be "who can beat Kevin Cunningham?" It's pretty impressive for a rookie to come in and claim the 4x4 Pro title in his first season, but to come out in his Sophomore season and claim four wins in four rounds is pretty darn impressive as well. The thing about GNCC Racing is that anything can, and usually does happen. Undefeated seasons definitely aren't impossible, as it's been done in several different classes before. However, the odds definitely aren't in anyone's favor to make it happen.
This fact can serve as motivation to Kevin to beat the odds, but it can also serve as motivation to the rest of the class to seize the opportunity to step up and claim a win of their own. I guess the big question would be, who could be the one to step up and beat Kevin? The way the season has been going so far, many would be led to believe that Kevin Trantham or newcomer Robbie Pecorari would be the two most likely to take a win. However, there are others who know how to get it done.
Michael Swift has been fairly quiet this season. He's had four opening rounds that he'd probably like to put behind him. What better way than to come out with a win? The same can be said for Jordan Phillips, who knows exactly what it takes to claim a 4x4 Pro class win. Jordan's season may not have started out the way he wanted, but it's never too late to start improving. There's also Robert Smith, who is another seasoned 4x4 rider and while he hasn't been able to claim a 4x4 Pro class win since 2014, he's been pretty close multiple times and this season would be as good as any to make that happen.
With this kind of close racing, it's no wonder that the 4x4 Pro class is one of the most interesting classes to watch. Keep an eye on them because it's going to be good!