Jared Bolton
TimeThursday, March 23, 2017 | 9:40 PM
AMSOIL is proud to present the new AMSOIL Garage for the 2018 GNCC Racing season. Located in the Finish Line Village apart of the KR4 Arrive-N-Ride team pit area, the AMSOIL Garage will be the one-stop-shop for all of your oil needs, as well as advice and assistance on minor repairs or installation. Staffed by professional mechanics and an AMSOIL dealer, stop by and visit the AMSOIL Garage at each of the 13 rounds of the GNCC season. 
Welcome to Quick Fill.
Another week has flown by and here we are heading into round three of the 2017 GNCC Racing season. It's pretty hard to believe that we're now hitting the third round of the season but they say time flies when you're having fun, so I guess we've all been having a good bit of fun thus far in the 2017 season! Hopefully the rest of the season continues along like these opening rounds have.
This weekend's Cannonball GNCC promises to be another great round of racing. I've got the low-down on the track coming up a little bit later but I'll say now that it's going to be another good one! The Cannonball facility has a wide variety of terrain, so hopefully we've got a little something for everyone this weekend.
We'll keep the intro short this week and jump right into the Quick Fill action!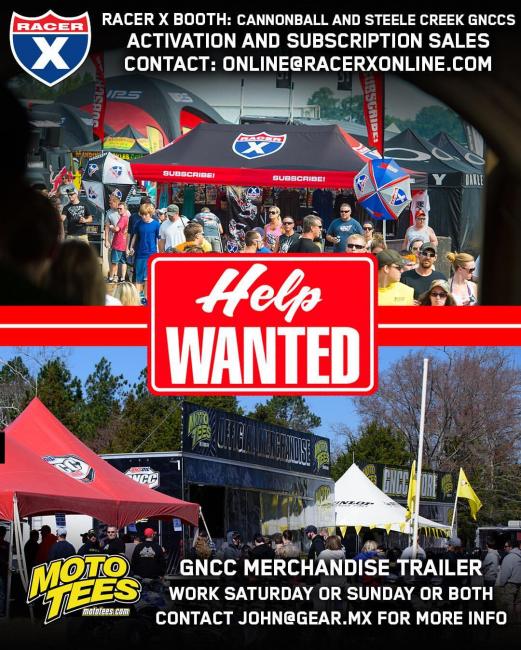 Weekly Updates (Chelsea Taylor)
If you haven't already left for the race, make sure to add a fishing pole to your bags. Don't forget that you can fish right on property at the race this weekend! Of course, you'll have to put the fish back once you catch thm, but it'll be a good time for everyone. You may just see Thad Duvall or another pro out there fishing and relaxing before their race as well.
Moto Tees is looking for some extra hands for the rest of the GNCC season. They have positions open for Saturday, Sunday or both! If you're interested, send an email to [email protected] for more details and to schedule the events you would like to work.
A big thank you to Drew and Chase Landers along with Hunter Neuwirth, Tayla Jones and Chase Sweda for volunteering to help us out at the school visit this Friday. We will be attending John Hancock Academy right in Sparta! If you are interested in helping out at the visits, please send me an email so we can work something out!
Thanks to our good friend, Kara Merritt, we wanted to inform everyone about a potential travel delay as you head to the race this weekend. Due to the road construction on I-20 there have been delays between exits 190-183 on the Georgia side, and exits 5-1 in South Carolina. If you plan on taking I-20 please consider this in your travel time as this affects both the East and West bound lanes. As always, safe travels and we'll see you in Georgia soon!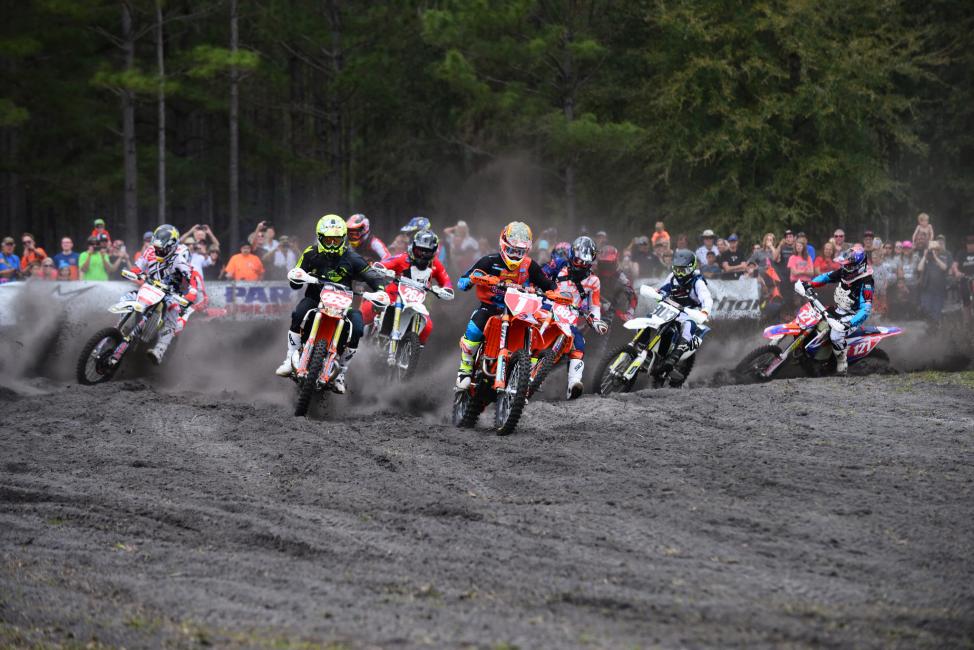 Cannonball Time! (Rodney Tomblin)
I just rolled into the home of the Maxxis Cannonball GNCC and what a gorgeous sight. I have to admit, it is not one of the fancier GNCCs on the tour but the quaintness of the facility brings a tranquil feeling that kind of sets it apart of from all others. That's not a bad thing either. If each stop on our tour has something unique about it, it brings about a mystique that helps build memories to last a lifetime.
As far as the racing is concerned this season, I believe there have been some delightful surprises that have set the stage for a stellar year ahead. Walker Fowler has basically dominated the XC1 ATV class while dominance is present for Kailub Russell on the bike side of things. The excitement of Stew Baylor and the new life in his program has everyone on edge. Not to mention Thad Duvall's eventual rise to glory and a host of others just waiting for a moment in the sun. The amateur and youth divisions have as well made for exciting and attention demanding racing.
The 4x4 Pro are waging another fantastic battle that will likely become even more competitive as the season progress. Defending 4x4 Pro champ Kevin Cunningham is poised to take his second championship but as we have seen in this class before it is way too early to call. WXC on the ATV side of things has been interesting as well. Defending champ Alicia McCormick is starting the season with her back against the wall finishing fifth and sixth, but feels it's not all lost yet. I asked her how she felt about those first two rounds and she said, "I did not like them at all! But what do you do? Smile and put your big girl panties on and RACE!" She has a lot of ground to make up and fortunately some time to do it in but with two multi-time champions leading the way, the road will be long. Angel Knox returns in 2017 with a vengeance and Traci Pickens has a little fire still going too. She only admits to just enjoying being a mom and racing for fun the competitive nature of a champion will always shine through.
The UTVs have only had one round so far but what an exciting round it was. Talk about a close one. Defending champion Cody Miller had his new Yamaha up front at the end and battled all day for the spot. Heading into the last lap, it was apparent that he had to step things up and as he did, so did fellow Yamaha driver Cohl Secoy. Secoy started behind the physical leaders and held a close enough gap at the end to take the win by about 1.4 seconds with time adjustments. It was a spectacular end to the start of a great championship in this class. Also do not count out former champ, Kyle Chaney, as he was in the thick of it all too before problems.
As we head into round three, it is surely a little different atmosphere with the normal break between races except for this time everyone will be rested and with strong game plans that may elevate the racing at this even to all new levels. It's what the theme of this season seems to be coming to as riders, teams and even fans reach new levels of competition and excitement. I said it before and I will say it again, welcome to the new era of GNCC.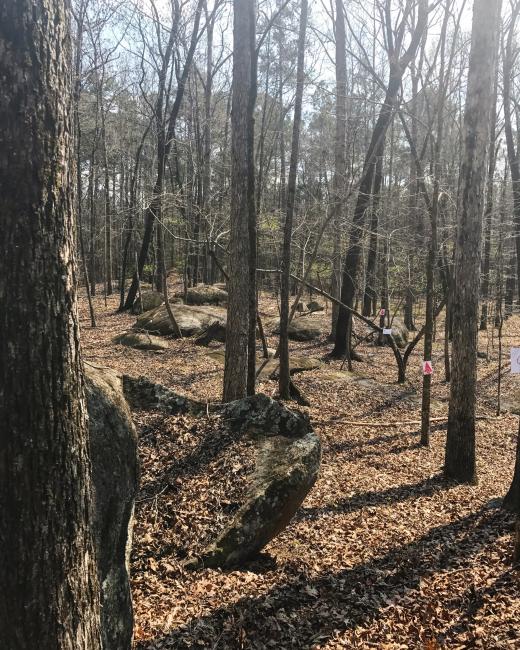 Cannonball Update (Jared Bolton)
This year's Cannonball GNCC course promises to be one for the record books! As I mentioned earlier, this facility has a little of something for everyone. From fast trails, to slow tight trails, and a little grass track as well, the Cannonball course is definitely one you don't want to miss. This year, it also promises to add a little something unique.
You'll be starting in the field across the road from the main parking area. You have a pretty good little woods section there, but everyone will only run that off the start. It's around a mile of trail that you'll only see on the start, so that will add something unique to the course. Once you make it over to the main part of the Cannonball property, you've got a good mix of trail to encounter.
We'll back up a little bit and give you a teaser of a full lap, which we measure from the finish line. The first mile is a mix of trackside pitting, a little bit of double-track trail, and then you'll make your way into a little section that will be a bit tight for the quads and a lot of fun for the bikes. That leads you to the one-mile mark, which will then taken you through a little open section into some tighter pines. In those pines, the bikes will have a separate trail that is a little bit tighter. From there, you'll hit another section of trackside pitting to the two-mile mark, and over to a little section of clear-cut.
That brings you back to the pines once again, where the bikes will once again have a different section that is a bit tighter than the quad trail. This takes you to another little clear-cut section to the three-mile mark. When you get back to the hard woods, it's a good fun and flowing trail to the four-mile mark. The morning races will cut off just past the four but the afternoon races will keep chugging forward through a good mix of open and tight trail around to the five.
For the 1PM bikes, they'll have a special section just for them before the five-mile mark. It's a brand new section that's ½ mile long and a lot of fun! Past the five there will be an optional "Fast and Hard" or "Slow and Easy" section. The hard way will be a bit tricky for the quads as you make your way up and over a big flat rock, then between two big rocks. It's very off-camber between those rocks, so quad racers need to use as much caution as they can.
From there, it's a good bit of easy trail out to the seven-mile mark and there's a couple of slightly technical spots between there and the eight-mile mark. When you come to the nine-mile mark, you'll come around just below the finish, then go back away from it to a couple of other spots with an optional "Fast and Hard" way, including last year's big rock jump and a cool FMF Powerpoint Hillclimb. Other than that, it's more of a mix of both open flowing and slower tight trails to the eleven and twelve-mile marks, then back to the finish.
All in all, it's going to be 12.5 miles for the 1PM ATV race and just around 13 miles for the 1PM bike race. Don't miss out, it's going to be a great race!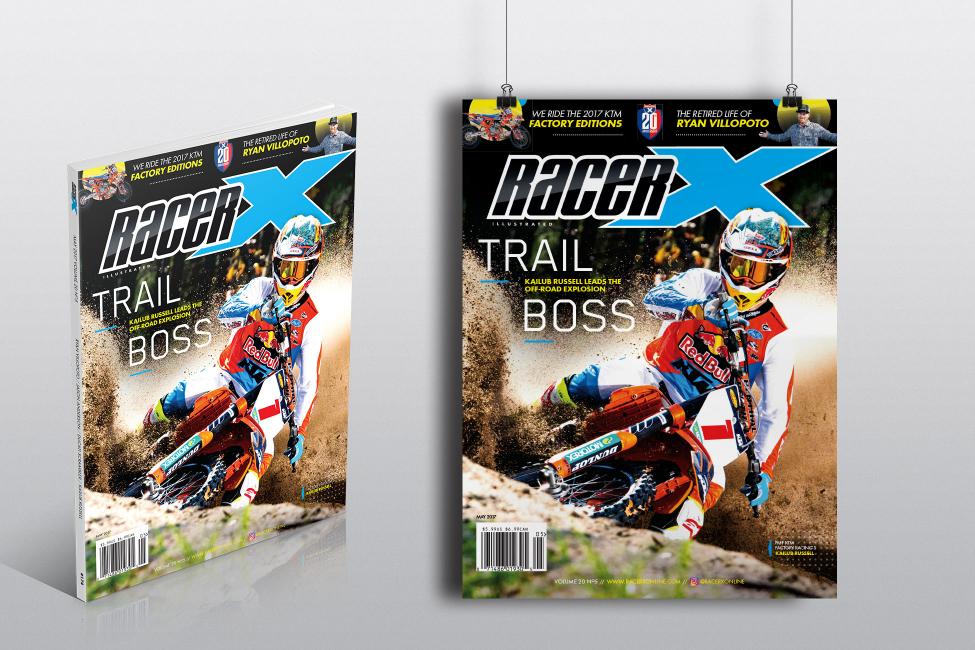 Kailub Russell Autographed Posters (Jordan Roberts)
Racer X recently released the May 2017 issue and for the first time in the magazine's 20-year history an off-road rider is featured on the cover, which is none other than four-time reigning GNCC champ Kailub Russell. Not only did Russell land on the cover, but he also has a full feature penned by Racer X's longtime scribe and GNCC enthusiast, Jason Weigandt.
To celebrate this milestone, Racer X is will have a display booth at the Cannonball and Steele Creek GNCCs, where fans can subscribe to Racer X Illustrated for as low as $10 to get a FREE autographed Kailub Russell poster! This offer is only available to the diehard GNCC racers and mud fleas at the races. Not going to the races but still want an unsigned cover poster? You can subscribe online at http://www.racerxonline.com/kailub-russell-poster to get one with a one-year subscription to Racer X Illustrated for as low as $9.98. You'll also get immediate access to the May 2017 issue with Russell's full feature, "Trail Boss."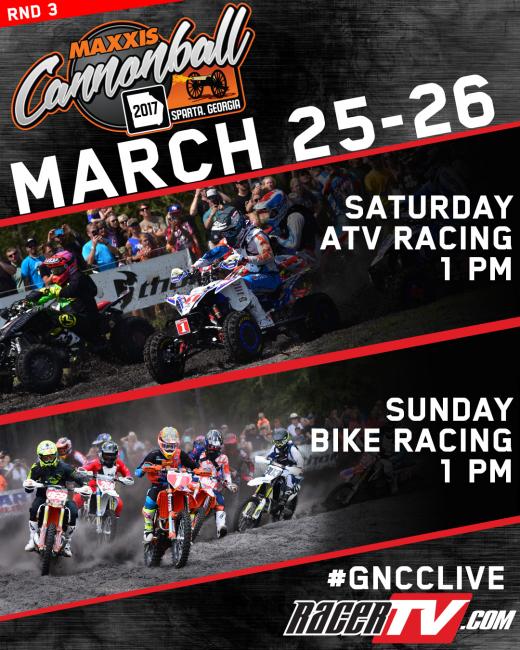 GNCC Live returns this weekend for round 3, the Maxxis Cannonball, from Sparta, GA. Check out all the LIVE racing action online at 1 p.m. Saturday for Pro ATV Racing and Sunday at 1 p.m. for Pro bike racing.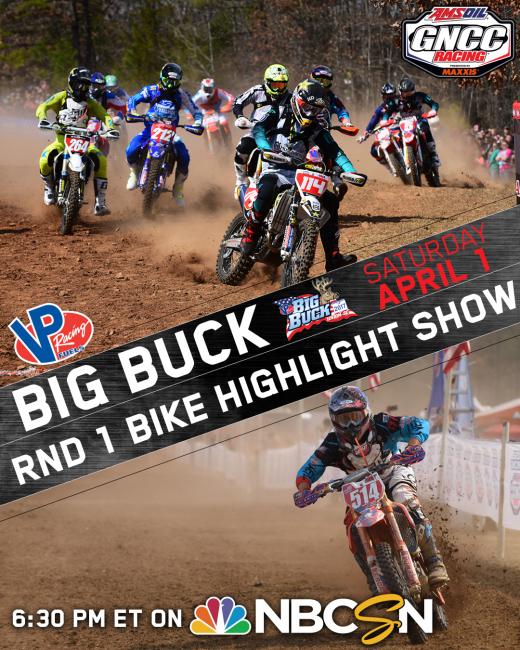 GNCC on NBCSN
GNCC will have 13 premiere highlight episodes this season airing on the weekends. There will also be 13 repeat airings during the week after the premiere date. Check out the dates and times for each show by clicking HERE.
GNCC's first premiere episode will be Saturday, April 1, at 6:30 p.m. EST on NBCSN. This show will be a bike highlight show from the VP Racing Fuels Big Buck.