Jared Bolton
TimeThursday, March 16, 2017 | 5:10 PM
AMSOIL is proud to present the new AMSOIL Garage for the 2018 GNCC Racing season. Located in the Finish Line Village apart of the KR4 Arrive-N-Ride team pit area, the AMSOIL Garage will be the one-stop-shop for all of your oil needs, as well as advice and assistance on minor repairs or installation. Staffed by professional mechanics and an AMSOIL dealer, stop by and visit the AMSOIL Garage at each of the 13 rounds of the GNCC season. 
Welcome to Quick Fill.
Wow. Two weeks and two rounds of GNCC Racing are already in the books. It seems like the 2016 season just ended shortly ago and we're now looking ahead to round three of the 2017 GNCC Racing season. The opening rounds brought out a lot of action in all aspects of GNCC Racing. From the ATVs to bikes to UTVs, these first two rounds presented some great racing and hopefully are an indication of what to expect for the rest of the 2017 season.
There's a group of us, along with a number of racers, still down south in Florida. Some are preparing for this coming weekend's Alligator National Enduro, while some of us are simply avoiding the cold weather up north until after round three in Georgia. Yesterday we briefly visited the Cannonball facility before turning around and heading back to Florida. The place is looking great and round three promises to be a great event as well.
When it comes to the track, we're going to be looking to once again have some all-new trail in places for both ATVs and some special bike only sections as well. An exact layout and final mileage is yet to be determined but make sure to check out next week's edition of Quick Fill for the low-down on the track.
We'll keep the intro short this week and jump right into all the Quick Fill action. Enjoy!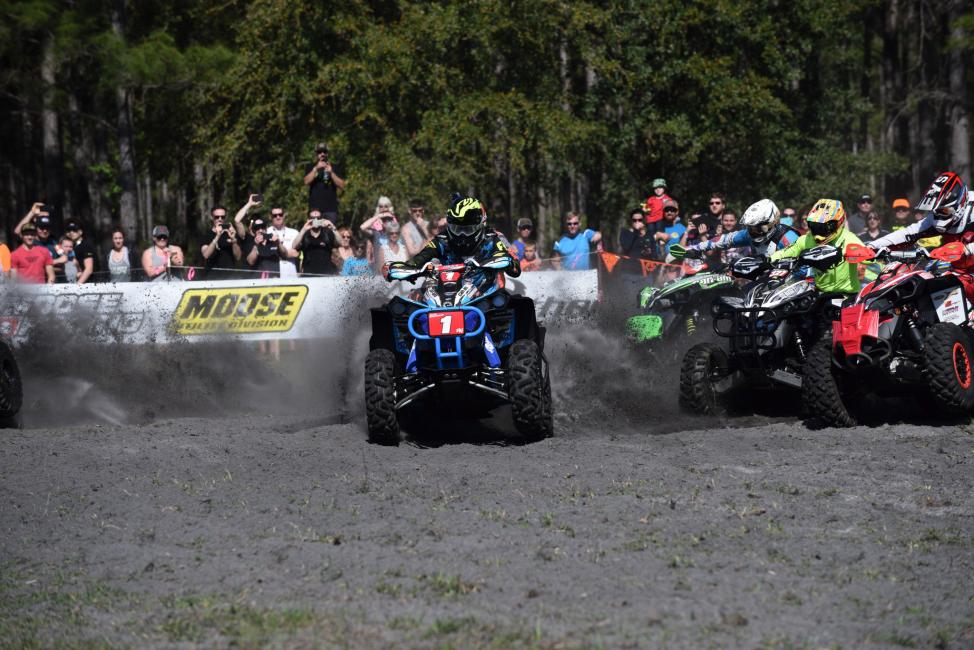 Weekly Updates (Chelsea Taylor)
After 14 travel hours yesterday, we are finally back in Morgantown. I've been busy running around doing errands today as I'm sure many of you are doing as well, but tomorrow we will all be back in the office preparing for the Cannonball GNCC! Our first two rounds were great, and I hope that you agree to! The Big Buck GNCC set a record as the largest attended GNCC season opener, and even with the rain on Sunday the Wild Boar GNCC was great too! We know change is hard, but we appreciate everyone who raced, spectated or live streamed Racer TV the past two weekends.
One of my favorite parts about our trip was working with our RacerTV cameraman, Gloop, to film pre-season footage of a few of the ATVMX riders. Five-time champion, Chad Wienen, invited us out to his private track so Gloop could film a couple of features with him at Thomas Brown. We were also able to go to Orlando MX between Big Buck and Wild Boar to catch up with Joel Hetrick. The ATVMX season kicked off the Tuesday after the Wild Boar GNCC, and everyone we met up with was on the podium! It was an awesome experience to see these racers in a different environment and see exactly how they prep for race day. If you race GNCC's on an ATV, you should consider checking out the motocross side of things and try out a race! Just like the GNCC Racing Nation, the ATVMX family is welcoming and the races are a blast!
Polaris just announced that they have an ACE 150 EFI available, and it's designed just for kids! With single-seat UTVs relatively new, this will be a great way to grow the sport and get more youth riders involved. Along with this announcement Polaris is hosting a Facebook and Instagram contest to giveaway a new youth vehicle! To enter, participants need to submit a picture of how they enjoy off-roading and the outdoors with their family. Polaris will pick one winner each week during the month of March and showcase them on the Polaris social media channels.
A big thank you to Greg Covert, Steven Covert and Dustin Hendershot for helping us out at the school visit in Florida. We are still looking for a school to attend in Georgia, so if you have any connections please send me an email.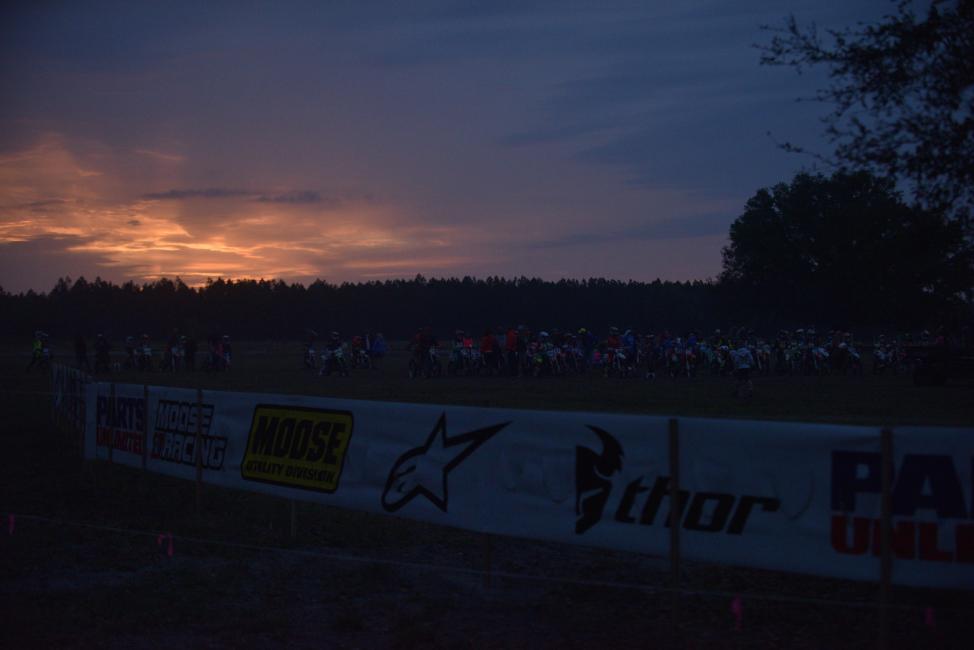 It's Really Over! (Rodney Tomblin)
It's hard to believe it but the grueling opening stretch of the 2017 GNCC Racing season is over. I would like to take this time to personally say great job to everyone involved in every aspect. Whether you realize it or not, you have been a big key in one of the most historic times in our sport.
The time that lies ahead in our sport will one day be referred to as the "heyday" of our sport. Each era of history has it's special lore and this particular era is no different except that nearly every record established has been broken and new ones are being set. It's especially true in GNCC Racing so be sure to slow down on occasion and take it all in. It's a time you won't ever forget.
If you are a part of the process it can get a little hectic. I want to take a moment and tip my hat to the crews that hit the road and spent hours bringing together all the loose ends creating the opportunities of these times. Trail Boss Jeff Russell has created an amazing team that works like clockwork. Jeff and his crew worked to create amazing courses and an atmosphere second to none. Not only did they do a great job but they did it under a grueling schedule with back-to-back set ups and tear downs.
The RacerTV crew is to be commended as well as they had a grueling schedule of their own. Dan Reinhart and his "band of misfits" faced challenges above and beyond and tackled them in the same manner. At one point Dan was physically keeping the show together by squeezing broken connections and holding them into place ensuring a much-needed camera shot was functional. The set up and tear down process of the live streaming crew can get rather grueling being not only technologically challenging but physically challenging.
I'd like to give kudos to Chelsea Taylor for all her hard work. She is the Racer Productions Media Manager and Live Producer/Director of the RacerTV. This is a job that she stepped into last season and is really developing a knack to doing. You wonder sometimes if there is not two of this girl as much as she works. She handles all the press releases and media for GNCC and ATV Motocross plus more. She handles RacerTV and actually coordinates a lot of the behind the scenes activity there and at the races. She is one busy girl but really tackles each project with a smile and with determination. Just don't tell her she can't take her umbrella because then she goes into to complete meltdown.
The sign up crew and sponsors that made the trip are to be commended and appreciated as well. It's been nearly 5 decades that Rita Coombs has been the smiling (or sometimes growling) face behind registration. Rita is what we know and love as "the voice of reason." Rita may seem to be in a whole different world but I wonder if she isn't in some omnipresent mode sometimes that allows her to be watching over everything going on at the races. I have never known anyone to know about everything going on at once like her and when all things seem bleak or desolate she will speak up from what seems to be nowhere and instruct the situation. She really amazes me and I think if there is anyone that deserves a pat on the back or a simple thank you from everyone it is her. She has kept alive and built on a dream that she and Big Dave dreamed so many years ago.
So as the 43rd year of what we now know as GNCC Racing gets underway, know that you are a part of something special. It is something that so many of us find a passion and desire to put ourselves through without even thinking twice about. It is without a doubt worth every bit of effort put in and every little bit builds it into the greatness it truly is. Thank you everyone for whatever part you play, big or small we are all part of this "Grand" story.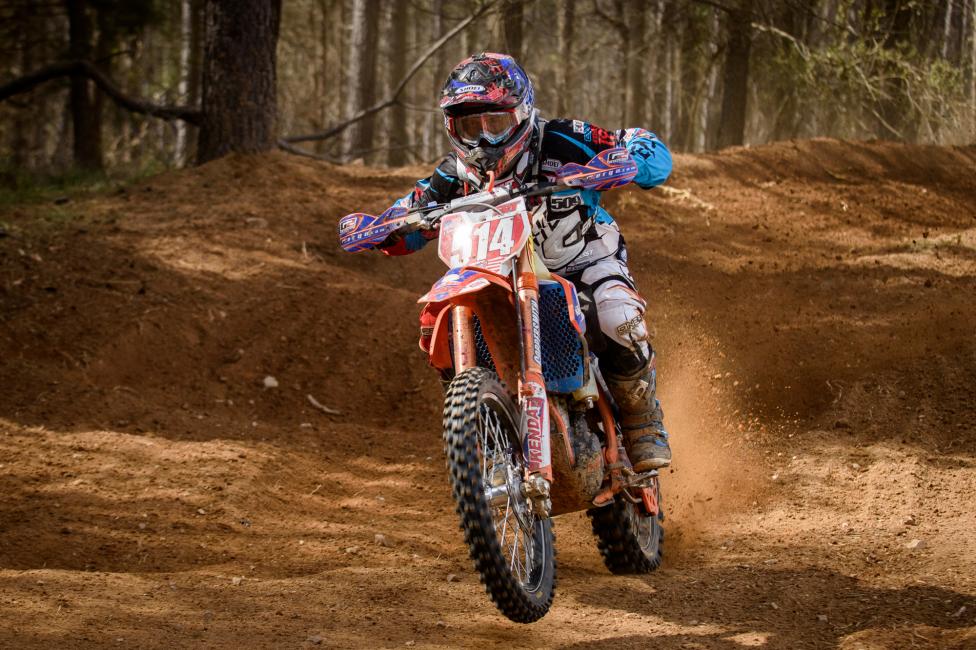 Opening Observations (Jared Bolton)
Each year the opening rounds of GNCC Racing provide a little bit of what to expect from the upcoming season. From things that happen on track and off track, the beginning rounds are what really shape up the storyline for the rest of the upcoming season. With the first two rounds behind us, I have a few observations from my time in the woods that can serve as some food for thought as we pass the hump of the opening rounds.
Observation One: Walker Fowler is very fast. This year could prove to be a challenge for anyone wanting to step up and topple Walker's bid for race wins. This is very much like the version of Walker we saw in his final year in the XC2 class. The man is absolutely on fire and has claimed two wins in dominating fashion. However, the thing about GNCC Racing is that anything can happen. The odds are not in any rider's favor to make it through the season without some sort of mechanical issue or another rider putting together a great ride to claim a win of their own. Can Walker beat those odds? Only time will tell!
Observation Two: Steward Baylor is for real this season. After winning the Sumter National Enduro, many were wondering how Steward would fair coming into the GNCC season. For the past few years, many had written Steward off as a contender for GNCC race wins, and had simply thought of him as a solid top five finisher. That all ended after these first two rounds where he claimed his first-ever GNCC overall win at Big Buck and then put together an excellent come from behind ride in Florida to land on the podium. He's going to be tough to beat at this weekend's Alligator National Enduro as well!
Observation Three: Kailub Russell is still hard to beat. While Stu Baylor may have claimed the opening round win, KR bounced back to claim the win at round two. It may not have been a dominating win like we've seen from Kailub previously, but it was still a hard fought win. Thad Duvall was right on his heels but Kailub rode smart enough to avoid any mistakes the Thad could have capitalized on to take the win. This kind of sets a tone for the season. Can Kailub make it five in a row this year? It's definitely possible but the next observation will tell you more.
Observation Four: Are the tides changing? These opening rounds were somewhat of a role reversal between the bikes and quads. For the past several years it seems as if the ATV races stay tight all the way down to the final turns of the race while riders on the bike side seem to break away and win by a fair margin. So far this season, we've seen the opposite where the ATV races have been won by a good margin of time over second place, while the bike races have stayed tight down to the wire. This could produce some great racing for both parties as it may motivate some of the ATV racers to push harder to stay with Walker Fowler while on the bike side, it shows some of the competition that they could stay closer to Kailub Russell and make a bid for a win of their own.
Observation Five: This year, is going to be good! For all the reasons I've just mentioned, we're looking at what could possibly be one of the best seasons in the history of GNCC Racing. It's exciting to say that but it's even more exciting to think about how true that may be as well. With a great number of racers on track and some high quality racing action from the top pros, this year is looking very promising. Stay tuned!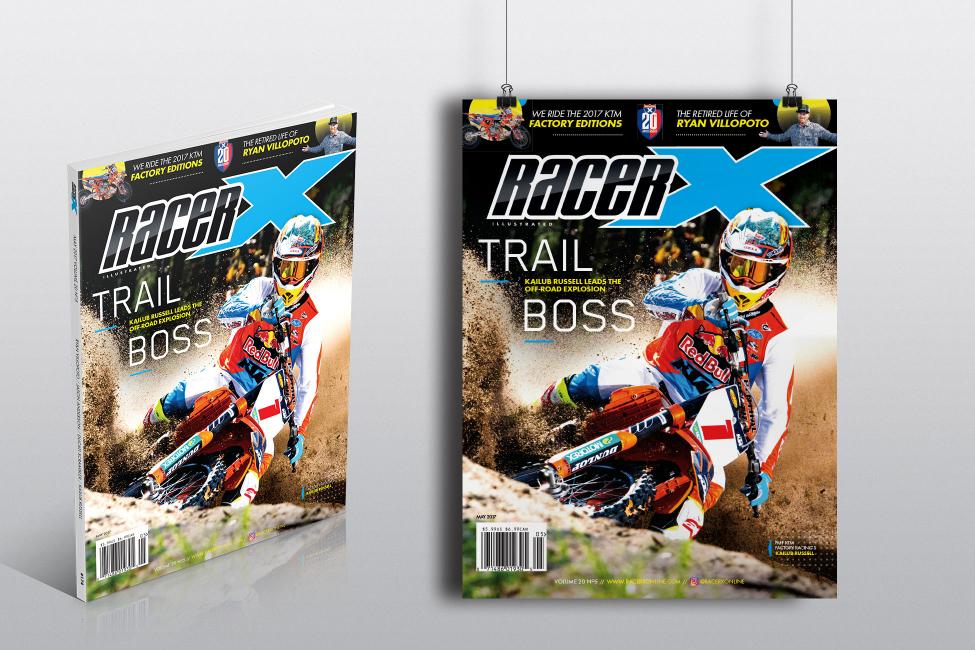 Special Racer X Offer! (Jordan Roberts)
Last week, Racer X debuted the May 2017 issue and a first-ever for the magazine its 20-year history: an off-road rider featured on the cover, which was none other than four-time reigning GNCC champ Kailub Russell. Not only did Russell land on the cover, but he also has a full feature penned by Racer X's longtime scribe and GNCC enthusiast, Jason Weigandt.
To celebrate this milestone, Racer X is planning on setting up a booth at the Cannonball and Steele Creek GNCCs, where fans can subscribe to Racer X Illustrated for as low as $10 to get a FREE autographed Kailub Russell poster! This offer is only available to the diehard GNCC racers and mud fleas at the races. Not going to the races but still want an unsigned cover poster? You can subscribe online at http://www.racerxonline.com/kailub-russell-poster to get one with a one-year subscription to Racer X Illustrated for as low as $9.98. You'll also get immediate access to the May 2017 issue with Russell's full feature, "Trail Boss."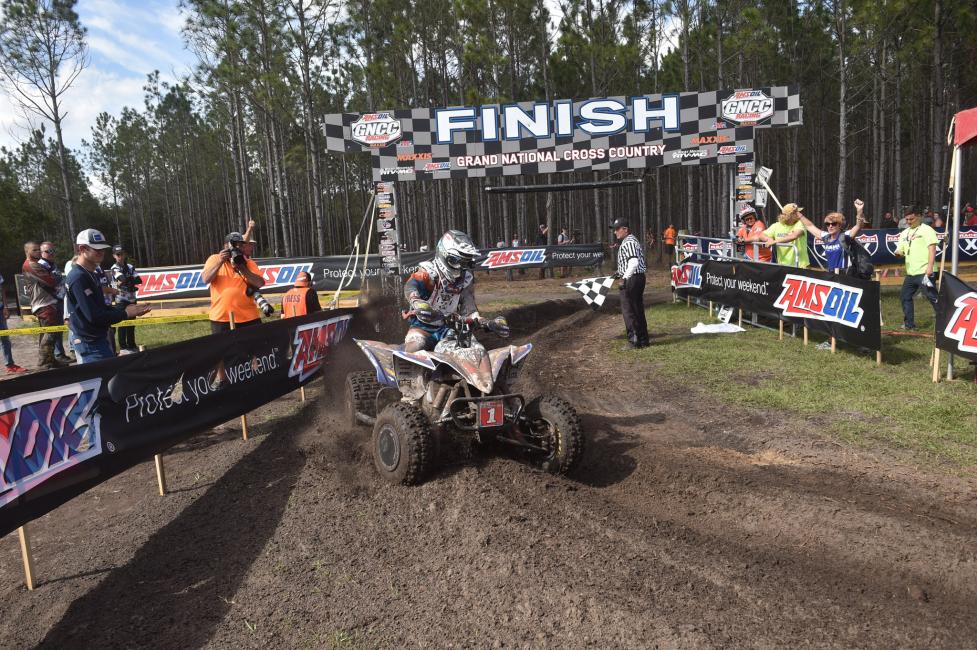 The Road to Repeat (Chelsea Taylor)
Last year Walker Fowler kept mentioning that he was on the road to repeat. With the help of Davey Coombs, we looked back at previous ATV champions and realize that everyone had the similar idea – to defend their National Championships.
Ever since ATV racing was introduced to the GNCC series in 1984, every champion has defended their title except for the very first winner, Ted Trey, who was actually on a three-wheeler. The "Ironman" himself, Bob Sloan, is also an exception even though he has two championships. Sloan topped the charts in 1989 and 1992, but not consecutively.
Besides, Trey and Sloan, every champion from 1984 has defended their championship at least once. While Chris Borich leads the individual overall win chart, Bill Ballance has the most championships with nine. We recently saw Ballance return back to the GNCC circuit and race a UTV just last year.
With two wins under his belt this year, Fowler looks to be fully focused on earning as many championship as possible, just like the people before him. Like Ballance, Fowler has also decided to venture on the UTV side of things. Unfortunately Fowler faced some difficulties during his pro debut, but if he is able to secure both the ATV and UTV championship in the same year, perhaps a new chapter in the history books will begin.