Jared Bolton
TimeThursday, December 15, 2016 | 2:50 PM
Welcome to Quick Fill.
Another week is in the books and that pushes us further through the off-season and closer to the beginning of the 2017 GNCC Racing season. We've officially hit that point where most everyone is ready to get back into racing, but on the other hand, there are others who likely still have a lot of prep left to do. The good news for them is there's still a lot of time left to get those things done.
The put things in perspective, it's now been 46 days since the 2016 GNCC Racing season ended at Ironman, and we're 79 days away from starting the 2017 GNCC Racing season at Big Buck. That means the GNCC Racing off-season lasts a total of 126 days, which means the official halfway point of the off-season is at 63 days. That point will come 17 days from now on January 1st, 2017. So, when celebrating New Years, also keep in mind that the GNCC Racing off-season is officially halfway over.
Now, I realize when you look at it this way, it makes it sound like the off-season is much longer and it sounds like we've got a long time until we get back into racing. However, we all know that time flies and hopefully the rest of this off-season will fly by as well. We're also full swing into the silly season and creeping closer to hearing some details on what a few riders will be on. Overall, there's not a lot of change to expect but there are a couple of riders who will be making pretty significant switches. However, it will be something they're familiar with and I'd expect both of them adjust easily.
Stay tuned. The off-season is getting good!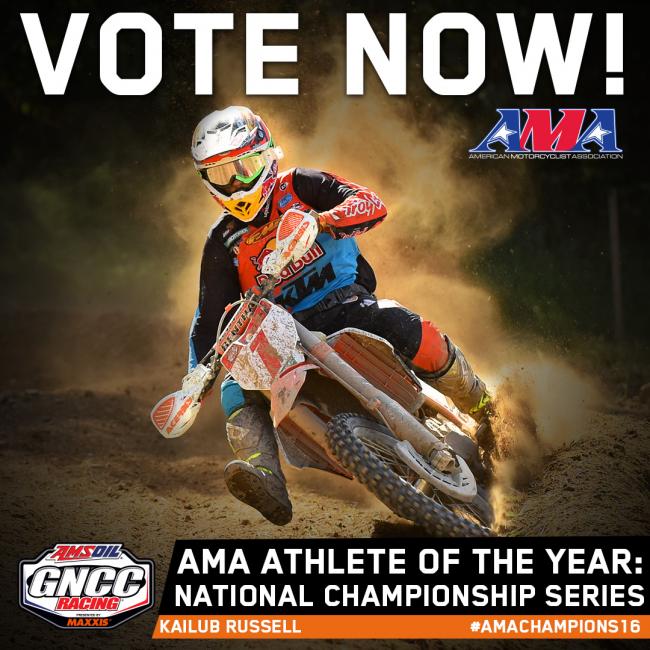 Vote for GNCC Racers! (Jared Bolton)
Each year the AMA recognizes top racers from all different forms of motorcycle and ATV racing at the AMA Banquet in Ohio. Not only are they recognized for their individual AMA sanctioned series, but a number of other awards are also up for grabs and AMA members all have the opportunity to voice their opinion for who deserves these awards by casting their votes.
As usual, there are a number of GNCC racers who are up for these prestigious awards and we want to make sure that the GNCC Racing Nation gets involved and casts their votes. Who you choose is entirely up to you. Simply being nominated for these awards is a pretty big accomplishment all in itself. The AMA picks the nominees themselves, so it's a big honor to know that they're watching you racers week-in and week-out.
The full list of awards and nominees are as follows.
AMA Athlete of the Year: National Championship Series
Russell Bobbitt, Champion, AMA National Enduro Championship Series
Ricky Brabec, Champion, AMA National Hare & Hound Championship Series
Gavin Faith, Champion, AMA Arenacross National Championship Series
Marc Freixa, Champion, AMA/NATC MotoTrials National Championship Series
Colton Haaker, Champion, AMA EnduroCross National Championship Series; Champion, FIM Super Enduro World Championship
Billy Janniro, Champion, AMA Speedway National Championship Series
Gage McAllister, Champion, AMA Supermoto National Championship Series
Brandon Paasch, Champion, AMA/FIM North America MotoAmerica KTM RC390 Cup
Taylor Robert, Overall Winner and member of Championship World Trophy Team, International Six Days Enduro
Kailub Russell, Overall Champion, AMA Grand National Cross Country Series
AMA Athlete of the Year: Grand Championships
Jody Barry, AMA Road Race Horizon Award Winner, AMA Road Race Grand Championship
Jarred Brook, AMA Dirt Track Horizon Award Winner, AMA Dirt Track Grand Championship
Eva Hakansson, Land Speed Record Setter, AMA Land Speed Grand Championship
Ben Kelley, Top Amateur, AMA Tennessee Knockout Enduro Grand Championship
Trevor Kline, AMA Vintage Off-Road Grand Champion, AMA Vintage Grand Championship
Nathan Prebe, AMA Hillclimb Racer of the Year, AMA Hillclimb Grand Championship
Chase Sexton, AMA Motocross Horizon Award Winner, AMA Amateur National Motocross Championship
AMA ATV Athlete of the Year
Colt Brinkerhoff, Pro ATV Champion, AMA National Hare and Hound Championship Series; Pro ATV Champion, AMA West Hare Scrambles Championship Series
Walker Fowler, Overall ATV Champion, AMA Grand National Cross Country Series
Alan Myers, 450 A Champion and Production A Champion, AMA ATV Motocross National Championship Series
AMA Female Racer of the Year
Nicole Bradford, Women's Champion, AMA National Hare and Hound Championship Series
Eva Hakansson, Land Speed Record Setter, AMA Land Speed Grand Championship
Jordan Jarvis, Girls Sr. (12-16) and Women (14+) Amateur Champion, AMA Amateur National Motocross Championship
Alicia McCormick, WXC ATV Champion, AMA Grand National Cross Country Series
Becca Sheets, WXC Champion, AMA Grand National Cross Country Series
AMA Vet/Senior Racer of the Year
Bart Bast, Track Champion, Fast Fridays Motorcycle Speedway
Steve Bromley, 1970s 250cc and 1970s 750cc Champion, AMA Vintage Dirt Track National Championship Series
John Grewe, Masters 50+ Champion, AMA Amateur National Motocross Championship
Fred Hoess, FIM ISDE Vintage Class Champion
Gary Roach, AMA Vintage Off-Road Senior Grand Champion, AMA Vintage Grand Championship
Billy Schlag, Senior A Champion, AMA Grand National Cross Country Series; Open A Champion, AMA Full Gas Sprint Enduro Championship Series
AMA Youth Racer of the Year
Micah Hertrich, 125cc Expert Champion, AMA/NATC MotoTrials National Championship Series
Troy Hill, Youth All-Star (13-15) and Schoolboy Sr. (14-17) Champion, AMA ATV Motocross National Championship Series
Sterling Martin, 150cc Youth Champion, AMA Youth Speedway National Championship
Mason Matthies, Big Wheel (12-15) Champion, AMA West Hare Scrambles Championship Series
Jett Reynolds, 85cc (9-11) Limited and 85cc (9-12) Champion, AMA Amateur National Motocross Championship
Hunter Riemer, Super Mini Sr. (14-15), AMA Grand National Cross Country Series
Tyler Scott, AMA Youth Dirt Track Racer of the Year, AMA Dirt Track Grand Championships
As you see looking through the list, there are a number of GNCC racers nominated. Like I said, who you vote for is entirely up to you but when you look and see there are quite a few that pop out. Kailub Russell and Russell Bobbitt are both up for AMA Athlete of the Year: National Championship Series, which is a top honor and would put them in some amazing company of past winners. XC2 competitor Ben Kelley is up for honors in the AMA Athlete of the Year: Grand Championships for his performance at the Tennessee Knockout Enduro.
Walker Fowler is up for the AMA ATV Athlete of the Year honors while both WXC class champions, Alicia McCormick (ATV) and Becca Sheets (Bike) will be battling it out for AMA Female Athlete of the Year. The AMA Vet/Senior Rider of the Year award has a couple of familiar names including GNCC Senior A class champion, Billy Schlag, as well as Gary Roach, who was a long-time GNCC racer, even holding an overall win to his credit. Hunter Riemer is up for honors as the AMA Youth Rider of the Year, making for a possible GNCC racer sweep of all categories.
That would be tough but is absolutely doable, so if you're an AMA member, cast your vote now by clicking HERE! Make sure to get your vote casted now as voting ends Sunday, December 18th at midnight. Don't miss out!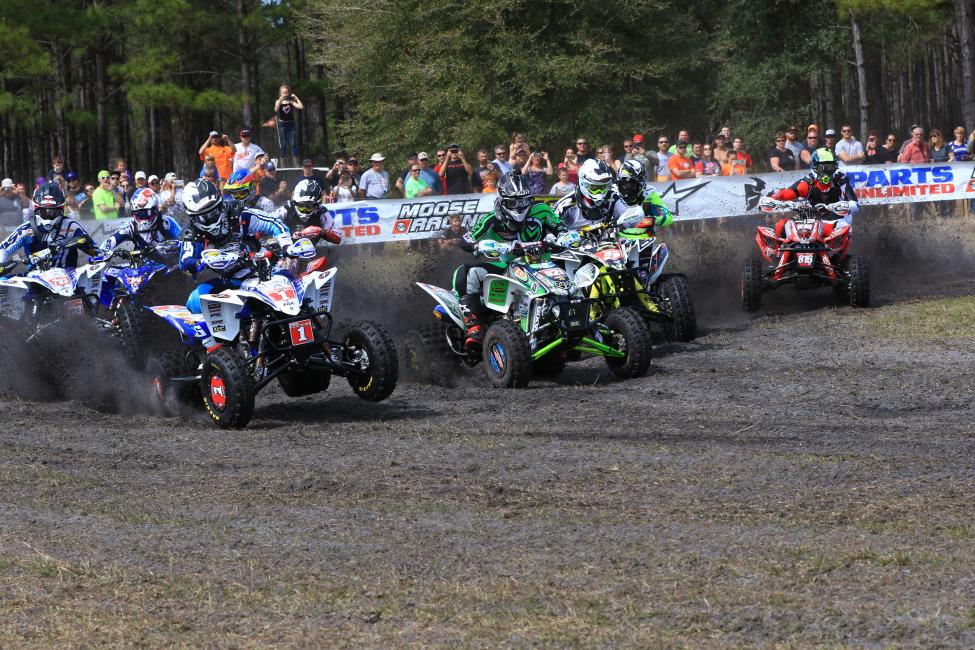 The Quiet Storm (Rodney Tomblin)
There are times when all goes quiet around the racing world and it seems like this may be one of those. I have been busy trying to get in-touch with folks to check in on things, and there is not really much going on. I have been in contact with some but the answers are pretty consistent. They say they are working and will try to get something in a little while. That answers one question for some, which is that they are working to get ready for the upcoming preseason regiment. Plus, with Christmas just around the corner folks are gearing up for special times.
The fact that info is scarce does not hamper my daydreaming about what the upcoming season holds for GNCC. I took another look at top 20 ATV points and revealed a few interesting things that could offer some pretty exciting times ahead. Again I am reminded of the new era that is taking a solid hold, which is led by 2-Time ATV GNCC Champion Walker Fowler. Walker continues to set the bar higher and higher for the competition and as good as it is for him, ultimately it may be even better for the future of off-road ATV racing. His talent is pushing the rising stars to all new levels to be the next big thing. It may eventually be a monster he must have to conquer himself. However, it is no different than the monster that Bob Sloan created in Barry Hawk, who created the monster in Bill Balance, who created the monster in Chris Boric,h who created the beast in Walker. Who is the next champion's nemesis? The answer to that question may run deeper than we think
The number 2 guy from last season, Adam McGill still remains a thorn in the side for Fowler but with recent comments from Adam it's hard to know whether he is going to make the ultimate push for the championship or not. I have to tend to lean toward he will be, but he has kind of opened that question. Is it a ploy to get the pressure off or is his focus changing? That's so hard to answer but again his recent comments open this debate in my mind and make me wonder.
Its obvious people are watching Chris Borich to see if he will return with the magic that brought him six titles. Chris showed a new vigor as the season wore on and especially so after he hooked up Dom from The Program to enhance his training. In talking to him he seemed to feel better and even stronger as the final rounds of 2016 rolled by. The reports of him riding red began to circulate, and in talking to him about it he never said anything other than "Got some people talking and wondering" with a chuckle. What is going on Chris Borich? Normally when he goes silent, something's up.
Ranking fourth after last season, Brycen Neal is certainly one that is on the tips of a lot of tongues this past season. After his phenomenal start to the year it was expected he might take his first overall win. As the season wore on the struggles of the battle took some tolls. Brycen may be hardest on himself but once he gets back in the saddle with a fresh season, he may be even hungrier and certainly much more crafty and prepared to not only take a win but wins.
The number five Jarrod McClure will continue to be a threat for podiums and wins. Is he ready to make a run for the title? The answer may be more yes than we realize. He is at a disadvantage with not being able to train like the rest of his competition but if he gets momentum in the early part of the season, things could change quickly. He has the experience and knows how to win. Consistent finishes will be critical in the set up for his bid and is always one to watch.
Cole "Train" Richardson is going to be one to watch. Cole actually had a great season. He finished sixth in points but the big picture with his health early last season and the later season issues makes you wonder what things he might yield. Talking to Fowler, he even says he is surprised Cole has not yet been a big threat and expects it to be the case once he is completely healthy. Cole will have something to prove to himself and if he is as calculated as he has always appeared to be things could look way different for this young man next season.
Up from 11 last season to seven this season, Landon Wolfe is another rider gaining the necessary experience to become a threat. Last season he continued to progress to a podium finish by season's end. It was not a fluke and he will be doing it again. The switch may have flipped and even though it has been slow building, the beast may about to be unleashed. I know it left him more determined than ever and the look in his eye was one that you know you will see in him again.
One of the newcomers to the XC1 class and finishing eighth overall last season is New York's Marty Christofferson. Marty finished second in the XC2 Pro Am class last season but outranked his toughest competition and class champion Greg Covert in the season overall. Marty will be coming with a vengeance and will possibly be one of the quirkiest leans we have seen in a while. Marty is a little more mature as a XC1 rookie and has raced and beaten some of the nations best competition in WNYOA series racing.
Greg Covert finished ninth overall and won the XC2 Pro Am championship. He will likely defend that championship, which is a great call. It will give him a chance to mature a little and gain confidence, especially if he can start catching the front row on times like previous title winners have done. Greg is one of the riders in the deep end of the competition pool for Fowler, but like Walker was for Chris Borich, he may find Covert as the next major thorn he must try to avoid.
Tenth place overall was the seemingly quiet Josh Merritt. Having a rather successful season last year may be the fuel he needed to get the ball rolling. He has spent the last few seasons learning and it may be that things started coming together for him. He and his sister work hard to stay on the top of their game but also focus on other important things in life. The balancing act he has to play may be finally leveling out and if so the vigor of his youth competitiveness will start shining through.
The fact is that the real threats may lie just a little further back in the standings. There are many that made remarkable accomplishments recently and are pushing to make more. The outcome of next year's GNCC Championship may likely see some unexpected things unfold as riders reach higher levels. The dedication this offseason will be the only advantage anyone may be able to achieve over the competition, so it makes the coming weeks some of the most critical of the battle.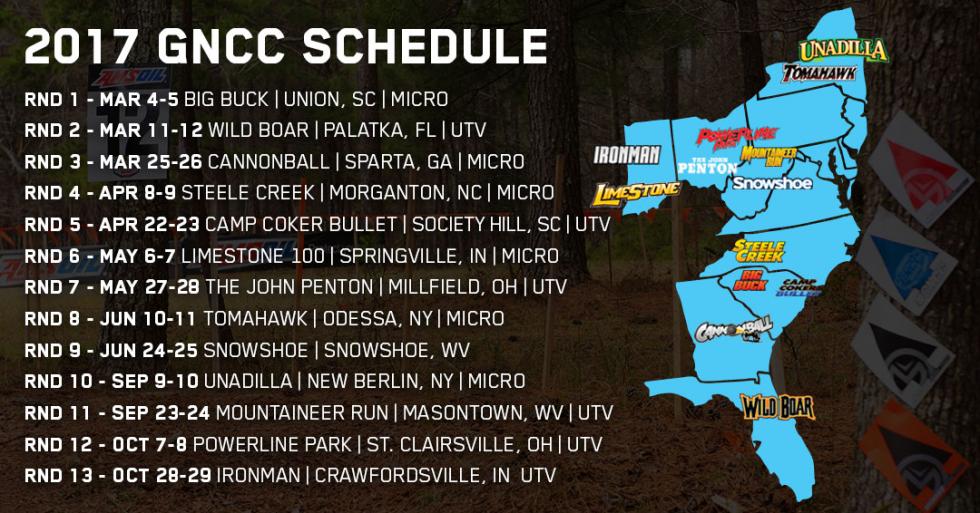 2017 Tentative Rules and Classes Are Out! (Jared Bolton)
If you missed the Competition Bulletin yesterday, the tentative rules and classes for the 2017 season have been posted. Now is the time for you to take a look and let us know if you have any opinions on everything. We'll take emails through Wednesday December 21st at [email protected]. You can take a look at the Competition Bulletin, including links to all the rules and classes HERE.
Each year we spend hours and hours of the banquet weekend attending the riders meetings in order to take everyone's opinions on these changes. The world of GNCC Racing and off-road racing in general is ever evolving and this requires rules and classes to evolve with it. While we do have a few tentative changes that are a little bit on the "big" side, by and far the good news is we've done such a good job evolving over time that it was pretty hard to think of any serious changes that needed to happen for the 2017 season.
There are some great changes for the female crowd including the addition of a Women's UTV class as well as breaking up the Women's bike classes to accommodate the growing number of female bike racers. We still have the premier WXC class but instead of going straight from the Women Amateur to WXC, the classes have been changed to Womens C and added a Womens B class. There are also a few changes to some ages and CC limits, as well as changing the 200 classes to 125 classes on the bike side. Take a look and see what kind of changes have taken place and let us know if you have any opinions you may have.
As for what you will experience at the races, Ryan Echols and I have tossed around some ideas of a few different ways to mix a few little things up on the courses this year. We listened to a lot of feedback last year, as 2016 was a little bit of a transition season for Ryan and myself. Obviously with Barry Hawk leaving the role of Assistant Trail Boss after the 2015 season, it left a big void in people's minds wondering what that would mean for the GNCC racecourses moving forward. I had spent several years "in the woods" working along side Barry and Trail Boss Jeff Russell and the hiring of long-time GNCC racer and multi-time XC2 podium finisher, Ryan Echols, was a great addition.
Ryan came in with the fresh mindset of a former pro racer, and partnered up with my mindset of an average-speed racer (ha, actually I'm slow!) in addition to the experience I had gotten for several years prior, I feel like we did a pretty good job in 2016. We both got a lot of great feedback from racers of all levels. Some good, some bad but I feel like we did a pretty good job of giving a little something to everyone. We both come from the bike side, so we always wanted to give the bike guys some special bike-only trails. We also wanted to give the 1PM ATV racers from additional sections as well. I feel like we succeeded with maximizing the fun at some races and we definitely want 2017 to be even more fun.
With that said, thanks to everyone who told us we did a good job, and thanks to those who told us we did a bad job because everyone's opinion matters and I'm always glad to listen. Of course, it's not just us. We're only two small pieces of the puzzle as there's an entire crew of dedicated individuals who make sure you have a fun track and a nice venue to visit each race. It's easy to show up as a racer, run your race and not realize how much work went into making that happen, but to everyone from our leaders at the tip top of Racer Productions, to the track crew, registration staff, front gate, trash pickers and everyone else, thanks to everyone and a huge thanks to YOU the racers and fans, because you're the biggest part of this as well. 2016 was a hugely successful season and we can only keep growing from here.
Headlines
Competition Bulletin 2017-2: Tentative 2017 GNCC National Classes and Supplemental Rules
Part Time Race Announcer Position Available
Brantley Gilbert, Polaris RZR and DAV (Disabled American Veterans) to Bring Some Holiday Cheer
2017 FMF KTM Factory Racing Team Announced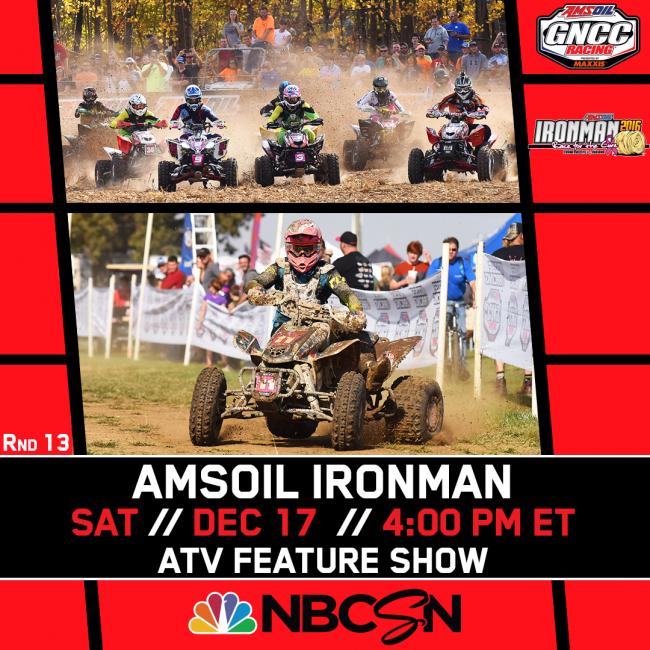 What's New on RacerTV.com?
Don't miss the 2016 season finale GNCC ATV Feature show on NBCSN Saturday, December 17 at 4:00 p.m. ET from the AMSOIL Ironman, Round 13 of the 2016 AMSOIL Grand National Cross Country Series presented by Maxxis.
Keep an eye out for each NBCSN show to become available online at www.racertv.com in the upcoming weeks.
News from GNCC, Sponsors and Riders
Part Time Race Announcer Position Available

Company: Racer Productions
Location: 13 GNCC Rounds
Industry: Event Productions
Career Level: Entry Level
Race Announcer
About the Job: Racer Productions is looking to fill a race announcer position for their industry leading racing series, the Grand National Cross Country (GNCC) Series. The announcer will be part of the event and television team, including the audio equipment set up and tear down. Along with announcing youth, amateur and pro podiums and pit reporting for Racer TV. The announcer will also join the GNCC Media Team and conduct the On-Track School Program.
Applicant Must:
Be willing to travel and attend all 13 GNCC rounds.
Communicate well. The racing industry consists of a close-knit group. Creating and maintaining friendly relationships with our racers, sponsors and other stakeholders is vital. Also, the ability to connect with all ages, from youth to vet racers, is also vital.
Be able to lift heavy items such as speakers and ladders.
Have a interest for sports or outdoors in general, or even a full-on passion for motorcycle, ATV and off-road racing in specific. A job at Racer is not a 9-5 job. Because our organization maintains nationally recognized events, our employees must be passionate enough to step up and contribute when circumstances dictate it – and this includes traveling, late nights, etc. If you want a 9-5 job do not apply, this isn't the job for you.
Be technically proficient and willing to learn. The candidate must have some experience with audio and speaker systems.
Be cool. Seriously, this is a tough job, but it's pretty amazing at the same time. We all work extremely hard, but we're working on something that we absolutely love and are proud to be a part of. A good work ethic is mandatory.
Requirements:
Valid driver's license
High school diploma
Physically able to perform the above tasks
Articulate
Have the ability to speak in front of large crowds
Willing to learn
To apply, please submit the following to [email protected].
Resume
Cover letter explaining why you're the right person for this job
Resumes will be accepted through January 15.