Chuck Lemaster
Time
Wednesday, June 8, 2016 | 3:00 PM

Stemming from the grassroots of family racing, Wiseco has over 75 years experience manufacturing pistons, whether it be for fun, weekend riding, or professional racing. Wiseco is one of the few manufacturers forging pistons in the U.S., providing quality and performance you can trust. Click here to see the latest Tech Tips from Wiseco.
Alicia McCormick has been turning some heads in the Women's Pro ATV class. She came to the scene in 2012 and has climbed her way through the Women's Amateur to the pro ranks. She's currently sitting in 1st place. GNCCRacing.com caught up with Alicia.
GNCCRacing.com: Hi Alicia! How are you today?
Alicia McCormick: Doing great! Just got in from a bike ride and getting ready to wind down for the night.
These long daylight hours are sure helpful for the training schedule, aren't they?
For sure! There's still a lot of work that needs to be done. I mowed grass for a couple hours tonight and then did a pedal ride. I'm hoping to get some seat time in tomorrow.
That's a really full plate! You're a wife, a mom, a professional with a job…and you race! How does it all fit into 24 hours?
It's not easy! But I just have to keep after it. Staying focused and consistent with workouts gives me the energy to workout! If I slack, energy levels dip so it's best to just keep going!
That's a true statement! And you are very dedicated to it. Your results are showing it. How did you get into this crazy race thing?
Well it really started with our son, Layne. A few years ago, my husband, Brian, was racing Sprint Cars and was good at it. So he got Layne into go-karts. But Layne got bored just turning left and we had a four wheeler for him. We went to a race on his DRR70 and he fell in love. He had natural talent and so we started going to GNCCs about 2011? I was a total "moto-mom" cheering from the sidelines, but always thinking, "I can do that!" I finally talked Brian into letting me give it a shot and then we were all hooked!
It's definitely a family affair! We see your sons, Layne and Ryder, at the track. Brian is always running around supporting Layne and then you and then helping during the afternoon pro race! It won't be long and you'll have Ryder out there!
[laughs] Yeah, Ryder is really, really good on his dirt bike! He has a little Polaris ATV, but he also has a PW50 and he has such good balance. He says he doesn't want to race, but he's only 5. We'll see! If he wants to, we'll definitely support him. If not, he still has a great time at the track.
What about Layne? He's been tearing up the youth ranks.
Layne is doing awesome! We are so proud of him. He has won 6 out of 7 races in the 125 Jr class. He doesn't turn 12 until next year, but we are anxious to let him rip it up on a 150. He definitely has natural talent! I guess he gets that from his dad, and then I'm the Energizer Bunny, so the kids should have a good combination!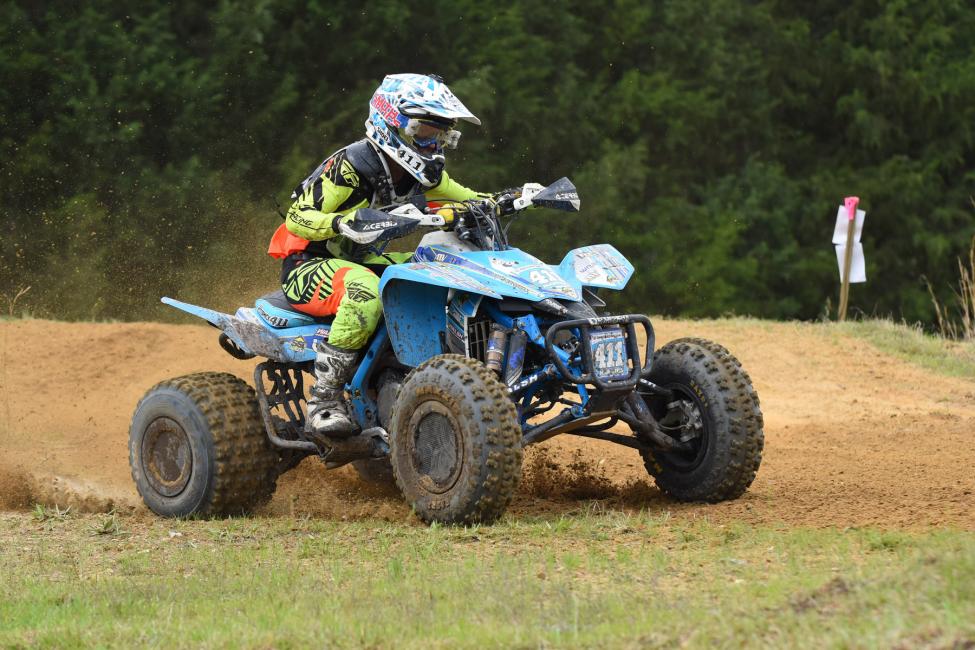 I'd say! Speaking of "dad," didn't Brian do some UTV racing?
He did! He has a lot of talent with a steering wheel! He did well in Sprint cars and then a couple years ago, he did some UTV stuff. He got a 5th in XC1, but retired because it's just too much. It takes a long time to fix those cars, wash them, maintain them and they are expensive. We have to choose. And I told him I would hang it up and he should pursue it! But he's very happy supporting me, Layne and all our friends at the track.
You guys also own Ye Olde Cycle Barn, right?
Yes. That's Brian's business. I work at Pennsylvania Department of Transportation and that probably keeps us sane! I would love to work at the shop, but this works. The shop is good. It carries Yamaha, Suzuki and Arctic Cat plus parts and accessories. The GNCC thing has helped boost the parts business. I wish the Sport ATV industry was strong like it used to be, but at least we have this much!
Yeah, it's been a difficult road since 2008, but it's really nice to see dealer participation in GNCC and I enjoy seeing the Ye Olde Cycle Barn shirts at the track! I understand you did talk Brian into doing a running race last weekend?
Yes! I am so proud of him! I wanted to do a trail race and asked him to join in. He won his class! He's still fit, even though he doesn't train and workout like I do. He's pretty awesome!
And you won your class, too?
Yes! It was a good weeeknd.
As I think back to the start of it all, I think I first met you in about 2013? We were doing the youth thing at Team Faith and were drag racing the Mean Machines! Do you remember that?
[laughs] Yes! That was so much fun! And Brian was giving me heck for being so competitive with 12 year olds! But I didn't win all the brackets! Those kids are fast!
That was a good time! I can't even remember what race that was?
I think that was the Foxburg, PA one. I won the women's amateur on Saturday morning and then Chris Borich won in the afternoon. That was a great place to race and I wish we could have gone back. But as I recall, it rained really bad and the property got tore up. It was beautiful, though.
Speaking of Chris Borich, you and your family are pretty good friends with the Borich family, right?
Yes, and that's a total racing thing. When we first started coming around in 2012/13, we knew Chris lived pretty close to us. Brian went over and talked to them and asked if maybe Layne could ride and have Chris kind of evaluate Layne to see if there is something there. And so we got together and Chris said, "Yeah, I think that kid has some speed in him" and we've been friends ever since! Actually, as they all got talking, Brian and Joe (Chris Borich's dad) used to race RC cars together! They only live about 30 minutes away and we all ride together and hang out. It's really a great thing!
You know, that's a familiar thing on these Tuesday Toolboxes. "Family!" Seems it comes up a lot that the GNCC Racin' Nation is family!
It is! And if you don't do it, you just won't understand it. But the people you meet and have things in common with…it is family! The kids get to the track and ride their bikes around and find their buds. It's always something to look forward to!
Back to racing, you've been making great strides with your program and are very competitive in the WXC class. Traci Pickens has been coming to some races and making wins happen. How is it to race against her?
Traci and I get along so well. She lives here in PA, not too far off. We keep saying we are going to ride together during the week and so far it hasn't happened. So, I try to pay attention when she is out there. I can learn so much from her. At Camp Coker this year, I was right on her and I was confident because I realized I had the speed to keep up and hopefully make a pass. She got stuck in a rut and I was too close. I bumped her and punted her out of the rut and then I was stuck! So, it didn't happen that race, but then at Penton, we went back at it again! Back and forth! Kylie [Ahart] was in the mix. It finally ended with Kylie, me and then Traci – but it was a battle the whole way! So much fun!
We are very happy to have you on the series! You currently have the points lead. I know you are focused and motivated! We look forward to seeing you at the track. Who would you like to give a "shout out" to?
I'd like to thank my husband Brian for EVERYTHING he does and also our boys for always cheering me on and believing in me. The whole Borich family for being such a huge part of our lives and helping me out whenever they can. My mechanic Matt Brandau and the Hunter and the Hart family. And definitely all my amazing sponsors, this would not be possible without them! Ye Olde Cycle Barn, Maxxis, Fox Shocks, HMF, I Q, Fourwerx carbon, DP brakes, wisecopistoninc, Walsh Race Craft, FLY racing, all balls, Rekluse, tireballs, SSi decals, wps, ATV innovations, interstate batteries, Trigar. And of course, Racer Productions for having such an awesome series to be a part of!