Chuck Lemaster
Time
Wednesday, December 30, 2015 | 7:30 PM
Stemming from the grassroots of family racing, Wiseco has over 75 years experience manufacturing pistons, whether it be for fun, weekend riding, or professional racing. Wiseco is one of the few manufacturers forging pistons in the U.S., providing quality and performance you can trust. 
Click here
 to see the latest Tech Tips from Wiseco.
One of the most contested Sunday classes this past year was the Women's Amateur class. Allie Bradshaw and Sarah Redel battled nearly every race, swapped wins and took it to the wire at Ironman! Allie emerged with the championship by a mere 3 points. While at the banquet, another Bradshaw was on stage to take some championship hardware in the Masters-A class. That was Mike Bradshaw, Allie's father! GNCCRacing.com caught up with the class champions in this week's Tuesday Toolbox.
GNCCRacing.com: Allie, congratulations on your championship! That looked like a slugfest all year long!
Allie Bradshaw: Thank you! It definitely was. Sarah [Redel] was tough all year long. I missed the first two rounds in Florida and Georgia and she won those two races. I came along at Steele Creek, managed to win, but it wasn't easy! Overall, I think there was one race where I was in the lead on the first lap. Otherwise, it was always a duel and a battle to the last lap!
Did you and Sarah know each other outside of GNCC?
No, not at all! We had a close race at Steele Creek and then again at Big Buck. Finally, in Indiana, we got to talking and became friends after that!
I think the term is "Frenemies: Friendly Enemies!" [laughs]
Yeah! She was definitely competitive. That's what makes it so much fun! She's a good rider and a good person. I'm glad we got to know each other off the track.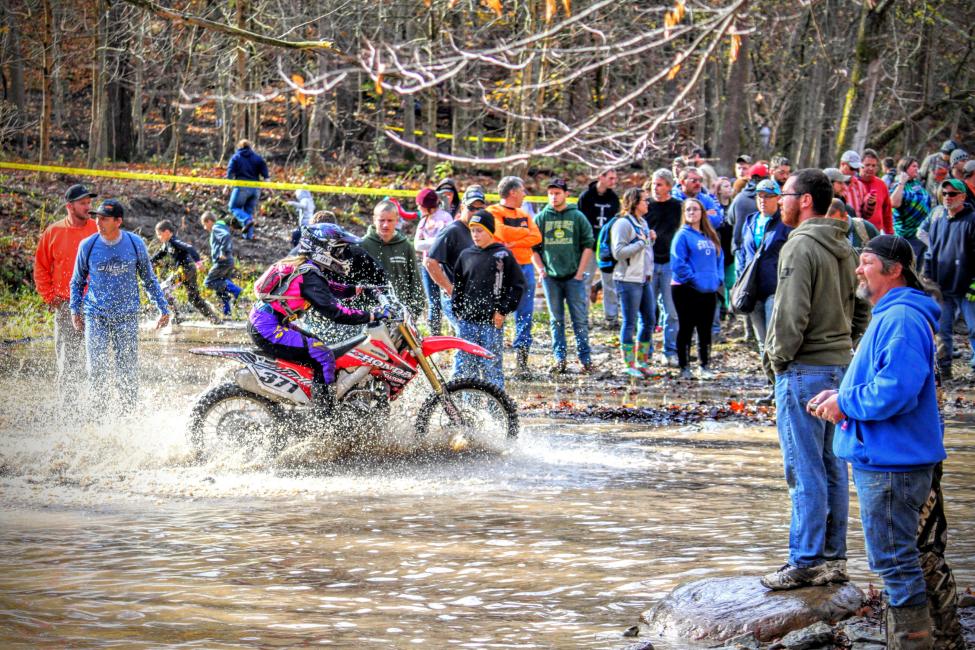 So was this your first year racing GNCC?
Yes. I've only been racing for about 4 years. I grew up on dirt bikes because my dad used to race and he got me on one when I was 4 or 5. It wasn't until a few years ago that I decided to race and I just did local stuff. I started out doing some motocross close to home, here in Knoxville, TN. There are some night races at I-40 MX and I did a couple races at Muddy Creek.
What got you into the woods and how did you end up at GNCC?
I did a SETRA race and just got hooked, I guess! My dad and I had done trail riding together and I really enjoyed the woods. We had come to a couple of the close GNCCs in the past and that was really our intention this year. But when we got to Steele Creek, we both won our classes! I had the ride of my life. There were 3 or 4 of us that swapped positions all race long. I ended up winning and had so much fun! My dad won the Masters A and that just kind of got us to thinking on the ride home. The next race was Big Buck, another one close to Knoxville, and again we both won! So then we started thinking, "What would it take to do the whole series?"
Well let's shift our attention to your dad for a minute. Mike, congratulations on the Masters A Championship! That had to be pretty special racing with your daughter and both winning a series championship!
Mike Bradshaw: Oh yeah! It means more to me that she did so well. I'm very proud of her! It was a special season, for sure.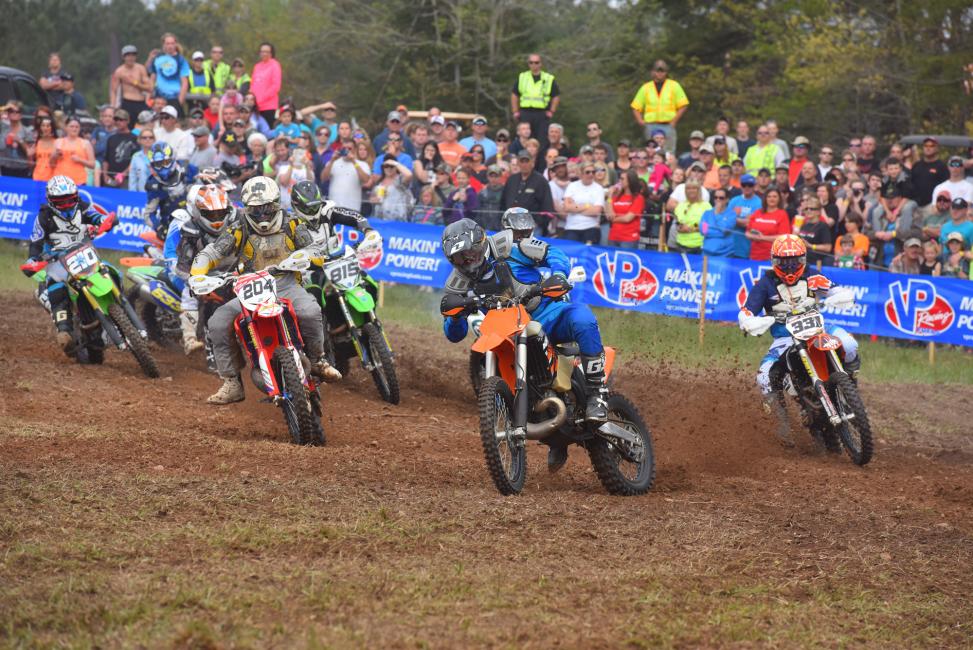 And it doesn't sound like you really intended to do the whole series?
No. I hadn't been riding or racing for a while. I got Allie and her sister into dirt bikes when they were little. Actually, got several of her friends into it, too. I just always enjoyed riding and teaching others to enjoy the sport. We would often go camping and riding at the farm. But as the girls got older, I stopped racing. My knees were actually giving out and it was difficult to ride. Then Allie got into racing 4 years ago, I got both my knees replaced and figured, "Well, if we're going to the track, I might as well ride!" We showed up at Steele Creek and both had such good performances, that we got to talking that maybe we should try to put in 9 races!
Right! For an amateur championship, you don't have to do all 13. At that point, you'd only missed 2 races.
It ended up taking us 10 races. I had a DNF at the first New York race with a flat front tire. And then Allie had a bad Snowshoe, so we decided we'd do 10 and each get to throw away one race. It worked out.
But as I understand it, your class Championship wasn't decided until Ironman, either?
It wasn't until I won the last race that I had enough points to edge me over Steve Thaxton. So Allie and I were both able to clinch our championships at that final round! I had some reservations during the year. As you know, it's a lot of work to keep up with two bikes and the travel expenses. I said I would sit my class out and focus on her but she wouldn't have it! "We're in it together!" she said. So, I just couldn't be more pleased with how the season turned out!
So Allie, what is next on your agenda? Are you planning a front row assault for next year?
Allie: Maybe! I just turned 18 two weeks ago and graduated high school last week, so I don't know about next year yet. I know I'm going to take a break from school and won't start college until August. I'll for sure race the close GNCCs, but I don't know if I can make them all. It would be fun to and I really enjoyed the traveling with my family this year. We just haven't sat down to look that far ahead yet.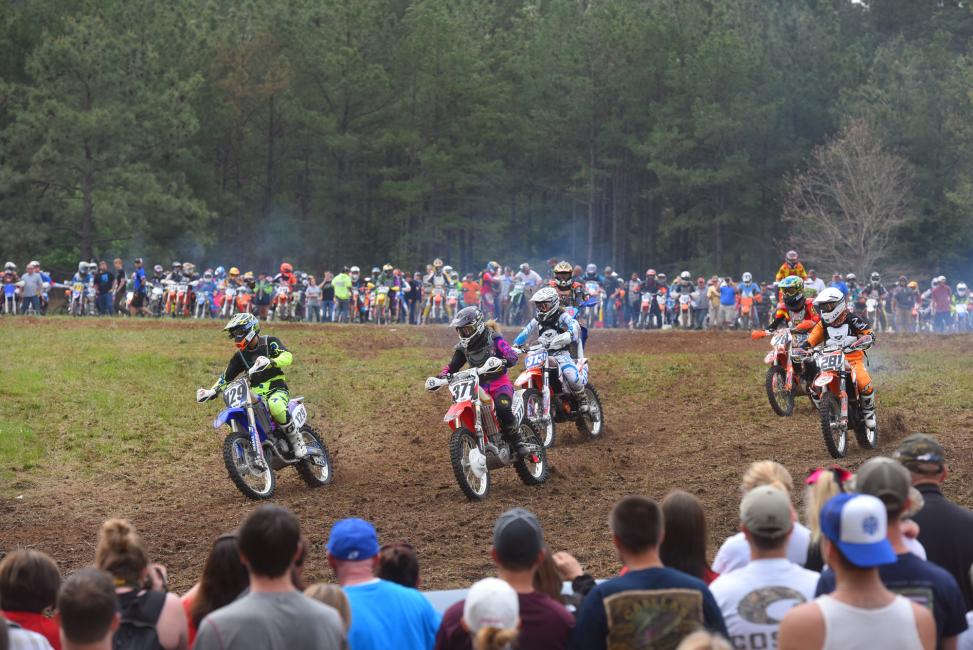 Well you did pretty awesome to handle a full-time school schedule, graduate early AND win a National Championship! That's a major accomplishment, right there!
It took some work! I tried really hard to get my schoolwork done during the week so I could have the weekends for racing or riding. If we weren't at a GNCC, my dad and I would go trail riding. We are each other's riding partners and only get to do that on the weekends. He's busy with work during the week and so I just stayed focused.
Well congratulations once again! Mike, you have any final thoughts on your daughter?
Mike: There's a lot I could say! She's a good kid with lots of drive and lots of heart. I'm very proud of her and thank you for the opportunity to say so!
Allie, who would you like to thank for this season?
Allie: I couldn't have done it without my parents. Thanks to my dad for getting me into this, riding with me, teaching me and everything else. My mom; she's the truck driver, cook, pit crew! We hooked up with Steve Litz at Litz Racing this year. He did my suspension and was a huge help to the program. Honda Yamaha of Knoxville is a local shop that helped me out. SPY Goggles came onboard. It really took a lot of effort from a lot of people and I'm thankful to them all! And thank you for the interview! Merry Christmas!