Jason Weigandt
Quick Fill #4: This Week in GNCC
Thursday, January 29, 2009 | 4:45 PM
Welcome to Quick Fill. We have snow here. What have you got?

Hopefully some of our racers will head to Snowshoe this weekend for the first-ever GNCC Ski Weekend. They're giving 10 percent off of rooms this Friday and Saturday and 10 percent off of list tickets for the weekend. You just need to show your AMA or ATVA card to get the GNCC discount. If you're planning on skiing for a weekend this winter, might as well make it this one. Snowshoe already passed their snow totals from last year, so the place is ready.

Call 877-441-4FUN to get in on the deal. Or check out the www.snoeshoemtn.com site.
And don't forget to check out the video Snowshoe made for us. It's on the main page and it wil get you pumped for the weekend.

And for all of you Pittsburgh Steelers fans out there (which, here is Morgantown, is everyone), don't worry, you can leave on Sunday morning and get back home well in advance of the big game.
We're going to cover this version of Quick Fill with photos from the opening round of the AMA National Enduro Series in South Carolina. Thanks to www.racedaypix.com. Enjoy.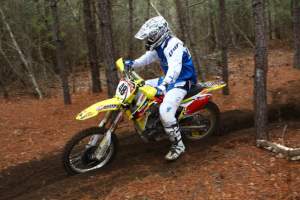 On Saturday at Snowshoe our crew is going to make a big announcement regarding this year's Snowshoe race. We've got a BIG deal coming, look for the press release on Saturday or just hang out at the mountain and you'll hear it first hand. A company has stepped up to back a big purse for the Snowshoe race, and also back bigger holeshot awards for bikes and ATVs throughout the 2009 season.

Today I did some searching into David Knight's status for '09. We know the big man is out testing BMW's new G450X, and today I got word from Bart Hayes (of RidePG.com) that Knighter is testing in Africa of all places. Knight hasn't nailed down his GNCC schedule yet, but he does plan to race a few rounds here while also pursuing the World Enduros in Europe. I've heard he would like to do at least three GNCCs next year. I would at least expect to see him in Florida wearing the #1. This is going to be interesting.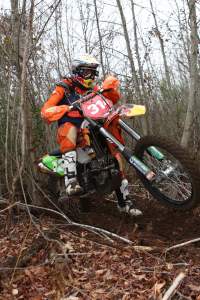 As for Juha Salminen, it appears he's staying in Europe, so don't expect to see our old buddy in Florida this year.

A ton of GNCC competitors competed at the AMA National Enduro opener over the weekend in South Carolina. We have a report from Dave Smith at Racedaypix.com

Jason,
What a great event to see the GNCC regulars come out in force and get ready for the kick off 2009 event in Florida in just a few weeks.  There were GNCC riders from minis to pros out in force and getting their sand skills ready at round one of the National Enduro Series in Sumter, South Carolina.  The Pro class saw Russell Bobbitt, Mike Lafferty, Charlie Mullins, Barry Hawk, Randy Hawkins, Jason Raines and a ton of A riders that showed up with a vengeance.  Conditions were perfect for what turned out to be a very tough and technical race for the B and especially the A and AA riders.  I have seen many a tight trail but a few of these were so tight that I literally had to walk sideways down them just to fit between the trees, and this was still in the early part of the race before things got real tight.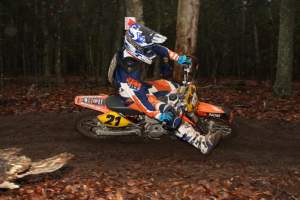 KTM rider Russell Bobbitt proved that last year was no fluke and he was ready to keep a tight grip on his 2008 crown as Enduro Champion. The surprise came as GNCC regular Charlie Mullins of Factory Suzuki pulled off an amazing race to capture second overall ahead of an impressive list of names.  KTM XC2 rider Cory Buttrick finished on the podium in the third spot fending off the likes of Shane Watts and Mike Lafferty.  Sixth place finisher was Kailub Russell, another GNCC contender.  Some of the other riders having a great day were Stewart Baylor, Ryan Belue, Lee Rowland and a host of others.  There were also a lot of the Junior riders getting geared up and ready as well.  John Michael Rainey had a hard fought battle with little Grant Baylor who won the division, while little Teagan Temple has made the jump from his 65 to the larger 85.  Teagan has been riding extremely well and is coming to the 2009 season looking for a title.  Sam Foster was out and training hard as well even having enough time to show out for the camera in a tricky tight sand section. 

Only a few weeks away and we will all meet again in Florida.  Travel safe and get ready for another year of racing.

Digital Dave

http://www.racedaypix.com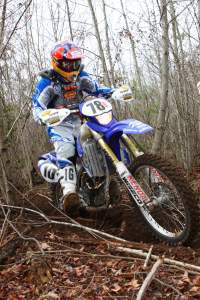 Good stuff from Dave. He also sent me a note outlining their plans at the races for 2009-if you want to buy photos at the track, racedaypix.com is your hookup.

I just wanted to do a follow up with you and let you in on a few of the new deals for the 2009 season at www.racedaypix.com 

The first thing that we are going to offer is a "membership" for the 2009 GNCC season. What this will do is allow racers to get serious discounts for photos purchased in a digital format and sent to them via E-mail after each race.  Here is a break down:  We are going to offer a membership of up to two photos per GNCC at a price of $75.00 for the entire season.  This will get 26 High-Rez photos delivered to your Email with a savings of almost $200.00.  We will also offer a four photo "membership" that will get you up to four (52 for the season) High-Rez photos delivered via E-mail after each race for $150.00 with a savings of $240.00.  This is an early season offer only.  We are going to start today and keep this offer open through March 8th, which is the General GNCC in GA.  If any one has any questions please feel free to contact us at [email protected]

These prices are based on the On-Site pricing and savings would be even higher if based on internet purchases.  We are also going to completely redesign our web site and give it a new look.  One last item that we are working on is changing the look of our on-site printed photos at each race this season-this will be our tenth year of operation and it is time for a new look.   We hope that everyone can take advantage of the new structures that we are offering for the racers that are chasing the GNCC circuit and are also looking for ways to streamline their 2009 budgets. 

Thanks and we look forward to seeing every one again in a few weeks.

http://www.racedaypix.com


On the ATV pre-season side, I had a good chat with bon vivant jack-of-all-ATV-trades Johnny Gallagher today. Johnny G and the factory Yamaha crew have been working super hard preparing for 2009. GNCC Champion Bill Ballance is now developing his own line of chassis and performance parts, so he'll have Ballance stuff on his machine this year, as will Johnny G and Traci Cecco. So if you want to make your machine like Bill's, he'll literally be selling the parts to do it for now on.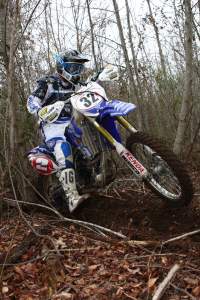 Also look for a bunch of other riders on blue, including Brandon Sommers, XC2 Champion Donnie Ockerman, and Taylor Kiser, who will return to the Yamahas after a year with KTM.

Meanwhile, Can-Am made their Warnert Racing team official this week, and Chris Bithell will be joined by Brent Sturdivant. The Warnert team told me today that Bithell is down in the Daytona area like usual training with Chris Borich, and Sturdivant has been racing a number of local races closer to home here in West Virginia. They hope the boys will be ready.

What happened to Chris Jenks? He was on Warnert last year, but I'm not sure what his plans are for 2009. If anyone has info on Jenks, send me an email.

Another rider seems to be riding well this off-season, Cliff Ousley. We found this story on him.

And of course Paul Whibley is riding and racing. He will actually have to take a weekend off though because he's getting married this Saturday! I'm amazed Paul isn't going to race on Sunday, still. Here's his latest race report.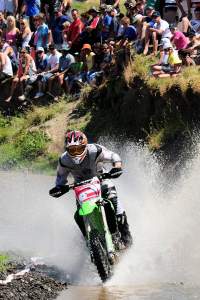 Race Report: Woodville MX River Race
Rider: Paul Whibley
Team: AFC Kawasaki, GEICO
Bike: Kawasaki KXF 450
Result: 1st

The annual Woodville MX was held over the weekend in brilliant sunshine. One of the features at this event is the unique River Race where riders start with the blast of a shotgun. A quick sprint to their bike and an abbreviated trip around the MX track before they plunge into the river for the exhilarating blitz upstream, to emerge soaked and smiling, ready to tackle another lap. This year a couple of small logs were added to the slippery section where the bikes crawl from the river and provided some extra entertainment for the large crowd.
In the first race I got a good start and took the holeshot, chased hard by Yamaha pair Cam Negus and former World MX #2 Darryll King. I pushed hard and got to the river first. I hit the drop off and landed halfway across the river, rounded the bend then pinned it upstream. I splashed my way up the water course and slithered up the bank to tackle the logs, deciding at the last second to hit the first log and turn them into a double. I extended my lead each lap and by the end of the race had a comfortable lead and took the win.
In the second moto I twisted the throttle by accident as I jumped on the bike and as a result got a bad start. I worked my way up to 3rd as we hit the river and tried to go around the outside as we raced up the river. I lost the front end and went down, but I was quickly back up and chasing the leaders. I soon zeroed in on the leaders and jumped past Cam Negus for the lead as we dropped into the river. The Kawasaki performed faultlessly and I extended my lead to the chequers.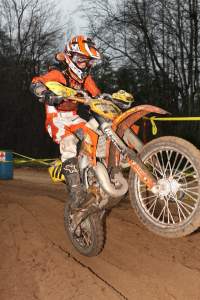 Big thanks to Brendon and the team at AFC motorcycles for their support while I've been home in NZ.

1st: Paul Whibley
2nd: Cam Negus
3rd: Greg Neru

Thanks for the continued support from my great sponsors here in NZ and America.
Kawasaki, AFC, GEICO, Moose, Shoei, Sidi, Smith, CTi, RG3/MotoSR, Pirelli, Vortex Ignitions, Spectro, DID, JT, Acerbis, Vesrah, G2, IMS, Promoto Billet, Fastway, WER, Stringfellows

As for other Kawasaki riders, I heard Jimmy Jarrett and Jesse Robinson raced in Sumter, also, to get ready for the New Year. Jimmy will join Paul and Scotty Watkins under the JG Racing/GEICO tent this year, so that's going to be a powerful addition to the pro pits.

We're all getting ready to race. Just a few days ago, GNCC Trail Boss Jeff Russell left for Florida so he could start dialing in the GNCC track in Florida. But I have a sneaking suspicion that he'll be done by Saturday, so he'll just have to find something to do on Sunday. In Florida. Hmmmm, anything going on in the Tampa area this weekend?

Have fun, Jeff.

Go Steelers if you're like anyone else around this office. Me, I'm from Jersey, so I had my fun last year.

Enjoy your weekend at Snowshoe, folks. Look for a big announcement on that race on Saturday. Have fun!