Jason Weigandt
Tuesday Toolbox: Scot Harden
Tuesday, December 16, 2008 | 4:30 PM
Former racer Scot Harden held a management position for a long-time at KTM, but a few months ago he made a switch over Husqvarna to become their National Sales and Marketing Manager. He comes as part of Husky's rebirth under its new parent company, BMW. Even in a down economy, Husky is looking to expand, through rejuvinated race support, contingency, and product. We talked to Scot today to find out more.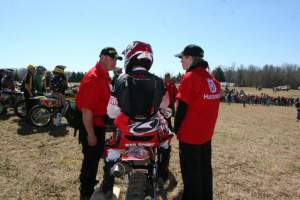 Scott, what are you up to today?
Oh, we have a lot going on, but we do need to be finished by 5 today to go check out a Neil Young concert at Madison Square Garden.

Nice! Going Downtown.
Yes, Downtown Tonight.

And you get to do things like this because you work in New Jersey now?
Well, I'm bi-costal now. I still live in California, but I do a lot of work out of the Husky offices here in New Jersey. Since September, about 70 percent of my time is spent here in New Jersey, just because we have so much going on.

Well it's exciting though, because these days, most of the news we're hearing out of manufacturers nowadays is shrinking, not expanding. But that doesn't seem to be the case with you guys.
Well, we're kind of in a unique position, because we have BMW behind us. And BMW is the only manufacturer whose sales in the last month, and the last year, have been up. So they're doing something right, and that's a strong point for us going forward. We have a mandate from them to reestablish the brand in the U.S., and we have a three-to-five year plan to do that.

Well that's something people were probably wondering about when BMW acquired Husky last year. They didn't just buy it and put the brand on the back burner. They have real plans.
They do. Mr. de Waal, the VP of BMW Motorrad, he had a presentation today outlining what they want to do with the Husky brand. And while BMW now does have the 450X, they do not have any other plans to expand beyond that on the dirt side. Husqvarna, they have a full line of 16 bikes, so really the effort and the energy is going to go into Husqvarna. We have 16 bikes, but we're looking to go beyond that in the near future.

One of the problems in the past with Husky has been just getting the bikes. Will there be a good supply of bikes and parts now?
Yeah, the history of the brand over the last 15 years has been kind of spotty. A lot of start and stops and inconsistency. But that's gone. The BMW business model doesn't allow for that, and we're here to stay. We do have a lot of work to do to rebuild the dealer network and dealer confidence, and confidence within the buying public. It will take time, but we're putting in the work to build a structure, get parts and equipment and dealerships ready, provide race support, contingency, and build visibility in the market. Time will bear the witness to what we set out to do.  It's interesting, that Husky has been out of the market for so long. But there is still so much passion for the brand and so much desire for it to succeed. So I don't think it will take too long to stoke those embers and get people on board.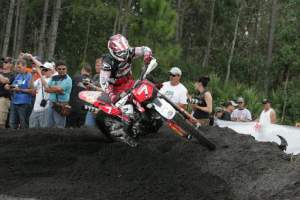 And racing is part of that plan.
Yeah, we had great success with Glenn and with Scott Summers. We are bringing Glenn back and we think he'll do very well again, and his mechanic, Wyatt Seals, is coming back as Team Coordinator. We just had both of them testing bikes at the factory last week, so we really feel good about that. We're getting a new transporter for those guys, too. In addition we just got the contracts back from Ty Davis, so now we're going to be racing on the West Coast, WORCS, EnduroCross, some Best in the Desert races. We have a good presence with a great contingency program that covers all the events, and a lot of the manufacturers don't drill down as deep as our program does. And another fun thing is the guest rider program, and the idea is to have a guest full-factory rider at each event. We're going to give some legends of the past a shot at it, as well as some young up and comers. But I think the part we're most excited about is opening up some rides to people in our armed forces. We've already have a phenomenal response, these are dirt bike racers just like us who had to give it up to go defend our country. We're going to have real American Heroes at the races so we can give back. They'll be teammates with Glenn Kearney, and we hope it makes people want to stop by and see what's going on.

I know at KTM, it seems like every employee there used to race at some point. Now you're building that at Husky, because you were a racer first.
Yup. I raced the Blackwater 100 the last year they had it. My background was in desert, Baja and Dakar, and long-distance rallies. I had a good long career so I was fortunate. I was inducted into the AMA Hall of Fame this year. I've just been blessed.


And what's the status of Scott Summers with the program right now?
We're still talking to Scott. But his deal was with BMW, it wasn't directly with Husky. BMW put in a big effort, but unfortunately they couldn't deliver the bikes on time for him, so they switched over to Husky. Unfortunately, we couldn't absorb his program into our budget. We'd like to continue working with him. Scott did a tremendous job for us, and it's not 100 percent confirmed that he won't be back with us.


And what about you? You spent a long time at KTM before doing this latest deal.
I spent 20 years with KTM. Built it up from a small little company into a giant company. I met a lot of good friends, and I got to work very closely with Rod Bush, which was the best experience in my life. There are a lot of tremendous people there. But I was a factory Husky rider from '74 to '86, and I had a management role up until '86. Then I went over to KTM, so I've kind of come full circle. This is a tremendous opportunity here. It's a challenge, and it's a lot of work, because we're the small guys again. The exciting part for me is getting the programs up and running. I'm going to be able to get as much going as I possibly can, and get as many programs up and running as I can. Plus, I get to spend lot of time on the East Coast, and I'll be coming to a lot of GNCCs this year. A lot of people on the West Coast may think California is the place to be, but I'm pretty stoked to be able to experience both coasts.