Jason Weigandt
Nate Kanney Ironman Report: Victory!
Thursday, October 30, 2008 | 12:00 AM
Coming into the final round of the 2008 Can-am GNCC series, Team Red Bull/KTM's Nate Kanney was a man on a mission. For some riders, four podiums including two 2nd place finishes, and 4th overall in the series points would be a great season, but not for Nathan Kanney. With two career GNCC wins over off-road racing legend Juha Salminen in the 2006 season, Kanney knows how to win and his focus all season long was the top spot on the box. After a poor showing at the penultimate round in St. Clairsville, OH Kanney headed to Crawfordsville, IN with one thing on on his mind: winning.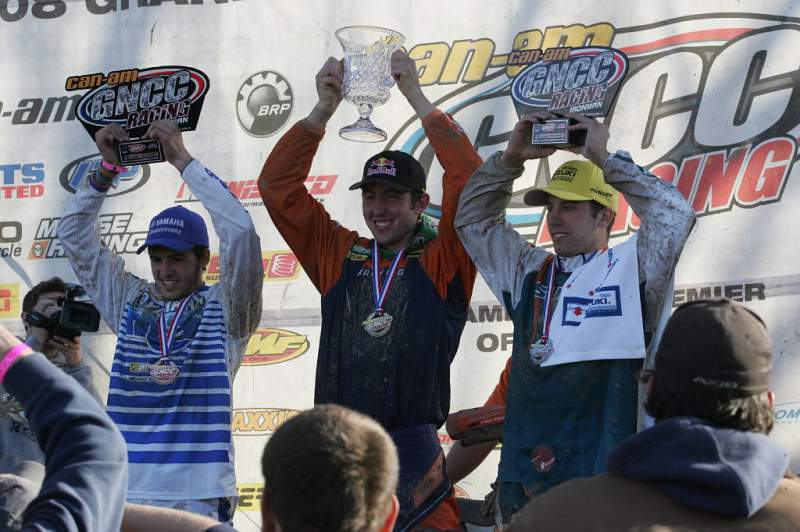 Kanney finally gets to the center of the podium.
Rain the Friday evening before the race, followed by nearly 800 quad riders taking off the top layer of slop left a perfect track for the XC1 Pro bike race on Sunday afternoon. When the green flag flew, Kanney found himself mid-pack heading into the first turn. A few strategic moves in the following grass track section put Kanney safely inside the top 5 heading into the woods. "I made a few quick moves and before I knew it I had clear track and front of me and I just put the hammer down. I wanted a win so bad that I just pinned it in the field sections trying to open up a gap on the rest of the field," said Kanney. And open a gap he did, as Kanney came through the finish line at the end of lap one with a 20 second lead over second place, which would turn out to be the smallest lead he held all day.
"The track was perfect and I was riding extremely well. I knew that the pace I was pushing was fast and that if I could keep it up that I'd be able to open up a comfortable lead over the rest of the pack. There were guys behind me like Mullins, Whibley, and Strang who are all notoriously strong finishers and I wanted to put as much time on them as I could." A solid second lap stretched Kanney's lead to 40 seconds, then another great third lap pushed the lead to over 50 seconds. At that point it began to look like no one else in the field was going to be able to make a run at Kanney. "I was coming up the infamous hill and a lapper cut over in front of me and nearly took me out. I ended up having to walk my bike up the hill and was starting to wonder if maybe it wasn't going to be my day!" said Kanney. The Red Bull/KTM rider didn't falter, instead he put his head down and charged opening his lead back up to over 30 seconds and cruising in for the win.
"It was just one of those days where I just had another gear that the other guys couldn't grab. I didn't ride mistake free, but I was able to keep it together for the win and that's all that matters. I had really thought I would've had a handful of wins this season and was a bit disappointed that I didn't get any. But, winning the last race of the season with such a great ride is such an awesome feeling."
Kanney is now heading to Sendai, Japan to represent the GNCC series along with Thad DuVall in the final round of the AAGP JNCC series.
For the latest news and updates, check out Nate Kanney's personal website at www.kanney116.com.
Photos: Jason Hooper @ www.digitaloffroad.com
Results:
1. Nate Kanney
2. Charlie Mullins
3. Thad DuVall
4. Barry Hawk
5. Paul Whibley
Next Up:
November 2, 2008
Sendai, Japan
AAGP JNCC Final Round