Jason Weigandt
Red Bull/KTM Snowshoe Bike Race Report
Time
Monday, September 15, 2008 | 12:00 AM
KTM Press ReleaseSeptember 15, 2008
Red Bull KTM's David Knight Wins Snowshoe GNCC
Snowshoe, WV "" Red Bull KTM Factory rider David Knight earned his sixth win of the season at the tenth round of the GNCC Series at the beautiful Snowshoe Mountain Ski Resort.
Knight lined up with five other riders, including his Red Bull KTM teammate, Nathan Kanney, to start the race on the street directly below the Snowshoe Mountain Ski Resort Lodges. This event offered a unique start where riders were released in groups of five based on their point standings exactly five seconds apart. As they bolted forward on the start, Knight came in a bit too hot on the first turn and was forced to back down as the riders dropped from the street into the wooded section. This caused him to drop to 9th while his teammate Kanney had a better line and entered the woods in 2nd position.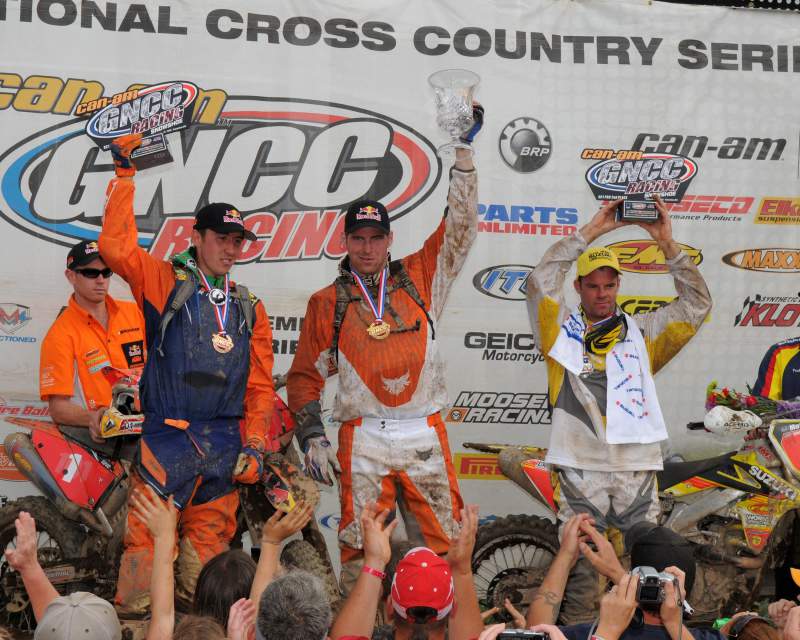 Kanney (Left) and Knight (Center) put two KTMs on the Snowshoe Podium.
Scearce photo
Although the race was quite challenging due to the rocky and mud-infested wooded sections, Knight was able to make up some time and move into 2nd position by the end of the first lap. Kanney made a couple of mistakes which caused him to fall to 4th place. Knight's biggest competitor of the day actually came from XC-2 Lites rider, Thaddeus Duvall, who was not actually competing against Knight for any points but was the closest rider to Knight during the day's battle.
Knight moved into the lead on lap two, and lost it briefly after pitting for gas on lap three. He quickly regained the lead on the 4th lap and held on to win the race. His teammate, Kanney, stayed within the top five and earned an impressive 3rd place finish by the end of the race to join Knight on top of the podium.
Red Bull KTM XC-2 Lites rider Justin Williamson had a decent race in Snowshoe. He started the day in the top five and stayed strong to hold his position throughout the end of the race to finish 5th overall. Williamson now sits fourth in overall series points.
Next Event: Round 11 "" Unadilla "" September 28, 2008 "" New Berlin, NY
Overall Results XC-1 Class:
1) David Knight "" KTM
2) Paul Whibley
3) Nathan Kanney "" KTM
4) Jesse Robinson
5) Barry Hawk
6) Joshua Strang
7) Jason Raines
8) Louwrens Mahoney "" KTM
9) Jim Jarrett
10) Glenn Kearney
Overall Series Points XC-1 Class:
1) David Knight "" 256
2) Paul Whibley "" 209
3) Joshua Strang "" 199
4) Nathan Kanney "" 171
5) Charles Mullins "" 159
6) Jim Jarrett "" 144
7) Jason Raines "" 137
8) Glenn Kearney "" 135