Jason Weigandt
Tuesday Toolbox with .... Jason Raines
Tuesday, August 12, 2008 | 12:00 AM
Five years ago, Jason Raines was supposed to take over GNCC Racing. The Washington-native was young, fit and fast, and he won races and contended for the title"¦until an unbelievable run of injuries kicked in. Jason broke his leg four times, and after missing nearly two years of action, most thought he was done. But Jason doesn't give up, and he's back racing with his familiar Am-Pro Yamaha squad. What's happening with Jason? We called him in the middle of a test session today in South Carolina.
Interview by Jason Weigandt
Photos by Jason Hooper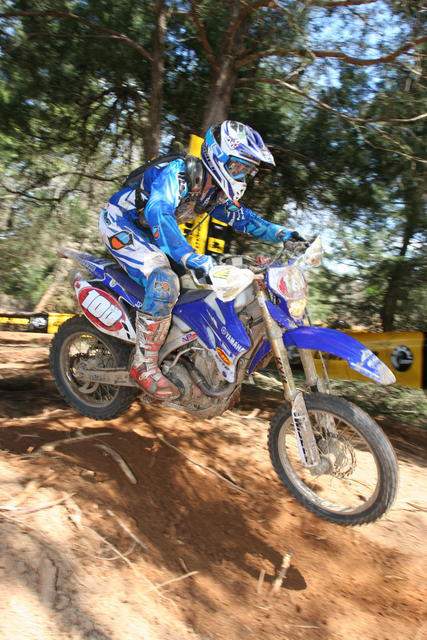 Jason Raines runs the comeback #100.
Hooper photo

GNCCRacing.com: What's the riding like in South Carolina in August?
Jason Raines: Randy (Hawkins) and I prepped the track because everyone was coming here, but it hasn't rained at all, so it's a big silt ball. We try to test in the summer, because this is our big chunk of time. We're all here. Barry (Hawk), Randy, myself, Thad (DuVall), couple of his buddies, Ryan Belue. There's a lot of us. We're doing a lot now as a team, because during the race season, when you try to test and ride Tuesday, Wednesday and Thursday, you're still not sure if it's going to be better, so then you're not sure if you should bring it to the race. Now, we can be sure. Every racer gets in a rut, once something works they don't want to change it. But with the way technology is, every day there's something new.
So you were planning on getting ahead of the curve by jumping on that four-stroke, but now everyone is on one. What changed?
Well, it's funny that you say that, because there are a lot of places where I like the two-stroke! You know, they're harder to start, and the 450s almost have too much power. So I don't know why it's working. You know, Barry still likes his, and I really think that those guys could go just as fast on a two-stroke as they do on a four-stroke. The weight is an issue and stalling and restarting is an issue. But the more you ride them, the less of a problem you have with stalling, because you learn the braking points and how not to stall them. I think we have a pretty good handle on it now. They're so much more finicky with jetting and stuff like that.
What about the rest of the comeback? I know you're not happy getting seventh every weekend. What were your expectations?
After last year, I wanted to get top five consistently, and then start going for those podiums. So that's kind of frustrating for me, but at the same time, I'm happy because I'm healthy. At the last GNCC, we had just three days of testing on a new bike, and that was the best I had felt yet (Note: Jason has started using some additional YZ450 components on his WR450). At that race, with two laps to go, I came around and I felt strong. Before that, it was usually like wherever I was at, I would stay there, or if I was going anywhere, I was going backwards.
And that had to be frustrating, because you're known as the fitness guy.
That's where my career was built. Those last two laps, being able to push. Now, I look at my lap times and my speed is decent, but I just can't maintain it.
Did you start making changes to your program?
I didn't ever get where I was completely dead. It wasn't like I was going to pass out. But I felt like I could maybe just keep a pace, but I didn't have that push. And then everyone else would step up and catch me and pass me. The one that sticks out the most was Loretta's. I thought I had a top five, and to have those guys (Whibley and Kanney) blow by me, I was just like, what is happening? With the changes we made to the bike before the last race, I felt like I could run the pace of those other guys at the beginning of the race and not wear myself out so much. Then I won a hare scramble a few weeks ago on it, so I feel good. It seems like it comes easier.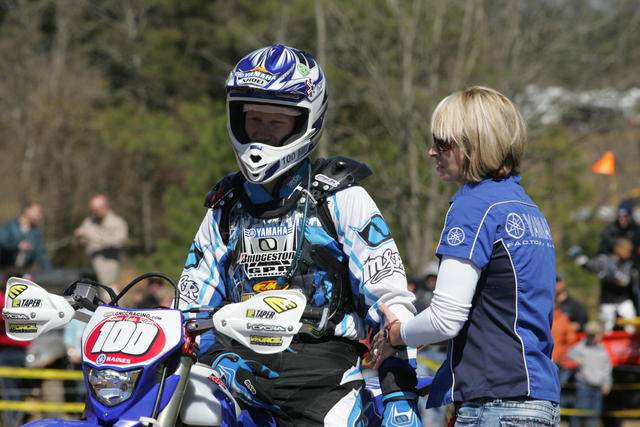 Raines' wife Emily races motocross herself, and is a now a fixture in the Am-Pro Yamaha pits.
Hooper photo
The other theory everyone is going to have is that when you got hurt, Juha Salminen came in and changed the game. Did everyone up their game while you were gone?
I don't think that's it. At first I did. But when I look around, most of the guys I was racing against back then, they're gone. Barry and Jimmy are still there, but when I was racing five years ago, we had Steve Hatch and Rodney and Freddy and Chuck and Shane and Doug Blackwell, Mike Kiedrowski, Lafferty. Those guys are gone. Now we have Strang and Mullins and Kanney, these are next generation guys. Then right behind them you have Cory Buttrick and Thad and Kailub (Russell), they're ready to fill the spots we're in. Most of the guys I raced against, they're gone. So it's hard to judge who you're riding against and compare it to a few years ago. But Barry and Jimmy are still here and they're still up front.
What keeps you motivated?
Right now it's the Hare Scrambles Series. For whatever reason, I go to those races and feel like I can do well. Glenn (Kearney) has been at them, and Kanney at some, but when I know it's just three, it seems better for me to take that on. If I was just riding GNCC, I would be pretty beat down mentally.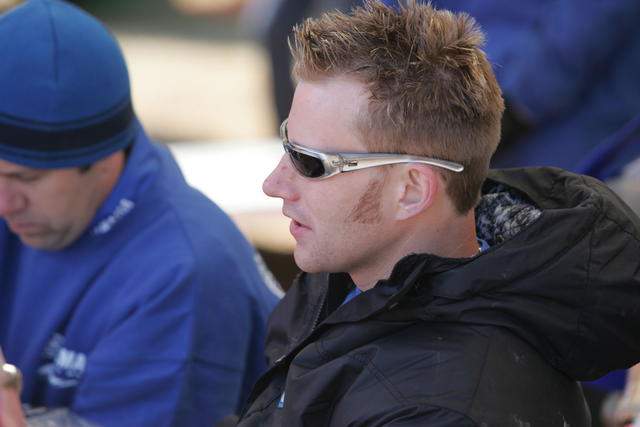 Making friends and hanging out with family has made racing fun for a rider known for taking things very seriously.
Hooper photo
What about the old injury?
It doesn't bother me when I ride or anything like that. It's stiff and sore sometimes in the morning, that's all. But the biggest thing it hits is your confidence. That takes a long time to get back. I know back in 2002, '03, '04, I would look down the line and I just knew I was going to win that day. I mean, I wasn't cocky, but I knew in my heart I could win the race. It felt like it didn't even matter what type of start you got, or what happened, you were going to end up in the front. Now, I go over and think "Well, how am I going to do this? How am I going to beat these guys?" So you're questioning yourself. A guy like Strang, everyone on Suzuki kept saying he was the fastest guy on the team as far and lap times and stuff, but he just needed the confidence to do it in a race. And you know what, once he started getting that confidence, look what happened. Same thing with Whibley once he started getting going.
So the dream is still alive for you?
Yup, we're still testing and training and trying. But for me, it's more fun than it used to be. Years ago, if I didn't run and train and ride every day, it was like it was the end of the world. Now, it seems like the more attention I put on other things, the better I do. You really don't have to train that hard every day. Before, I had to because if I didn't, mentally it was the end of the world for me. Now, when we get a break, I take it. In the past, even during the summer, when we didn't have races, I would keep going out there wide open every day. I think that's why I ended up getting hurt so much during the summer. I was just broken down.

Can Jason come all the way back to his old form?
Hooper photo
I remember seeing you at the Washougal MX National a few years ago. You were on crutches again, you had just gotten married, and you were spending a lot of time back home in Washington. It seemed like all the signs were there, that you were done and moving on to a new chapter. But you told me you didn't want to go out that way. Do you sometimes just say to yourself, "Man, at least I came back out here and gave it another shot?"Â
You know, after a hare scramble a few months ago, it was really nasty and muddy. I sent Barry a text telling him how bad it was, and he was still hurt at the time. He said "Hey, at least you're still racing." And you know, you forget about that. I remember back two years ago, I would have given anything, anything, to race again. Every racer is going to have a lot of things they can look back on and say woulda, coulda, shoulda, with injuries and bad luck and stuff. But at least I can say I came back. I've been told that I can't do a lot of things, starting all the way back when I first moved back east ten years ago. So that type of thing motivates me. But, at the same time, I'm at the point where I have to look down the road and think about the other side of it. And when I think about that, I think about how you can't really enjoy it while it's happening anyway. The wins, they come and go. But I have all of these great memories, with my dad, my family, with the friends I have made. And when it is over, I can look back at those things the most, even more than any kind of wins or championships. So I'm just glad I'm here right now.