Jason Weigandt
Tuesday Toolbox .... Vanja Kollmann
Tuesday, July 22, 2008 | 12:00 AM
To the competiton in the Women's bike class, it sure seemed like Vanja Kollman came out of nowhere. The Swedish rider came to the U.S. last month for a little riding vacation, and after racing two GNCCs, she ended up with two wins! When Vanja's not riding, she's training troops in the Swedish Military to detect bombs, so maybe riding a GNCC course is easy to her. Is it? We called her to find out. Bart Hayes of Powersports GrafX pitched in to help expand Vanja's English vocabulary.
Interview by Jason Weigandt
Photos by Robert Tranberg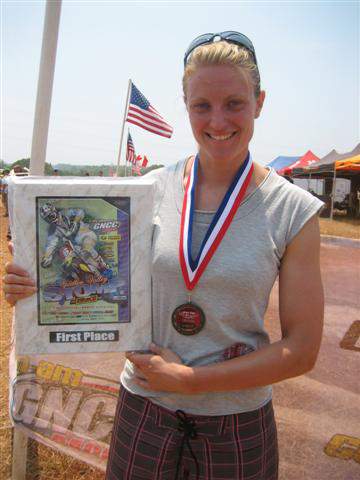 Vanja Kollman.

GNCCRacing.com: So, what are you doing in the U.S.?
Vanja Kollman: I've been here for four weeks now, and my plan was to do two GNCC races.
And you do some racing back home?
Yes I do. I do the Sweden Championship and the European Enduro Championship and I'm also going to do the Six-Days Enduro this year.
Do they have Women's Classes at these events?
Yes they do. I think the Women's classes in Sweden and in Europe are actually bigger than they are here.
So what were your goals? You won both of the races!
My goal was to get top three. I had never raced here before and I didn't know what the riders would be like, so it would be hard for me to say "I'm going to win." You know, the tracks could be much different than what I knew, so my goal was top three.
So I guess you're pretty happy.
Yes, I'm pretty happy.
Was it tough at times?
It was. They were tighter than I was used to, I had to run, what do you call them, the hand guards? Bart, what are they called?
Bart Hayes: Bark busters.
Yes, bark buster. We don't use them at home on the dirt bikes.
I've always wondered that. I see photos of races in Europe and the riders never use bark busters. Is that because the tracks aren't as tight?
Yes, our tracks are wider.
More like motocross?
Not motocross. But they take those dangerous things away, like trees, so you don't have to worry about them.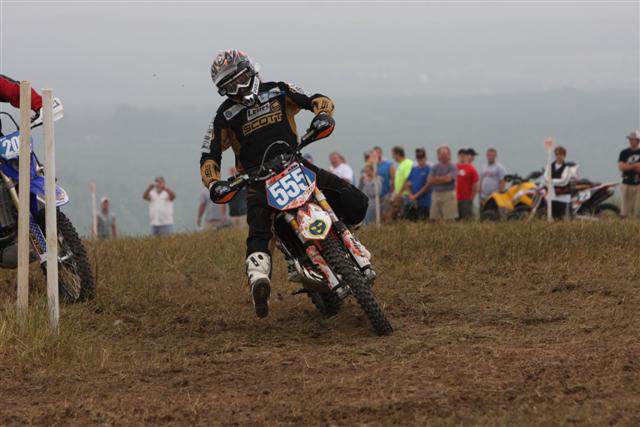 Vanja won the Women's Class at Yadkinville and Somerset.
Yeah did anyone tell you that trees don't move when you hit them?
Yes! They tell me that!
Any close calls?
I had to train and practice a few times before the races. So I knew the races would be like that so I adjusted for it.
What was it like here? Was it fun?
It was really fun. I met a lot of great people, like Bart. I had some great people and they helped me with my bike and my gear and everything like that. So I met great people.
Now I hear you have to go back, and you have a pretty crazy job at home.
Yes. I have to go back, and I am a Military Officer in the Swedish Miltary.
What does the Swedish Military think of this racing thing? You're not riding a bike in the military are you?
No, I am not riding a motorcycle, but, I only have to work half time, because they think about the racing that I do and they say that that's recruiting and promoting the Swedish Military.
Oh, so the fact that you're racing is a good thing for them?
Yes. They're actually my sponsor. I had their logos on my bike when I was here.
Did it work? Did you get anyone to sign up for the Swedish Military here?
(Laughs) No! No one signed up. But you know, I showed something, I showed we can get first!
So is racing a full-time thing for you? Are you riding everyday?
Not maybe riding, but definitely training every day, yes. It's pretty serious.
So do you want to come back?
I would love to come back. They tell me I only need nine races to win championship, so that makes it easier than doing all 13.
Oh, so maybe go for a championship.
Yes. It has been fun. There are many things that are better over here, like more TV and radio and all of the promoting and things like that. It's good. We got to do so many fun things here.
Bart: We let them do the tourist stuff. We even played some putt-putt golf with David Knight.
Yes, that was fun. He won, though.
Is David one of those guys who is good at everything?
Yes! I think so.
Bart: He had one of those shots where it went past the cup, bounced off of a rock and rolled back down and into the hole. He wanted to let the world to know he shot a three under par.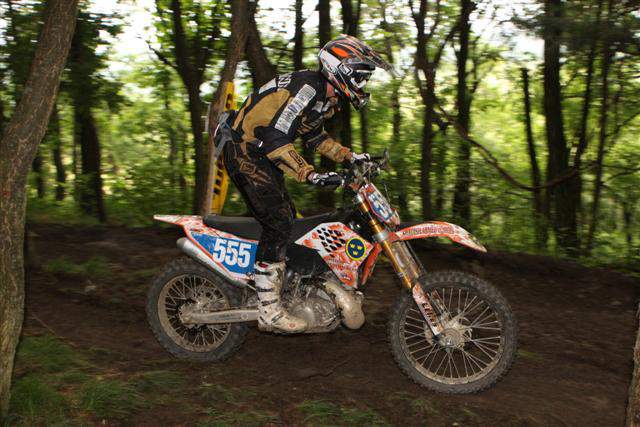 Note the Swedish Military logos on the bike.
So who is in your crew?
I came over with my boyfriend, and he is also my mechanic.
So it was a fun vacation with some racing built in.
Well, it was fun, but the real goal was to race the GNCC.
So where did the idea to race come from?
We started to talk about it last year. We talked to different sponsors and the military and everything, and then we contacted Antti Kallonen with KTM. Then we started talking to Bart in November.
And the Swedish Military liked the idea of you coming here?
Every year I have to give them an idea of what I want to do. So they think this would be big, for me to come here, and to show that even though we are a small country we can compete with the best in the world.
Explain to everyone what your job is.
I teach for the military. I did my military service, and after that I went to work for them. We have one school in Sweden, and my job is clear, I teach how to find bombs and land mines that have not gone off.
That's crazy! This is not a joke?
No, it's not
Well, uh, anything you can explain that makes for a better "bomb checker?"Â
(Laughs) I don't know, but you have to be really focused and you can't be stressed. You must have good concentration.
Does that help with racing?
I think so!
So how are you doing in the Swedish Championship? Is it pretty popular?
Yes it is, usually there are 20 to 30 girls. Our tracks are harder. At the last race, they told me there would be rocks, and it was quite rocky, but I thought there should be even more rocks. I like the tough tracks.
As long as there aren't bombs you should be okay?
Well, I guess I could handle that, too!