Jason Weigandt
Tuesday Toolbox with .... Bryan Cook
Tuesday, June 17, 2008 | 12:00 AM
Photos by Hooper
A lot of XC1 Pro ATV riders came into the season riding the hype, but Bryan Cook wasn't one of them. Although Cook has been to the top of the sport before""he has two career overall wins""he was left without a seat when all the factory rides were handed out during the winter. But Cook wasn't done chasing wins. The southern man simply stayed with Santo DiRisi and the Team Excell Motorsports squad, kept his familiar Honda TRX450R and went about putting his name back up there.
Three podiums and five top fives later, Cook is fourth in the points heading into his home-state race in North Carolina this weekend. Can he get a win?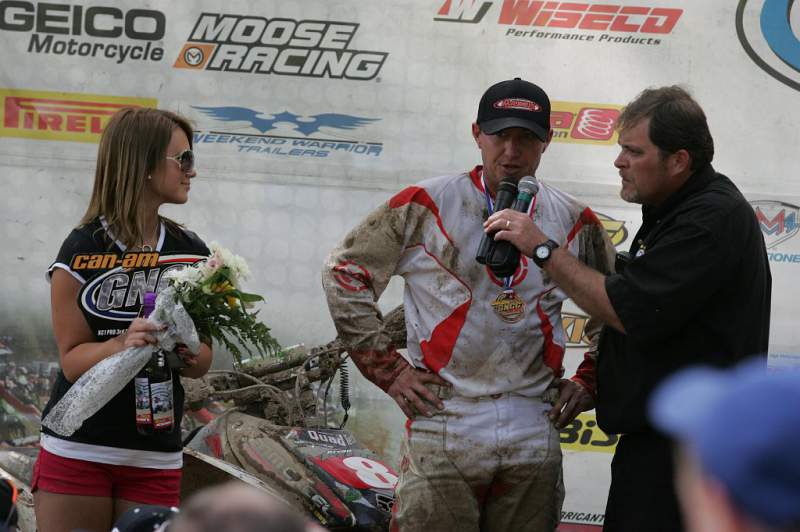 Frequent podium dweller, Bryan Cook.
You have to be pumped the way things have gone this year.
Oh yeah. It's exciting.
What's made the difference between this year and the past?
Just different things. Injuries, bad luck, and this year we brought on a few new sponsors that have really helped the program. We have a Nutritionist, Ken Bates Moto X Nutrition. Little things like that have come together.
This is the way this always works at this level. Your results have improved, but it's not because you just started running twice as far or practicing twice as much.
No, it's not. It's just a bunch of small things adding up.
Does it give you more fire this year since all of these factory rides went out and you didn't get one?
It does. That's what everyone is gunning for, and you have to be up front to get it.
Did you expect that podium right off the start in Florida?
No I didn't. I didn't know where we stood, but I knew a lot of those guys had been down there in the sand working at it. So I didn't have that high of expectations, but we pulled out second.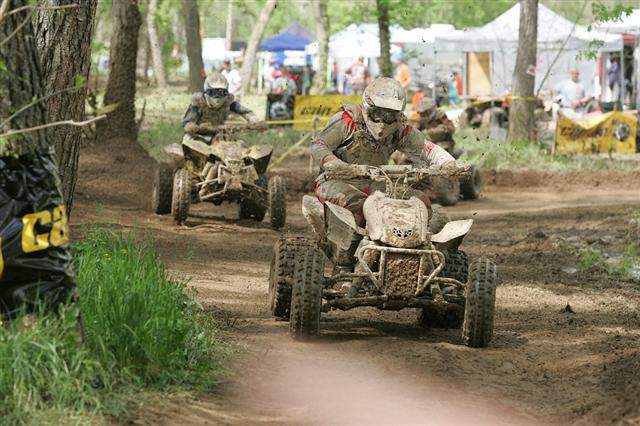 Cook on his way to a solid finish at Loretta's.
That give you some confidence?
Yeah. It's starting to come together, and it's getting better all the time.
Are the other riders getting faster each week?
Yeah, it's changing. Everyone is trying to be the top guy, and at these last couple of races you can tell it's stepped up.
But how come you stepped it up more?
It's just your mindset. It's totally different. Last year I struggled with arm pump, and that was always in the back of my mind. I never could get it out. That was hindering me. Now I have that taken care of. I go to the starting line with good thoughts now.
Is getting rid of the arm pump all mental?
It's a little bit of it, but we also have a nutritionist, which helps us get ready. I also have some things I'm doing before the race to get them pumped up, so they will be going down when the race begins. I try to get it going and get rid of it before the start.
So earlier in the year you actually got a holeshot.
Yeah that was my first one ever in the pro class.
Wow. Were you nervous up there?
I was! It definitely works on your mind a bit. I kept looking back. But after a lap I settled in and got comfortable, and no one was pressuring, so I knew I was keeping a good pace. I just chilled out and got comfortable.
Will it be easier if you get a good start thing time?
It will.
But most of the time, you're still coming through the pack. How are you able to make up that ground? Is it just digging down deeper?
I guess it is just digging down deeper. Especially when you're coming from the back. When you catch that lead pack, you've already burned all of your energy, so I don't have the energy to go charge for that top spot. So I hope I get a better start this weekend.
So it's not your strategy to come from the back?
No!
What about having a race close to home? How close are you?
We're a little further away than the Morganton race, but it's still good to be close. We're familiar with it, because the Welborn family, they own the land, and they have a couple of other races throughout the year on property nearby. It's good to know the soil. Plus, there are always all kinds of people out there in the woods cheering.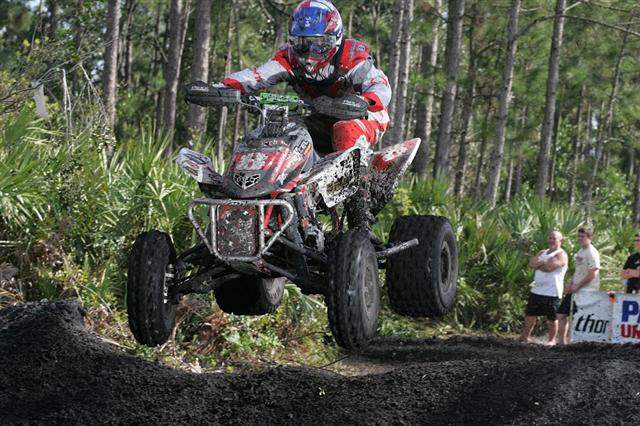 Can Cook get a win this weekend?
And you're rested up. You were going to race Moto-X Country this weekend at High Point, but instead you skipped it.
Yeah, I'm rested and recovered. It was a 45 minute race and it was going to be really muddy, so I decided to just save on the equipment.
Well you still do your own work?
Yes. Santo and I, we have a local guy here named Shon Franklin, and he always helps out. And my dad, he does a lot of wrenching. But year, it's all on us.
If a factory team calls, you'll pick up the phone?
Oh yeah. We'll at least see what they have to say.
Well a win would help. Could this be the weekend?
You know, it's sure going that way. It used to be that once I got up into third, I was just trying to stay there and get up on that podium. But now, I'm starting to want more.
Good luck this weekend, Bryan.
Thanks, Jason.