Jason Weigandt
Tuesday Toolbox with .... Rodney Smith
Tuesday, June 10, 2008 | 12:00 AM
We've got two forTuesday here on Toolbox. First, we catch up with five-time GNCC Champion Rodney Smith. Rodney is retired now, but he's staying on the road so he can help train the FMF Suzuki factory riders. Rodney's also hosting a riding school this weekend in North Carolina that you can read about right here. Then next weekend at North Carolina's Yadkin Valley Stomp GNCC, the whole family gets back together. Have you ever heard the song that plays at the beginning of the GNCC TV shows and DVDs? (Click here to see the video). The song was written and performed by Rodney's brother-in-law, Lonnie Park, and his band Ten Man Push. Lonnie's sister Lori is married to Rodney, and his other sister, Denise, is married to Steve Hatch. The band will play at Yadkinville on Saturday and Sunday, and the Smiths and the Hatchs will be there to watch. Should be a great event. Let's hear more from both Rodney and Lonnie.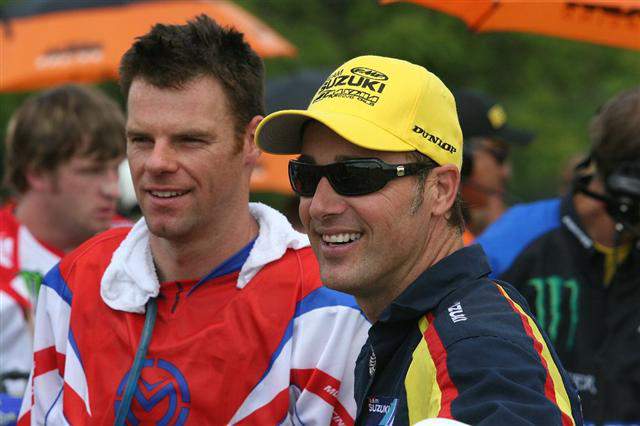 Rodney with one of his star students, Paul Whibley.
Hooper photo


Rodney, you're doing a riding school this weekend.
Yeah. I've done a few before, I did one in Indiana once with Shane (Nalley) and it was good. I'm doing a few private schools, and then I'll do this school Saturday and Sunday. And Steve Hatch and I are going to hook up to do some schools in New York, too. It gives me something to do when I'm on the road.
So how long have you been on the road?
We've been living in the motor home since we left in February.
Really?
Yeah. I'm still helping train Josh (Strang) and Charlie (Mullins) and Jimmy (Jarrett) and Paul (Whibley). All the guys on the team. We're in North Carolina right now, and Josh is going to come here and so is Charlie. I trained the guys hard in the off-season, but you need to keep pushing them. When you're on the road, it's hard to push yourself. I know what it's like. So I keep these guys on a schedule and make sure they don't put things off.
You mentioned to us in Florida that now that you're the team trainer, you don't push yourself and do everything the riders have to do.
Right. It's worked out good, because I can push them harder. I watched some stuff on football coaches at training camp, and that's my job. I'm not teaching guys like Josh or Charlie how to ride. I'm just pushing them. When we're at the gym, and they're on the treadmill, I'm there to tell them to take it up two more levels.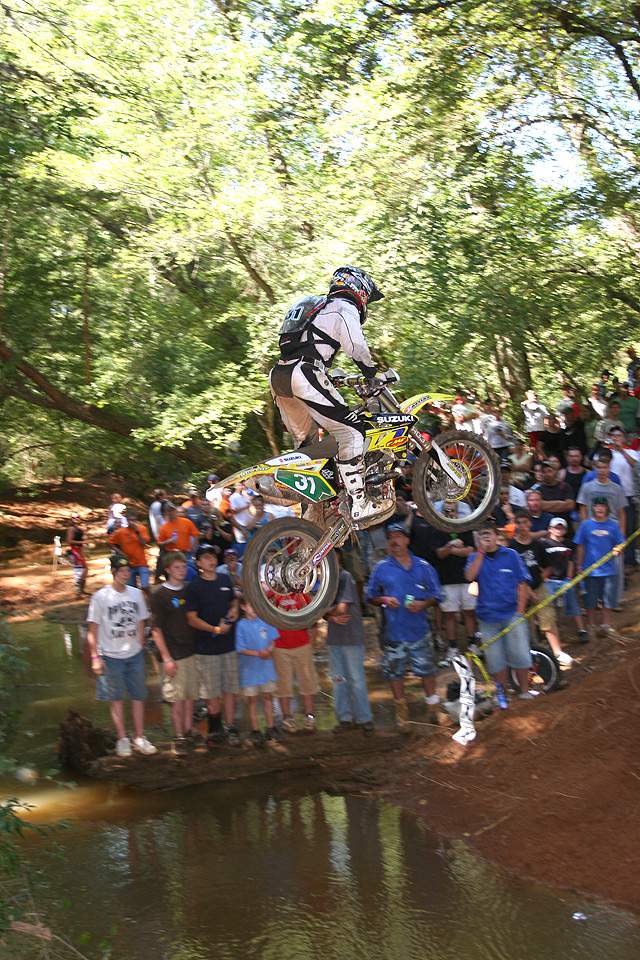 Rodney at Yadkinville last year.
Hooper photo

Well it's paying off for Josh. He's improved tremendously this year.
Oh my, that guy is hungry. Charlie is ready physically, but we're working on him mentally. I've had some long talks with Charlie lately, and we're trying to keep him positive. He's knocking at the door, but no one can win every race, so you just need to stay positive when things don't work out. The other day, I ordered a tape that I used to listen to when I was racing. It helps with your mental focus. I'm going to have those guys listen to it.
So how does it all work?
It's really fun. Josh and Charlie call me every day. They will call at 8 in the morning and ask me what to do, and then they will go do it, and then they will call me at 8 at night and tell me how it went. It's intense, but they do it. They're putting in the work.
What about Whibley?
Paul? Dude, Paul is the kind of guy that if you tell him to ride a bicycle for an hour, he'll ride for an hour and a half. You don't have to push that guy at all. So I talk to him maybe twice a week. Josh and Charlie, they just need some guidance. And Jimmy (Jarrett) is just Jimmy. He does his thing.
Is this fun for you?
It is fun when I see improvements and changes in the guys. It's so rewarding. Josh told me that he would pay me to work with him next year. That means they see the gains and they do appreciate it. So that's rewarding.
You stay back east for how long?
End of July. We'll be here through the Pennsylvania race, and then I'll do some schools in New York. I might go over to the ISDE in Greece to help Nathan Woods over there.
Hey and you'll have the whole family together at Yadkinville.
Yeah that's cool. We have the band playing, Steve and Denise are going to come in and stay with us. It's going to be fun. It's pretty cool that the guy just went to the Unadilla GNCC one time and came up with that song.
And with that, we introduce Lonnie Park of Ten Man Push. The band will be playing in concert at GNCC and AMA Motocross races all season long. After a performance at the AMA MX opener last weekend at Hangtown, they'll play ths Saturday night at the High Point National , and then at the Yadkinville GNCC next Saturday and Sunday.
Well Lonnie, Ten Man Push is off to the races. You're playing the Pro Motocross National at High Point this Saturday night, and in Yadkinville at the GNCC in two weeks. And you started this tour off by playing the Motocross National at Hangtown in Sacramento a few weeks ago. How did that go?
It was good. It was fun. Just like anything else, this has never been done at the motocross nationals and the GNCCs before, so with each performance we learn, we adjust, and find out how to best reach out there.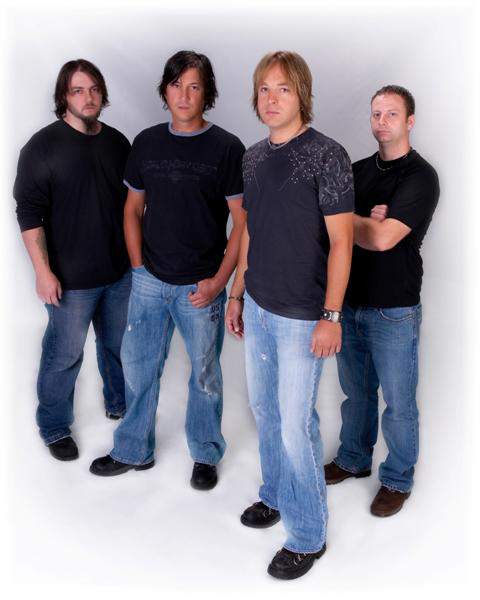 Ten Man push features Lonnie Park (front man), the brother-in-law of Rodney Smith and Steve Hatch.
Funny how this all worked out. Your sisters, Lori and Denise, married Rodney Smith and Steve Hatch, and then eventually you wound up making a song about GNCC Racing.
Yeah, the two brother in laws, being professional motorcycle racers and me being a musician, we didn't really cross paths very often. But one year there was a GNCC at Unadilla, so I decided to go check it out. It was awesome. I love it, and that inspired the song "In the Dirt."Â
That's cool. But at that time you were just thinking this was a song, not something that would lead to concerts and promotion at the races.
Exactly. I was inspired but what these guys were doing. I had a blast watching it. It branched into a song and went on our album. From there, the cross over into working with the racing industry came into play.
That's a pretty crazy connection. If you could think of two "non-traditional" jobs, it would probably be rock musician and motorcycle racer!
Yeah, exactly. Don't you want to go to college and get that law degree and get a regular job? But our families have always been supportive of what we do. For me, I didn't just launch into some unreasonable pipe dream. I am able to approach this as a business man. I don't just work with the band, but I've covered the business side, the marketing side, the retail side. I've been able to support a family and make some money, but at the same time remain a performing musician.
But still, is performing live, like you will do at the races, is that what you really like?
Oh definitely. There's nothing like actually sitting in front of people and playing. We realizes that a lot of the people may not be familiar with our songs, so we're going to play some covers of some songs people like, and we'll also mix in our own songs from our album. There's nothing like people listening to your music for the first time and getting into it.
Did people seem into it at Hangtown?
Yeah they did. People seemed like they were having a real good time.
You guys are still New York based.
Yes. Upstate New York, up near Syracuse. It's pretty funny how it works. Lori, she was back East for a few weeks, and we were out in California doing some concerts, so we stayed out there, and she stayed back here at my house. Yeah, it's cool.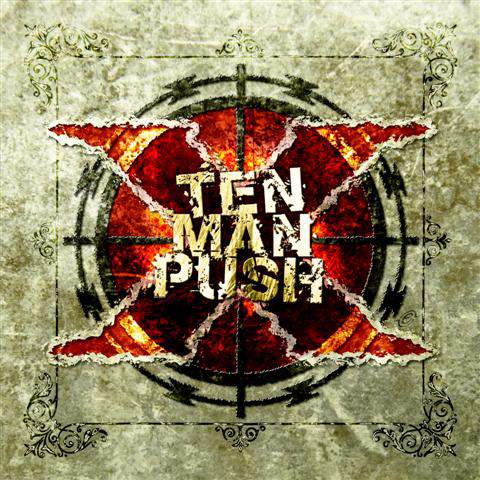 Ten Man Push features the In The Dirt song on their new CD, Kingdom of Fools.
High Point is a big race, and the crowd on the East Coast is really into staying all weekend.
It's nice the way it's working. The first race we went to we did a meet and greet, then we played at the next one, and now we've moved to the full Saturday night show.
What's the plan at the GNCC next weekend? Coming to Yadkinville, right?
Yes, we're coming to Yadkinville, but that will be a little different. It will be a Ten Man Push unplugged duo. Just me and John West, the two main players. It will be a different twist, something we do on tour and around here. Should be fun. That will be Saturday night and Sunday as well.
And finally the whole family will be back together.
Yes. Steve and Denise (Hatch) will be there and Rodney and Lori (Smith) will be there.
So do you like this?
You know, I was always an outdoor guy. I loved to hunt and fish, ride ATVs and things like that. I had never really been exposed to the racing side, but being a recreational rider, and seeing these guys go so far over the top, it's an absolute blast.
When do you roll into town for High Point?
We're playing a show on Friday night, and then driving down the next morning to be ready for our show on Saturday night.
That's the way you have to do it. True rockers are road warriors.
That's right. This is a very rock and roll way to do it.