Jason Weigandt
Rnd 7 - Weekend Warrior Spartan ATVs: Ballance Ballance Ballance
Thursday, June 5, 2008 | 12:00 AM
Photos by Jason Hooper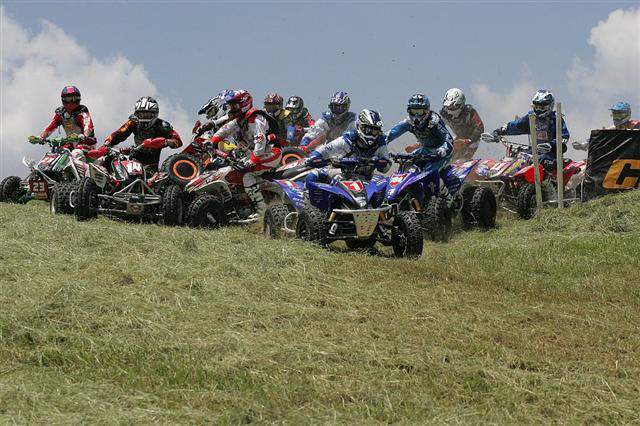 Another race, another holeshot, another win.
The competition will have to say wait until next year (again) if they plan on Bill Ballance taking it easy on them. The eight-time Can-Am Grand National Cross Country Champion said he would focus on having fun this year instead of being so darned serious about winning, and he even hinted before the season began that he wasn't training much at all. But just past the halfway point, it's clear that not only is Ballance still trying, he might actually be trying harder than ever.
As evidence, he turned in his third-straight victory with a romping come-from-behind charge at the Weekend Warrior Spartan GNCC, outlasting everyone and winning with a sizable gap at the end of the race. Furthermore, bad luck on the part of series' leader Adam McGill puts Ballance into the points lead for the first time this year.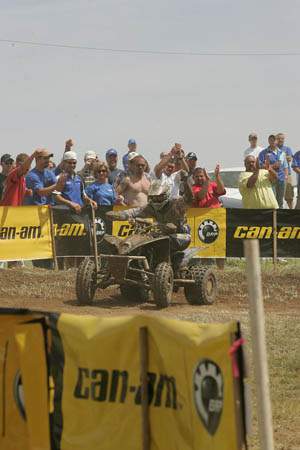 Ballance fell back early but made
up ground quickly.

"I expected things to turn around," said Ballance. "I just didn't expect them to turn around so quickly."Â

The Spartan race turned out just like Ballance's season. He started out quickly with the ITP Holeshot Award, but before long, mechanical troubles dropped him back into the pack. For the season, he lost ground when he broke down at round two in Georgia, and at this race, he lost ground when he smashed a rock and bent his foot peg. But of course, he would come back.

"There was a creek with some rocks, I entered it way too fast," said Ballance. "I hit a rock, it was a big one and I couldn't get away from it. It hit my right foot peg and I bent it bad. It actually hit my brake pedal and locked up the rear wheels. So I had to jam on the pedal to get it loose. I knew not to touch my back brake again until I got back into the pits and got Elliot to fix it. He did that and then we started rolling."Â

McGill led early, but then some bad luck set in when a stick jammed into his A-arm, so he had to stop. Veteran William Yokley got to enjoy racing from the lead on his The National Guard Honda.

"I lost the lead going up a hill, but regained it when McGill tagged a tree," said Yokley. "He passed me again in a field section, but I was able to pick the pace up and get back on his heels as we made our pit stops. Thanks to my crew, I led once again.  I led most of the next lap, Ballance caught up to me as I began to have some rear brake issues.  I tried to keep it smooth, but Bill took a better line through a mud hole and passed me.

"Usually that track doesn't have a lot of lines for passing," said Ballance. "So I planned on just getting up on people in the fields and dogging them. But a few lines opened up, and I used them to pass McGill and Yokley. I closed up on them pretty quickly, so I knew the pace I had going was a little better than theirs, so I just kept that pace and I was able to open up a little gap."Â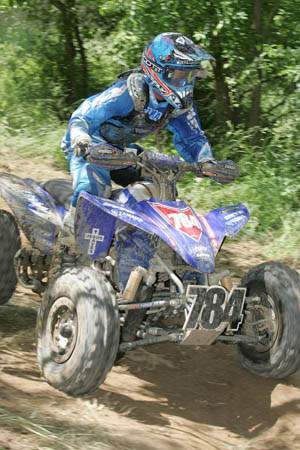 Sommers took a career-high second.

Sommers was on the move and battled Yokley for second. "It was a hot day and everyone was complaining about the track being rough, but I pushed it harder than probably any other race this year, but I felt better after it than any other race," said Sommers. "It was a little nerve wracking there on the last lap. That track is hard to pass on, and with two miles to go I got around Yokley. I've never really raced with him before, and it was good because he races really clean. I should have been thinking of going after Bill, but instead I was just worried about not making mistakes and holding off William."Â

Sommers held on for second with Yokley third. McGill looked to settle for fourth, but then his luck turned completely south.

"All of a sudden I heard a squealing noise, and I realized it was the chain coming off of the sprocket," said McGill. "So I slammed it into reverse so the chain would go back on, but I ended up sheering all of the sprocket bolts out. They're hardened steel bolts. They've never done that before."

McGill found himself out of the race on the last lap for the second time this season, which is enough to put Ballance into the points lead. The ever-consistent Bryan Cook took over fourth and held it to the end, with Jarrod McClure putting in a strong ride for fifth on his ATVRiders.com machine.

Brent Sturdivant put in his best race of the season on his Can-Am DS450, taking the LTERacing.com machine to sixth. Seventh was XCBob's Matt Smiley. Chris Borich flipped his Rockstar/Yoshimura Suzuki in a creek early on and couldn't make up the ground. He finished eighth, ahead of Jeff Pickens, who tied his best finish of the year. McGill's teammate Kiser took tenth after getting tangled up early in the race.

GT Thunder Yamaha's Don Ockerman topped the XC2 Pro-Am class for the sixth time in seven races this season. He also finished an impressive sixth overall. Ockerman also won the $100 Rekluse Clutch Holeshot Award. Second in the class went to Josh Kirkland, with David Crane third.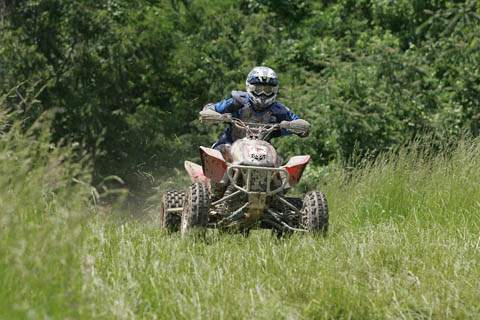 The leaner, meaner William Yokley had plenty of endurance in the Kentucky heat.
GNCC Notebook:
It actually didn't rain on Friday night! This gave the GNCC ATV crew a rare opportunity to race in dry conditions.
In the morning race, Yamaha's Traci Cecco won the ATVRiders.com Morning Race Overall. Once again, Kawasaki KFX700 rider Michael Benson pushed hard and nearly pulled off the win, but ended up second, with Angel Atwell third on her Tom Clark Motorsports Honda.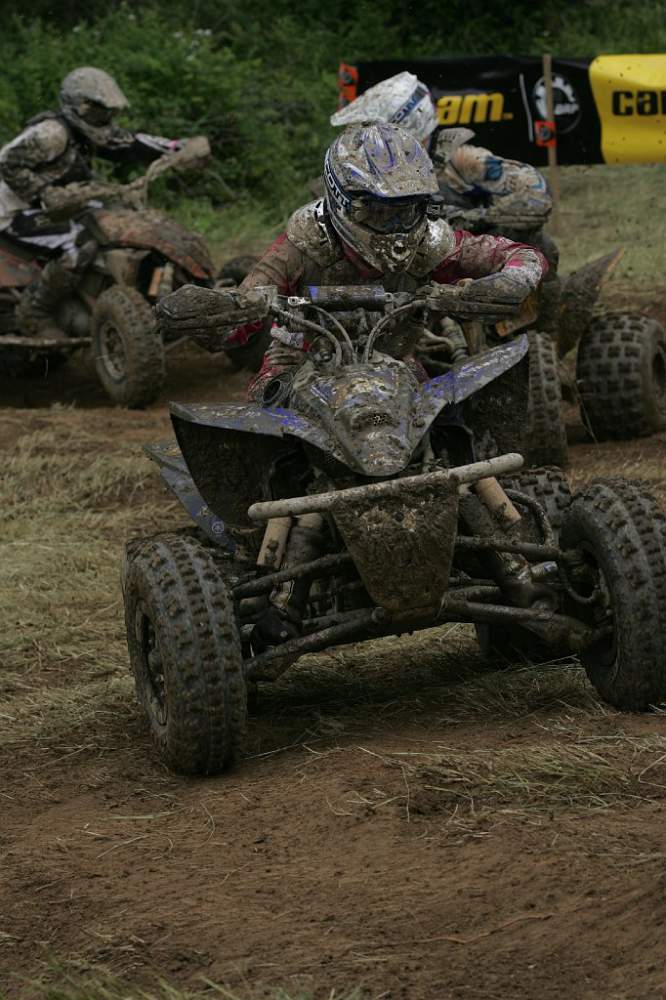 The Women's class saw TLC back on top.
Ready for a shock? Bryan Buckhannon (Open 4x4), Cliff Beasley (4x4 Lites) and Michael Swift (4x4 Limited) swept the 4x4 classes.
Three different classes hit the podium in the ATV Youth Ranks. Josh Merritt won the overall on his Cobra, representing the Super Mini (13-15) class. Derrec Robinson got back into victory lane in the Modified (12-15) class, with Cheyanne Shadron representing the female crowd with third overall and a win in Limited (12-15).