Jason Weigandt
Rnd 7 - Weekend Warrior Spartan Bikes: Down Unders On Top
Wednesday, June 4, 2008 | 12:00 AM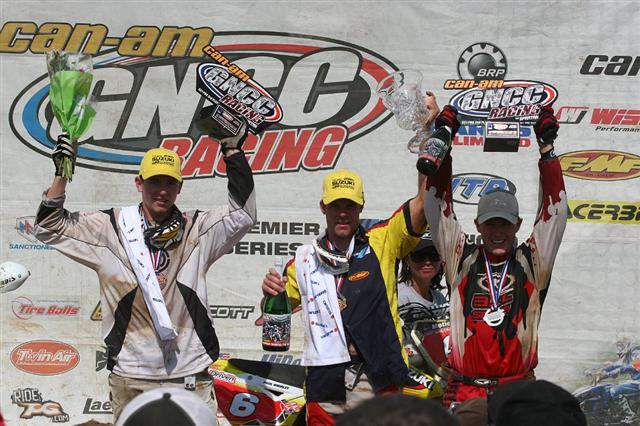 The XC1 podium, Strang, Whibley and Kearney.
Jason Hooper photo
Don't hand the Can-Am Grand National Cross Country Championship over to David Knight just yet. Now FMF Suzuki's Paul Whibley is streaking in the series, logging his second-straight win by outlasting stiff competition at the Weekend Warrior Spartan GNCC.
The hottest, most humid race day of the year made Sparta a true test. That's good for Whibs, because it's now common knowledge around the GNCC pro pits that the New Zealander might be the strongest in the series in a test of pure endurance. In fact, his teammates have begun calling him "The Badger" for his persistence late in the race. That skill worked again, as the hard-working Whibley put together a late-race charge to break from Husqvarna's Glenn Kearney and his Suzuki teammate Josh Strang and grab the win.
"It's awesome," said Whibley. "I actually didn't get arm pump, which I normally get, so that helped. I didn't get a good start, but I stayed relaxed and comfortable, and that helped me move up."Â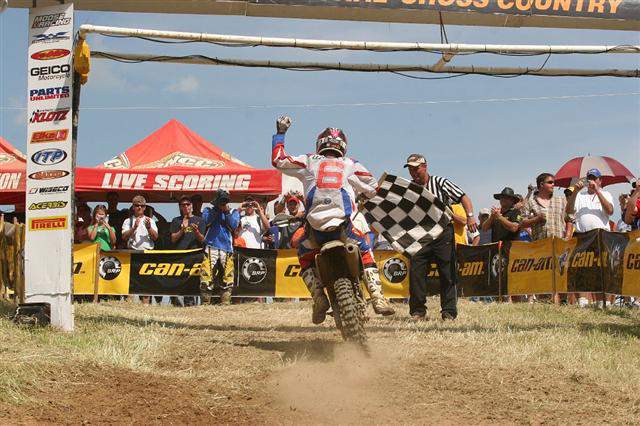 If its comes down to the last lap, smart money goes on #6.
Jason Hooper photo
Early in the race, it appeared Knight was putting together another runaway victory. He started third, displaced his Red Bull KTM teammate Nathan Kanney and Racer X Holeshot Award winner Charles Mullins, and opened up a small gap. But instead of pulling way ahead, a few riders were able to stick with Knight, who was struggling a bit went the front mousse tube (foam insert) started to disintegrate in his tire. Eventually Strang caught Knight, and then Knight crashed hard, hitting his head on a tree.
"My front mousse started to break up early in the race, which made things harder as I struggled with the front end a little bit," said Knight. "I'm not sure what happened really when I smacked my head on the tree. It knocked my silly for a while, which is why I decided to follow Josh for a while."Â
Strang was surprised to have caught Knight. "I'm not sure how it happened, but I was right there with him," said Strang. "People were telling me that he was charging so I don't know."Â
Strang, who has finished second at the last three GNCCs, looked like he could grab his first-ever win, but he wasn't ready, physically, to do it. "I've been sick every since riding in that mud race at the last one," said Strang. "On Saturday I was screwed. The team just told me to try to finish, I think they were maybe hoping for a top five. But during the race, I felt pretty good early on."Â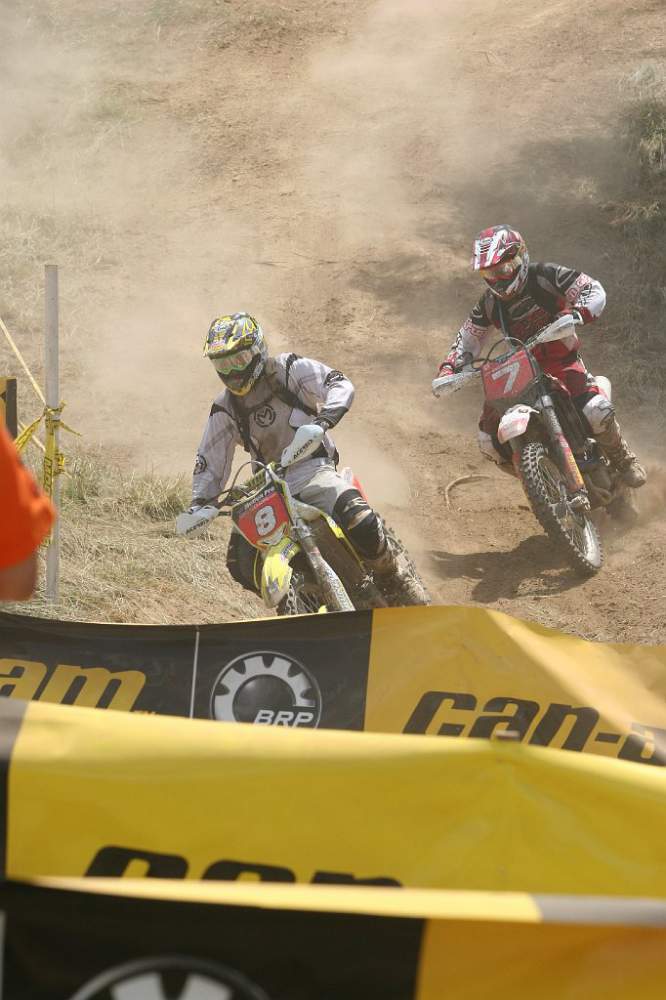 Strang and Kearney kept Whibley honest.
Jason Hooper photo
Strang and Knight weren't able to put much distance on the field, though, as Whibley, Kanney and Glenn Kearney kept up the chase. The GNCC officials had cut a lot of new single-track trail, and it helped keep the pack close. "I couldn't really get away once I had the lead," said Strang. "I think Glenn and Paul where still able to see me at times, and maybe that helped pull them along. Then when we got to the two-lap board, I was dead."Â
The left Kearney and Whibley to battle. "I thought it (a win) might be coming," said Kearney. "I made two passes and got to the front. It was a high pace. I caught David, and he had a big crash in front of me. It was a battle and we were all going for it."Â
Ultimately Whibley put in one more charge on the last lap to get away from Kearney and Strang, while Kanney outlasted his dazed teammate to finish fourth. Then came Mullins, Jason Raines and Jimmy Jarrett, followed by Garrett Edmisten and Brian Garrahan.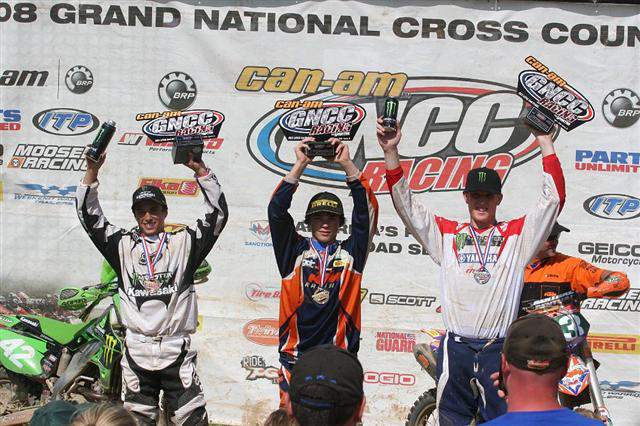 XC2 podium dwellers Matusek, Russell and Gibson.
Jason Hooper photo
In the XC2 division, Powersports GrafX KTM's Kailub Russell capped off his best week ever by graduating high school and then scoring his first-ever pro win, all in a span of seven days. Russell managed to out duel Monster Energy/Kawasaki's Andrew Matusek and Monster Energy/Andrews Yamaha's Dustin Gibson for the win.
"At first I was just riding smooth with Andrew, I wasn't being too aggressive," said Russell. "I saw I was about 40 seconds down, and the next lap it was 40 seconds again. But then the next lap, people were cheering for me and telling me to go, so I put my head down and went after Dustin. The big change for me is mental, and my trainer Steve (Hatch) helps me with that."Â
Gibson was consistent for second. "I felt okay, but since I hurt my foot at Loretta's it's been a little harder for me to train," said Gibson. "I got tired. I have to give it up to Kailub, he put it on me. Then I started thinking about the points. Thad and Josh had dropped out, and that's a lot of points. Next time I'll wait until the last half of a lap to start slowing down like that."Â
Matusek was happy to get back to the box after breaking his foot a few races ago. "I had a good start, I think a couple of us got together in the woods," said Matusek. "I had to pick my way through. I didn't see Thad all day and then I saw Josh Weisenfels on the side of the trail. I even had the lead there for awhile, but I fell on my right side a few times, my foot is a little weak. I was pushing over that little line where I start to make little mistakes. One lap, I think I crashed three times."Â
GNCC Notebook:
Rain was expected to hit the area on Saturday, but it missed, which led to dry, hard soil and some dust in places. The slower, single track virgin terrain used it spots helped out on Sunday.
David Knight wasn't too bummed about his second-straight finish off the podium. "All things considered I'm not too disappointed with fifth. Even with banging my head I felt like I could win. But when I crashed near the end of the race that was me finished. It's disappointing, but that's racing some times. I still have a good points lead so the race wasn't a compete disaster."Â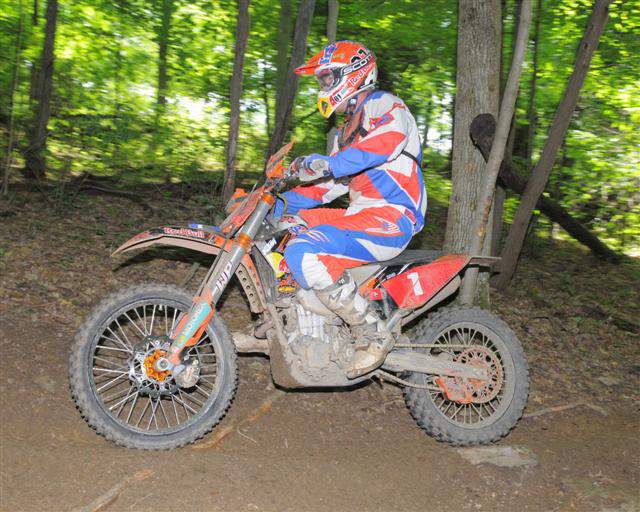 David Knight bumped his head on a branch, and he doesn't even really remember what happend.
Scearce photo
Powersports GrafX KTM's Cory Buttrick was the top amateur finisher again, logging 12th overall and winning the Four-Stroke A Lites class for the sixth race in a row. Joe "Dirt" Scherer returned to his winning ways in the Open A class, with Jeff Cregg taking 250 A. Josh Monsrud won 200 A, and Scott Summers won the Vet A class. Summers ended up 26th overall, just a few positions back of one of the riders he manages on his team, Gordon Crockard.
Dennis Decker won the 40+ A class. Tyler Trammell won Open B, Levi Clemens won 250 B. Cody Mummert won 200 B, Ryan Belue won Four-Stroke B Lites, and Will Wilkinson won Vet B. David Jones emerged as the Senior B Champion.
Holeshot Awards went to Charlie Mullins in XC1 (Racer X Holeshot Award), Dustin Gibson in XC2 (Thumpertalk.com) and Zach Sanders took the AXA Advisors Holeshot Award in the morning race.
The morning race victory went to Rodney Smith, the five-time GNCC Champion who competed in the Sportsman 36+ class. Robby Towery and Adam Giddings were next, with off-road legend Jeff Fredette scoring fourth overall and topping Randy Mastin for the Master's A victory.
This was the first all-international GNCC overall podium, with Nate Kanney scoring dubious "Top American" honors with fourth. Even crazier, the top three were all from Down Under, with Kiwi topping two Aussies. "I'm not sure what it is," said Strang. "We haven't had anything given to us, so we've learned to work hard. I knew how hard it was for me, and I know Paul has really had to work for everything he has gotten since leaving his home in New Zealand. Glenn, I know he wasn't happy the way things were working out for him in the last year, and he sure looked fit and strong at this one."Â
Also, Kearney's podium on a Husky marks that brand's first podium appearance since 1988. "I can't thank the team enough," said Kearney. "This is a big day for Husqvarna and GNCC." To celebrate, Kearney said he was going to get Team Manager Scott Summers to dye his hair red, so he can match Kearney and Crockard. "I'm gonna' hold Scott to it," said Kearney.