Jason Weigandt
Tuesday Toolbox with .... John Gallagher
Tuesday, March 18, 2008 | 12:00 AM
John Gallagher Sr. is the reigning GNCC Super Senior ATV Champion, and he's also the Polaris GNCC ATV Team Manager. Probably no one has been around the series as long as John, no one has raced as much as John, and no one is willing to talk about racing like John. So that makes him the perfect guy to ring up for this week's Tuesday Toolbox.
Photos by Amy McConnell: www.quadzone.com
Hey John, we all know you're racing Super Senior again this year. But as team manager, what do you do besides racing?
As you know with Polaris, we're new to the race game. We're learning as we go, and this doesn't happen in a day or a year. Part of the deal is I work with some of the sponsors directly so the people at Polaris can deal with more pressing issues, as opposed to worrying about making sure each rider has enough product. I guess part of the appeal of having a guy like me as team manager is that, for better or for worse, I've been around for a long time. People know who I am and they'll listen to what I have to say on an issue.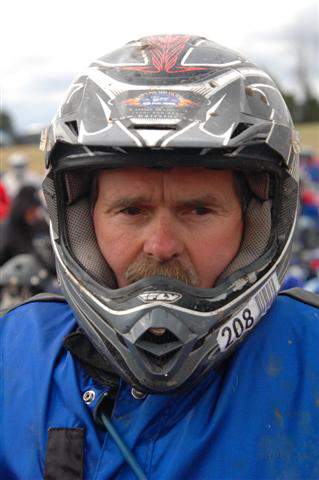 John Gallagher Sr.

So how different was it last year to become a team manager instead of just a racer?
It is different. At first it was really cool, you know. I was going to be the team manager and I was going to be someone at the GNCCs. That was flattering. But then I realized, as if racing doesn't take enough time between wrenching and working with sponsors and everything else, now I have to do those same things for others, too. Especially with young riders, you have to deal with bike set up, even if it's just taking their calls and helping them over the phone. The bottom line is that it's time consuming. When you're trying to manage a job, a family and a racing career of your own, time is of the essence already. Adding the team manager role takes up a ton of extra time.
What's Polaris' reason to go racing?
Well, I'm not a full-time employee there so maybe I'm not the best person to ask. But in my opinion, when you offer a sport quad, you have to do more than just offer it, you have to offer support. It's not an easy thing to do, because there are big companies out there that are building sport quads, and they have no one on the front row, and only one rider on the Pro-Am row. So Polaris has decided to get behind racing, and that's lucky for me. As you know we have a pro and a few pro-am riders. Our plan is to take pro-am riders and move them through the ranks. That's okay, because GNCC racing and four-wheeler racing isn't going anywhere. It will be here so we have time to grow this program.
You have a choice of machines this year. What are the pros and the cons of the IRS and straight-axle machines?
The con is, and this bit me in Georgia, I had two bikes ready to go before the race, and I was trying to think about which one was better. I was going back and forth before the race trying to figure out which was better. My focus should have been on one bike, and it wasn't, so I did something that you would probably call stupid, and it cost me with a DNF. I'm still agonizing over which is better for which conditions. But that's something a regular guy wouldn't have to worry about, because he probably only has one bike. Both bikes are very good.
New this year, Polaris is offering new straight-axle quads with the KTM engine, but the IRS machine still has good support and up-to-date technology?
Yes, and as you know, another manufacturer has copied our IRS bike, and from what I understand it's over 100 pounds heavier than ours. For a trail rider, the IRS bike still has a lot of advantages. It has great ground clearance, and there's reverse, too. I don't do too much trail riding myself, but if you were hill climbing and going through mud and rocks, it has advantages. It rides far superior than a solid axle, too. I'm noticing that I'm a lot more sore after the races now than I was last year, and that's because I've used the solid axle machine.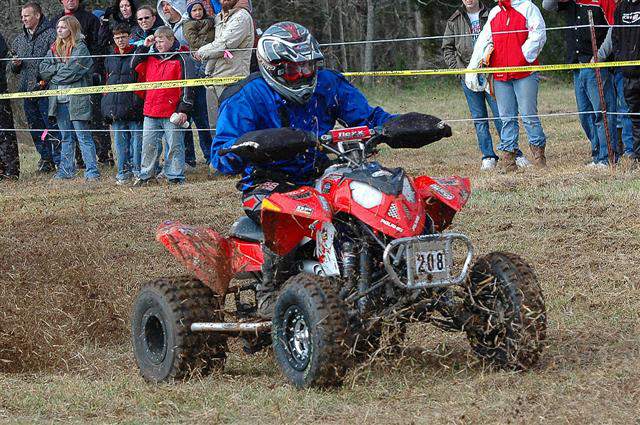 John grabbed a great start in Georgia but didn't finish. He'll be back with some wins this year for sure.
How do you pick riders for your team?
Wilson Racing is a big part of this, also. Ron Wilson has been with Polaris since the beginning, so he picks the riders for his team. His team has Josh Konechek, Todd Rothermel and Mike Sroka riding under his supervision. Then we also have myself, Bryan Baker and Kevin Yoho riding factory as well. We had quite a dilemma trying to figure out who to bring in for the Pro-Am ranks. We went with Kevin Yoho because of his ability and his age. That's the same with Mike Sroka, he has steadily moved through the ranks. And we're really excited about Josh Konechek, he looked very good in Georgia and won College B. And Todd Rothermel has always been solid for Polaris, too. Right now the big money factory teams have gotten the best riders in the top ten. We didn't want to get into a bidding war, we looking to develop riders through the ranks and see if they can make their way into the top ten.
What about you as a racer this year?
The last few years I thought someone was going to come along and knock me off. I mean, no one can stay up there forever, except for maybe Barry Hawk, and Bill Ballance. And Rodney Smith. It seemed like that guy would never go away! I have a new attitude on racing. I'm going to give it hell, but I'm 61 years old. I don't feel like I have to win or push hard for success. Am I going to lose or win? It doesn't really matter because I'm having fun with it. I'm definitely going to lose the championship one of these years.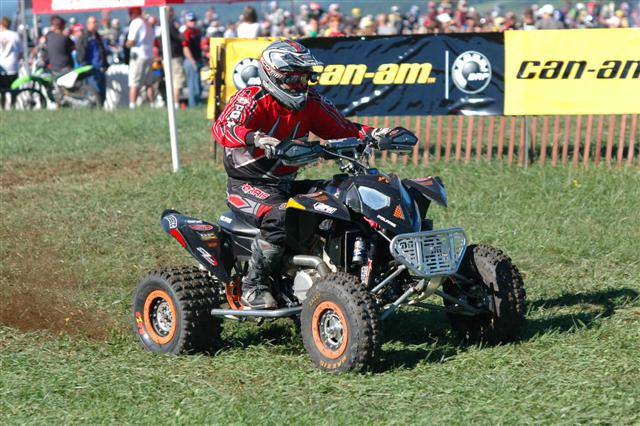 Gallagher grabbed last year's Super Senior title as a 60 year old--and it's a 50 and up class.
I don't know if everyone knows this, but you did a lot of GNCC stuff from way back.
Yes. The bottom line is this: I was racing Wiseco 100 Milers before the series even turned to GNCC Racing. And that was on bikes, before they even had ATVs. A lot of people don't know that there was a five year gap where I did both. But I had to stop racing both on the same weekend, because physically I just couldn't handle it anymore, and my wife was tired of me not being able to get up on Monday morning! I made the statement to someone else recently in an interview, if there's someone out there that has raced at more tracks and more races than me, I'd like to know, because I've been going around telling people that no one has been to more GNCCs or seen more of the tracks than I have.
Well that's a nice reward for all of that time, with this team manager job.
It was really quite an honor, and I was impressed that someone would call me and ask me to ride their bike, and after a year they would ask me to be team manager. At first I thought this was a good way to go out. My time is coming to an end. And I know everyone is going to laugh at that because I've been saying that every year for the last ten years. But now, even if I do have to stop racing, I'd like to stay involved and help keep the young riders going with Polaris. And if they don't want me to do that, hey, Rita has already promised to have some sort of job for me at the track.
Is that a good thing or a bad thing, John?
As opinionated as I am, that's probably not a good thing!