Jason Weigandt
Tuesday Toolbox with .... Mike Webb
Tuesday, February 26, 2008 | 12:00 AM
We're getting so pumped up around here about the GNCC season that we can hardly think straight. Once you start running through the list of contenders in each class, as well as riders switching teams and sponsors and programs, it quickly becomes clear that this will be an awesome season of GNCC racing--and it all starts this weekend!
We've already talked to Donnie Luce of Yamaha and Antti Kallonen of KTM here, so let's give some love to the Suzuki guys. We learned of Chris Borich's ATV plan last week, now let's dive into the FMF Suzuki bike program (including Charlie Mullins, Jimmy Jarrett, Paul Whibley and Josh Strang) with Team Manager Mike Webb.
Interview by Jason Weigandt
Photos by Kinney Jones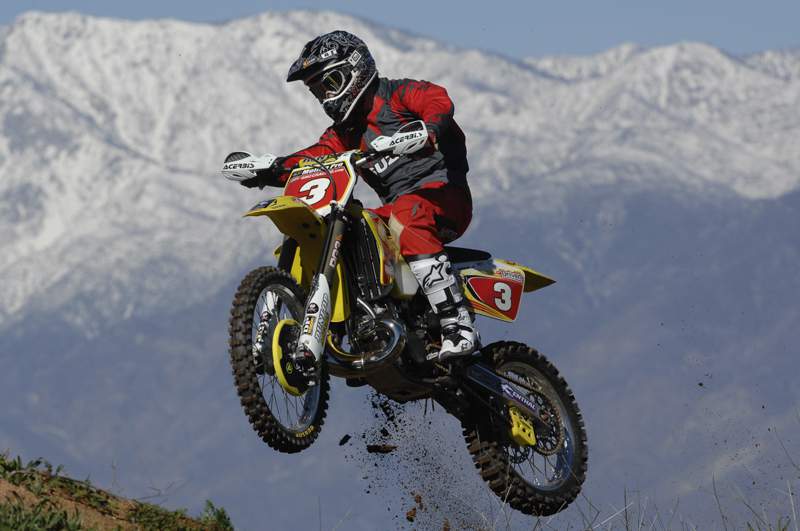 Charlie Mullins on his new ride.

So Mike, are the troops ready to go?
Yeah, it was a big caravan across the country to Florida. Rodney (Smith) was in his motorhome and Charlie was in his motorhome, Josh and Jimmy were in a van and Paul was with Charlie.
So this is all testing for Florida?You have your woods stuff figured out?
Yes, we have a basic setting. The two-stroke is all set up, the four-stroke is getting more of our work since it's so new. We have a basic sand setting and a basic woods setting. It's much harder to get ready for the sand than the woods.
Do you even change much on the RM250?
Not really. We just have the suspension set up we have run in the past, so we evaluate the size of the rider and adjust around that. That bike is bulletproof. The 450, that's a different story, since everything is new on it, just about every part. So the two-stroke is ready, and Charlie has adapted to it really easy.
And that's something you didn't know about until you actually get him on your bikes.
Yeah. Some guys are front wheel biased riders, some riders are rear-wheel biased, but Charlie is right in the middle, so it makes it easy.
Well, evaluating Charlie on the track would be easy because of the results, but did you know if he would be able to help out with testing?
We weren't too worried about that, because we've adapted to so many different riders and so many different personalities over the years. We knew we could work with him no matter what. With him, it just comes down to his strong results over the last two years. So we just want to build a good infrastructure around him and let him do his thing.
You expecting a championship this year or is this just a long-term thing?
We try not to put any extra pressure on the guys, because they put so much pressure on themselves. We're just going to do everything we can to help them. Charlie is a great kid, really impressive to work with. He's working hard. Before, he dabbled in training a little bit, but now he has really embraced this program that Rodney has set up. He's beginning to feel that confidence of being in shape.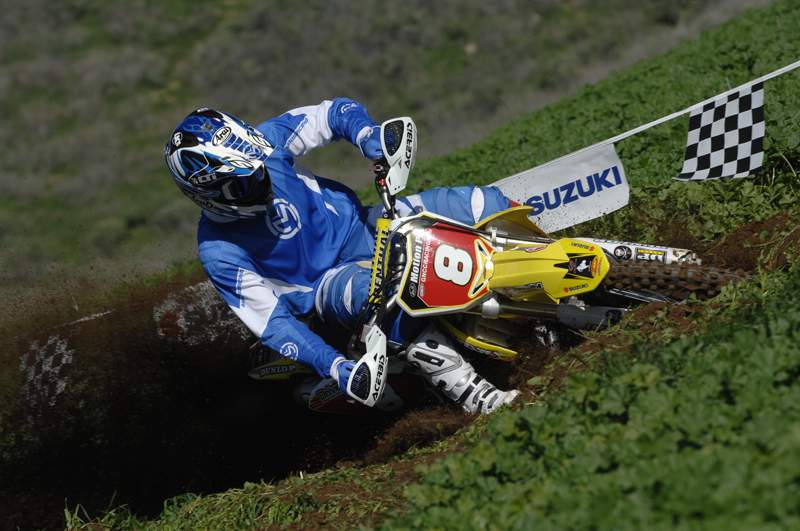 That's Josh Strang wearing #8 now.

Now for the 450 guys, did you make the move to racing 450s because the new bike is so good, or were you going four-stroke anyway?
Yeah, we were going four-stroke anyway just because we don't know how much longer the two-stroke will be around. We're happy Suzuki brought the two-stroke back in, and I think that was just for us to go racing. But eventually it's going to be all four-stroke. Maybe they will bring in the two-stroke one more year, with some of the rules changes for amateur motocross.
So how much feedback do you give to the engineers in Japan?
Oh it's direct, direct to Japan. We would be like their long-distance endurance testing. You can do endurance testing all you want, but until you really push it at the ultimate pro level, there's a lot more to learn.
How many of the big issues working on the bike come from the fuel injection? Or is it the rest of the bike, because it's all new?
You know it's funny because a lot of people thought it was the fuel injection that was holding the bike up, but it's been flawless. It's just that some other parts on the bike had reliability issues, and that's what we had to work through. I think Suzuki did the right thing, even though they had to bite the bullet on sales this year and not release the bike early to the dealers and the public, we got to do a lot of early race testing for them and figure out what parts were not up to snuff. Then we figured out how to fix the issues and the new parts they came up with work good. So it's a real strong relationship between my race team and Japan.
So the bikes the public will buy on the showroom floor, they will be set.
Yes, they will be solid and reliable. The parts on the bikes at dealers, we've been testing them for a month and they're good. If it can break, Nathan Woods can break it, I've learned that, so the new stuff has survived Nathan's test, so it's going to be good.
How have the GNCC guys adjusted?
Putting Josh (Strang) on the bike, it actually was a smooth transition because he's a big strong kid. We actually took a little weight off of him over the summer, maybe 4 kilos, which is like 10 pounds, and just bulked up his upper body. It seems that he riders a 450 like a 250, but he doesn't rev it, but he throws it around like a 250. He's strong enough to get away with that. He is already much faster on the four-stroke than he was last year on the two-stroke. The only fear on the GNCC is the dead-engine start. The talent level is so high now, that if you take a two or three kick start"¦I just hope the thing lites! But all of these guys have proven they can come back. It would make his life easier.
And the bike is better than the '07.
Yeah. Jason I've been here 17 years, and it's the best Suzuki I've ever ridden. We've had some reliability issues that we have ironed out, but as far as the performance of the machine, the motor, the chassis, the suspension, it's the best bike I've ever ridden. I hope we get a chance to prove that to everybody.
How did you end up getting a fourth guy on the team with Whibley?
You know, he proved he can win on a four-stroke. I was able to do some last minute messaging of the budget so we can make it happen. He's turned out to be an unbelievable athlete, his fitness is amazing. We just wanted to take care of a few of the issues. At the beginning of the race he usually rides a little bit tight, and the guys back there are so fast, you don't have the luxury of letting them get away while you get comfortable. So we did a lot more speed work with him, a lot more motocross work, so he could get faster at the beginning. I think he'll be solid. I'm not sure what to expect, to tell the truth, I hope we have the beginning of the races figured out. He should be good.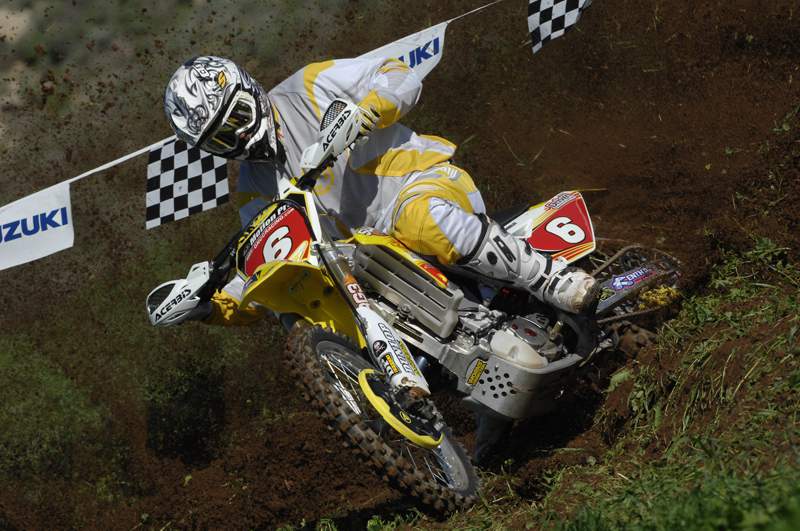 Whibs on the new EFI 450.
He was really competitive this year, especially winning in Georgia, but then he got sick and lost some ground. He was fast again at the end of the year. You're not inking him in as a title favorite?
I think he'll be a solid guy, and he'll have highlight races. I have to learn more about him to see how it goes. Rodney's spent more time with him, just getting those guys in shape. That's all they did for six weeks, was just training.
Rodney told me he had ten people at his house!
Yeah, his whole job changed this year. He's basically in charge of rider conditioning. At the races, he'll help out and give advice. But his job, I told him I wanted the guys training at his house, and when we get to Florida I don't want any of the guys to fade! It's an intense schedule out there. They embraced it""I think they were tired of it all at week four, but I think they're stoked that they did their homework.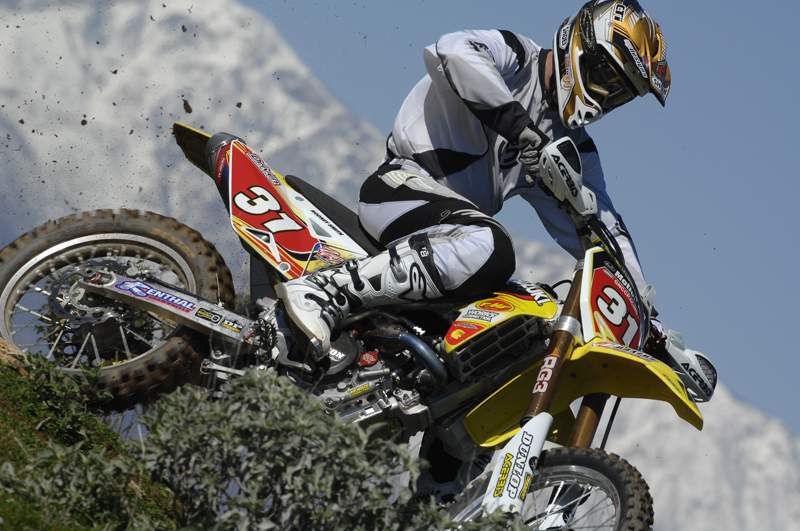 Rodney Smith is the team trainer now.

Well, let me ask this about Rodney. He always claims that he doesn't do too much training, he just did what he felt like doing and it worked. But then I hear reports about the guy really, really getting after it.
Yeah. I think that was just the cover story he sent everybody. He works way, way harder behind the scenes. He had a full written program every day, cycling, running, going to the gym. It was gnarly. He would call me every day and tell me what they did, and I was like "whew, there are some tired boys there." Even Jimmy is on the program, and that's amazing for him!
Everyone knows Jimmy has outrageous talent, but his fitness hasn't always been so great. What's the status now?
Well, I told Jimmy straight up, I expect the fitness to be there. Last year we gave him the deal and he proved himself and won the OMA again, which is awesome, but our main deal is the GNCC. When he got a few podiums, I knew for sure that he had the talent and the racing game figured out, so it all came down to believing in his strength. So I said, how about we eliminate that problem""get in the best shape of your life and then go race. Jimmy, he is set in his ways, so where the young kids are just willing to jump into anything, Jimmy, he does everything, but he is a little more set in his ways. But he's so talented and races smart, so hopefully we have him in good enough shape to win. He's definitely in the best shape of his life right now. That whole racing your way into shape during the season thing is not working anymore.
You used to have the same guys on the team year after year, now you've rotated through quite a few riders lately.
Yeah well back in the mid-90's, there wasn't a lot of new talent coming through. You didn't see many riders from overseas, and the young guys hadn't stepped up. That's changed a lot in the last couple of years. This new crop of young kids is just awesome in there talent, and of course we have the Europeans coming over. It's elevated so radically now.
You find yourself evaluating younger guys more closely now?
Absolutely. Just watching the Lites class last year, watching kids like DuVall, they're like young motocrossers who ride in the woods. Their technique is like a modern motocrosser, they hang it out, when they jump their feet are off the pegs. They're taking the motocross level of intensity and they're learning to ride in the woods, so it's going to become the ultimate racer, they'll be brilliant in the woods and brilliant in the open stuff, you could probably put them on a supercross track and they could jump anything. It's really the greatest talent in years we've had coming through.
So you're excited.
Oh yeah, we're ready to go and we think it's going to be a great season.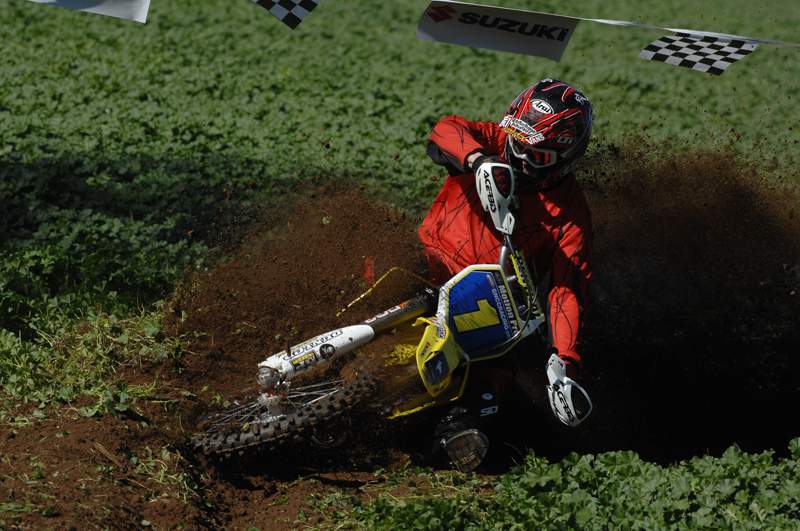 JJ has his OMA blue plate special here...but he still has the GNCCRacing.com logo front and center!