Jason Weigandt
Tuesday Toolbox .... with Chris Borich
Tuesday, February 19, 2008 | 12:00 AM
All winter long, various riders, teams and manufacturers have been pushing the envelope on training and testing, all looking for an edge. It all sounds good, but you never know what's going to happen until the riders hit the track two weeks from now. That said, you can bet good money on one rider being up at the front of the pack every week, even though he, too, has switched brands. The rider is Chris Borich, a perennial contender for the GNCC title. Chris once again will wear his #2 in the ATV ranks, determined as always to make it a #1 by the end of the year. And oh yeah, he's switching brands this year. Let's stop messing around and talk to the guy about this.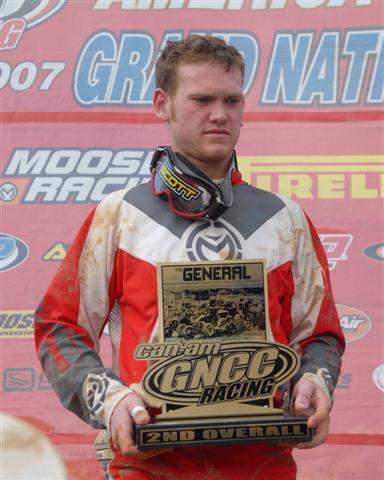 Chris Borich doesn't like getting those second-place plaques.
Scearce photo
What's up Chris?
Just been down here in Florida for the last few months.
So how does that work?
We have a place down in Daytona, so I come down here every year and just play around down here. It's a lot better than having to get a hotel for a few months or something like that. I usually only come down for a month and a half, but this year with the new bike, I decided to come down even earlier to get it all dialed in.
Wait. You're on a new bike?
No (laughs).
Well you are actually an official factory deal, or did you just get some support?
We're a full, real factory team, Rockstar Yoshimura Suzuki. It's been pretty crazy getting everything figured out because it's all so new, you know, just getting the trailer wrapped and the tent and pit stuff like that, but hopefully by the first race we'll have everything looking good.
So did you have equipment to test right away or was there a delay?
Oh no, we had the equipment right away. I had bikes within a week and a half of signing the contract. That was no problem. I came down here just to push the bike and see what could go wrong with it, but right now, honestly, I haven't had any problems.
So is all this riding to try to get more speed, or is it just to test reliability?
Uh, it's both really. I want to get comfortable on it, of course, but basically my goal was to just pound the thing into the ground and try to make it break. But I've been here two and a half months, and nothing has gone wrong. That's pretty good for a Florida beating!
Yeah and I thought you were good at breaking stuff!
Oh yeah, on the Honda, if I had one of those right now, it would be junk!
Okay so you're not looking back.
Nope, looking forward with Suzuki, Rockstar, Yoshimura and the whole deal.
I know that LT-R450 is designed as a motocross quad, but basically that just means it's wider. Any major changes needed to race in the woods?
No. We just took an inch off of the a-arms on each side, got a cross country axle and a big tank and we're ready to roll.
How does it compare to last year's machine?
Well, I had four years of research and development on the Honda, but after a couple of months riding this, I think I'm as fast if not faster on this.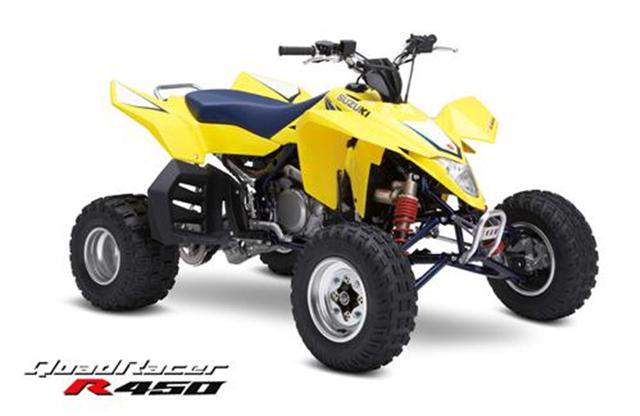 Chris's new ride.
Have you tested in the woods or just sand?
There are a couple of hard packed tracks down here that I'm hitting up. You can go up north in Florida and find good hard pack. I've been racing a lot, and Sunday I may even hit a race in South Carolina to get in the woods. I played around in the woods at home a little bit, so I know it's good, so now it's just a matter of getting out somewhere and pounding on it to see what you can break.
You by yourself down there?
Pretty much by myself. Bithell came down with me the first time, we went back for Christmas, and then he stayed there and I came back down. Now we're both down here again.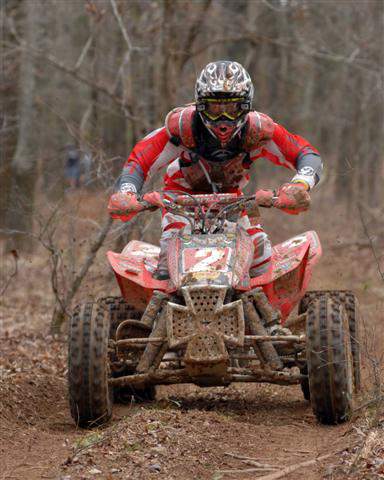 You won't see Chris in red any longer.
Scearce photo
You get lonely?

Nah. We're right in Daytona so we can have some fun!
So can you win right off the bat like you did in '05 and '06?
Yeah, all the time and development I have in this, it's looking good. I'm not going to say anything more right now.
Oh c'mon, you're usually reliable for talking some smack!
Nah, not going to go out and talk smack or anything like that, I'm just taking it one race at a time. I know I'm gonna' be up there, so we'll just see at the end.
How did the team deal come about?
I talked to them last year, but it got to be too late and we couldn't get it together. So I stayed with my Honda. So this year they called me again, and they were game. I'm looking forward to maybe getting these guys a championship. I got Walsh a-arms, Fox Shox, HiPer Wheels, Maxxis tires. There are some sponsors the MX guys have that I don't have, and some sponsors I have that they don't. I told Suzuki, I like building good relationships and I didn't want to leave any of my good sponsors. So they were okay with that.
How's the starting with the EFI?
I don't think I'm going to run the electric start, just because I don't want to take a chance on electric start. I'm going to use the Yoshimura kick start kit.
No way!
Yup.
Well I know your Honda was a kick.
Yeah that kicked forward, this one kicks backwards, but, no big deal.
You still have the battery?
Yeah. Right now I have a kicker kit, but I run the battery because you have to prime the fuel pump.
Well all right, Chris, we'll pencil you back in as always as a favorite for the title.
Thanks.