Jason Weigandt
Quick Fill #7 .... This Week in Your Sport
Thursday, February 14, 2008 | 12:00 AM
Welcome to Quick Fill. We're off to the Indy Tradeshow.
Once a year the Powersports industry gathers at the Powersports Dealershow in Indianapolis, Indiana. There, just about every company in the industry shows off their latest products to dealers from all over the nation. This industry is still powered by dealerships, so if you make aftermarket stuff, you need dealers to buy it and put it on their shelves, or you'll never get enough sales to keep on going. One of the best ways to garner attention from a dealer is to set up shop at the dealer show, and bring in a celebrity racer to sign some autographs. So tons of GNCC talent will be hanging at the show, representing companies like Parts Unlimited, Moose and Thor, Maxxis, ITP, FMF, the list goes on. It's a really fun time and we'll be there representing. If you're going to the show, be sure to stop by our Racer Productions booth #2445 and also our Racer X/Road Racer X booth, which is #1340 right in the giant Parts Unlimited area.
So this is a very important weekend to everyone in the industry. Expect to see celebrity racers all over the show. In fact, GNCC Champion Scott Summers holds the unofficial record for most replica bikes at the show. There used to be six XR600s on the floor back in his heyday! And Indy isn't just for the pros. A lot of amateur riders sign their sponsorship deals right at this show.
Of course some riders are out riding and training right now. For the latest, we got this awesome update from Dave Smith of http://www.racedaypix.com/. Dave shoots photos of every racer at every GNCC event, so he knows his stuff. And of course, he sent photos!
| | |
| --- | --- |
| DuVall. | Fowler. |
Jason,

Here comes the inside skinny to what's going on down south while the snow falls up north. The Blue Team (Am-Pro Yamaha) rolls out with the new line up of riders for the 2008 season. Once again Barry Hawkwill returnfor the full seasonwith Jason Raines in the XC 1 class while the healing Thad Duval will return to the XC 2 class. The new developmental riders will run in the 4 stroke A class, with Walker Fowler, and the 4 Stroke B class with Ryan Belue. What an awesome squad with many championships ahead of them. Barry Hawk won the SETRA hare scramble two weeksago while spending the first five laps in a real dog fight with Raines, and Team Green Rider Andrew Matusek. Matusek led for three laps, fell back to second after a fuel stop and then fell back to finish third after a mid race digger in the Georgia sand. On the final lap Raines ran his Yamaha out of fuel and came up short handing the victory to Hawk. Through all of the chaos Jesse Robinson on his Kawasaki pushed all the way into the second spot. Then, the Long Cane Hare Scramble by SETRAlast week found Jesse Robinson back and taking the victory with some of the South Africanracers Louwrens Mahoneyand Kenneth Gilbertclose in tow. The South African riders are staying in North Carolina with friends like Vance Earl and practicing a lot getting ready for the GNCC season.

As always the XC 1 class will give us some great excitement as Garrett Edmisten has been riding and training very hard on his Walpole Trucking Kawasaki. We also have a few new teams also joining in the mix for the XC 1 class. I personally am excited to see what will unfold in the XC 2 class. With Thad Duvall, Kailub Russell and Andrew Matusek all trying for the same title this season, the competition will be great. They will have to hurry as Cory Buttrick will be giving a hard chase from 4 stroke A on his PG Grafx backed KTM. I could go on and on but we are just a few weeks away from the real action, so just make your way to Florida and see what unfolds!
-Dave Smith
http://www.racedaypix.com/
| | |
| --- | --- |
| Hawk | Raines |
| | |
| --- | --- |
| Matusek. | Belue (nice helmet). |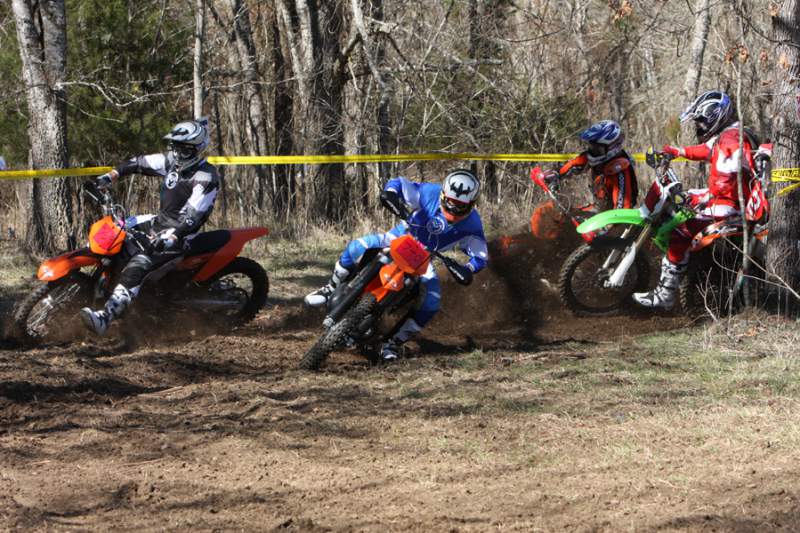 One of the South African boys grabs himself a holeshot.
Awesome, Dave. Speaking of the KTM/Powersports GrafX team, they squad just sent out their official press release on their 2008 plans. CLICK HERE.
Yesterday I talked to Nathan Kanney, and he's down at Lee Rolland's house (one of those new riders on the KTM/Powersports GrafX team). Both riders are down in South Carolina getting it done. I'm telling you, Nate is focused. He actually made his phone call during a 30-minute moto, running a hands free kit, a special noise filter to drown out the bike sounds and a special cell-phone bar mount. The man likes to multi task, because not even a single phone call can get in the way of his motos.
Anyway, this weekend we're gonna' try to distract Nate for a little bit because we've gotten great letters from you for our Ask Nate! Column. Look for it here soon!
Jesse Robinson has his 2008 ride all dialed in now. A few months back you might remember a Tuesday Toolbox interview with Jesse, when he was really struggling for help. Cool thing is, some of the people at HMF, who seem to make everyone's exhaust for ATVs, read the interview on this site and got in touch with him. HMF is planning a push on bikes so Jesse is going to help. Here's the note:
Jesse Robinson Racing is announcing the line-up for the 2008 season. The MAXXIS TIRE/ HMF/ MONSTER ENERGY KAWASAKI will be ready to go at Florida. After thinking that things weren't going to work out, everything started happening at warp speed. Maxxis Tires, a long time supporter, stepped up to help. The guys at HMF have decided to get more involved on the bike side. Noted for their extremely well built, high-performance exhaust systems, weareexcited to beworking with them thisyear.And none of this would have been possible without the support of Kawasaki. Along with these sponsors, thebikes arereceiving TLC from folks like DP Brakes, Cycra, Renthal, RK Excel, Motorex, Powersport Grafx, Works Connection, IMS, and Polisport Plastics. To keep us looking good, on and off the track, Moose Racing has welcomed us back with open arms. Smithoptics and Asterisk knee braces will help keep us safe. Axa Financial and the Trials Training Center are giving the support needed to further the advancement of this effort.
See everyone in Florida. Jimmy and Jesse Robinson
Another new team just announced this week is Off-Camber Racing.
OFF CAMBER RACING
Off Camber Racing is excited to announce the formation of a new off-road racing team for 2008. Off Camber Racing is based out of Whitehouse, Ohio and the Team includes Senior A Champion, Randy Mastin, Women's Champion, Amanda Mastin, "AA" rider Cody Mastin, and AA rider Duane Connor. David Chamberlain is the Team Manager and Mark Cline is Crew Chief and will also have support as a rider for select races. The Team will compete in the GNCC Series, OMA Series, National Enduros, select EnduroCrosses, local Enduros and the ISDE. Off-Camber Racing is pleased to announce partnerships with Pro-Moto Billet/Fastway Performance, Rekluse Clutches, and Klim Gear as Title Sponsors. All four companies are based out west, in Idaho and are excited to have an opportunity to support and partner with a team that has good potential, exposure and proven success on the East Coast. Likewise, Off Camber Racing is please to announce that they will be backed by Yamaha Motor Corporation for the 2008 year. All members of the team have had a long lasting relationship with Yamaha and we look forward to continuing to represent this company. Furthermore, Off Camber Racing is pleased to announce partnerships with Bel-Ray Lubricants, Maxxis Tires, Clark Manufacturing, Dirt Tricks, Steahly Off Road, Works Connection, Scott Goggles, FMF, PG Graphics, Regina Chains, Twin Air, and Factory Connection. The Team would like to take the time to thank all the companies that will give them support this year! Again, especially everyone at Pro-Moto Billet/Fastway Performance, Rekluse Clutches and Klim Gear, we look forward to a great year and a lasting relationship. A special Thanks to all our family and friends, Darcy Gusse from the OMA Series, everyone at Am-Pro Yamaha, Donnie Luce at Yamaha and everyone at Championship Powersports in Wauseon, Ohio.
Cool!
Meanwhile somewhere out West, the AMA's new "split" hare scramble series has begun, and round one of the West is in the books. The winner? GNCC #18 Brian Garrahan.
Two new contenders have just signed up for the bike XC2 Class. AMA National #97 motocrosser Tyson Hadsell is going to give GNCC Racing a shot, and he's a Florida boy so you can bet he will haul at round one. Also, 2007 GNCC Vet A Champion Kevin Korn is moving up to XC2. Kevin has no idea what to expect racing a four-stroke for the first time, but he's going to give it a shot.
The ATV ranks are coming together as well. Chris Borich is all signed, sealed and delivered as part of the Rockstar Suzuki factory effort for 2008. This is huge, as Suzuki goes from not even having a team last year to snagging the rider who has a bull's eye on the title. Chris will even have a sweet-looking 40-foot rig in the pits with a Suzuki paint job. We're all hearing that times are tough in the industry right now, so we're thrilled whenever we hear of a company stepping up their GNCC efforts.
Heard from Santo DeRisi today. His Excel Motorsports team with himself and Bryan Cook will be back in full force for 2008, still mounted on Honda TRX450Rs. "It seems like everyone is going to something else, so we decided to stick with the Hondas so maybe we can catch everyone while their still working out their new machines," said Santo. Santo was not happy about earning #19 for 2008. "I got all my work done here at the shop, and I'm going down to Florida now and I'm gonna' ride every single day until we're done racing in Georgia. I'm coming back harder and stronger than ever," said the nice man from North Carolina.
Santo's team will now be using Maxxis tires for 2008. He's not the only man switching sponsors. Bill Ballance made a big change, too. Click here for a press release from HiPer Wheels.
Speaking of Ballance, here's a cool note.
Hey guys,
Brent James here in Murfreesboro, TN. Love the new website! Raced my first GNCC two years ago at Loretta Lynn's in Vet B class. Only made 2 laps. I was the guy in your TV show during the Yamaha Replay of that day, the one who crashed on the hill when all the Pros were coming through. Went back last year and finished! That got me fired up for your series.
Anyway, since then I have been racing the Mid-South Hare Scramble Series. Yesterday at Rd. 8of MSHSSin Michigan City, MS, as I was getting ready Bill Ballance and Traci Cecco parked next to me. They were super friendly and even took time out for a photo with me! If all goes well, I'll see you in Florida!By the way, for those of you headed to Florida by way of I-24 and realized you forgot to pack goggles or something or just need to stop and stretch your legs, stop by Sloan's Cycles in Murfreesboro, TN. They are one of the Sponsors of the Mid-South Hare Scramble Series and have a top notch Parts and Accessory Dept. that would beglad to help out the off-road racers.
See you at the races!
Brent James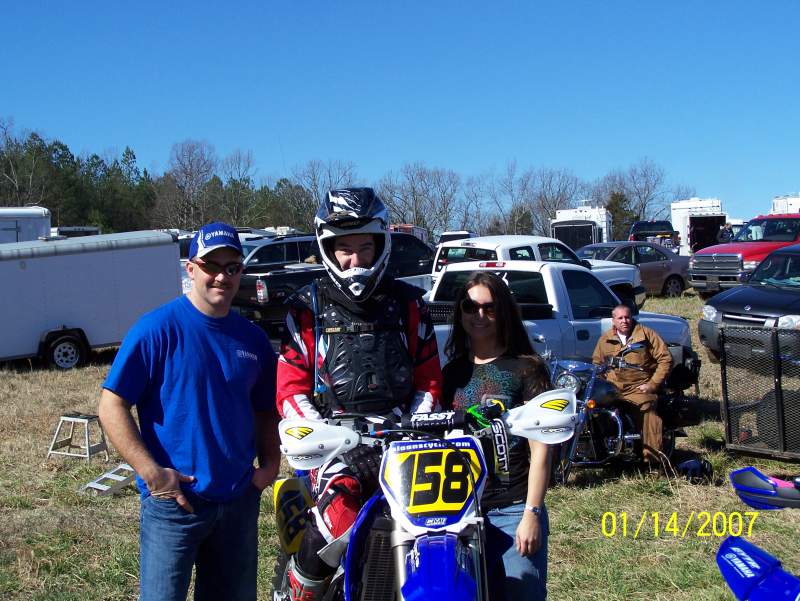 Brent got to meet two of his favorite racers.

Nice note, Brent.
Finally some inside series news. We will not have pre-entry in 2008, as once again it didn't really take off and grab that many racers. We have instead decided to put our efforts into transponder scoring, and, a whole-new sign up process that should make everything go much smoother. There's a thread over on Quad Zone right now talking about how long the GNCC sign up lines have been. They're right, so we're making big changes. Can you picture touch screens at the sign-up trailer, where you key in your class and swipe the magnetic strip on your AMA card? That's what we're working on. We should have three touch screens at the trailer, meaning we can now enter three riders at a time, instead of one. So we're looking at much shorter sign up times. We only hope this doesn't hurt social life at the track, though. A lot of friendships have been made standing in the sign up line!
That's it for Quick Fill. Next week I guarantee I will have an update on those FMF Suzuki boys out on California, they need to get their due. Until then, we'll see you at Indy.