Jason Weigandt
Tuesday Toolbox with .... Chris Bithell
Tuesday, February 12, 2008 | 12:00 AM
Can it win? Can it last? There are a lot of questions surrounding the all-new Can-Am DS450 race ATV for 2008, and the man tabbed to answer those questions is Chris Bithell. Along with Chris Jenks, Can-Am is hoping to send their new machine straight to the podium. We spoke to Bithell about his new machine, his new team and his chances in 2008.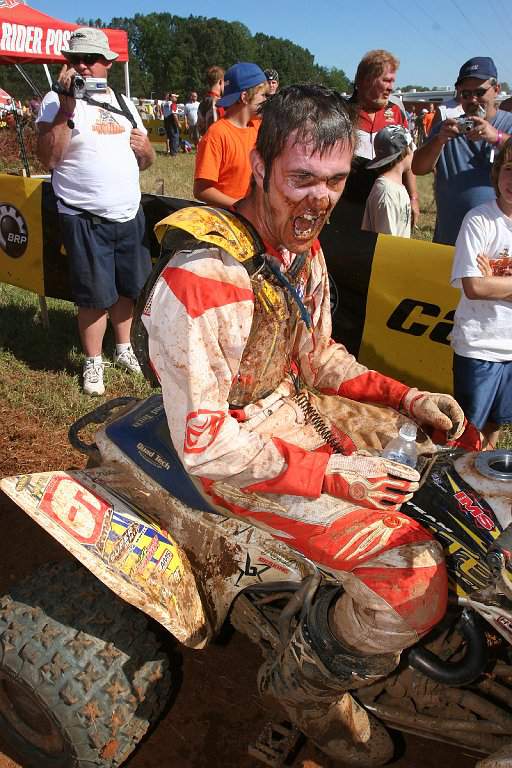 Grrrrrr!!!! Bithell showed all kinds of heart
on way to winning in North Carolina last year.
Hooper photo
So what's happening?
Not too much now, I'm just relaxing at home before heading back to Florida. I was there until last weekend, and then I came home for a week, and then when I leave again I'll be there all the way through the race.
So how long have you been riding the DS?
I had one awhile ago, it was a test bike and it was pretty well-used. I finally got a new one before the first of the year. So I've been playing with stuff for awhile.
You have to go to Florida to ride or can you somehow test in Pennsylvania?
A little bit around here. Me and my brother go riding, but you have to wait until the ground is frozen or it's just too muddy. The other day when we went riding it was seven degrees.
Dude you're crazy! Seven degrees!
Yeah, it was one of the coldest days so far. I just bundled up in the Moose cold weather riding gear, and ran the big handguards. It was pretty good, once I got moving I was actually sweating so I had to take some gear off.
Your program is obviously totally different this year, have you gotten in as much riding and training as you did last year?
It's probably less than I did last year. Last year, me and Borich were down there the whole time leading up to the race. This year, before Christmas I was down there for a month, then after Christmas for a week and a half, and then I went to Georgia for a week and a half. And now I'll be in Florida from now until race time.
How much fun is that? Just going down there and riding in the winter?
It's fun, but I think after a month, it gets a bit long, you get homesick and miss your friends and family. So a month is good, once you get sick of the people at home again it's easy to go back down and do more riding!
[Laughs] Okay here's the million-dollar question. How is the quad?
So far I have it working better than my Honda, suspension wise.
Now that's amazing, because, I read the magazines and they all seem to think it's good, but I've heard people talking and they don't think it will work.
I'll tell you one thing about it, people look at the frame and it looks brand new, and they think it's not going to work. But I've never had a part of the frame break, or come apart, no suspension component has broken on this thing yet. Nothing major inside the motor has let go, we had a few early problems with the clutch and some early overheating, but we've taken care of that. The motor won't break. You could see I was sucking in sand on this old motor I had on an old one they gave me, and it never missed a beat. I mean, I'm pretty much trying to break this thing and it won't die.
Well that's the idea. How much of testing is just to test reliability?
Especially on a new bike, they need to have feedback to know what's going to break, so they can keep tabs on it and make sure it's ready for the race. But so far I'm out there pounding, we had a few clutch problems, and a few little things, but we figured that out. Really, you know, on a Honda after a few rides the frame gets some stress fractures on it and some marks on the frame. This thing, you don't see any marks on it. The original machine that I had, it had been through so much, we basically just pounded the crap out of the thing, and you could wash it up and it would look brand new.
When you get a quad like this, in the old days, you just took the stock frame and then added a new swingarm and shocks and A-arms to it. This ATV has some pretty high-end components stock. Do you use any of that or do you use full aftermarket stuff.
We just got new a-arms in the past two weeks. We had some before that were too wide, so we went back to the drawing board. Basically I rode it stock for a good while. We had the stock shocks, and the a-arms were fabricated to have a lower shock mounting point. It gave us a better feel for the bike. You could ride this thing faster stock than any other quad stock, and I will testify and go under the gun for that one.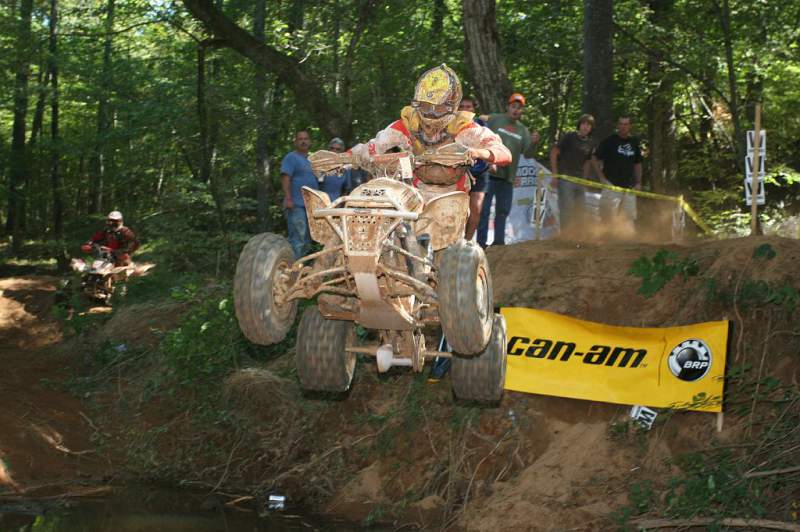 Bithell will be jumping on a Can-Am next year, instead of just over their logo.
Hooper photo
So if you put your hand on the bible you'll still say this.
Exactly. A lot of stock quads, you go rip around on them and they'll buck you off. This one, it's still oversprung and stiff when you get it, but nothing compared to what Honda does. I don't know who sets up their suspension""it must be Bigfoot or somebody.
How did this deal with Warnert come about? You keep some of your sponsors or did you take theirs?
Well, we basically sat down and I told them what sponsors I wanted to run this year. Mark and Ron, they went out and tried to get the sponsors I wanted, some they could and some they couldn't, so, it all goes through them, but when it comes down to the parts, I have a say so in what I need. I give a call to my mechanic and tell him what I need and I will get it, be it parts from Can-Am or parts from Houser, they let me do whatever I want to do.
So what's it like for an aftermarket company like Houser? It's the first time they've ever worked on this quad, too.
Yeah they're excited about it. The first thing they said was that stock, this quad is pretty close to where it needs to be, as far as bump steer and geometry and all of that. It doesn't have some of the problems the Honda had""and I compare it to Honda just because that's what I'm used to.
Yeah you used to ride the Honda, which is clearly the most proven machine out there based on how many people choose to race it. You think you can be a contender right from the beginning of the season? You won't be waiting until halfway through the year to start contending?
No, we're further now than where I was on my Honda, as far as suspension. And the motor, these guys are trying to build an even higher-horsepower motor with the Rotax, they call it a stage 2, and basically, I think we're just gonna' stick with the stock motor. For all the work they have into it, they get more power but it just might not have the reliability we need for a GNCC""you don't need an all-out high horsepower motor for these races.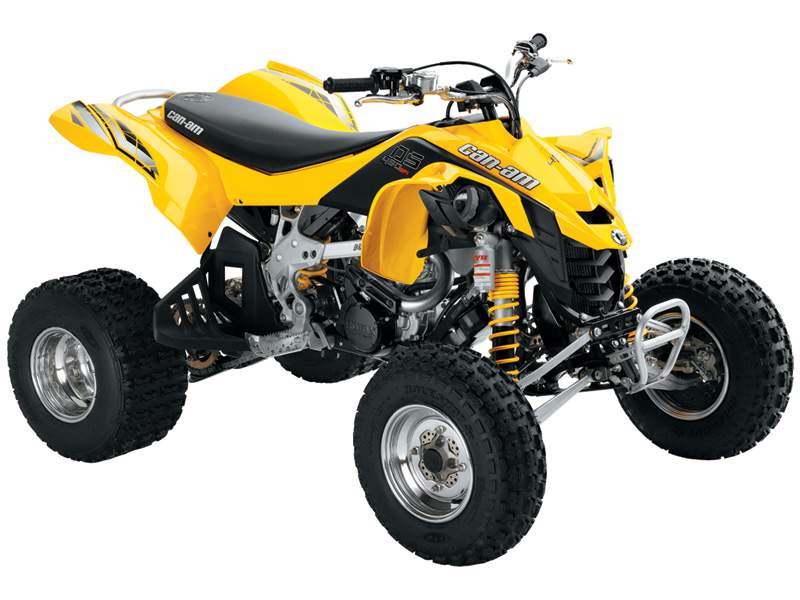 The DS450.
Yeah in cross-country I know a lot of riders ended up going back to stock stuff compared to motocross of flat track.
Yeah the motor we have now, we put an exhaust on it and clipped some wires or something like that in the electrics, so basically it's stock, and it will stay right with my full-race Honda from last year, and that had a full port job, piston, cams, and it runs right with it. I even did some drag races on the road to make sure.
How is it working with Warnert?
It's easy going, but you need to pound into their head what you need, because it's new to them working with a sport quad, and they're working on the utility guys, too, so they're got a lot going on and it's a lot different for them. So I'll leave them with a note and they'll get it taken care of when they go back to their shop. Those guys drive everywhere""their shop is in Minnesota and they'll come down to Georgia and Florida no problem.
People think when you're a factory rider you have it all set. Is it really like that?
No. If we had a couple of years on this bike already, and we already knew what worked, I could just say "just put this this and this on it and we'll be set" and then I could just sit on the couch. But this is all new, so I need to be there for every measurement and every new part, and then go ride it. We've been at it non-stop, riding it, and even on the phone just to get everything right.
Is this exciting?
It is. You know, when we would make a few new parts for the Honda, and they would call it the Bithell steering stem or something, it was cool. So this is even better. The a-arms, we went with the stock width in the end. We used all stock Can-Am ball joints. The rear end, we have a new shock but we have a stock linkage and swingarm.
What about that axle?
It's basically a stock, it's a Can-Am axle, but they made it a little wider than stock. But it's still a hollow axle like the stock one.
Okay then, no excuses with equipment, so where do you think you'll end up in the ranks? Right in the hunt?
Yeah, hopefully right in the hunt again!
How's Chris Jenks?
It's good. We hadn't seen each other in awhile, but then we went riding together in Georgia. It's way better that way, I was out there riding hard and pretty much ready to start cruising, and then I would look back and Chris would be right there. I was ripping around and thought I may have to wait up, but then I turned around and he was right there. It's fun that way. He had to load up and go home, and then I started to go out and ride, and then it was no fun so I just turned around and went back to the truck.