Jason Weigandt
Quick Fill #6 .... This Week in Your Sport
Thursday, February 7, 2008 | 12:00 AM
Welcome to Quick Fill. We're within one month!
We might as well move our office to Florida nowadays since it seems like everyone is down there testing and riding. We've also heard a little Georgia thrown in there as well as teams try to get dialed in for the real woods situations. Just how far have things stepped up this year? This week the Warnert Racing Can-Am guys called us from Florida, and they were testing Utility machines with riders like Michael Swift, Cliff Beasley, Rick Cecco and Scott Kilby. Yes, even the 4x4 guys are testing down there!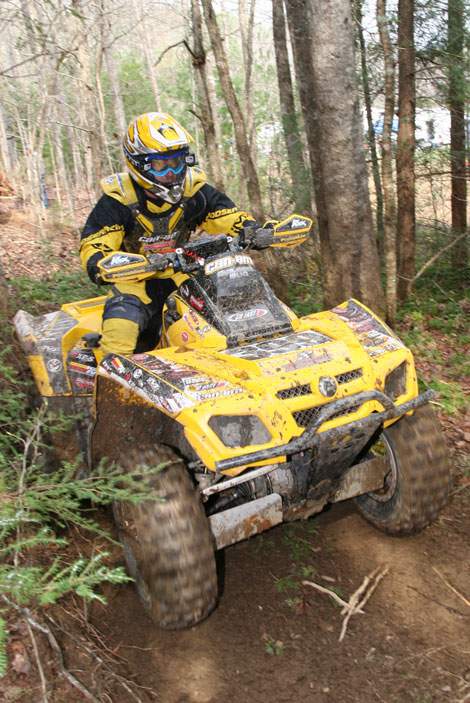 Even the 4x4 guys are testing in Florida right now.
Hooper photo
Warnert has been working exceptionally hard this year because they've added the 450 XC1 race team to the mix, with Chris Bithell and Chris Jenks. That's a huge new undertaking for that team since these are new riders, new machines and a new class. So today, I rang up Bithell to see how it was going. The Can-Am DS450 is a really all-new machine, and the design and engineering are way further out there than anything else in the 450 group (even the new KTM uses an engine that's been around on KTM bikes for a long time, and a steel frame). Some equate radical change with radical performance, some equate radical change with radical unreliability. Certainly we all remember the Cannondales from a few years back, which seemed awesome on paper but never quite turned out right on the track.
I'll run the full Bithell interview next week, but I can give you a few hints from him today. "You can put me on the record, under oath, under the gun, whatever, I really believe this machine works. The handling is already way ahead of my old Honda""and I talk about Honda because that's all I'm used to""and the motor, with just a pipe and some small little changes it's faster than my Honda in a drag race. We finally got some new a-arms from Houser, but we were using stock stuff for awhile and it works really well. We've just had to play around with the width, but we're going to end up using the stock width up front."Â
And what about reliability? Chris doesn't think that will be an issue. He started out with a test quad from Can-Am that had already been hammered, and then he hammered it some more. Eventually it stopped running after about a zillion hard hours, but it turned out to only to be small electrical troubles on the prototype, and not catastrophic engine damage. And he has had absolutely no chassis problems""no stress failures on the frame, nothing has come unbolted or broken. Chris Jenks has also been riding and testing and things have gone well.
"They have their own practice bikes at home for practicing," says Carey Daku, who is the Team Manager for the Warnert ATV MX team but has been working with Chris and Chris, too. "There aren't really any works parts, it's really, really production based. It's all very positive right now. It could have easily gone the other way, considering this is a new machine. Everyone critiques it, and hopefully people's minds will be swayed."Â
Of course, many of you will just read this and say, "Oh, Can-Am is title sponsor of this series and of course you're going to say that." Well, that's fine. The good thing is we're holding 13 races this year, so we'll see if Chris is telling the truth and if this machine really works. Same for the new KTM ATV, and the new BMW bike. And Chris Borich, who is hard at work making the Suzuki LT-R450 into a GNCC championship weapon. I don't think we've ever had this kind of excitement in, well, maybe ever.
We've been dissing the ATV guys for the last few weeks since we haven't heard as much news from them in the off-season races. But it turns out the ATV gang raced in that same triple-sanction race in Alabama a few weeks back""and we're gonna' run those results right here. This makes three weeks in a row we've run results from that race, making it the longest running off-season story ever. Thanks to T Flatt for the results.
OVERALL
DONALD OCKERMAN Yamaha
PHILLIP WALL Honda
JACOB YATES Honda
LANCE SMITH Honda
CRAIG REED
DAVID CRANE Yamaha
DAVID JONES Honda
SCOTT DAY Yamaha
KEVIN SMITH Yamaha
DAVID MCNALLY JR Honda
The Ockerman gang had a good weekend, as Don not only won the overall, but Mike won the 40+ over John Gallagher Sr. (who must be the oldest +40 racer ever).
There's a great thread going on over at the Quad Zone on who is riding what class in ATVs for the upcoming season. Check it out here.
On to the bikes. After missing the FMF Suzuki gang at the San Francisco Supercross, I found them all last weekend at Anaheim!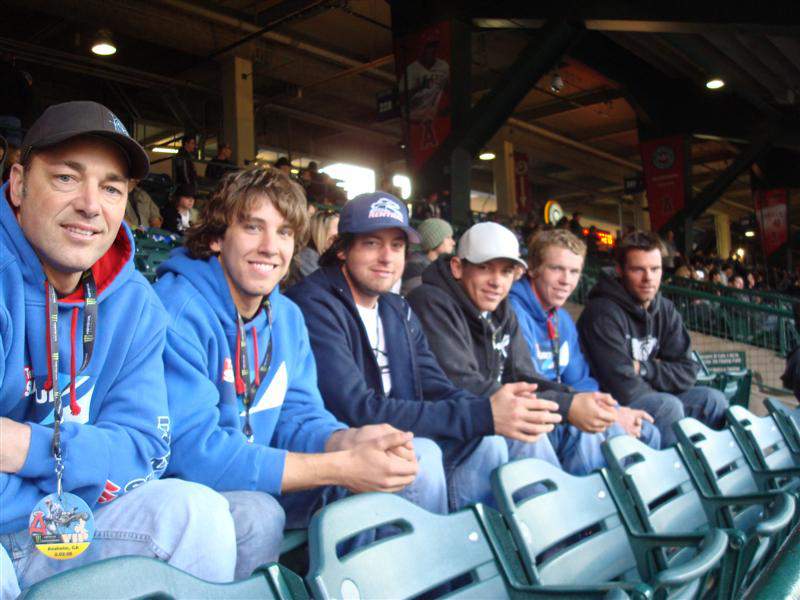 We found Team FMF Suzuki!
Weigandt photo
Rodney Smith old me he has 10 people staying at his house right now (and that's crazy since I've seen Rodney's house""it's big, but 10 people is really pushing it!) Charlie Mullins is out there, Josh Strang, Jimmy Jarrett and now Paul Whibley has made it in from New Zealand, and then you've got wives/girlfriends and mechanics. Everyone is working hard there in California. Josh and Paul just got their RM-Z450s (the fuel injected ones) and they like them""both told me it didn't take as long to adapt as they expected. And Jimmy and Charlie love the old RM250 workhorses. A lot of people expect Charlie to be David Knight's main competition for the GNCC title this year""with Rodney's help, you can expect him to make it one heck of a run.
The Suzuki team did their photo shoot this Tuesday with Kinney Jones, I'll try to grab some of those for next week.
Also, Suzuki has released their 2008 contingency program, and it's just an honor for us as the GNCC payout is far, far bigger than any other off-road series. We can't thank them enough for that. Go to www.teamsuzuki.com for the info.
As for the Am-Pro Yamaha guys, well, all you have to do is just check the video on our main page to see how it's going for the boys in blue.
Am-Pro will have a guest rider in Florida in Georgia. Takeshi Koikeda, the Japanese rider who finished second at the JNCC (in front of Jason Raines and Rodney Smith) back in November, is going to try a GNCC. I know Takeshi well because he spends his winters training with Jim "Hollywood" Holley, who is my broadcast partner at the Monster Energy Supercross races. He's a cool guy and he should do well riding XC2 for the Am-Pro gang.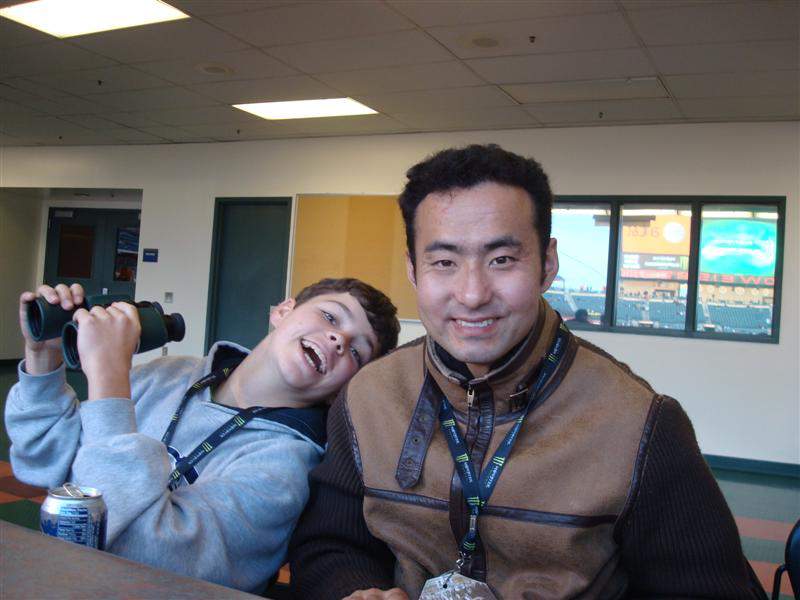 Koikeda was also in Anaheim last weekend--that's Jim Holley's son
Jared causing trouble next to him. TK will be racing in Florida and Georgia.
Weigandt photo
This week Kawasaki Team Green Off-Road Supervisor Jason Smigel called to discuss Kawasaki's GNCC plans. Kawi is going into regroup mode as they wait for their next generation of stars to develop into championship-level talent in the XC1 class. For now, that next generation (Scotty Watkins and Andrew Matusek) will do battle in XC2 on KX250Fs. Smigel says Kawasaki will be back up there once they regroup the efforts. They will be bringing their big hitters from the WORCS Series to the Triton GNCC in Florida, as Damon Huffman, Ricky Dietrich and Destry Abbot will race. Should be fun to have those boys racing GNCC!
Then there's David Knight, who just keeps on racing through the off-season. I heard a report from a source in Europe that DK is much stronger than he was at this time last year. Plus, he's hoping to not start off injured like he did last season, and he'll know the tracks, the format and his team that much better. And as you can see from our Tuesday Toolbox with Red Bull KTM Manager Antti Kallonen, KTM has built a much more solid team around Knighter this year. That's bad news for the competition!
Here's the latest on Knight, via a KTM press release:
David Knight crowned World Cup Indoor Enduro champion in Genoa
David Knight: "Winning the Indoor Enduro World Cup, as well as the GNCC, Aussie four-day and the Endurocross championships, well, it's great. It was tough tonight though. There was one rock on the last lap that I thought was going to take the chain off, so I was a bit lucky. It's hard when there is a lot of pressure on you and I made things hard by messing up my heat race. I knew I could win the LCQ easily but my heat proved that things can easily go wrong. I made a few mistakes and just couldn't get into a rhythm. It was a relief to finally get into the final."
The Knighter has become such a big star back home that he posed for a photo shoot in a recent issue of England's FHM. Yes, it was a fashion shoot, so the gear was, um, a little odd.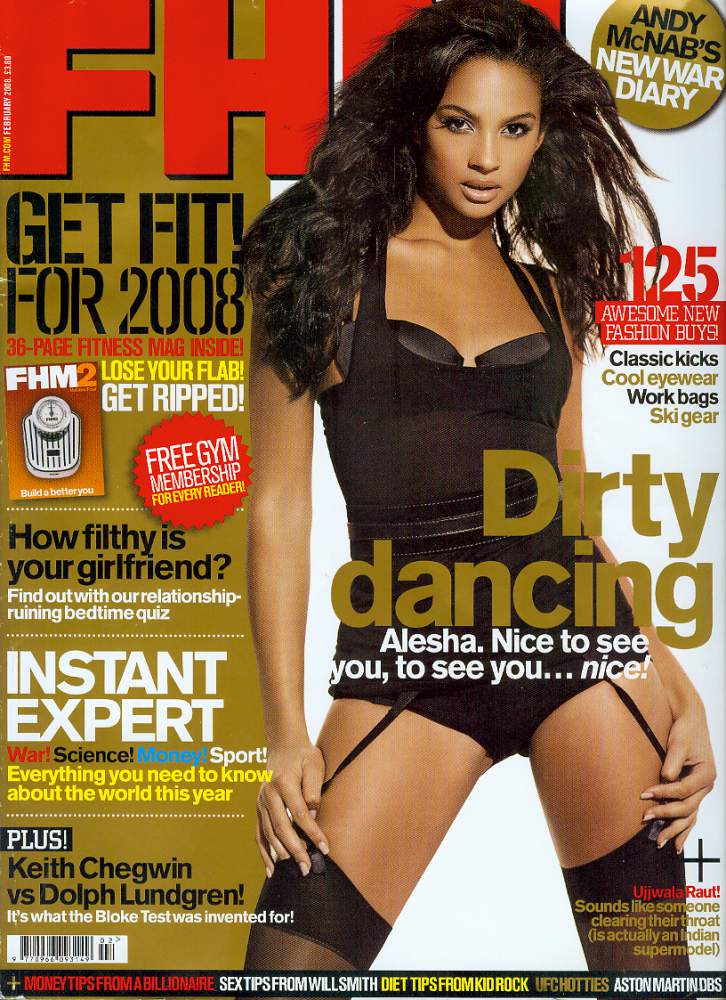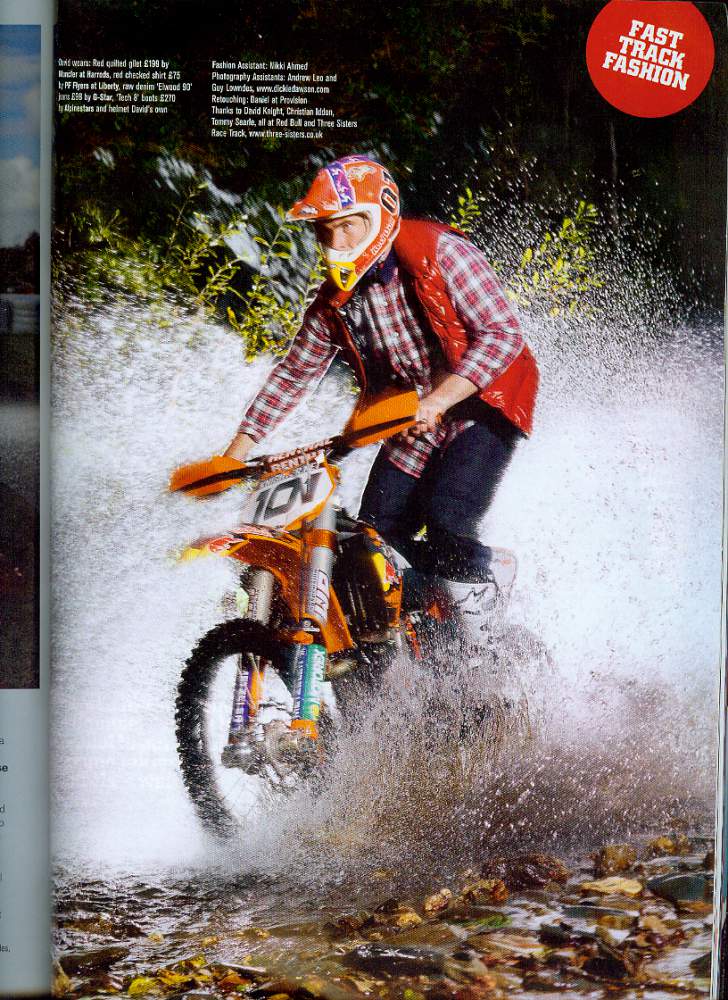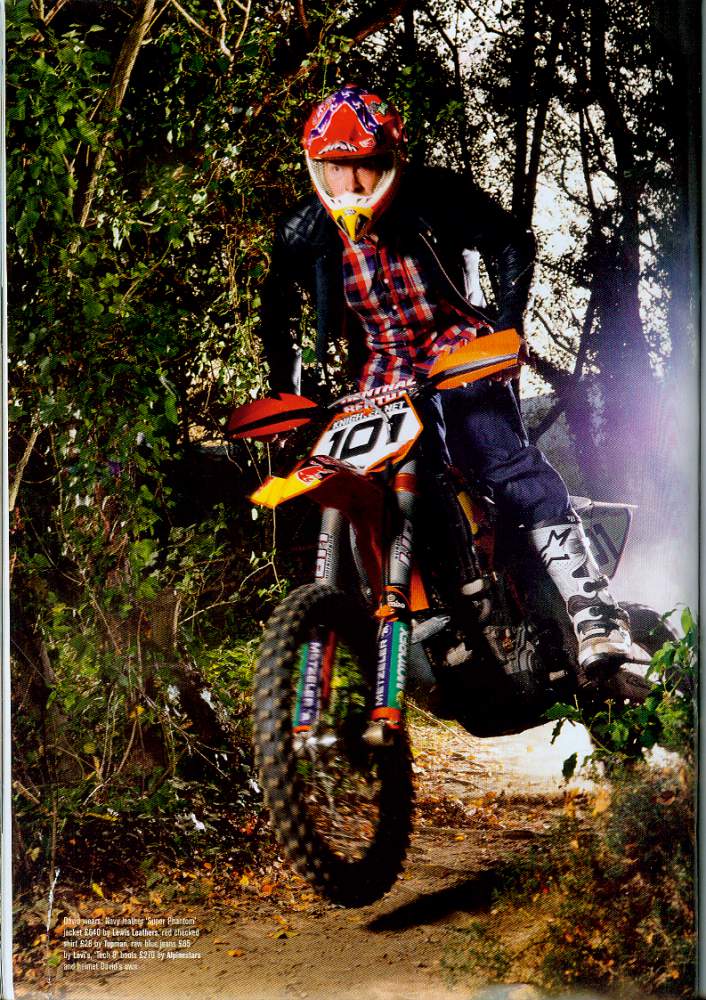 The Knighter got in FHM to fashion the latest, um, riding gear.
You may remember last year we had a couple of top rally riders from South Africa race the first half of the GNCC tour. Now they're back to race the full season for 2008.
Team South Africa Update!
South AfricansLouwrens Mahoney (XC1)and Kenneth Gilbert (Open A)are in Florida now and will bearriving in the Carolina's tomorrow evening andwe are planning on competing in the SETRA Abbeville S.C. hare scramble this weekend! After that they will be going back to Florids again to start gettin' ready. If you remember they came over in 2007 on their own dimewith only a six month VISA and competed in the first eight events with good resultsand had to return to South Africa. This year they are planning on entering all 13 events along with some support from sponsors andCycle Goodies Racingout ofWinston-Salem, N.C. We wish everyone the best of luck in 2008 and we'll seeeveryone in Melbourne. Wish us luck!
team website:teamsouthafricaracing.com
- David McEntire
We have finalized more information on our UTV races for 2008. We will definitely, officially race four times: Big Buck in South Carolina, Mountain Ridge in Pennsylvania, Power Line Park in Ohio, and the Ironman in Indiana. We're going to stick with the same four classes we ran at the Ironman last year, which are:
0-700 cc Limited (Stock, allows for changes to tires, wheels, bumpers and skid plates, air box and exhaust. No suspension or internal motor modifications allowed""no motor modifications besides airbox/filter and exhaust)
0-700cc Modified (Production Rule, must be matching engine/frame combination. Engine and suspension modifications legal)
701-850cc Limited (Stock, allows for changes to tires, wheels, bumpers and skid plates, air box and exhaust. No suspension or internal motor modifications allowed""no motor modifications besides airbox/filter and exhaust)
701-850cc Modified (Production Rule, must be matching engine/frame combination. Engine and suspension modifications legal)
We have only one question remaining on UTVs. How long do we race and at what time? We would like to race at 4, 4:30 or 5, and race for either 45 minutes or an hour. Let us know via [email protected]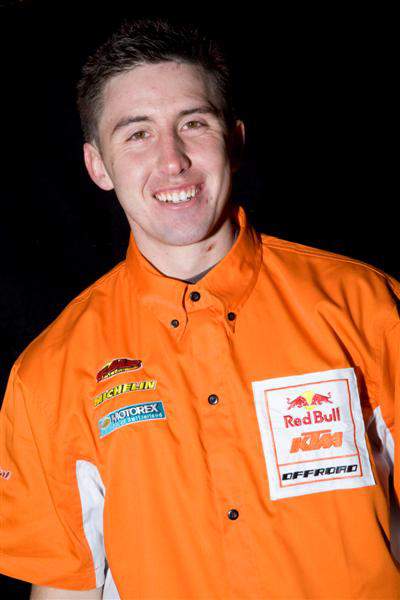 You've got questions? Nate Kanney has answers.
Adam Campbell photo

Finally, we are announcing a new project here on GNCCRacing.com. We're calling it Ask Nate! Red Bull KTM rider/shoulder chipper Nathan Kanney will be answering your questions on racing, life and whatever other ridiculous stuff you can come up with. We're stealing (and beating) the Ask Ping! Format from Racer X, so the key here is to email Nate whatever you can come up with that's funny and off the mark and will solicit a ridiculous, wise, answer from Nate. You might as well keep the questions fun, because Nate's not going to give you a serious answer anyway.

By the way, if this project works we're gonna' draft some other riders in so you never know who you might be asking a question to in the future.

A few of you might have read on Davey Coombs' Racerhead column that his mom (our fearless leader Rita Coombs) was in the hospital. Rita has a herniated disc in her back, but now that it has been diagnosed she's feeling better and of course still comes to the office just to make sure we're on the straight and narrow. The woman is tough. Anyway, herniated discs are bad news, so she's weighng the treatment options. One way or another you know she'll be at the races anyway.

That's it for Quick Fill this week. Keep on enjoying your off-season.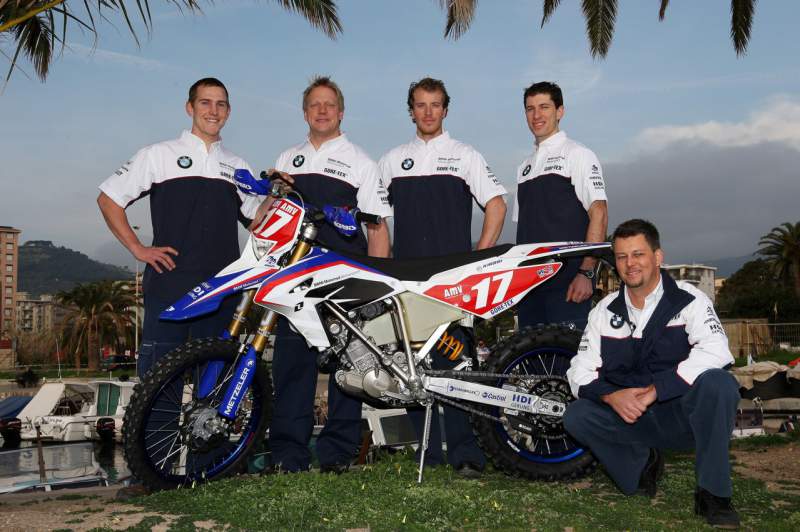 BMW's 2008 World Enduro Championship team.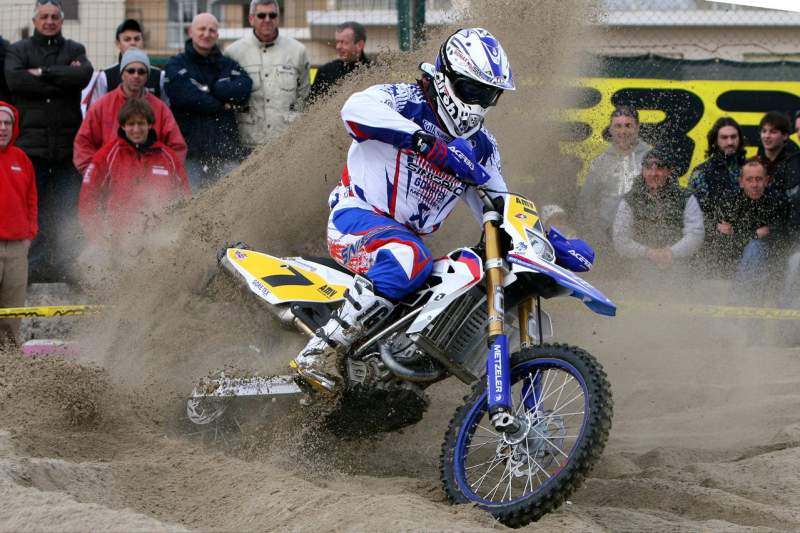 Top pilot Anders Eriksson.