Jason Weigandt
Quick Fill #5 .... This Week in GNCC
Thursday, January 31, 2008 | 12:00 AM
Welcome to Quick Fill. Things are happening fast.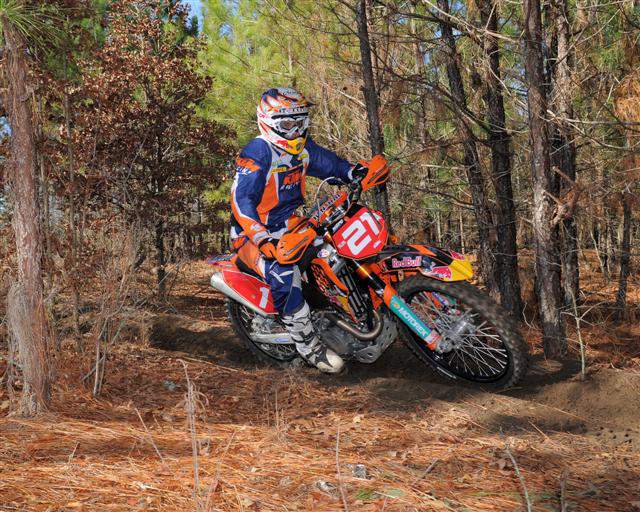 Racing has started. Mike Lafferty topped all comers at a big Enduro race over the weekend.
Scearce photo
Wow what an exciting time for GNCC Racing. The changes and improvements for 2008 are rolling in hot and heavy. We're 100 percent committed to making this the best off-road racing series on the planet, and just like all of the racers experiencing cabin fever waiting for the new year to begin, we're all pumped up about 2008 as well.
It started with our new rulebook and classes, where we spent a good month taking feedback from you folks. It continued with the redesign of our website, which we hope looks and works better than ever (and by the way, did you check out the new video we posted yesterday? It's good).
Now we roll over into changes at the race track. We're going to a whole new level with transponder scoring for 2008.
Transponders will replace the traditional bar code scoring design we've had at the races since the late 1990s. Transponders have been around forever, and we've actually been testing them since 2001. But finding the right transponder has been hard. The bar code system worked well, and we didn't want to heap a whole bunch of extra cost on our racers. So the search has been on to find a transponder scoring system that creates a significant benefit to the series, but also works with all the variables of GNCC. It must work for 1000+ riders every weekend, the transponders must be durable in mud and heat and dust, they must not require a battery charge every weekend, they must be accurate, and most of all they had to be cheap! It's a tall order finding this combination.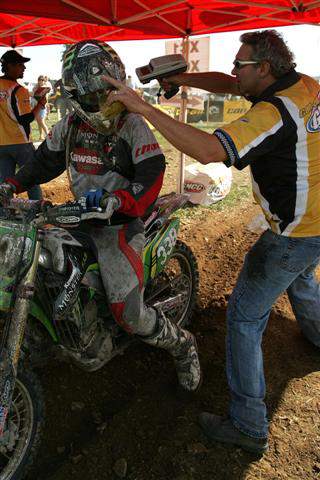 Kirk Sessions giving it the gun.
Hooper photo
Enter Kirk Sessions. Sessions has been going to our races for ages, as he's an old racer himself (he even earned a bronze medal the '94 ISDE in Oklahoma). He started scoring races back in 1995, eventually becoming a pioneer with the old barcode scoring we used. Once the bar code system was perfected, he then started working on transponders. The guy has worked unbelievably hard at this--Kirk would usually finish work at his job in Ohio on Friday night, grab the last flight out of town, get a rental car and get to the GNCC track in the middle of the night, nap for an hour, start chugging Red Bull and then set up his stuff. He's done this for years, trying hundreds of different transponders, ideas and concepts. In fact, many of you may have helped him test last year, as we used transponders in six different races last season, as well as a bunch of youth races and even the UTV race in Indiana. The key has been finding a transponder that works with every type of machine and terrain. Kirk has finally found it.
The second key was keeping the cost down. Here are the numbers: You must have a transponder to race GNCC in 2008. We will sell transponders at the races for $60. They have a two-year warranty, so that $60 will get you through 2008 and 2009. They do not require a battery charge or any maintenance over the two years. If you only race a few GNCCs and don't want to buy one, we will rent them for $10 per race. You must give us a $60 deposit up front, but we'll give you $50 back once your race is over. This is the most inexpensive transponder of this quality. Our testing has shown these new $60 items function as well as $250 items""we could have had transponders three years ago, but we don't think $250 to race is appropriate.
Okay, so we found the durability and kept the costs down. What are the advantages over the existing bar code system? Well the biggest one is, and this is a big one, we will introduce live timing and scoring from the track on GNCCRacing.com at every race this season. All 13 rounds, Youth races included. So anyone who can't make it to the races can check out GNCCRacing.com during the weekend and see how their favorite rider is doing. It's about time.
You'll also love what transponders do for us on the track. The two checkpoints in the woods will no longer have to function as check points, so you will no longer need to stop (and get bottlenecked) in the woods. We will keep the tent and an official out there though, to make sure the system is working, and so you will have someone out there to talk to is you see an injured rider or other trouble.
At the finish line, we'll probably still ask all riders to stop, so you can get a look at the LED screen to see your position on the track. People have always liked that so we'll keep doing it.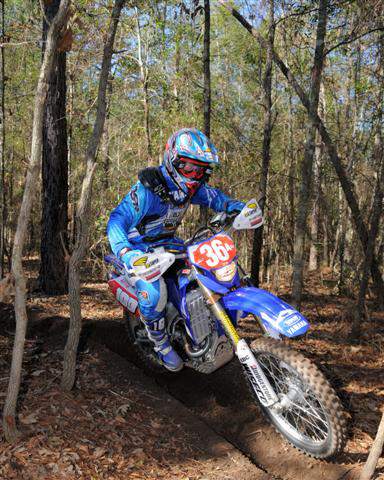 Jason Raines getting his enduro on.
Scearce photo
We can also eliminate the handlebar tags you get at sign up, and you no longer will need to get holes punched at tech and at the starting line. Now, everyone will have to ride through a specific entrance to get into the start area, and we'll have a transponder loop there so we'll know everyone's transponder is working. It's similar to what they do at triathlons and such.
The transponders are part of a big step up in technology at the races. We've purchased a high-end satellite so we can have internet access from the track. This will allow us to put that live timing and scoring on the web, and we'll also play the announcer's feed live during the afternoon race (and maybe all day if it works out). Also, the media will be able to upload results and photos from the track as soon as the races are over. Halleluja!
We have another announcement coming, as we have completely redesigned the sign-up process at the races with some new technology that will make sign up much, much quicker. Stay tuned.
We've also made a decision. It looks like the UTV races for 2008 will start with the Big Buck GNCC in South Carolina on April 12. You folks requested a race in the Southeast, and now you've got it. Hold off until next week when we sign off and make sure we can do it""but it looks like the new era will begin on April 12 (which is my birthday!)
Now on to the racing. Last week we reported on the big "Triple Sanction" race in Alabama, which was won by Thad DuVall. Belatedly, I have to give credit to a few of our top amateurs who did well there, as I only had the pro results listed last week.
Here's the overall with amateurs.
07WS07 MAA 1 4 Yam 019 M-DUVALL,THAD 1 02:12:54 WV,WILLIAMSTOWN
07WS07 MAA 2 4 Kaw 005 S-EDMISTEN,GARRETT 2 02:14:32 FL,VERO BEACH
07WS07 MAA 3 4 Yam 018 T-HAWK,BARRY3 02:14:35 PA,SMITHFIELD
07WS07 MAA 4 4 Yam 022 M-WEISENFELS,JOSH 4 02:14:37 AR,FORT SMITH
07WS07 MAA 5 4 Yam 017 M-RAINES,JASON 5 02:15:51 ,
07WS07 MAA 6 4 Kaw 003 M-GIBSON,DUSTIN 6 02:18:10 TN,CUMBERLAND FRNC
07WS07 MAA 7 4 Kaw 004 M-WATKINS,SCOTT 7 02:18:54 OH,LEETONIA
07WS07 MAA 8 4 KTM 001 M-BAUCH,CHRIS 8 02:19:00 IN,CROWN POINT
07WS07 M250A 1 4 KTM 036 M-ASHBURN,JORDAN 9 02:19:03 TN,COOKEVILLE
07WS07 MAA 9 4 KTM 014 T-HENSON,BRYAN 10 02:19:59 SC,Landrum
07WS07 MAA 10 4 Kaw 015 M-FIDDLER,JAKE 11 02:20:30 IN,BEDFORD
07WS07 M4SA 1 4 Suz 120 M-GENTRY,SEAN 12 02:24:21 TN,COOKEVILLE
07WS07 MAA 11 4 Hus 013 S-FAHRINGZ,NICK 13 02:25:10 ,
07WS07 MAA 12 4 Yam 012 M-ALERING,NATHAN 14 02:26:55 OH,CINCINATI
07WS07 MLA 1 4 Kaw 094 M-AKERS,CHAZ 15 02:27:51 MS,IUKA
07WS07 MAA 13 4 KTM 011 M-ROBBINS,JOHN 16 02:27:54 IN,COLUMBUS
07WS07 MLA 2 4 KTM 096 M-CHILMAN,LOGAN 17 02:28:54 IN,COMMISKEY
07WS07 MLA 3 4 KTM 092 M-BISHOP,CHASE 18 02:29:03 TN,MONTEREY
07WS07 M250A 2 4 Hus 035 T-MCDONALD,TYLER 19 02:29:07 SC,Cleveland
07WS07 M250A 3 4 Kaw 040 M-DERRYBERRY,SETH 20 02:29:23 GA,RISING FAWN
Check out Jordan Ashburn going top ten.
Now onto last weekend's big race, the kickoff to the AMA National Enduro Series in Wedgefield, SC. It was a good one, but the Enduro boys kicked some butt, with Mike Lafferty taking the win over Russ Bobbitt. Here are the results:
OVERALL TOP 20 RESULTS

1. Michael Lafferty, Estell Manor, NJ, KTM
2. Russell Bobbitt, Fayetteville, GA, KTM
3. Barry Hawk, Smithfield, PA, YAM
4. Jason Raines, Belfair, WA, YAM
5. Jesse Robinson, Connelly Springs, NC, KAW
6. Shane Watts, Newton, NC, KTM
7. Dustin Gibson, Cumberland Furnace, TN, KAW
8. Cole Kirkpatrick, Lubbok, TX, KTM
9. Cory Buttrick, Logan, OH, KTM
10. Brad Bakken, Powhatan, VA, KTM
11. Steven Edmondson, Callaway, VA, KTM
12. Chris Gallt, Eagle, MI, KTM
13. Ryan Rodgers, Dover, PA, YAM
14. Ian Blythe, Sedalia, CO, YAM
15. Jason Chancey, Chattanooga, TN, KTM
16. Michael Grizzle, Dahlonega, GA, KTM
17. Jordan Ashburn, Cookeville, TN, KTM
18. Jeff Melik, Girard, OH, YAM
19. Joel Dengler, Barnegat, NJ, HON
20. Allen Gravitt, Flowery Branch, GA, KTM
The big news revolved around Thad DuVall again. The speedster wadded it up big time, and rumor has it he was unconcious for several minutes, and had suffered a broken thumb or wrist. That's bad. Well today I got a call from Barry Hawk, and he was headed down south along with Thad (and Chad) DuVall, and apparently Thad isn't all that bad! He has a small fracture in his thumb, and he says he was not completely out cold like we had heard. I hope that's the case""Thad did hit his head hard enough to where he doesn't actually remember what happened, so you never know! He says he won't be able to race this weekend but if he absolutely had to ride, he could. So he'll be good to go for Florida.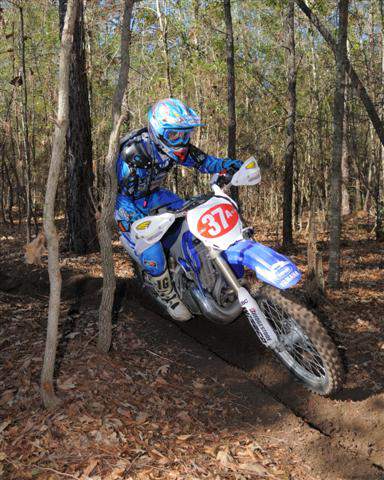 Hawkster getting his off season groove on.
Scearce photo
As for Hawk, he got lost on one loop and lost some time to Lafferty and Bobbitt, but he admits he wouldn't have beaten those guys even if he hadn't made that mistake. Lafferty and Bobbitt just haul in enduros. How fast are they? Well, Lafferty and Bobbitt do most of their training and riding with new Red Bull KTM teammate Nathan Kanney. Kanney is just working super hard right now on his Steve Hatch prescribed training program. As he says, he's doing man work right now. But Steve told him not to do any races until GNCC round one. And Nate put it this way: "I know how unbelievably fast Lafferty and Bobbitt are in that tight stuff, and for me to keep up with them, I could get hurt. And if I don't try to keep up, then why bother even racing?"Â
Nate also told me he pulled off a rare French trifecta on New Year's eve, when he ate French fries, French toast and French bread in the same day. At least I think it was French bread. Actually Nathan pulled off a quadfecta of French stuff, but you'll just have to ask him about that.
The final note on the enduro comes from our amateur boys, who did very well. I got this letter from Jordan Ashburn's mom:
We like the look of the new Quick Fill. Looks good!
We just got back from Round 1 of the National Enduro Series. The KTM/PG Team did very well, with Cory Buttrick 1st in 250A, Jordan Ashburn in 2nd in 250A, and Lee Rowland1st in 200C (Kaliub Russell was not able to come)... the boys...Jordan, Cory, Lee, and StewardBaylor won 1st place in the Team Pit Bike Race also. I think it was the most fun they had all weekend!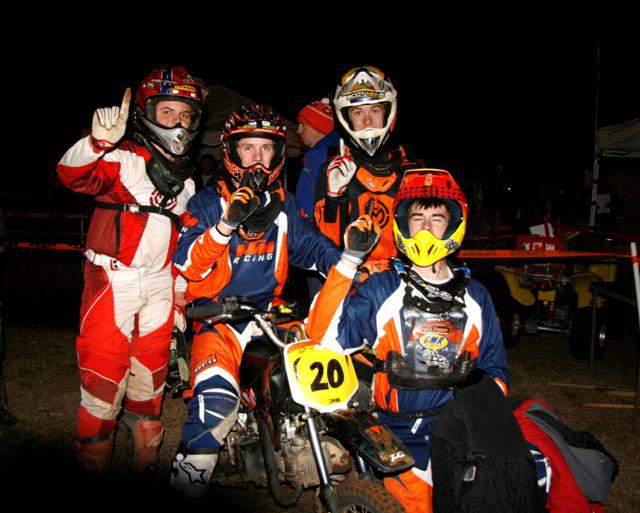 The GNCC boys won the pit bike race, and then won some more in the enduro!
Donna Ashburn photo
From all of these off-season updates, one team is missing: FMF Suzuki. I didn't see the boys at the San Fran Supercross last weekend, but I did touch base with Hot Rod Mullins this week and he says he's been up at Rodney Smith's house since the beginning of the month, and he's been working hard. I'll catch up to that gang next week""the yellow bikes will be contenders for sure in 2008. Speaking of:
A new amateur team is hitting the trails in the GNCCs next year, called Vesrah Suzuki. Joe Vadeboncoeur and Scott Daubert will be the riders, and they're going after some Vet titles. They have a great website here. http://www.vesrahsuzukignccamateurs.com/
Paul Whibley is finally heading back to the U.S. after a big off-season back home in New Zealand. Here's a quote from a local paper. "Cross-country specialist Whibley made a huge splash in winning both the crowd-pleasing river races, an impressive farewell ride as he too flies off to the United States this week. He finished sixth in the American Grand National Cross-country (GNCC) series last year and is again expected to be a frontrunner this season."Â
Cool.
Got some good news today regarding Justin Monsrud, who was a contender for the 2006 GNCC 4-Stroke Lites A Title, but missed the entire 2007 season after a major head injury in a practice crash about a year ago. Justin is now back on the bike and ready to go racing again this year. And don't forget his brother Josh, who ran so well in 200 B last year.
I got more news. Veteran pro bike contender Robbie Jenks has a new gig for 2008: Husaberg! Robbie will not only be racing the blue bikes, he has actually taken on the role of National Sales Manager, which means he'll be visiting dealerships and helping expand the brand. Husaberg is small but they have big plans. The company is actually owned my KTM, so Robbie kind of slid over from his orange ride last year to this new position. Robbie will not race for titles this year, as he will not do all the rounds of any one series. He will be racing most of the GNCCs, though. He says the bikes are good, surprisingly aggressive and much more race oriented than he realized.
Okay, all this talk of who is going where and who is doing what for 2008, but how about the champion, David Knight? Well, he just keeps on racing and winning! Here's a Knighter PR:
Knighter wins '08 The Tough One
Red Bull KTM Off Road Team's US GNCC champion David Knight claimed his first race win of the '08 season by dominating the fourth running of the WOR Events The Tough One race. Finishing alongside David on the podium were Taddy Blazusiak and Wayne Braybrook in second and third places respectively.

Despite the much hyped and highly anticipated battle between KTM's two extreme stars Knight and Blazusiak it was UK trials rider Michael Brown that provided the biggest challenge to Knight's dominance. Winner of the Speed Trial event Brown earned a place in the main The Tough One race and able to cross the event's technical terrain much quicker on a trials that all other competitors on their enduro machines he worked his way past Knight to earn himself £1000 for leading the race at the half way stage of the race before stopping.

Despite becoming one of a number of riders to fall on one of the tyre sections early in the race Knight had things pretty much all his own way in and around the Nantmawr Quarry from the one-hour mark onwards. Second off the start David was soon past Wayne Braybrook and quickly started opening up a healthy lead while his eventual closest rival Blazusiak made several small but costly mistakes on the opening laps. Comfortably ahead as darkness started to fall David maintained his lead to come within little more than 25 seconds of lapping Blazusiak.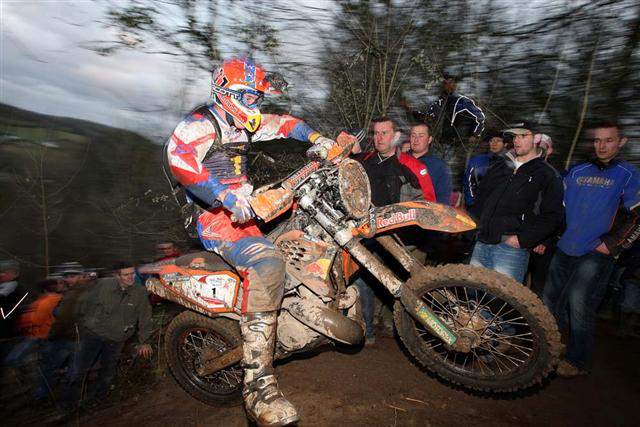 Knighter is still going strong.

Courtesy of Knighter.net
David's next event will be the third and final round of the Indoor Enduro World Cup in Genoa, Italy on Saturday, February 2.

David Knight: "It's great to start the year with a win, and to continue my unbeaten run at The Tough One. I've been working hard since Christmas, and have probably ridden more than I did all of last year, so I knew I was ready for the race. A lot of people have been quick to shoot me down because of a few disappointing results at the end of last year. I wanted to win to show them that I'm ready for '08.

"I've been training and working hard in since Christmas so to win shows that things are hopefully on track for a good season. I want to get the Indoor Enduro World Cup wrapped up in a couple of weeks and then focus 100 per cent on my preparations for the US GNCC series. It's getting harder and harder for me to do occasional extreme races now that my main goal is the GNCC championship, but it's great to have won."Â
That's right, gang, Knighter's main focus is still the GNCCs. It's going to be a great year!
This is one packed Quick Fill to digest. Oh this just in: GNCC TV on Versus will begin on August 2nd! We've backed the schedule up so you can watch every single round every week without any breaks. It should be easier to keep up with this way. Of course with TV it's always subject to change but it looks pretty good. Okay, we'll see you next week right here with even more news. The series is almost here!