Jason Weigandt
Quick Fill #4 ... This Week in GNCC
Thursday, January 24, 2008 | 12:00 AM
Welcome to Quick Fill. We're all new!
That's right, the final piece of the new gnccracing.com is complete""the look! Hey, we all like bikes and ATVs that perform better, but bold new graphics and plastic go a long way, too. So, after spending about a month updating all of the content for 2008, we've now added a whole new envelope to our site. It also includes video, and our goal is to have new video content up on this site every Wednesday. So keep checking back""we want this to be the best looking, best functioning and most info-packed site in off-road.
Redoing the site allowed us to tie up some loose ends. For example, we never got the race reports from last year's Ironman GNCC posted on the Race Reports Index (the reports did go up as News the day after the race, but if you went looking for it after that, you missed it). We finally posted them""Bike, ATV and Youth Bike. Also, we're rebuilding all of the Pro Profiles for 2008. Look under the Series Info tab and you'll find info on your favorite GNCC stars, with more to come each week. There will be plenty to love about this new site, and we feel like we've gotten a massive holeshot on a dusty track. Things look so much clearer now, and we don't have to work nearly as hard!
I have to thank everyone who contributed to the redesign. I've been maintaining this site as a one man gang since 2002, but in the last month many have stepped up to help. They include: Jason Fleming, the Racer Productions' networking guru who handled over 100 emails of suggestions, changes and content attachments to get the site up to date. Carrie Coombs Russell wrote a ton of the content (she wouldn't have to work so hard if she had better employees), Jason Hooper, who designed the new look, and Gregg Lowley, who switched over from his daily duties at www.roadracerx.com to due some testing and make sure everything works and looks right. And finally, Jeremy at Gear Media and Marketing has the nose to the grindstone to get these weekly videos dialed in. Look for good stuff this off-season. Jeremy has even dispatched a camera man down to the Randy Hawkins' ranch in South Carolina so we can get good stuff of these guys training!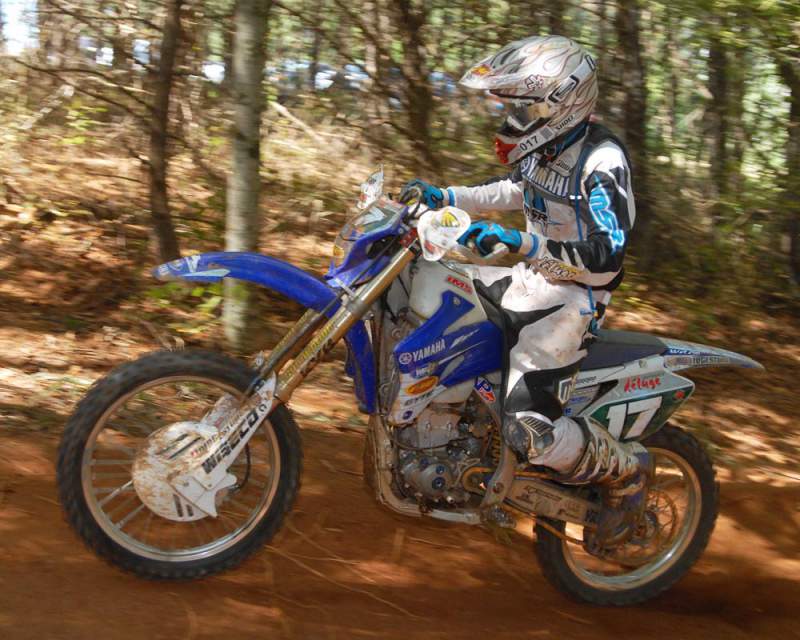 Bad Thad sure was good last weekend.
Hooper photo
While we were working to rebuild the site, racers are doing what they do best all over the country""racing. The past weekend produced a bunch of results that included some of the top GNCC names, including Chris Borich indeed surfacing on a Suzuki down in Florida, and a big crop of top GNCC boys racing at Perry Mountain in Alabama. For those of you up North (like us lucky folk here in West Virginia, looking at 20 degrees and snow every weekend) it's obvious that down South is the place to get to, because your competition won't be waiting around in March.
First, a bunch of the top bike pilots met up in Alabama's Perry Mountain, which is home to some cool events throughout the season. This one was cool, literally, with extremely cold temps. But the cold weather doesn't prevent the racing from getting hot (by the way, that's easily one of the worst lines in the announcing business). The big story was Thad DuVall running a 450""and winning! Apparently the kid was just on fire down there. Garrett Edmisten had a horrible start and charged all the way up to second, with Barry Hawk third, Josh Weisenfels fourth and Jason Raines fifth. I gave some of the Am-Pro Yamaha boys a call but they're out riding and training, but I did get hold of Edmisten, the new GNCC #5. The big man from Florida was pumped to race against such stiff competition, as he has been doing the FTR thing and admits the competition isn't the same. Plus, the FTR races don't always go two hours (let alone three like a GNCC).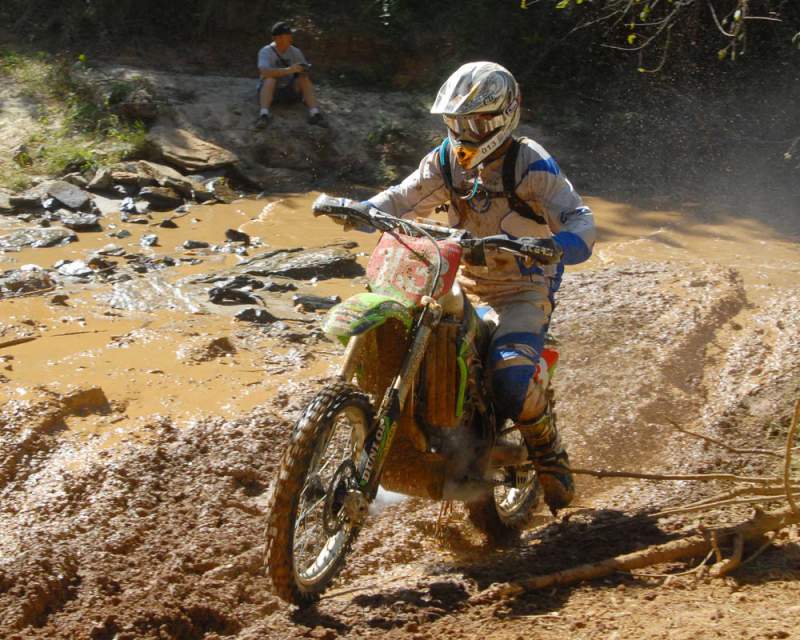 Privateer Garrett Edmisten is conserving on his limited supply of bikes by training every day and only riding when he can get close to good competition. And he sure was close in Alabama.
David Scearce Photo
So Garrett took the ten-hour drive up to Alabama and raced his left-over '07 KX450F (he just bought a '08""but he's saving it for the GNCCs). The worst part was, Garrett is nursing a thumb injury suffered, well, suffered from bull riding!
"It was a mechanical bull," said Garrett. "It hurts a little bit now, but hey, if you're gonna' ride a mechanical bull you had better get tough."Â
Garrett was happy with his ride, as he started fifth, got bumped and crashed off of a bridge on the first lap, and came fighting back to second. Garrett said it was really hard to pass out there--he didn't get back into the AA riders until 10 miles into the first lap. Similarly, Jason Raines couldn't get his bike started on the line and started last, with 35 pros in front of him. He echoed what Edmisten said about passing. I also heard from Weisenfels this week. He says he tried super hard keeping up with those guys, and was exhausted finishing fourth. It was Josh's first ride on his new Yamaha. In fact, he didn't even have bikes for a few months while the Monster/Andrews Yamaha team was trying to work out a deal with a manufacturer. For Josh, fourth on a 250F is a good ride. I'll try to talk to Thad about the win whenever I can. For now, I do have this eye-witness report:
As a GNCC racer myself I was very impressed with the ride Thad Duvall put in this past weekend. The race is called the cross country shoot out combining the three largest clubs in the south, including SERA, SETRA and Mid South Series. Temperatures were in the 20's which made for a cold day of racing.

Thanks,
Aaron Baldwin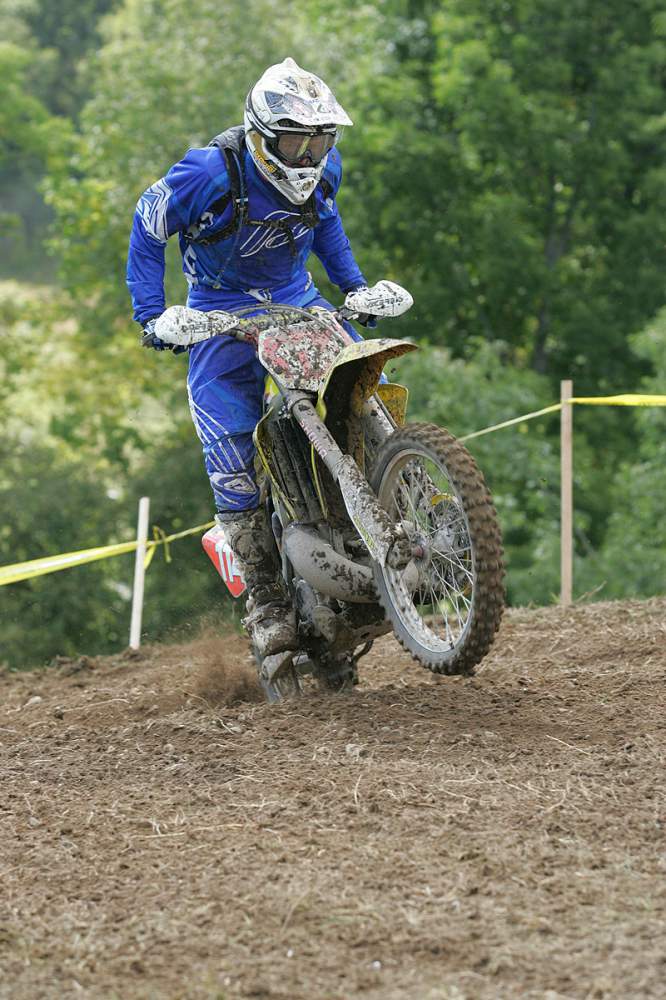 Josh Strang is a regular in the Mid-East Series, along with Shane Watts, Glenn Kearney, Bryan Cook and Santo DeRisi.
Hooper photo
Sounds like a great race there. If you're on the lookout for more races to go to besides the 13 GNCCs, the Mid-East Series is a great fit. The series is run by Buren Hamrik, the GNCC Lieutenant Trail Boss. Buren is the guy with the mustache and the awesome accent who comes to the start before each GNCC race and describes the track. So, since he works with us, you know the Mid-East tracks will be very similar to the GNCCs, and better yet, the schedule even follows the GNCC schedule. I called Buren today to get the scoop. But to make these quotes work better, make sure you read them in Buren's Carolina accent.
"You gotta' race down in the sand in Florida, so I gotta' race in the sand in South Carolina the week before that. This way all my riders can get ready for the sand. Then when GNCC comes back up for Morganton in North Carolina, see, I gotta race just south that track. Same thing with the Big Buck. You got the Big Buck. I have a race just on the other side of the road the weekend before. Then I have a race the weekend before Loretta's down in Tennessee, and it's got all those rocks, so if my guys need to get used to the rocks for Loretta's, we got the rocks for them."Â
Buren's series is fun. Get the info at www.mideastinterstate.com
Meanwhile, down in Florida, Chris Borich is busting his butt like he does every year getting ready for the season. Chris works hard, no doubt about that. The big difference is that this time he's racing a Suzuki, and reports are that he is flying on that machine.
For bike racers trying to get used to sand, Sumter, South Carolina has always been known as the place to be, and it will host the first round of the AMA Enduro Series this weekend.
Also down south, I heard the popular Hare Kore Racing GNCC Youth Team headed down to Georgia for a few weeks. That's dedication.
Speaking of down south, last week we threw out some possible locations for UTV/Side by Side races in 2008. Well, we have a ton of people request we put a race further down south, since there's apparently a big "˜ol UTV crown down there. So now we'll see if we could fit one at the General in Washington, Georgia or at the Big Buck in South Carolina.
On Tuesday we posted a Tuesday Toolbox with William Yokley, who hopes to bounce back from a rough 2007. He has most of his sponsors dialed in now, and I told him I would hook him up with the list here since we didn't have it in the interview on Tuesday:
William Yokley 2008:
ARMY NATIONAL GUARD
ROLL DESIGN
IMS/ROLL
ELKA SUSPENSION
ITP TIRES
SHOEI HELMETS
TIRE BALLS
ONEAL
ANDREWS CYCLE
IMS
HARDKORE
SMITH OPTICS
DOUGLAS WHEEL
BALDWIN RACING
PANOLIN OILS
TSUBAKI CHAINS
HMF PIPES
NGK
317 Graphics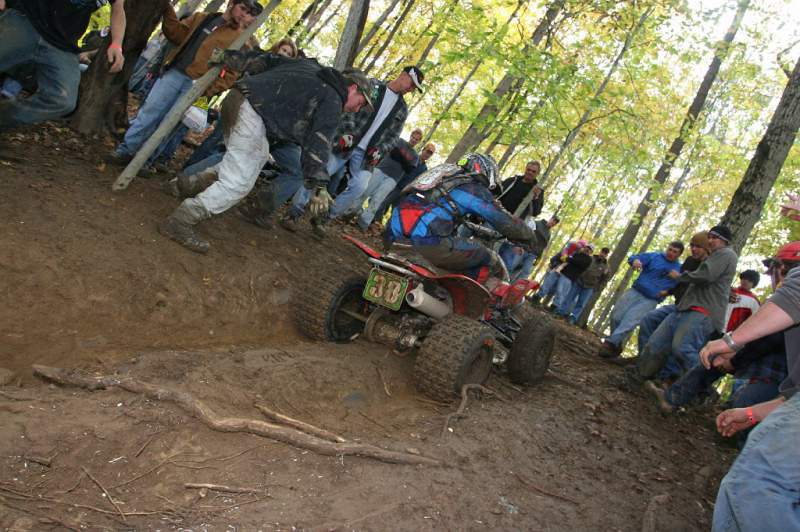 Mark Nottman will be Yokley's teammate in 2008.
Hooper photo
Hey, here are the results from that race in Alabama:

07WS07 MAA 1 4 Yam 019 M-DUVALL,THAD 1 02:12:54 WV,WILLIAMSTOWN
07WS07 MAA 2 4 Kaw 005 S-EDMISTEN,GARRETT 2 02:14:32 FL,VERO BEACH
07WS07 MAA 3 4 Yam 018 T-HAWK,BARRY 3 02:14:35 PA,SMITHFIELD
07WS07 MAA 4 4 Yam 022 M-WEISENFELS,JOSH 4 02:14:37 AR,FORT SMITH
07WS07 MAA 5 4 Yam 017 M-RAINES,JASON 5 02:15:51 ,
07WS07 MAA 6 4 Kaw 003 M-GIBSON,DUSTIN M103 6 02:18:10 TN,CUMBERLAND FRNC
07WS07 MAA 7 4 Kaw 004 M-WATKINS,SCOTT 7 02:18:54 OH,LEETONIA
07WS07 MAA 8 4 KTM 001 M-BAUCH,CHRIS 8 02:19:00 IN,CROWN POINT
07WS07 MAA 9 4 KTM 014 T-HENSON,BRYAN 1343 10 02:19:59 SC,Landrum
07WS07 MAA 10 4 Kaw 015 M-FIDDLER,JAKE M4 11 02:20:30 IN,BEDFORD
07WS07 MAA 11 4 Hus 013 S-FAHRINGZ,NICK 13 02:25:10 ,
07WS07 MAA 12 4 Yam 012 M-ALERING,NATHAN M650 14 02:26:55 OH,CINCINATI
07WS07 MAA 13 4 KTM 011 M-ROBBINS,JOHN M543 16 02:27:54 IN,COLUMBUS
07WS07 MAA 14 4 Suz 008 S-REED,STEPHEN 490 22 02:30:18 ,
07WS07 MAA 15 4 Yam 016 M-SCHERER,JOE 23 02:30:20 ,
07WS07 MAA 16 4 Yam 023 M-MASCHINO,JOHN M2 24 02:30:26 IN,NORTH VERNON
07WS07 MAA 17 4 Suz 006 M-PRINCE,DAMON M573 25 02:30:54 TN,LEXINGTON
07WS07 MAA 18 4 Yam 021 M-FOWLER,WALKER 28 02:32:44 OH,ROGERS
07WS07 MAA 19 4 Yam 020 T-HAWKINS,RANDY 29 02:32:57 SC,TRAVELERS REST
07WS07 MAA 20 4 Yam 024 S-HALLMARK,DAMON 36 02:37:01 AL,DAPHNE
07WS07 MAA 21 4 010 M-SHAFFER,T J 43 02:40:34 IL,FLAT ROCK
07WS07 MAA 22 3 KTM 009 T-BARBER,JOHNNY 4373 64 01:49:22 GA,Rome
07WS07 MAA 23 3 Hus 007 S-LEWIS,MARK 857 66 01:56:50 ,
07WS07 MAA 24 2 Suz 002 M-SIMS,BROC M10 151 01:11:59 IN,EVANSVILLE
Something cool here, our very own Amanda Mastin got some great press in her newspaper in Ohio. Click here to read the story.
That's it for the Fill this week. This weekend I'm headed to Monster Energy Supercross in San Francisco, so I'll track down Rodney Smith and see how all the Suzuki boys are doing right now. I think Rodney had plans to take the boys riding this week, but they're had way too much snow and rain. Sounds familiar!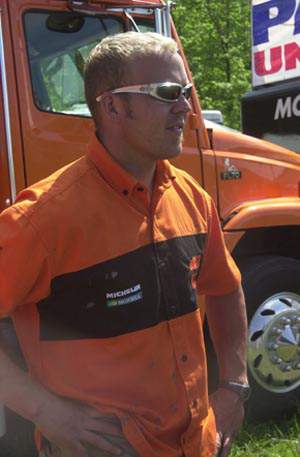 Rumor has it that Mike Lafferty may make a GNCC return for Florida and Georgia.
Hope to see you soon, Junior!
Weigandt photo