Kayla Bolton
Thursday, October 25, 2018 | 3:45 PM
FOR IMMEDIATE RELEASE
Kayla Olliver
(304) 284-0084
[email protected]
A New Winner Looks to be Crowned at The AMSOIL Ironman GNCC
Kelley and Toth Go Head-To-Head in XC2 at GNCC Season Finale
MORGANTOWN, W.Va. (October 25, 2018) – The AMSOIL Grand National Cross Country (GNCC) Series, an AMA National Championship, heads into the last race of the 2018 season this weekend, October 26 – 28. The best off-road motorcycle racers will take to the woods at Ironman Raceway in Crawfordsville, Indiana on Sunday afternoon.
Rockstar Energy/Factory Husqvarna Racing's Thad Duvall just announced that he suffered a wrist injury two weeks ago after his crash in the first turn at Powerline Park. Duvall holds onto the second place position in the National Championship standings and looks to hold onto that spot even without taking part in this weekend's season finale race.
After clinching his sixth GNCC National Championship two weeks ago at Powerline Park, FMF/KTM Factory Racing's Kailub Russell announced that he would not be racing the final GNCC round at Ironman or participate in the ISDE due to shoulder surgery. This comes after K. Russell earned seven overall wins during the season, and consistently finished inside the top-5 at every round.
Trail Jesters/KTM Racing's Ben Kelley finished third overall for the second-straight time. Kelley currently holds the points lead in the XC2 250 Pro class, and sits fifth overall in the National Championship standings. As the series heads into the last race, Kelley is looking to take home his seventh win of the season, possibly his first overall win as well as a National Championship in XC2 250 Pro.
Finishing fourth overall, and third in XC1 Open Pro, at the last round was Tely Energy Racing/KTM's Grant Baylor. Throughout the year, G. Baylor has had some up-and-down results but he's looking to land on the podium once more before the season is completed. Teammate and brother, Steward Baylor was running in first at Powerline Park before misfortune struck. S. Baylor found himself in sixth overall and fourth in XC1 Open Pro. This weekend the Baylor brothers are aiming for the win.
XC2 250 Pro and FMF/KTM Factory Racing's Josh Toth earned fifth overall and second in class. Toth currently sits 23 points behind Kelley, and thus far in the season he as earned five class wins. When the green flag waves this weekend, Toth is aiming for another class win and to defend his XC2 250 Pro class championship.
Sitting sixth in the National Championship standings is Rockstar Energy/Factory Husqvarna Racing's Josh Strang. This season Strang has finished inside the top-10 in XC1 at every round, including two podium finishes. Heading into the season finale Strang is hopeful he can pull off another podium finish and contest for the overall win.
JCR/Honda's Trevor Bollinger is ready to end his season on a high-note, after finishing second in New York and a third earlier in the season at his hometown race. Bollinger is eager to find his way back onto the podium, and even get that first win. However, Bollinger holds onto the third place position in the National Championship standings.
Beta USA's Jordan Ashburn has had an interesting season, and even with some mechanical issues Ashburn finds himself sitting ninth in the points standings. Ashburn finished fifth at The John Penton, and he is hoping to repeat that success this weekend. Coastal Racing/ Husqvarna's Craig Delong rounded out the top ten overall at Powerline Park, and found himself on the XC2 250 Pro podium in third. Delong seems focused and eager to battle with the frontrunners of the XC2 class this weekend and be a contender for the win.
The FMF XC3 125 Pro-Am class Championship was claimed at the previous round by FMF/Maxxis/RPM KTM's Jesse Ansley after earning sixh class wins. Ansley comes into Ironman as the newly crowned champion, and is aiming to end the season with his third consecutive class win. Coastal Racing/Husqvarna's Alex Teagarden sits second in the points with three wins under his belt this season. As the series heads into the last round, Teagarden is hoping for another win before the 2018 season is over. MCS Racing/Kenda Tires/Moose Racing's Cody Barnes holds onto the third place position, while he earned a win back at round three he's still looking to earn the win this weekend.
The Ironman event is named after the late GNCC ATV Champion Bob "Ironman" Sloan, who resided in Indiana and helped make the event happen. This event is held not only in his memory, but also in support of October's Breast Cancer Awareness Month. The facility will be adorned in pink, and a group donation to the Montgomery County Free Clinic (MCFC) will be presented on Sunday prior to the 1 p.m. race start.
An exciting lineup of live musical entertainment presented by Monster Energy will take place on Friday, October 26 and Saturday, October 27. The Davisson Brothers Band will kick off the weekend on Friday at 8:30 p.m., followed by country music artist and ACA Award Winner, Easton Corbin at 9:30 p.m. on Saturday.
On Friday, October 26, the third Fantic eMTB race will take place at 5 p.m. and feature seven classes with no pre-qualifying: Pro, Schoolboy (12-18), Junior (19-29), Vet (30-39), Senior (40-49), Masters (50+) and Women. The entry fee is $30 Transponder scoring will be used; transponders can be rented or purchased at the events.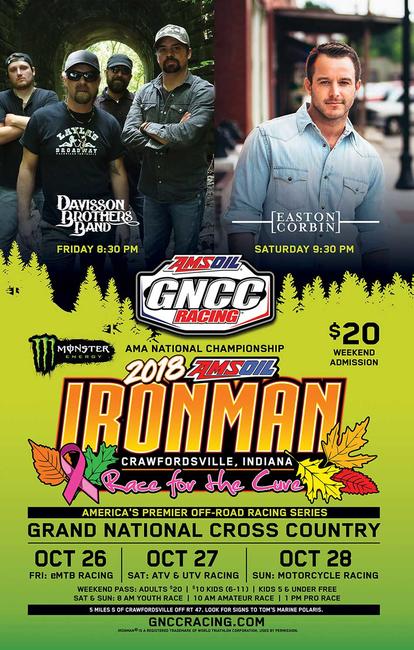 On Sunday, October 28, the motorcycles will take to the woods of Indiana following the same race schedule of youth racing action starting the day off at 8 a.m., women and amateur riders race at 10 a.m. and the pros and top amateurs will start at 1 p.m.
This event weekend is co-sanctioned with IXCR, a series that produces local racing events Indiana, and will ultimately bring out a full slate of local racers. Local riders are invited and encouraged to compete in the event, as GNCC Racing offers classes for riders of all skill and experience levels. The amateur race entry fee is $50 if racers pre-enter, or if they sign up at the track. To learn more about GNCC Racing, refer to the GNCC 101webpage.
Spectator passes run $20 for adults and $10 for children (6-11), and kids five and under are free for the full weekend (Saturday through Sunday) with concert admission, pro pit access and pro autographs at no additional charge.
The 1 p.m. pro races will be broadcasted LIVE on the internet via Racer TV on www.racertv.com both days. A highlight show featuring the event will air on NBC Sports Network on Sunday, November 11 at 3:00 p.m. EST.
For more information on the GNCC series, visit the official website at www.gnccracing.com or call (304) 284-0084. Join the conversation on the series Facebook page, follow us on Twitter and Instagram, and be sure to always hashtag #GNCC.
Previous Round Results and Standings
Powerline Park
St. Clairsville, Ohio
Round 12 of 13
Sunday, October 14
XC1 Open Pro Event Results:
Thad Duvall (HQV)
Kailub Russell (KTM)
Grant Baylor (KTM)
Steward Baylor Jr. (KTM)
Josh Strang (HQV)
Trevor Bollinger (HON)
Jordan Ashburn (BET)
Ricky Russell (YAM)
Layne Michael (HQV)
Andrew Delong (GAS)
*Overall National Championship Standings:
Kailub Russell (297)
Thad Duvall (262)
Trevor Bollinger (190)
Steward Baylor Jr. (189)
Ben Kelley (176)
Josh Strang (168)
Josh Toth (152)
Ricky Russell (127)
Grant Baylor (101)
Craig Delong (93)
*Indicates that the Overall National Championship Standings will determine the 2018 National Champion.
XC2 250 Pro Event Results:
Ben Kelley (KTM)
Josh Toth (KTM)
Craig Delong (HQV)
Mike Witkowski (BET)
Evan Smith (HQV)
Bradley Cox (KTM)
Liam Draper (HQV)
Jonathan Johnson (YAM)
Philippe Chaine (KTM)
Austin Lee (HON)
XC2 250 Pro Series Standings:
Ben Kelley (298)
Josh Toth (275)
Craig Delong (181)
Austin Lee (155)
Pascal Rauchenecker (145)
Evan Smith (142)
Jonathan Johnson (127)
Mike Witkowski (126)
Liam Draper (126)
Zack Hayes (99)
About GNCC Racing
The AMSOIL Grand National Cross Country Series is America's premier off-road racing series. Founded in 1975, the 13-round championship is produced exclusively by Racer Productions. Cross-country racing is one of the most physically demanding sports in the world. The grueling three-hour GNCC races lead as many as 2,400 riders through tracks ranging in length from eight to 12 miles. With varied terrain, including hills, woods, mud, dirt, rocks and motocross sections, GNCC events are tests of both survival and speed. The series draws talent from all over the U.S., Central America, South America, Europe, Japan, Australia and New Zealand. GNCC Racing is televised weekly on NBC Sports and RacerTV.com. For more information, please visit www.gnccracing.com.
How to Watch
Racer TV and NBC Sports Network (NBCSN) are the official homes for coverage of the AMSOIL Grand National Cross Country (GNCC) events. All 13 rounds, from the season opening Big Buck GNCC in South Carolina to the finale at Ironman Raceway in Indiana, will air in 30-minue; taped-delayed telecasts on NBCSN, while Racer TV provides live streaming coverage of the 1 p.m. ATV and motorcycle races from each event, in addition to the six UTV rounds. Catch all the action at http://www.nbcsports.com/ and http://www.racertv.com/.
About the American Motorcyclist Association
Founded in 1924, the AMA is a not-for-profit member-based association whose mission is to promote the motorcycle lifestyle and protect the future of motorcycling. As the world's largest motorcycling rights and event sanctioning organization, the AMA advocates for riders' interests at all levels of government and sanctions thousands of competition and recreational events every year. The AMA also provides money-saving discounts on products and services for its members. Through the AMA Motorcycle Hall of Fame in Pickerington, Ohio, the AMA honors the heroes and heritage of motorcycling. For more information, visit www.americanmotorcyclist.com. Not a member? Join the AMA today: www.americanmotorcyclist.com/membership/join.