Jason Weigandt
Quick Fill #26: This Week in GNCC
Thursday, July 2, 2009 | 3:45 PM
Welcome to Quick Fill. We think we figured it out.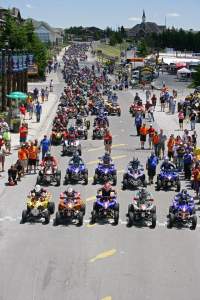 By all accounts, this year's version of the MotorcycleUSA.com Snowshoe GNCC was a huge success compared to previous efforts. This year's race drew more racers and spectators, paid out more money to the top riders, featured a better racetrack and even better special attractions, like the phenomenally successful GNCC University riding school and the always fun GNCC golf tournament.

The event went so well that the Snowshoe staff was happy to pat the GNCC crew, racers and fans on the back-it was so good that word even traveled to West Virginia Governor Joe Manchin, as the state government realized "this off-road race is a lot bigger than we realized."

It's not often that you have resorts and government agencies proudly supporting off-road racing. We're happy!

Snowshoe has proven to be a tough nut to crack, as they say. No doubt the resort is phenomenal, as having hotels and restaurants right next to the track is awesome.  But the rest of the logistics made it tough on us (and you) in 2007 and 2008, and basically, we decided if we couldn't get it right the third time, we weren't going back.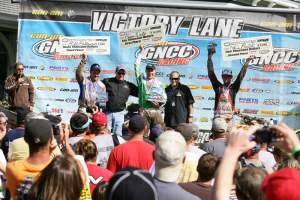 I have to give credit here to Tim Cotter, a management Jack-of-All-Trades in our office. Tim has been with Racer Productions for as long as anyone not named Coombs has, and it was his vision to first hold a race at Wisp Ski Resort (which we started in 2002) and then move to Snowshoe when Wisp ran out of room.  Tim has worked tirelessly to make this Snowshoe event work (the early days of Wisp were a challenge, too, but we eventually figured that out, and hoped for the same here). This year, Tim worked with MotorcycleUSA.com to get the big purse money, and also Snowshoe and the West Virginia tourism department to help promote the race. Snowshoe and the state are sold, and you can expect us to stay at Snowshoe for a long time to come.

Tim also came up with the idea for GNCC University-he's been talking about doing something like that for years. Snowshoe opened their doors (and land) to it, and Yamaha racing boss Donnie Luce jumped at the chance to get his brand involved. Soon, we had a huge pack of stars teaching: Bill Ballance, Barry Hawk, Randy Hawkins, Traci Cecco, Jason Raines, Johnny Gallagher, Taylor Kiser and Thad DuVall.

We've heard the participants were happy, but we want real feedback so we can figure out how to do this again and make it even better. Did you attend GNCC University? If so, send me an email at [email protected] and let us know how it went.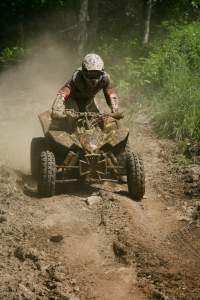 What's cool is we had some participants in GNCC University that had never even raced a GNCC before, and then they went out and raced for the first time after doing the school. Jason Raines put up an excellent account HERE.

For the race, credit out to Jeff Russell, who worked his tail off to make the double-loop course work. Last year at this time, we were crushed with negative comments on the track. Jeff made it his personal mission all year to make sure that didn't happen, and from what we are hearing, things were much, much better this year. Good job, Jeff.

One of the goals at Snowshoe is to create a race unlike every other in the series. The resort setting is an obvious difference (people were looking out their hotel windows watching the podium, and sipping coffee at Starbucks), the track is an obvious difference and now the money is as well. We wanted this one to be memorable, just like the old Blackwater 100 used to be.

One of the coolest things about Blackwater was that anyone could win. We think the same thing happened at Snowshoe when Bryan Wolf rolled across the line as the first-ever XC2 Pro Am rider to ever win a GNCC ATV overall. We have had riders from other classes than XC1 pro win overalls, like the time in Sparta, Kentucky in 2002 when Chad DuVall took his Four-Stroke Tech Honda 400EX to an overall. At the time, Chad was racing in the old Pro Production class, which started in the second row. But Chad was a proven pro rider and had several overall wins under his belt by then-for Wolf, this is a complete shock.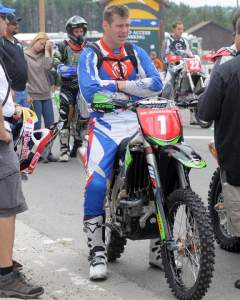 Blackwater had moments like that. The one that stands out the most is Steve Holbert winning the 1988 race on a Honda 250X-a far cry from the Honda TRX250Rs and Suzuki LT250R Quad Racers everyone else had up front.

Bill Ballance summed the Snowshoe race up by saying it was fun, but it almost shouldn't count for points, because mixing up all the rows at the start makes it hard to know what is going on. Maybe Bill is onto something....

Speaking of points, Chris Borich took second overall and won the XC1 class for the fourth-straight race. He has over a one-race lead over second-place Taylor Kiser in the points, and he wasn't even bummed about Wolf edging him for the $10,000 overall prize-Chris is 100 percent focused on finally winning the GNCC Championship that has eluded him year after year. He has four races left to keep luck on his side.

Snowshoe was not as kind to other GNCC ATV title contenders, as Kiser struggled to ninth on what he admits is not his best track. McGill tore a footpeg off of his KTM. Everything is rolling Borich's way.

And Wolf's, of course. Read his Tuesday Toolbox interview by Rachel "Who knew you could get sun poisoning at a place called Snowshoe" Fluharty.

The morning ATV race featured a sweep by the 4x4 and utility classes, with Michael Swift taking another GT Thunder Morning Race Overall, with local product Jerime Dudding second and Scott Kilby in third overall. No doubt, West Virginia's own Bryan Buckhannon was bummed to not get to compete in his home race, still mending from injury.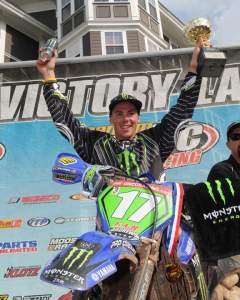 Amazingly, Can-Am machines from the 4x4 and U2 classes swept the top six overall positions.

The Women's win went to Angel Atwell. That's a big one for Angel, who like Chris Borich, has been denied the title too many times and wants to close the deal this year.

So you thought the ATVs were a surprise? Two weeks ago the chances of David Knight showing up at a GNCC ever again, let alone winning, weren't even on the map. Then came the announcement that he had gotten out of his BMW deal, and indeed here came the Knighter. And even with only a few days testing on a Kawasaki, he was pretty much his old championship self again at Snowshoe. 

Here's a quick story from Europe on his win HERE.

But there are still unanswered questions, such as, what really went down between Knight and BMW? Here's a link to an excellent Cycle News interview with Knighter HERE.

Knight said he may come back to race more GNCCs this year-maybe the Ironman. He's not making any other promises at this point. Knight is dating women's motocross star Tarah Geiger, who made up his Snowshoe team along with RidePG.com's Bart Hayes. Geiger is recovering from a broken wrist at the moment, though, so she was able to help her man out at Snowshoe.

Josh Strang was the only rider able to keep up with Knight at Snowshoe. Then he hit a deer-although he doesn't even remember it. When we called Josh this week, this is what he said:

"We got home last night. I'm actually in the process of going to the hospital to get a scan. It was good. I was really happy with how things were going. The track was actually fun. I was enjoying it. Had fun riding with Knighter. First lap went around all the mud holes and that worked well because Knighter was going through. I was able to keep up. Last lap, I don't know what happened. Had about a four-minute lead over everyone else. I'm sure he could have pushed harder if he had too and so could have I. It was good and the last lap, some people said I hit a deer, I don't have a clue what happened. Couple guys helped me get up. Don't know if I was knocked out or what happened. I ended up finishing in 6th and I'm still in second. Not a big gap. I remember some stuff. Remember crashing on the hill and the guys going by but that's all I remember."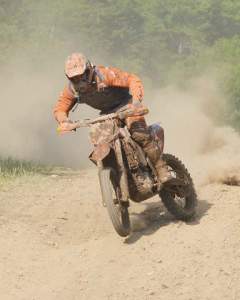 We had members of the National Guard working security for us over the weekend and one of them saw Strang hit the deer, so that's our proof. Get well soon, Josh.

Now Paul Whibley gets to go to the break with a larger points lead, but I don't think we've heard the last of Josh. Congrats to Whibs and Nathan Kanney for collecting podiums at Snowshoe, as well as the extra money that comes with it.

And an atta-boy to Jason Thomas who finally broke through for his first XC2 win of the year. JT has been awesome every since joining the FAR team last season, but all of his consistent rides have resulted in piles of podiums but now wins yet. Now he's delivered.

Another XC2 rider, Cory Buttrick, is heading to the ISDE for the first time as part of the Junior team. Cory has said since his Youth days that his main goal in racing is to get an ISDE gold medal. Here's his chance. Also good luck in Portugal to Amanda Mastin, Kanney and Jimmy Jarrett, who will also compete, and all-time ISDE guy Jeff Fredette, who finally became a full-time GNCC guy last year.

Like Snowshoe? They would like to invite you all back for their bluegrass festival this weekend, with a special ticket discount for GNCC racers. Click here.
Don't forget GNCC TV this weekend, as we celebrate July 4th with GNCC Racing on Versus this Saturday at 2:00 p.m. In addition, we're throwing in a plug for Lucas Oil AMA Pro Motocross from Red Bud, which will air live on NBC at 3:30 p.m. EST on Saturday.

Okay, that's it for this week, we've got lots of info to spread throughout the summer, so don't leave GNCCRacing.com off of your map. Thanks for reading!