Jason Weigandt
Quick Fill #1: This Week in GNCC
Thursday, January 1, 2009 | 4:45 PM
Welcome to Quick Fill.
Happy New Year!

Hope you folks have recovered from your celebrations last night. Here in GNCC land, we're back at it, refining the GNCC Rules that we will announce next week. Honestly, not too much is going to change on the Amateur side, as we've had several months of discussion and feedback from you, our Amateur racers. During the time that we've had the proposed rules posted on the site, we haven't had too many additional suggestions. So, the rules there are pretty much set.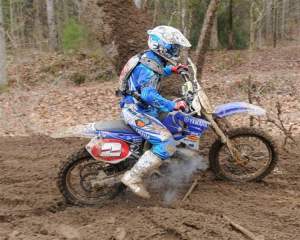 For the pro class rules, we always ask for feedback from teams, sponsors and manufacturers. We also listen to a variety of racers, but in that case you have to be careful because some racers suggest rules that are good for everyone, and other suggest things that are really only designed to help them. Then it's up to us to figure out which side each suggestion falls on. One major change being discussed right now comes in the bike XC2 Pro Lites class. For 2009, the AMA has changed their pro motocross rulebook to allow 250 two-stroke bikes to race in the Lites class (meaning, 250 four-strokes and 250 two-strokes will race each other). Since we try to follow those rules, we've considered making the same change in the GNCC XC2 Lites class. Ordinarily, this could be a tough sell on race teams and manufacturers, because some companies don't sell or race 250 two-strokes any longer, and other teams have already been testing and developing 250Fs for this class for a few years.

But, these are not ordinary times. It's pretty clear to everyone in and around the industry that we're in for a rough economic ride in 2009, and we've heard from quite a few people saying that if loosening rules helps keep people racing, than we should run it. Not sure if this rule will go through, but it's under consideration right now.

Speaking of the XC2 Class, I've heard Fred Andrews is back with his Monster Energy/Andrews Yamaha squad, with Jason Thomas and Josh Weisenfels signed up for another run. Fred is considering running YZ250 two-strokes if the rule change goes through. A few other teams, like KTM, I've heard have already completed their testing on 250Fs, and they'll race those. Should be interesting.

New Year's is a good time for resolutions, and one of the most popular resolutions is to get in better shape. If you're looking to get fit for '09, you should check out the Racer X Virtual Trainer website at www.racerxvt.com Our friend Tim Crytser hosts the site, and it's chock filled with interviews and information from the top trainers and riders in the sport. For example, right now Tim has a podcast (audio) interview up with James Stewart, and James talks about his program with trainer Aldon Baker. Don't you think you could learn something from James?

Tim tells us he's been getting a lot of questions from GNCC racers, lately, so he's going to spotlight some more GNCC stuff for now on. Check out this interview on the site with Josh Strang and Josh's trainer, Andy Cunningham.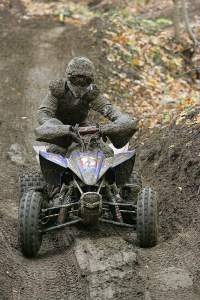 Over on the ATV side, it looks like Bill Ballance is at work testing his all-new YFZ450R in some local races. The new machine is good, but Bill ran into quite a challenge over the weekend from GNCC XC2 Champion Donnie Ockerman, who beat Bill for the win at a Mid-South race in Luke, Mississippi. Ockerman is getting better and better every time he rides. Look out for a strong rookie season from him this year. Oh and Ballance, don't worry about him. You know he'll be strong and ready when the season begins. Remember, Bill has thrown down the gauntlet and announced this will be his last full season of GNCC racing. Don't miss it.
Some GNCC Racers are getting good press. First, we recieved a new issue of the most hilariously-titled magazine in Japan, Grrrrrr!!! (yes, that's the name). Their new issue includes good coverage of the JNCC finale in Sugo, won by our own Nathan Kanney. Here are some photos.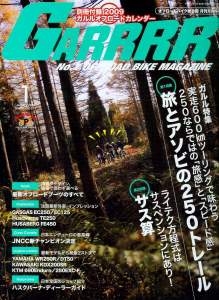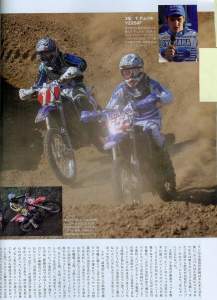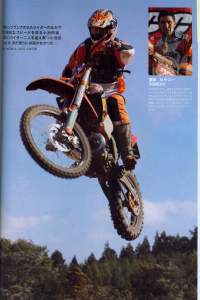 The JNCC folks sent us an email this week regarding plans for the Florida and Georgia GNCCs. JNCC president Masami Hoshino plans to bring eight Japanese riders over to compete in Florida, and a few will stick around and race in Georgia, too. If you see them, do your best to say Konnichiwa (hello).
Also, Hard Core Youth Team member Austin Lee got the attention of his local papers after a solid season.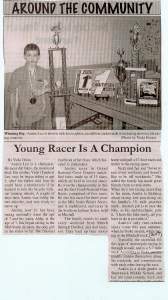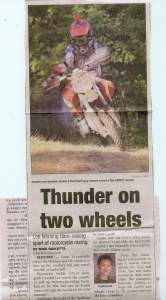 Finally, we say a hello to a new staffer in the Racer Productions office, Rachel Fluharty. Rachel is a Senior year Journalism student at West Virginia University, and she's joining us as an intern. As the weeks go by, expect to see plenty of Rachel's work on this website. She just started this week, and to get her up to speed on the GNCCs, I gave her a few DVDs to watch. When it was over, she said "Hey, this Adam McGill guy. I know him, we grew up going to church together. I was wondering what he was up to."

We live in a really small world sometimes.

Don't forget to check out Racer TV this weekend, The Snowshoe ATV race airs Saturday, January 3rd, at 3:00 p.m. Snowshoe is crazy to watch....and for those who grew up with Adam McGill, they will be pleased with the results.

That's it for our New Year's edition. Have a safe and fun weekend!