Jared Bolton
Friday, November 17, 2023 | 2:30 PM
Welcome to Quick Fill.
The off-season is in full swing as people begin to wind down not just from GNCC, but from various other series as well. While there are still a few events here and there still slated to be held, the overwhelming majority of racing for 2023 has come to a close and now attention begins to turn to everyone's 2024 preparations. Of course, we do have a banquet to take care of in the meantime but since there's no racing involved in that event, everyone's racing attention is focused on next season.
Speaking of next season, as a reminder we will hold the annual Riders Meetings coming up next week. This is your opportunity to discuss suggestions for new classes, rule changes, and anything else you would like to bring to our attention. These will once again be held virtually via Zoom, as this gives an opportunity for everyone to login and be a part of the meetings. We used to do these in person at the banquet, but with various time crunches and not everyone able to attend the banquet we transitioned to a Zoom meeting and it seems to have worked out pretty well. To keep these meetings as organized as possible, we ask that you first email your proposals to [email protected]. We list today, Friday November 17th as the cut off, so if you haven't already done so, get your suggestions shot over!
These meetings will kick off on Monday evening (November 20th) at 5pm EST with All eMTB competitors, followed by a breakdown of various ATV competitors the rest of the evening. This includes all XC1, XC2, 4x4 Pro and WXC racers at 6pm EST, ATV Amateur at 7pm EST and ATV Youth at 8pm EST. Continuing on Tuesday November 21st, it will be the motorcycle crowd's turn with bike XC1, XC2, XC3 and WXC racers at 5pm, Bike Amateur at 7pm, and Bike Youth at 8pm. You can check out the competition bulletin HERE for all the details, plus the meeting login information.
In other news, we are kicking off a silent auction of a 2023 KTM 300 XC to benefit injured racer, Jason Cooper. This bike was generously donated with the hopes that it could bring in a little bit of money to help offset Jason's numerous medical expenses. He's been away from home rehabbing in Atlanta for quite some time and will continue to be there for a while as well. When he returns home, he'll have numerous other expenses and this silent auction will go to help cover some of these expenses.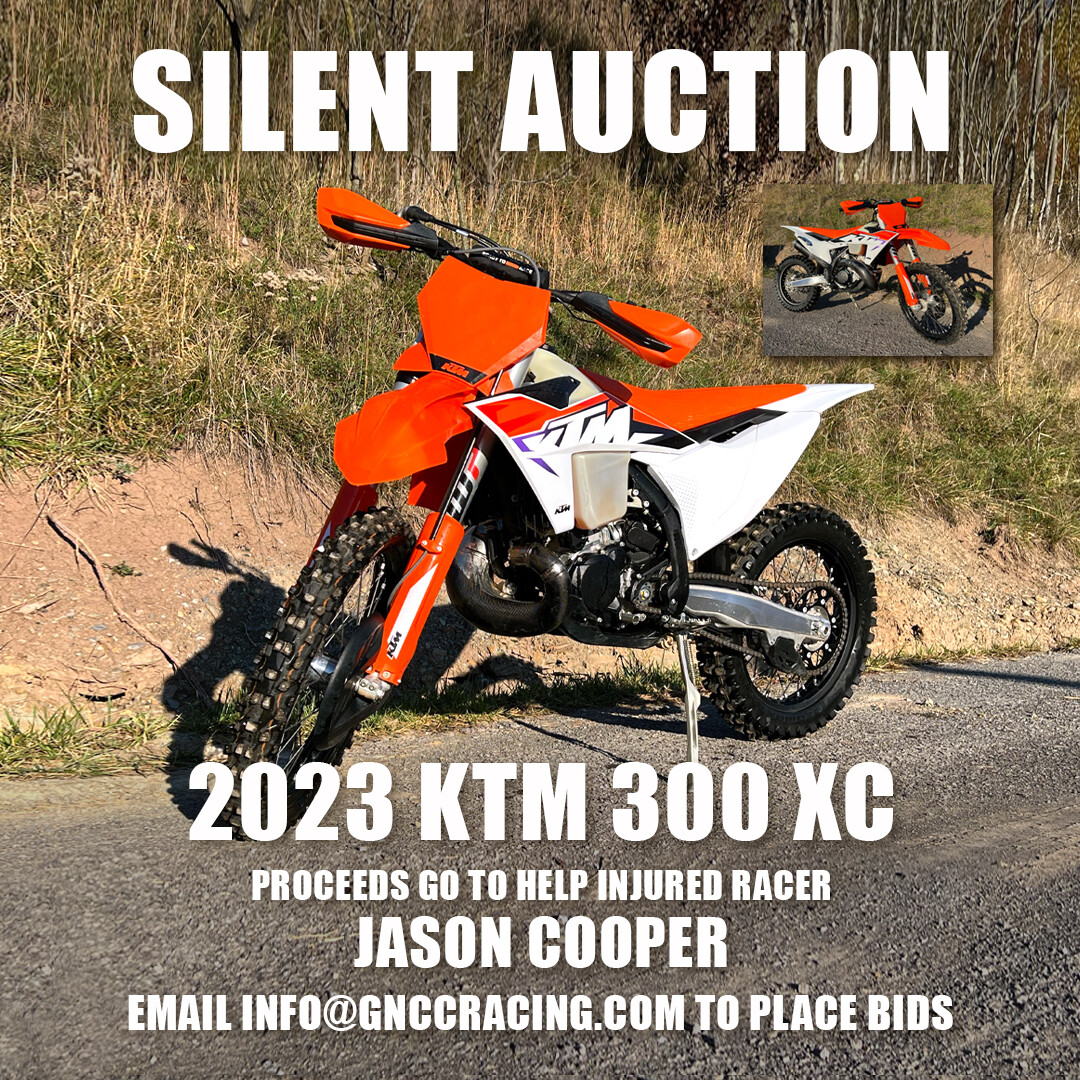 The bidding will start at $5,000, and we'll continue accepting bids through Friday December 8th, the beginning of the GNCC Banquet, with the top bidding winner will be announced during Saturday night's bike banquet. Bidding is pretty easy as well, as you just need to email your bid to [email protected] and we'll keep track from there. Be sure to read the full press release HERE for all the details.
Speaking of the banquet, it's just around the corner and will be here before we know it. I say this just about every year when we start discussing the banquet but it's always a really unique event. It's a pretty cool opportunity for everyone to get together away from the racetrack, in a slightly more formal environment, recognize each other's achievements and just generally have a good time. If you've never attended in the past, you've missed out on some good times so be sure to make it out this year.
There's still time to register for this year's banquet, and you can get all the details on the event page HERE. One of the best parts of signing up for the banquet is that you're automatically in the drawing for Rocky Mountain ATV/MC's Ticket to Ride. Each night our Rocky Mountain friends give away a trip to ride with them in the Moab area of Utah, and after experiencing that for myself this past year, I'll say it's absolutely awesome.
We did the ride at the end of March prior to the Tiger Run GNCC, and with a really good group of riders we had the chance to ride a totally different area than the Ticket to Ride had done in the past, and this was hands down some of the most fun riding I've done in a long time. We have a lot of really good riding opportunities here in the eastern part of the USA, and a lot of phenomenal racing to try out. However, there's seemingly endless miles of trail riding out west and the Rocky Mountain guys know some seriously fun terrain to ride. So, be sure to sign up for the banquet and have the chance to win that trip; it's worth it!
Additionally, we have the form open for suggestions on a few of the specialty awards we give away at the banquet. This includes Comeback Rider of the Year, Pit Crew/Team/Mechanic of the Year, The Kurt Caselli Good Steward Award (for those who are positive influences on the sport, and/or show a good sportsmanship story) and any In Memoriam additions you may wish to request. You can fill out the form HERE with your nominations.
Next week we'll kick off some recaps of the various championship hunts, but in the meantime, we're going to wrap up this week's edition of Quick Fill a bit on the short side. As always, if you ever have any cool stories to share, drop me a line at [email protected] to share. Enjoy your weekend and we'll see you back here next week!