Kayla Bolton
Time
Friday, September 10, 2021 | 1:45 PM
FOR IMMEDIATE RELEASE
GNCC Racing Returns to West Virginia After Summer Break
Summit Bechtel Reserve to host Freedom Fest in Conjunction
MORGANTOWN, W. Va (September 10, 2021) – This weekend, September 11 and 12, the Grand National Cross Country (GNCC) Series presented by Specialized, an AMA National Championship, returns to racing after the long summer break. The event will be hosted at the Summit Bechtel Reserve in Beckley, West Virginia, and in conjunction with the Adventure On! Freedom Festival. A handful of special events will take place throughout the facility over the course of Friday – Sunday.
As racing kicks off Saturday, WFR/GBC Tires/Fly Racing/Yamaha's Walker Fowler is looking eager to battle for his seventh win of the season. However, as the last four rounds of the season get underway Fowler will have to hold off his competitors who are hungry for a win.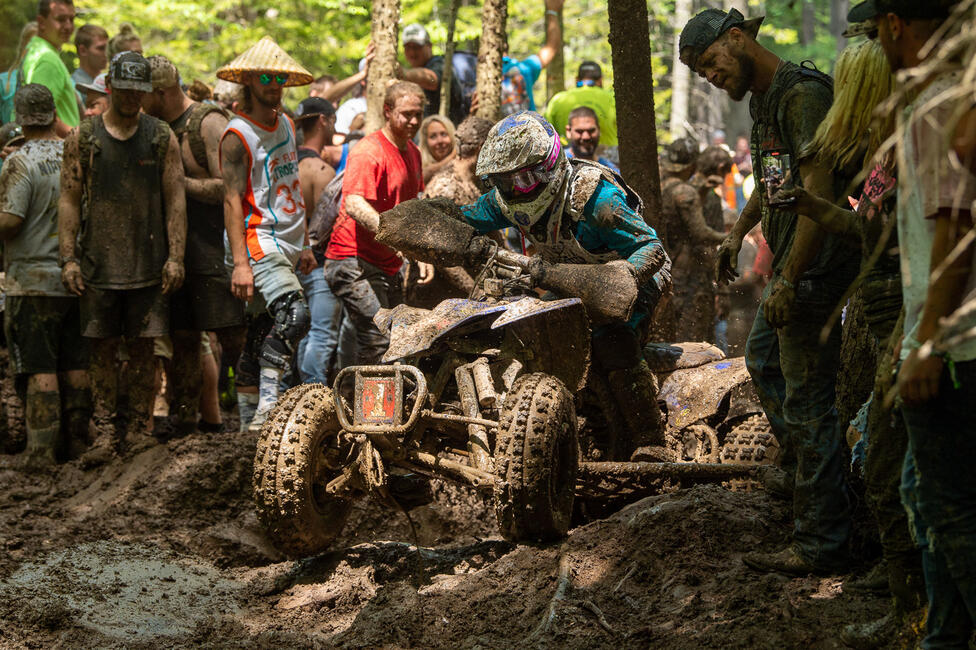 One of those competitors will be Hunter Hart Racing/Maxxis/Fly Racing's Hunter Hart, as he has had a consistent year thus far but is still looking for that overall win. Hart has finished runner-up at the previous two rounds, and this weekend will be looking to earn that number one spot.
OBOR/Moose Racing/Parts Unlimited-backed rider Adam McGill made his way onto the podium at the previous round before summer break, and this weekend he will look to battle for a win in his home state of West Virginia. McGill took the win last year at the Summit Bechtel Reserve, and he is hoping to repeat that success in 2021.
As he sits third in the points standings, JMR/GBC/Elka/Moose Racing's Jarrod McClure is looking to land on the center of the podium this weekend. McClure has also had a consistent first half of the season, and he is confident he can battle at the front of the pack as the season heads into the last four rounds of racing.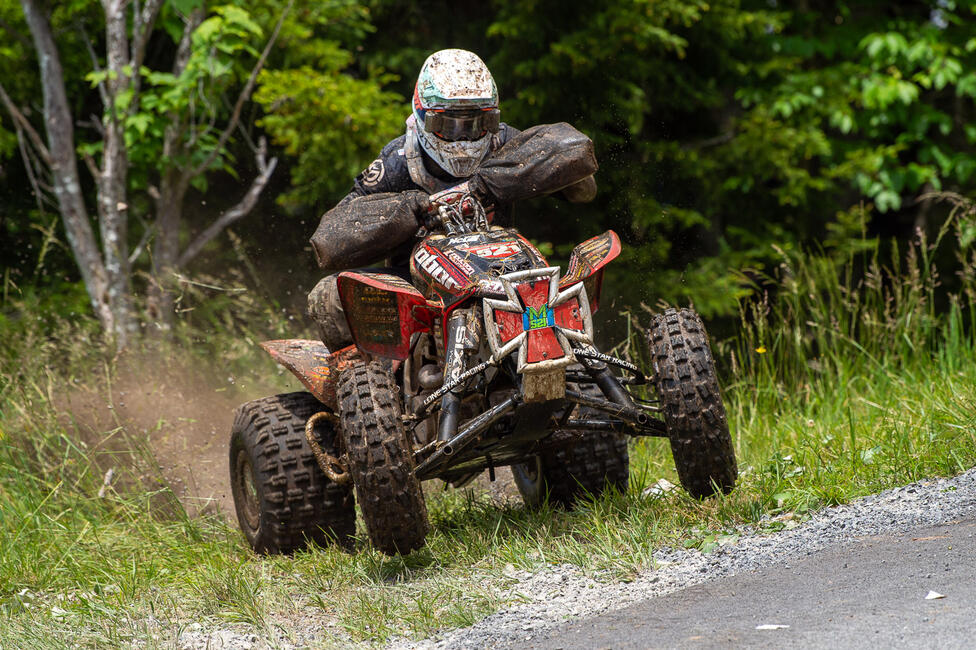 Feehan Racing/GBC/Fly Racing/Nine2 Goggles' Devon Feehan came through to finish fifth at Snowshoe, and after his first top five finish of the year he is hoping to continue that success this weekend and run up front. Feehan is continuing to improve as the season goes on and is looking to finish the year out strong.
Other XC1 Pro riders looking to battle in West Virginia this weekend will be Pierce Performance/GBC/Fly Racing/Action Off-Road's John Glauda, Merritt Racing/BNR Motorsports/GBC's Josh Merritt, BNR Motorsports' Kevin Yoho, Action Off-Road/Maxxis/Demaree Motorsports/Fly Racing's Austin Abney and GBC/Fly Racing/HMF/Yamaha's Johnny Gallagher.
On Saturday evening the last round of the Specialized Turbo eMTB GNCC National Championship will take place. Specialized/Gear Racewear's Charlie Mullins is looking to defend his championship, but he will have to battle fellow teammate Nick Mackie and North Carolina native LiveItExtreme's Kyle Smith. All three are battling to take the win and National Championship honors.
On Saturday, adventures will be open from 9am to 5pm and will include the WV Department of Natural Resources Youth Challenge along with the adventures under the special events information. Food Trucks will be located just across the CONSOL Energy Bridge, and by the lodge in the GNCC area. Country band, Lonestar will play on Saturday evening from 8pm to 9:30pm/10pm thanks to the Monster Energy Concert Series.
Then on Sunday FMF/KTM Factory Racing's Benjamin Kelley will take to the woods in hopes of securing his third win of the season and furthering his points lead in the hunt for the championship. Kelley has had early success at Summit Bechtel Reserve and is looking to comeback and earn the coveted win and hold the mountaineer trophy high.
AmPro Yamaha's Steward Baylor is looking to close the points lead even more this weekend by earning his sixth win of the season. After missing the first round, and finishing 14th overall at round two, Baylor is continuing to work his way up through the standings as the series continues. Baylor earned the win last year at this event, and he is looking to continue that success on Sunday afternoon.
Sitting third in the points standings is Magna1 Motorsports/Husqvarna's Jordan Ashburn and this weekend he will be looking to continue his success and land another overall podium finish. Ashburn is hoping to continue his run for a podium finish and gain valuable points in the championship standings.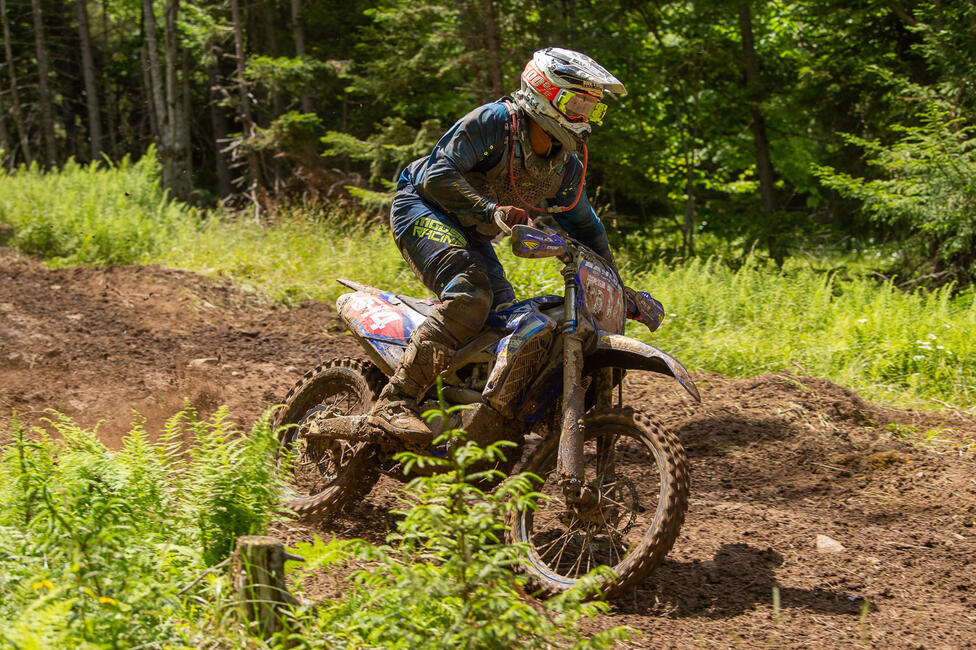 This weekend FMF/KTM Factory Racing's Josh Toth is once again looking to break into the top five and finish strong. Toth is aiming to make a comeback this weekend and battle towards the front of the pack once again.
Rounding out the top five at the last round back in June was KLM Milwaukee GASGAS' Grant Baylor. This weekend Baylor is aiming to return to the front and battle for what could be his second overall win of the season.
Other riders looking to break into the top spots this weekend will be Rockstar Energy Factory Husqvarna Racing's Thad Duvall, Coastal GASGAS Factory Racing's Ricky Russell, Babbitt's Online/Monster Energy/Kawasaki Team Green's Josh Strang, AmPro Yamaha's Layne Michael and RedBull/MCS Racing Sherco's Benjamin Herrera.
Also on site will be the West Virginia Jeep Club's Off-Road and Overland Experience, the West Virginia Division of Natural Resources' National Hunting and Fishing Days and a 9/11 remembrance concert featuring the country band Lonestar.
For more information on the GNCC series, visit the official website at www.gnccracing.com or call (304) 284-0084. Join the conversation on the series Facebook page, follow us on Twitter and Instagram, and be sure to always hashtag #GNCC.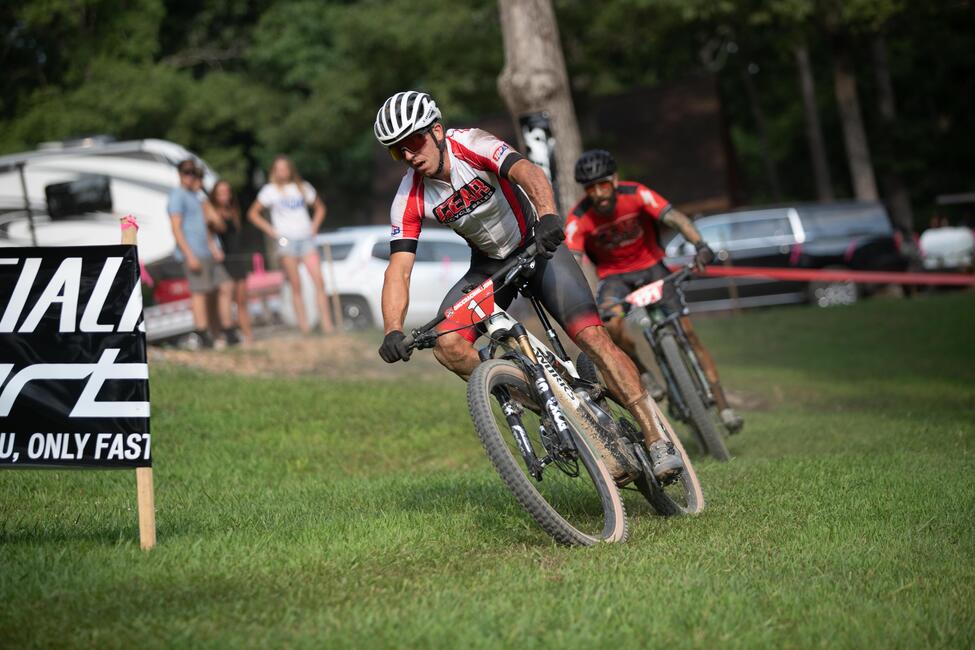 PREVIOUS ROUND RESULTS & POINTS STANDINGS

Snowshoe Results and Points Standings
Snowshoe, West Virginia
Round 9 of 13
June 26-27, 2021
XC1 Pro ATV Event Results:
Walker Fowler (YAM)
Hunter Hart (YAM)
Adam McGill (HON)
Jarrod McClure (HON)
Devon Feehan (YAM)
John Glauda Jr. (YAM)
Joshua Merritt (YAM)
Kevin Yoho (YAM)
Austin Abney (HON)
Johnny Gallagher (YAM)
*Overall ATV National Championship Standings:
Walker Fowler (251)
Hunter Hart (175)
Jarrod McClure (161)
Cole Richardson (140)
Brycen Neal (133)
Adam McGill (131)
John Glauda Jr. (118)
Joshua Merritt (109)
Chris Borich (101)
Westley Wolfe (95)
XC1 Pro Bike Event Results:
Benjamin Kelley (KTM)
Steward Baylor (YAM)
Jordan Ashburn (HQV)
Josh Toth (KTM)
Grant Baylor (GAS)
Thad Duvall (HQV)
Ricky Russell (GAS)
Josh Strang (KAW)
Layne Michael (YAM)
Benjamin Herrera (SHR)
*Overall Bike National Championship Standings:
Benjamin Kelley (212)
Steward Baylor (203)
Jordan Ashburn (158)
Grant Baylor (156)
Josh Strang (153)
Josh Toth (128)
Ricky Russell (120)
Jonathan Girroir (113)
Craig DeLong (95)
Layne Michael (71)
*Indicates that the Overall National Championship Standings will determine the 2021 National Champion.
To get the latest GNCC Racing clothing and merchandise visit https://www.mototees.com.
How to Watch
Racer TV and MAVTV are the official homes for coverage of the Grand National Cross Country (GNCC) events. All 13 rounds, from the season opener in South Carolina to the finale, will air in taped-delayed telecasts on MAVTV, while Racer TV provides live streaming coverage of the 2 p.m. ATV and 1 p.m. motorcycle races from each event. Catch all the action at http://www.mavtv.com/ and http://www.racertv.com/.
About GNCC Racing
The Grand National Cross Country Series presented by Specialized is the World's premier off-road racing series. Founded in 1975, the 13-round championship is produced exclusively by Racer Productions. Cross-country racing is one of the most physically demanding sports in the world. The grueling two and three-hour GNCC races lead as many as 2,400 riders through racetracks ranging in length from eight to 12 miles. With varied terrain, including hills, woods, mud, dirt, rocks, and motocross sections, GNCC events are tests of both survival and speed. The series draws talent from all over the U.S., Central America, South America, Europe, Japan, Australia and New Zealand. GNCC Racing is televised live on RacerTV.com. For more information, please visit www.gnccracing.com.
About the American Motorcyclist Association
Founded in 1924, the AMA is a not-for-profit member-based association whose mission is to promote the motorcycle lifestyle and protect the future of motorcycling. As the world's largest motorcycling rights and event sanctioning organization, the AMA advocates for riders' interests at all levels of government and sanctions thousands of competition and recreational events every year. The AMA also provides money-saving discounts on products and services for its members. Through the AMA Motorcycle Hall of Fame in Pickerington, Ohio, the AMA honors the heroes and heritage of motorcycling. For more information, visit www.americanmotorcyclist.com. Not a member? Join the AMA today: www.americanmotorcyclist.com/membership/join.
###
Media Contact:
Kayla Bolton
(304) 284-0084
[email protected]