Mikey Waynes
Time
Tuesday, August 31, 2021 | 1:45 PM

Stemming from the grassroots of family racing, Wiseco has over 75 years experience manufacturing pistons, whether it be for fun, weekend riding, or professional racing. Wiseco is one of the few manufacturers forging pistons in the U.S., providing quality and performance you can trust. Click here to see the latest Tech Tips from Wiseco.
Taking the GNCC Racin' Nation by storm! With just a couple years of racing experience at the national level, Brody Lee sits atop the points lead in the Youth ATV.
A hard working young man from the heartland, Indiana. (I might be a little biased as a fellow Hoosier.) He's got six wins on the season, with four coming in the last four rounds, Brody Lee is poised and ready to capture the 2021 Youth ATV Championship. Oh, and did I mention he's got one of the most majestic mullets in the GNCC Racin' Nation?
GNCCRacing.com: Brody Lee, thanks for joining me today. First off tell everyone a little bit about you!
Brody Lee: I'm 14 years old. My dad got me a little TRX90 when I was little. I used to run around on that thing like crazy. One of my buddies took me along for a couple GNCC's but mostly I ran local series, like IXCR. This year we're back at again. Only we're running all of them this year.
I remember meeting your dad while I was having dinner with Adam McGill at Bechtel Ranch. He was picking Adam's brain about a few things and I remember him mentioning you. I believe that was 2019. So that, I'm assuming was your first year racing a few GNCCs. But 2020 you ran a full season correct?
Yeah, back in 2019 I raced a few in the 125 class. 2020 was my first full year running GNCC.
You've caught on quick between 2020 and this season. Sitting in the points lead in the Youth Overall and six wins to show for it as well. Four of which came in the last four rounds. What's clicking for you this year?
Using my head and riding as much as I can when I'm back home. All that work seems to be paying off. On race day I make sure to try my best and recently that's been getting me the wins.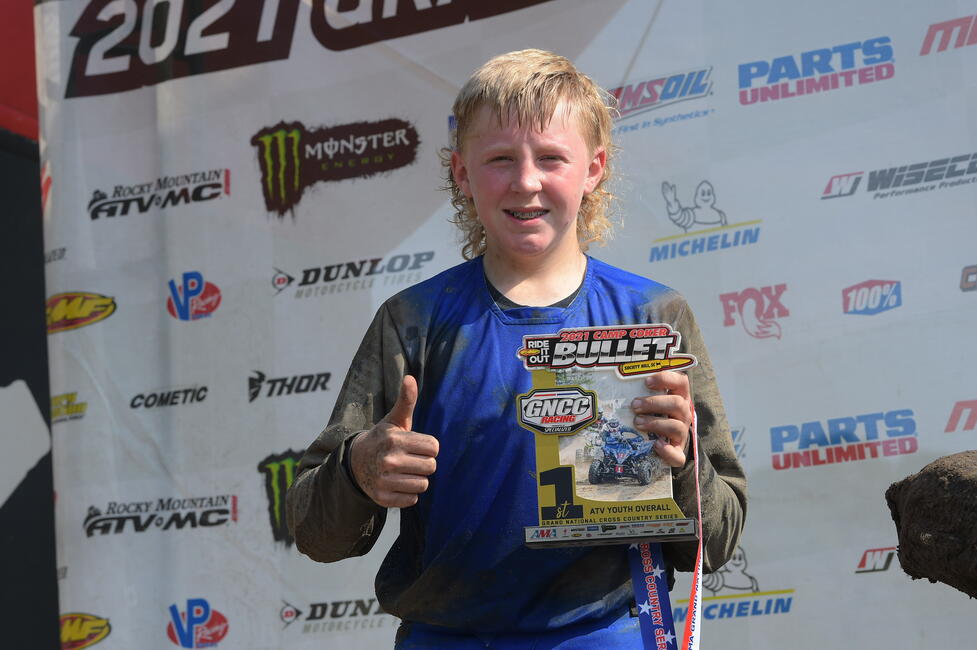 You're in school, right? How do you balance school, travel for races, training, and racing?
I try to make sure I get all my school work done while I'm at school. That way when I get home, I've got more time to practice. And I make sure that as soon as I get home from a race, I wash the bike down and let everything dry overnight. Then I'm able to change the oil the next day and make sure everything is good to go. I keep a tight schedule to make sure I'm prepared and ready to go for the next race.
What are some of your favorite memories racing GNCC?
Winning down in Florida this year was pretty amazing. That was my first overall win and that was really special. From there I felt like I could go out and repeat that performance again. That's when I felt like I was kicking things into gear. I proved to myself that I could win, and that seemed to be half the battle. Just getting that first win.
What about winning the Hoosier GNCC in your home state?
Oh yeah, to win a National in your home state is pretty sweet. Would love to end the season with another win there at the Ironman GNCC.
What are you goals with racing?
Long term goal is to run XC1 someday. Short term goal, if I can wrap up the Youth Championship, I'm probably going to move up to Schoolboy Sr.
Who are some riders, or rider that you look up to?
I have to say my brother. I look up to him a lot. He's not having the best year; he's got some fast boys in his class. He's been trying his best though. But I look up to him. He helps me out a lot!
What do you do for fun outside of racing?
We farm, so if I'm not racing, I'm helping dad out on the farm.
Really? Alright, bigger question, ya'll Green or Red?
We're a Green family, mostly. John Deere!
Alright, one last very important question. You're the points leader in the youth ATV's, is it because of the mullet?
*Laughs* No, I don't think so. That's just for me.
Brody, thank you so much for joining me today. Who are the sponsors you'd like to thank?
Lee Farms, RJR, Walsh Racecraft, Baldwin Motorsports, Keizer Wheels, Custom Axis, Moto Trim, mom and dad, and Bryson.