Rachel Gutish to Join V3 Kawasaki CDR Team For The Remainder of The 2021 Season
Time
Thursday, August 26, 2021 | 4:55 PM
Rachel Gutish to Join V3 Kawasaki CDR Team
For The Remainder of The 2021 Season

Wrightsville, Ga. (August 26, 2021) – Rachel Gutish will join the V3 Kawasaki CDR team for the rest of the 2021 season. Rachel will be racing a 2022 Kawasaki KX250x in the last 4 GNCC rounds to be held in West Virginia, Ohio, and Indiana. She will also be racing the last 4 NEPG rounds taking place in Ohio, Indiana, Oklahoma, and Alabama. Rachel is a X Games bronze medalist, two-time ISDE medalist and has multiple national and regional titles. She also has an impressive list of podium appearances: 21 EnduroCross, 22 GNCC podiums and 30 NEPG podiums, in addition to race wins in GNCC, Sprint Enduro, EnduroCross and NEPG. Despite only being 25 years old, she has been racing at the professional level for nearly a decade. Rachel also frequently gives back to the sport, hosting riding clinics as well as coaching and mentoring younger riders.
"We are very excited to see what Rachel can do on the new KX250x. She has been such a powerful force in women's racing and we look forward to working with her" said V3 Offroad Suspension owner Larry Silvia.
"I'm excited for Rachel to join the team. She brings a lot of knowledge and a high level of professionalism to the team and we look forward to working with her!" said Jim Douglas of CDR racing.
"I am incredibly grateful for the opportunity that Larry, Dawn and Jim have provided me with. Getting support mid-season like this is a very rare thing and I really can't thank them enough. I also can't wait to see what we can accomplish together over the next few months," said Rachel Gutish.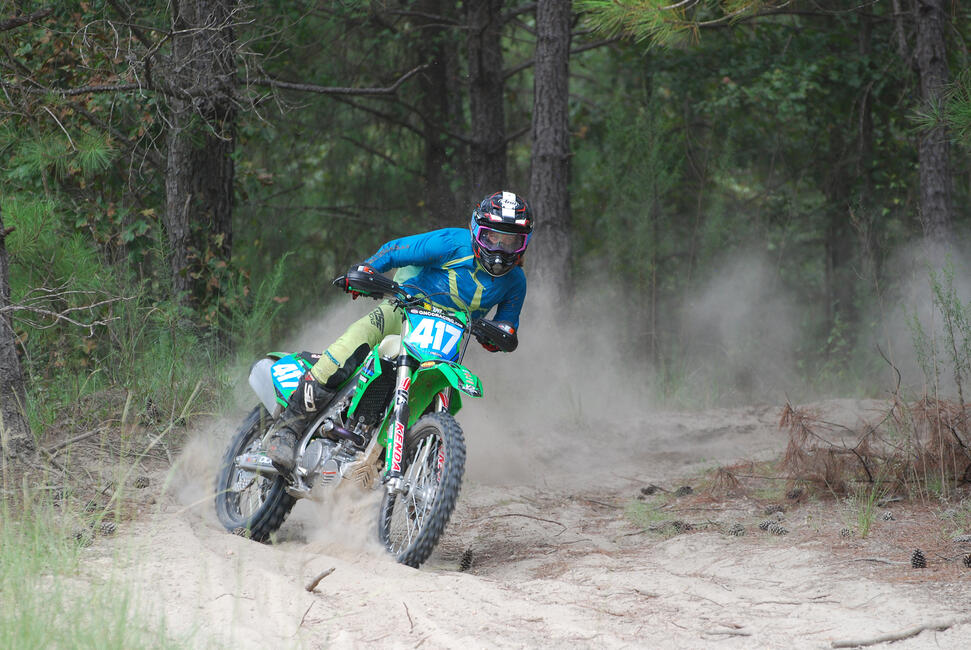 About V3 Kawasaki CDR
V3 Kawasaki CDR is a collaboration between V3 Offroad Suspension and Chris Douglas Racing (CDR) to help transition riders to the next level of racing. The team works with riders on bike setup, training, and nutrition to fill in all the missing pieces to get them to the highest professional level in racing.
Team sponsors include: @v3offroad @kawasakiofstatesboro @fmf73 @fivesixographics @imsproducts @kendatire @hammernutrition @guts_racing_inc @acerbisusa @funnelweb_filter @enduroengineering @xcgear17 @odigrips @dpbrakesracing @shoraipower @[email protected]
About GNCC Racing
The Grand National Cross Country Series presented by Specialized is the World's premier off-road racing series. Founded in 1975, the 13-round championship is produced exclusively by Racer Productions. Cross-country racing is one of the most physically demanding sports in the world. The grueling two and three-hour GNCC races lead as many as 2,400 riders through racetracks ranging in length from eight to 12 miles. With varied terrain, including hills, woods, mud, dirt, rocks, and motocross sections, GNCC events are tests of both survival and speed. The series draws talent from all over the U.S., Central America, South America, Europe, Japan, Australia and New Zealand. GNCC Racing is televised live on RacerTV.com. For more information, please visit www.gnccracing.com.
For more information on the GNCC series, visit the official website at www.gnccracing.com or call (304) 284-0084. Join the conversation on the series Facebook page, follow us on Twitter and Instagram, and be sure to always hashtag #GNCC.
Racer TV is the official home for coverage of the Grand National Cross Country (GNCC) events. Racer TV provides live streaming coverage of the 2 p.m. pro ATV and 1 p.m. pro motorcycle races from each event. Catch all the action at http://www.racertv.com/.
About the NEPG National Enduro Series
The National Enduro Series was established in the early 1960s as a way to showcase the best enduro riders in the nation. Enduro competitions had been held since the late 1920s, but only on a local or regional level. Through the national competition, riders of all skill levels could convene in one spot to earn a coveted national title. Today, the Kenda AMA National Enduro Series continues this tradition and highlights the top enduro riders through long-distance trails over tough, technical terrain.
Enduros are the oldest form of off-road motorcycle competition in the USA. Enduros can trace their beginnings back to 1920 (and perhaps even earlier), and it is still the premier off-road motorcycle competition around the world today. The sport has evolved several times over the years, and the newest evolution was designed to meet the needs of today's motorcyclists. The National Enduro Promotions Group (NEPG) was formed by a group of enduro enthusiasts to assist the AMA in promotion and management of the AMA National Enduro Series. Its objective is to work with the riders, clubs and sponsors to raise the level of participation and awareness for enduro competition to make sure that the oldest form of off-road competition will remain strong and viable well into the future. For more information, visit www.NationalEnduro.com .
About the American Motorcyclist Association
Founded in 1924, the AMA is a not-for-profit member-based association whose mission is to promote the motorcycle lifestyle and protect the future of motorcycling. As the world's largest motorcycling rights and event sanctioning organization, the AMA advocates for riders' interests at all levels of government and sanctions thousands of competition and recreational events every year. The AMA also provides money-saving discounts on products and services for its members. Through the AMA Motorcycle Hall of Fame in Pickerington, Ohio, the AMA honors the heroes and heritage of motorcycling. For more information, visit www.americanmotorcyclist.com. Not a member? Join the AMA today: www.americanmotorcyclist.com/membership/join.
###