Jared Bolton
Time
Thursday, May 27, 2021 | 1:50 PM
Welcome to Quick Fill.
It's hard to believe we've eclipsed the halfway point of the 2021 GNCC Racing season, but we have! Seven rounds are in the books and only six remain as things begin to heat up in the hunt for GNCC National Championships. This year's John Penton GNCC was probably one of, if not the best conditions we've ever seen for this event. Some of the open areas got a little dusty but the woods held just enough moisture to keep the dust down while also not being muddy. That's a rare thing at the Penton, and it really made for a great weekend of racing.
Walker Fowler and Brycen Neal had another battle back and forth through the early stages of the race, but Brycen would end up fourth place after suffering a crash. While he finished the race, it now sounds like Brycen is going to end up missing the rest of the season as he suffered a knee injury that is going to require surgery. It's a bummer to hear as Brycen really had some great rides this season but at the same time, this also opens the door for more guys to step up and challenge Walker for race wins. There's still a lot of racing left to do, so who knows what will happen as the season progresses.
On the bike side, Josh Strang broke through to grab his first win of the season. It also marked his first-ever win at The John Penton in 15 seasons as an XC1 pro rider. Even the 2012 season where Josh spent the year racing out west, he still made one GNCC appearance and it was at The John Penton. With over 20 wins to his credit, it seems like Strang should have won The Penton already, but that win never came until this past weekend.
It was also really cool to see that afternoon bike race get down to just five laps, and still eclipse the three-hour mark. That doesn't happen very often because for one, the guys up front are so incredibly fast that they cover a lot of ground in a short amount of time, and two, it's incredibly difficult to squeeze enough course length into a facility to make that happen. However, in addition to everything that's used for the main course at The Penton, there's also The John Penton Section that adds in a fair amount of mileage.
This time, our local Ohio buddy Jeff Hupp spent several weeks leading up to the event working on that John Penton Section and put together a mile and a half of just grass track in addition to the trail coming and going out of the Penton Section. That grass track was unlike anything we ever do at a GNCC. It looked like an ISDE special test and the drone shots from the RacerTV broadcast were really cool. To make it work, Hupp pounded hundreds of stakes and strung both sides of the course all the way around that grass track.
He did nearly everything on that entire four-mile Penton Section by himself, so hats off to Hupp for helping us out at The Penton. He'll be back for the Burr Oak with a woodsier layout that he already has in mind. Personally, I enjoyed the grass track while riding but come Monday morning, it wasn't much fun to take down. Hupp has a normal job, so he had to be back at work on Monday. This left me tearing down that entire Penton Section by myself while the other guys worked on cleaning everything else up. It took around six hours to finish off that Penton Section, but I couldn't even complain because it was so much fun to ride that it was worth the time taking it all down… Well, I could complain about how I took my shirt off while pulling stakes out of the grass track and burned the crap out of my ginger skin that hasn't seen the sun in almost a year, but I digress.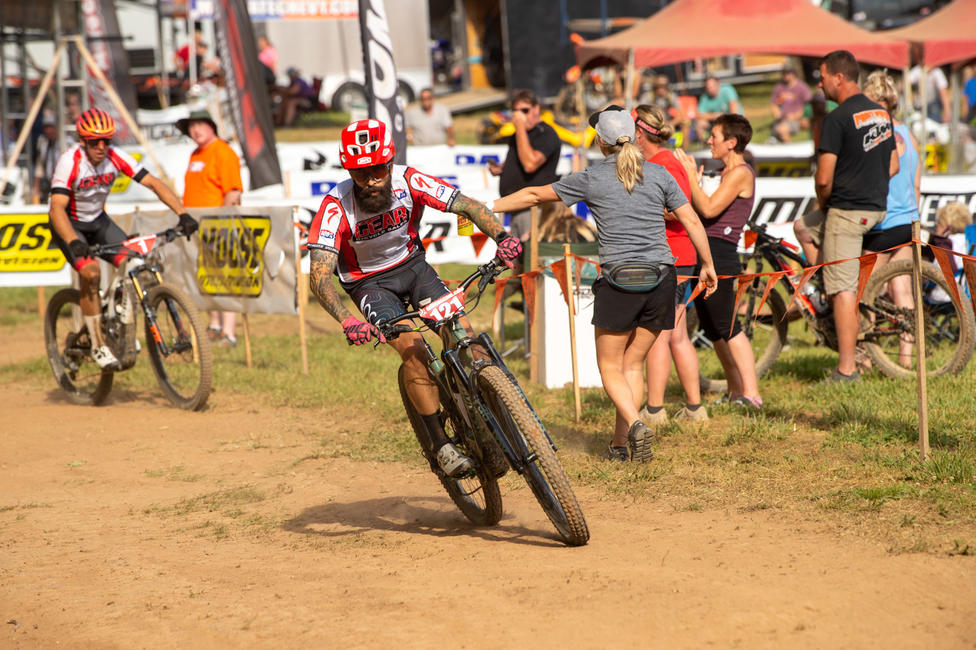 Next up, we turn our attention to the Mason-Dixon GNCC coming up in two weeks. This is a pretty cool race with some unique history. It began as the Mathews Farm GNCC back in 2001, stuck around until 2003 and left the series for a number of years. Around that time frame the series grew a lot, much like it is today, but in comparison it was on an even more grand scale. In 2000 the series still visited places like Hardrock and Wilderness in West Virginia, plus Brownsville and Boyers in Pennsylvania. While GNCC had been featured on TV and video such as the old MotoWorld shows and of course the legendary Blackwater 100 coverage, 2001 ushered in a new era when the series began full-length recap shows on national television.
You can pretty much track a surge in the growth of the series to that television coverage. In 2000, total rider turnouts averaged somewhere around 700 for a typical GNCC weekend. That would grow to an average a little over 800 in 2001, then to an average more than 1,100 in 2002 and eventually grow to average more than 1,400 by 2007. So, when you double your numbers in seven years, that obviously has a huge effect on where you can and cannot have a race. While places like Hardrock and Brownsville are iconic pieces of GNCC history, by the early 2000s there simply wasn't enough room anymore.
Mathews Farm had existed across the street from the world famous High Point Raceway for many years, and naturally being neighbors to the track the Mathews Family was more than welcoming to a GNCC event in their property as well. However, coming in the middle of that explosive growth became challenging. Not necessarily in terms of parking and fitting everyone, but in terms of making a course long enough to accommodate the larger number of races. So, the series moved away from Mathews Farms for a number of years.
Over the years, the Mathews Family would acquire several more pieces of property and when the series returned in 2018 for the Mason-Dixon GNCC, the facility was more than capable of hosting a long enough racecourse for a modern day GNCC. Since it's re-addition to the series, this event has been held in the fall but this year was moved to early June, which is actually closer to the date it was originally held back in 2001 and 2002.
This will be a pretty cool change for the event, and also has the series racing just across the street from High Point, only two weeks prior to the Pro Motocross National that will be held June 19th. We're excited and we're sure you're excited as well. That's actually all I have for this week, but be sure to check back next week for the latest on what to expect at the Mason-Dixon. Until then, enjoy your Memorial Day weekend and we'll see you back here next week!
Catching Up With Ken (Ken Hill)
So I survived my first GNCC back and that's about it! No seriously, I set my goal of being there and doing as little as possible and left feeling I had done just that. I mean, who needs more than eight or ten pictures each day right? Many of you saw my battle axe riding with me as she kept me in line even though I was able to ditch her a few times and go out solo. My health is really on a thin line so I really appreciated her being there and for all of you that kept tabs on me as well as continued offerings and advise. This is going to be a big deal for me, and hopefully we can move forward with the liver transplant at a solid clip so I can get even stronger because this entire take it easy kind of life just doesn't work for me, period.
I also had my grandson in tow and boy did he ever have a great time! He thought it was way cool that there was a refrigerator in his room, a candy machine and soda pop box and a pool. What really got him cranked up were the podiums on Saturday. He may only be two and a half but he picked up quickly that when a racer gets on that trailer there will be free stuff falling from the sky. He wasn't able to snag any swag but he did not get plowed over either, so maybe next time. The pump track was non-stop filled with kids burning off energy and a very welcome addition to the venue.
We even got to stroll by the water slide as so many enjoyed the cool break from what was a rather warm day. After a solid no to letting him slide into the pond (he cant swim yet) we made our way to the ePeeWee race are and holy cow did those kids ever roll out! It was a very entertaining event to those watching but carried all the anxiety for the parents as this was not just a ride around a little course, it was full on battle and the competition levels were outstanding. Kudos to the crew for making this happen and a tip of the hat to Carrie Jo for seeing where the series' future comes from.
Pulling into The John Penton had me discussing with the wife that parking was usually non existent and extra care was needed to keep Ryder safe and for us not to get run over. That chat ended abruptly as I gazed across the newly constructed terracing that now had ample parking with room to spare. I apologize to the line I held up as I took a second and soaked it all in. That was a tremendous effort to tackle and boy howdy did they hit a home run. I am told there will be more changes coming before we head back for the Burr Oak round. All weekend it was so nice being able to move around as I scurried from spot to spot to cut off the leaders and not feel like I was in rush hour traffic.
The racing itself was crazy! My first trip here was in 2003 and this weekend was one of the better races in my opinion. The Ohio weather always seems to create a dust bowl or a mudfest here, but this round it was a good mix even though the dust in a few locations was gnarly. The course itself was mean, nasty and a real test especially the afternoon race on Sunday. Riders on both days quickly relayed info after the race about conditions, the heat and how brutal sections were which again, in my view its GNCC and really needs a few sections that test the riders abilities and not just a wide open blast on bulldozed trails. I know they can't make it impassable or too difficult but if every round could offer what this round did we would be money.
I would talk about the winners and losers but that will be covered no doubt and I will add some of that into the next Quick Fill. This was a super fun event and it was very nice to not be burdened by the fact I usually have to cover every thing as the series hired some help in the camera department, as they knew I was under going some serious health issues. Now I have been saying for the past few seasons at least one more shooter was needed as these events have grown like mad and its near impossible for one person to try and cover it all so I am very grateful for the change we just need to work on communicating who does what at times so nothing is missed and I will work on that so we can make sure we capture everything possible without cramping styles or hurting feelings by missing something.
That's about it for me this week. Again it was so good to see everyone and I pray I don't have to miss any more rounds due to my health. My biggest concern is having to under go the transplant near deer season so we might have to work their schedule around that. I am just kidding, they won't change deer season! You all be safe in all you do and may the good Lord continue to bless us all!