Kayla Bolton
Time
Sunday, November 8, 2020 | 7:15 AM
AMSOIL Buckwheat 100: ATV Race Report
Brycen Neal Earns Season Finale Overall Win
NEWBURG, W.Va. (November 8, 2020) – ATV Racing concluded on Saturday, November 7, for the 2020 Grand National Cross Country (GNCC) Series presented by Specialized, an AMA National Championship at round 13, AMSOIL Buckwheat 100. The AMSOIL Buckwheat 100 took place in Newburg, West Virginia and hosted the 2020 season finale event.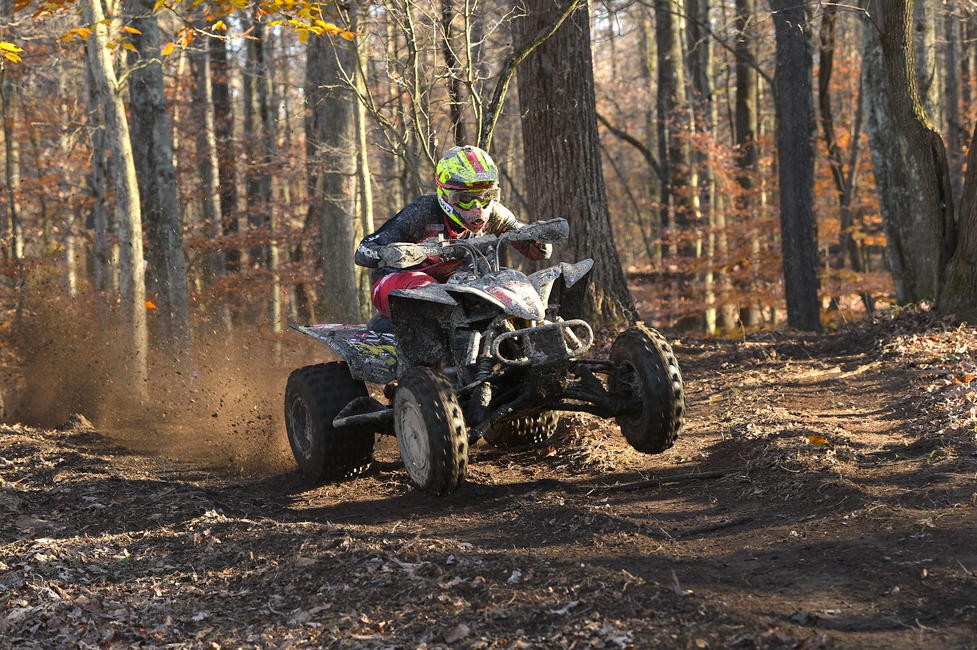 Coming through to take his fourth and final win of the 2020 season was CST/Houser Racing/Waynesburg Yamaha's Brycen Neal. Neal would not get off to the greatest start, but he would put his head down and push throughout the opening lap of racing. Neal made the move into the lead and did not look back as he placed a gap on the rest of the field of over a minute. After four laps, and two hours of racing Neal would cross the finish line securing his second place National ranking in the points standings.
Earning his second-straight podium finish was JMR/GBC/Elka/Moose Racing's Jarrod McClure. After starting out the day back in the fourth place position, McClure would make the necessary passes to lock in his second overall finish on the day. However, as the race wore on it would be a battle to the checkered flag as McClure came in just 1.5 seconds ahead of the third place position.
Action Off-Road/Tely Energy Racing/Kenda's Cole Richardson rounded out the top three overall at the Buckwheat 100. Richardson would come through timing and scoring in second on the opening lap but would soon engage in a battle with McClure. Richardson found himself just second behind McClure, but as the checkered flag flew, he would be unable to make the pass back for second. Richardson remains third in the points standings after 13 rounds of racing.
Taking fourth overall on the day was Phenix Honda Racing's Chris Borich. On lap one, Borich would come through the finish line running fifth overall but would set his sights ahead of him. Borich made the pass for fourth and would try to make a run for a podium position, but he would ultimately run out of time as he crossed the finish line .157 seconds behind third overall.
McGill Mafia/OBOR Tires/LSR/Moose Racing's Adam McGill would round out the top five overall and in XC1. McGill found himself running right inside a podium finishing position but some after some unfortunate luck on lap three, he would find himself battling back in the fifth place position.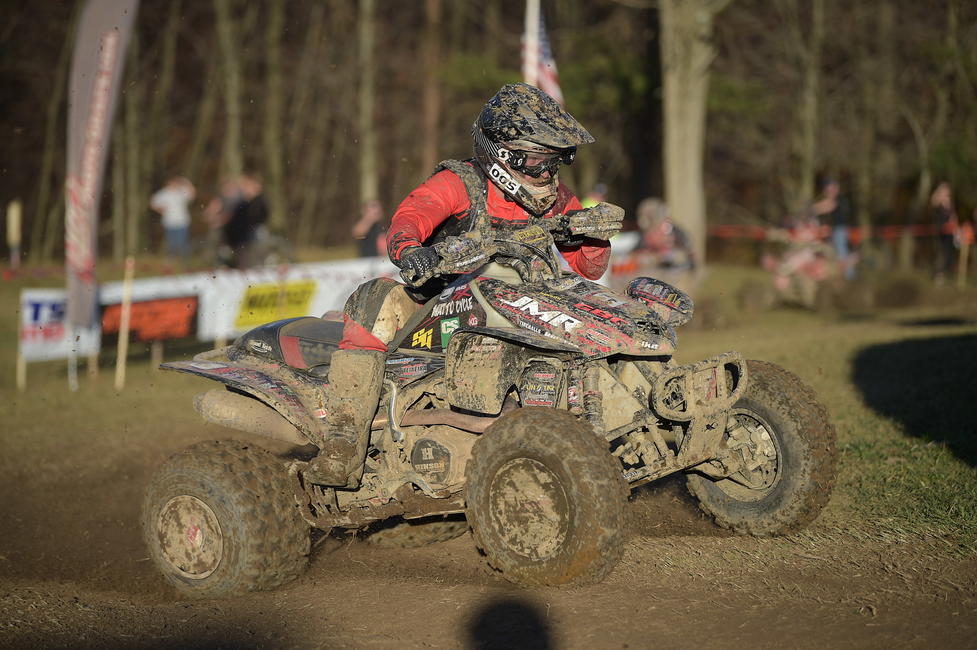 Coming through to take sixth overall was HHR/Maxxis/Fly Racing/Ithaca Recreation Sports' Hunter Hart. Hart would have a consistent race, as he held that sixth place position for all four laps of racing. Devon Feehan Racing/GBC/Fly Racing's Devon Feehan and Pierce Performance/GBC Tires/Fly Racing's John Glauda Jr. would also have very consistent rides as they held onto seventh and eighth for the duration of the two-hour race.
Wolfe Racing/Nine2/FTR Graphics/Ye Olde Cycle Barn's Westley Wolfe made his way up to ninth in XC1 after coming through timing and scoring in the 12th place position on lap one. After grabbing the $100 All Balls Racing XC1 Holeshot Award BNR Motorsports/GBC/HMF Engineering's Josh Merritt would come through to round out the top 10 in XC1.
FocusX Gear/Atlas Brace/Kenda's Wyatt Wilkin grabbed the XC2 Pro-Am holeshot and would lead majority of the race, earning his first XC2 class win of the season. Pirate MX Powersports/OBOR Tires' Branden Owens would battle with Wilkin for the win but would be unable to make the pass stick for the lead before the checkered flag flew. Owens finished second in the class followed by Phoenix Honda Racing's Noah Mickelson rounding out the top three in XC2.
Earning the top amateur honors in the afternoon race was Vet A competitor, Jeffrey Pickens after his 17th place overall finish on the day. Wes Kinsley and Thomas Koontz Jr., both of the Vet A class, rounded out the top amateur podium by finishing 21st and 22nd overall on the day.
Grabbing the $100 BNR Motorsports 4x4 Pro Holeshot Award to start out the 11 a.m. race was Michael Relyea, but it would soon be a battle between OBOR/Can-Am/Derisi Racing/Action Sports' Landon Wolfe and Can-Am's Bryan Buckhannon. Wolfe and Buckhannon would swap the lead position, but it would be Wolfe leading the way to the checkered flag after two-hours of intense racing. BNR Motorsports/Can-Am/GBC Tires' Robert Smith rounded out the top three in the 4x4 Pro class.
In the WXC class it was Malaska Motorsports/HMF/Cecco Racing's Hannah Hunter making her way to the checkered flag first in her class for the 12th time this season. Fly Racing/GBC Motorsports/Yamaha Racing's Traci Pickens was hot on her heels as she came through to take second place with Ye Olde Cycle Barn/Maxxis/Fly Racing/Pierce Performance's Alicia McCormick rounding out the top three WXC ATV competitors.
After clinching the YXC2 Super Mini Jr. class championship Ty McGaughey made the move to the front row of the youth race. McGaughey would come through to take his second youth overall win, and first YXC1 class win. Tavin Cook, in the YXC2 class, and Charlie Stewart in the YXC1 class rounded out the top three youth riders overall. Garrett Studer took fourth overall and third in the YXC1 class. Quenten Gouker battled back to earn second in the YXC2 class, with Brody Pullen earning third in YXC2.
Hunter Hawkinberry came through to take the Bike Micro overall win, along with another MXC1 class win. Gavin Harwell and Ace Tokar rounded out the top three overall in the bike micro racing and the MXC1 class results. In the MXC2 class it was Karson George bringing home the win, followed by Baylee Arsenault and Ryder Skidmore in second and third.
In the Micro ATV racing it was Bryson Dickerson coming through to take the overall win as well as the MXC1 class win. Kaleb Shay and Kody Buckhannon rounded out the overall podium along with the top three in the MXC1 class. Tanner Barrett and Colt Dezzutti earned the top two spots in the MXC2 class, while Jase Strouse took the 50cc Sr. class win and sixth overall.
The 2020 AMSOIL Moto Hero was awarded to Matthew Noe during the 11 a.m. races opening ceremonies. Noe served in the United States Army and did three tours in Iraq and Afghanistan. Noe is part of the 75th Ranger Regiment, an elite special operations force that is a combat deployable unit in the Army. Noe was awarded a free set of Kanati Lite truck tires from GBC Tires, a $250 AMSOIL shopping spree, a $200 gift card and commemorative American Flag courtesy of Columbia Flag and Sign Company.
Due to health concerns arising from the COVID crisis, series organizer Racer Productions cancelled the traditional season-ending awards banquets set for December 12th (ATV) and 13th (Bikes), which hosts well over 700 guests each night. In their stead, the first-ever online GNCC Virtual Awards Ceremonies was announced. For more information read through Competition Bulletin 2020-12, with more information becoming available closer to the date.
Two highlight shows featuring ATVs and motorcycles will be featured on MAVTV at a later date. To view the full broadcast schedule, click HERE.
For more information on the GNCC series, visit the official website at www.gnccracing.com or call (304) 284-0084. Join the conversation on the series Facebook page, follow us on Twitter and Instagram, and be sure to always hashtag #GNCC.
Buckwheat 100 Results and Points Standings
Newburg, West Virginia
Round 13 of 13
Saturday, November 7, 2020
XC1 Pro Event Results:
Brycen Neal (YAM)
Jarrod McClure (HON)
Cole Richardson (YAM)
Chris Borich (HON)
Adam McGill (HON)
Hunter Hart (YAM)
Devon Feehan (HON)
John Glauda Jr. (YAM)
Westley Wolfe (SUZ)
Joshua Merritt (YAM)
*Overall National Championship Standings:
Walker Fowler (301)
Brycen Neal (267)
Cole Richardson (254)
Jarrod McClure (240)
Chris Borich (210)
Adam McGill (200)
Hunter Hart (189)
Josh Merritt (153)
John Glauda Jr. (137)
Austin Abney (123)
*Indicates that the Overall National Championship Standings will determine the 2020 National Champion.
XC2 Pro-Am Event Results:
Wyatt Wilkin (YAM)
Branden Owens (YAM)
Noah Mickelson (HON)
Dylan Walraven (HON)
Ronnie Rusch (YAM)
Nick Davidson (YAM)
Charles Dunn III (HON)
Bryce Barrett (YAM)
Tanner Walker (YAM)
XC2 Pro-Am Series Standings:
Austin Abney (300)
Drew Landers (272)
Branden Owens (245)
Wyatt Wilkin (196)
Ronnie Rusch (187)
Dylan Walraven (157)
Tanner Walker (149)
Noah Mickelson (149)
Kenny Shick (126)
Levi Coen (112)
To get the latest GNCC Racing clothing and merchandise visit https://www.mototees.com.
How to Watch
Racer TV and MAVTV are the official homes for coverage of the Grand National Cross Country (GNCC) events. All 13 rounds, from the season opener to the finale, will air in taped-delayed telecasts on MAVTV, while Racer TV provides live streaming coverage of the 2 p.m. ATV and 1 p.m. motorcycle races from each event. Catch all the action at http://www.mavtv.com/ and http://www.racertv.com/.
About GNCC Racing
The Grand National Cross Country Series presented by Specialized is the World's premier off-road racing series. Founded in 1975, the 13-round championship is produced exclusively by Racer Productions. Cross-country racing is one of the most physically demanding sports in the world. The grueling two and three-hour GNCC races lead as many as 2,400 riders through racetracks ranging in length from eight to 12 miles. With varied terrain, including hills, woods, mud, dirt, rocks, and motocross sections, GNCC events are tests of both survival and speed. The series draws talent from all over the U.S., Central America, South America, Europe, Japan, Australia and New Zealand. GNCC Racing is televised live on RacerTV.com. For more information, please visit www.gnccracing.com.
About the American Motorcyclist Association
Founded in 1924, the AMA is a not-for-profit member-based association whose mission is to promote the motorcycle lifestyle and protect the future of motorcycling. As the world's largest motorcycling rights and event sanctioning organization, the AMA advocates for riders' interests at all levels of government and sanctions thousands of competition and recreational events every year. The AMA also provides money-saving discounts on products and services for its members. Through the AMA Motorcycle Hall of Fame in Pickerington, Ohio, the AMA honors the heroes and heritage of motorcycling. For more information, visit www.americanmotorcyclist.com. Not a member? Join the AMA today: www.americanmotorcyclist.com/membership/join.
###
Media Contact:
Kayla Bolton
(304) 284-0084
[email protected]