Jared Bolton
Time
Thursday, July 23, 2020 | 1:35 PM
Welcome to Quick Fill.
Summer break is officially underway as we're now into our first full week, but for some the work never stops. Whether its racing other series, training, or just getting in some seat time, it seems like while there's a break from GNCC, there's really not a much of a break from being around our race machines. Of course, it's not a break for our staff either as we're neck deep in preparations for the Monster Energy AMA Amateur National Motocross Championship at Loretta Lynn's. There's a huge amount of work involved in making that event happen, and obviously this year has been even more challenging than normal.
Even so, everything is still a go down at Loretta's including the GNCC eMTB event that will be taking place on Saturday August 1st, prior to the start of Loretta's. This turned out to be a really cool event last year and this year promises to be even better. Not only do we have plans to change up the track and make it even better, but this event will also be the first-ever FIM North American eMTB Championship. This is huge news and will add even more prestige to this round of the eMTB series. Check out the PR HERE for more details.
If you're planning to attend the eMTB event at Loretta's, you may have some questions as to when you can come in, how to get in, where to park, etc. Just to give a quick rundown of the plan, if you're coming in and NOT camping on site you will get a GNCC eMTB sticker to put on your vehicle at the front gate, and you'll park in the designated eMTB parking area which is located on the main road just past the motocross track. If you're coming in and camping, you'll have to pay the necessary camping fees for the days your staying. Also, if you're just coming for the GNCC eMTB race you will have to be out of the facility on Sunday. If you decide to stick around for the race week, you'll have to pay the required parking or camping fees and vacate the GNCC eMTB parking area Sunday, as it's actually the day parking lot for the race week.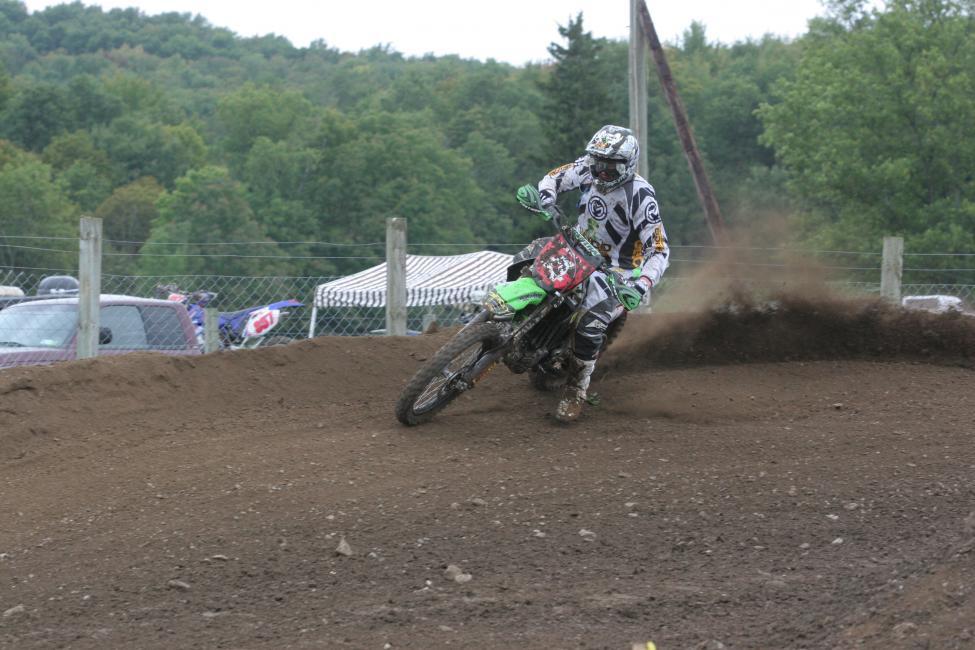 As for the Amateur National at Loretta Lynn's, once again there are some familiar names from the GNCC world that will be racing throughout the week. The 30+ class will be the fullest of GNCC talent with Jimmy Jarrett, Garrett Edmisten and Andrew Matusek all contesting the class as well as Shane O'Banion who you may remember snagging some XC2 holeshots several years ago. Jimmy is pulling double duty and also racing the 40+ class. Tayla Jones will make her first trip to Loretta's to try her hand in the Women's class along with Shelby Rolen, who has raced Loretta's more times than not. Mason Raynor is no stranger to Loretta's either and he'll be contesting the 65cc (10-11) class, and another GNCC competitor, Frank Tussell will be in the 45+ and 50+ classes.
There are also a couple of guys in the 25+ class who have some GNCC experience. Jacob Grove is a motocrosser out of Maryland who has raced quite a few GNCC events in the Sportsman A class. His brother, Jackson, actually owns a cool clothing company called Nuthin Fancy Collection and sponsors Thad Duvall. They've done some vending at GNCC events before, but if you've missed them be sure to check out their awesome hats, shirts and more HERE. Also in the 25+ class will be former Pro Motocrosser, Robby Marshall. Robby has shown up at a few GNCC events over the years and is actually a past champion in the JDay Offroad series in New England.
It will definitely be pretty exciting to see how this all plays out. These riders are all super fast, so it will definitely be cool to see them racing at Loretta's. And of course, you can follow the action all week long on RacerTV as they'll once again be broadcasting the event live. Loretta's is such a cool event and if you've never been, I would highly recommend making the trip to check it out sometime, even if you don't go as a racer.
In this week's edition of Quick Fill, we'll start taking a look at some of the happenings in the amateur classes thus far in the 2020 season and we'll start with the A classes in the PM bike race. While each class has their own exciting battle, one A rider is standing out big time this year and that's Brody Johnson. Brody has eight straight wins in the 250 A class, and also eight straight Top Amateur finishes which gives him the most consecutive Top Amateur finishes of all-time. Brenden Poling currently sits second place in the 250 A class but has to stay on top of his game as Dakoda Devore sits just six points behind Brenden in third place. Meanwhile, Andrew Gross and Zachary Davidson are in a heated battle as well. Gross sits fourth, just one point ahead of Davidson in fifth.
In the Open A class, Chase Hayes has had a stellar season thus far with six wins in eight rounds. Interestingly enough, the only rider to top Hayes is Tyler Braniff, who actually sits back in seventh place due to some tough luck at several other rounds. Nathan Rector who holds a 10-point lead over Alex Lugar in third currently holds second place in Open A while Will Sievenpiper and Dylan Dela Cruz round out the top five, respectively. The 150 A class has seen some close racing as well with Tanner Collins currently leading the points, but it's second place rider Brayden Nolette who has the most wins so far. Max Rust, Dylan Hicks and Ian Potter are all separated by just five points as they battle for the third, fourth and fifth place positions.
Jojo Cunningham has been the man to beat in the 4-Stroke A Lites class as he's now won all but one round. Tyler Palmer has been super consistent thus far and sits second place in class, 30 points ahead Travis Reynaud in third. Dylan Carano and Cole Whitmer round out the top five of the 4-Stroke A class. The Junior A/B class has also been pretty interesting so far and it's Andrew Boggs who currently holds the class points lead. However, Boggs hasn't round a race so far in 2020. Zach Nash has five wins and sits second place at the moment while Austin Franklin is just one point behind in third. Matt Bruffey and Cody Jeffers round out the current top five in the class.
Five-time Vet A class champ Joe Marsh is back in the Vet A class this year after a stint racing the young guns in the 200 A (now 150 A) and XC3 classes the past couple of seasons. Joe currently holds the points lead but the man on the move is Robby Norwood, who missed the first three rounds but has won the last five rounds and currently sits fifth in the Vet A class points. Robby won the 200 A class back in 2008, and also tried his hand in the XC2 class before shifting his focus to local events, winning some Virginia Cross Country Series overall championships. Nathan Alering and Matt Modic sit second and third in the Vet A class at the moment with Sirley Amancio in fourth. "Smilin" Frank Massina leads the Senior A class with Shawn Remington in second and Joe Potter in third. Frank has claimed the Senior A title the previous two seasons, but Shotgun Shawn Remington is always a title threat as well. Larry Silvia and Steve Lambruno round out the top five.
Next week we'll try to take a look at the ATV A classes, then continue onto B classes and more as the summer break progresses. Of course, this time next week I'll be roaming all around Loretta Lynn's Ranch working on the eMTB course, keeping an eye on parking and getting ready for the racing to start the following week. If you're down at Loretta's and see me tooling around on my Husaberg dual sport, feel free to say hi. It's hard to miss as it will probably the only Husaberg at the facility and it's one of those cool 70 degree motor models!
Speaking of that bike, I'm actually going to ride it this weekend at the FDSR Dual Sport Adventure Ride outside of Fairmont, WV. This sounds like it will be a really fun dual sport ride, for street legal bikes only of course, and it's organized by some folks who are no strangers to GNCC Racing. One of those guys involved is James Wright, who Jason Weigandt used to give the whole Wright family a lot of props in Quick Fill "back in the day" as the whole family would show up and race. James, his sister Tayler, Mom Angie and dad Bill are all regular GNCC Family.
Also involved in the ride is Nick Hall, who we've suckered into helping tow some bikes out the woods before with John "Meltdown" Melton, our own Junior Trail Boss Ryan Echols' longtime mechanic, travel partner and all-around good guy when Ryan was doing a lot of racing. So, it may just be a dual sport ride but there's some serious racing background to the event. Check out the FDSR Facebook Group HERE if you're interested in finding some details on the ride.
As for Quick Fill, that's it for this week. Enjoy your weekend and whether you're riding, racing, or just taking some time off, stay safe and don't forget we'll be getting back to racing before we know it.