Rachel Gutish
Time
Wednesday, March 25, 2020 | 5:40 PM
The Specialized General GNCC: WXC Race Report
Hunter and Sheets on top of the box in Georgia
WASHINGTON, Ga. (March 25, 2020) – Round three of the 2020 Grand National Cross Country (GNCC) Series presented by Specialized, an AMA National Championship, recently took place on March 14th and 15th. The Specialized General GNCC is held at Aonia Pass MX in Washington, Georgia. Other than the motocross track and a mulch pile that always seems to make an appearance on the course, the most notable feature of the General is the red clay. When wet, it becomes insanely slippery. When dry, it gets hard-edged and rough.
This year rain earlier in the week had left mudholes and soft spots in the low-lying areas of the property, with the higher ground staying relatively hard. The course tended to be difficult to read – some sections were really tacky and grippy, while others were treacherously slick. Temperatures were mild, and the forecasted rain held off, aside from a few isolated showers on Sunday. There were a total of 100 females racing this weekend. Of those, Hannah Hunter and Becca Sheets were both once again the winners in the premier WXC classes.
In the ATV WXC race, Traci Pickens pulled another holeshot and led the entire first lap. She was followed into the scoring zone by Hannah Hunter in second and Kate Osburn a little further back in third. Alicia McCormick and Sydney Sams were both right on her tail, the three of them separated by only a handful of seconds.
On lap two, despite a couple of small mistakes – flipping over in a corner and briefly getting stuck, Hunter was able to keep up with and pass Pickens. The two of them gained a small amount of time on Osburn, but not much. McCormick was struggling with her setup and fell off the pace, dropping back to fifth place, which is where she would remain the rest of the day. Sams, meanwhile, had moved up to fourth and was still right behind Osburn, pacing off of her.
Like last round, Morgan Solesbee was in that unfortunate position of riding alone, with McCormick out of sight and seventh place far behind. That seventh-place rider, Abbi Troy, ran into some serious problems on the second lap. She ran a lap time over twenty minutes slower than her first, dropping down several positions. However, she rallied on her third and final lap, running down Jaida Phillips from an eight-minute deficit and moving back into seventh for the day. Phillips finished eighth, with Jill Zink taking ninth. Sadiee Gorrell, after running into problems early in the race withdrew after the second lap, but still finished tenth.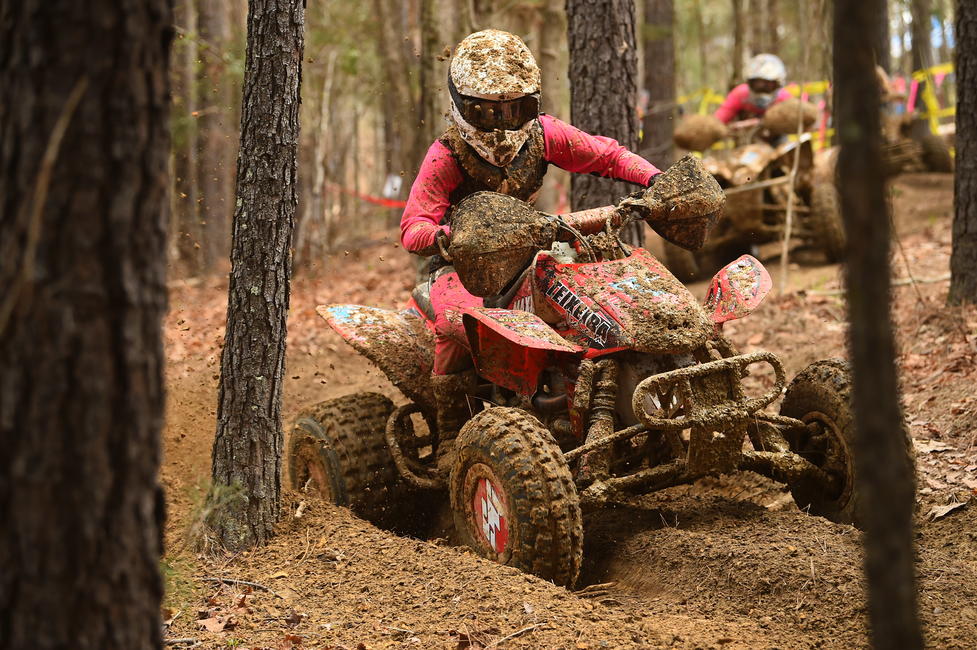 Try as she might, Hunter could not shake Pickens. The two of them came in after the third lap still less than ten seconds apart. However, the two of them had managed to gain another minute on Osburn and Sams, giving the lead pack a minute and a half of breathing room. Sams passed Osburn at some point on lap three, but Osburn was not letting third place go easily, and came through the scoring zone right on Sams' rear fender.
On the last lap, Osburn and Pickens came to a split in the trail and each took a different line. Osburn was able to get back around Sams to take third for the day, and Sams finished only a second behind her in third. Osburn was still a bit frustrated with a third place ride after having been on top of the box numerous times last season. She echoed her comments from last round, stating "I need to put in some work over these next few weeks to get back on top. I know I'm not a third-place finisher."
Although Hunter had been unable to shake Pickens or pull any significant gap, she was able to stay ahead of her, which was enough to give Hunter her third win in a row. Not only was it her third win this season, it was also her first time ever making it on the AM overall podium, which is a huge accomplishment! She said that "When I came through the finish I knew I just got my third win by a tiny bit but I had no clue I got third overall until someone told me and my jaw hit the ground!" This is the first time a WXC ATV racer has made the overall podium since Ironman in 2013 (Kylie Ahart), the year before the 4x4 pro class was introduced. (Note: Bike WXC racers usually take the top three positions in the overall, only having to contend with the Sportsman A and Master A (50+) riders, the ATV WXC riders are competing for overall positions with the 4x4 pro class, who have the added advantage of starting on the front row, thus giving them a clear field on the first lap).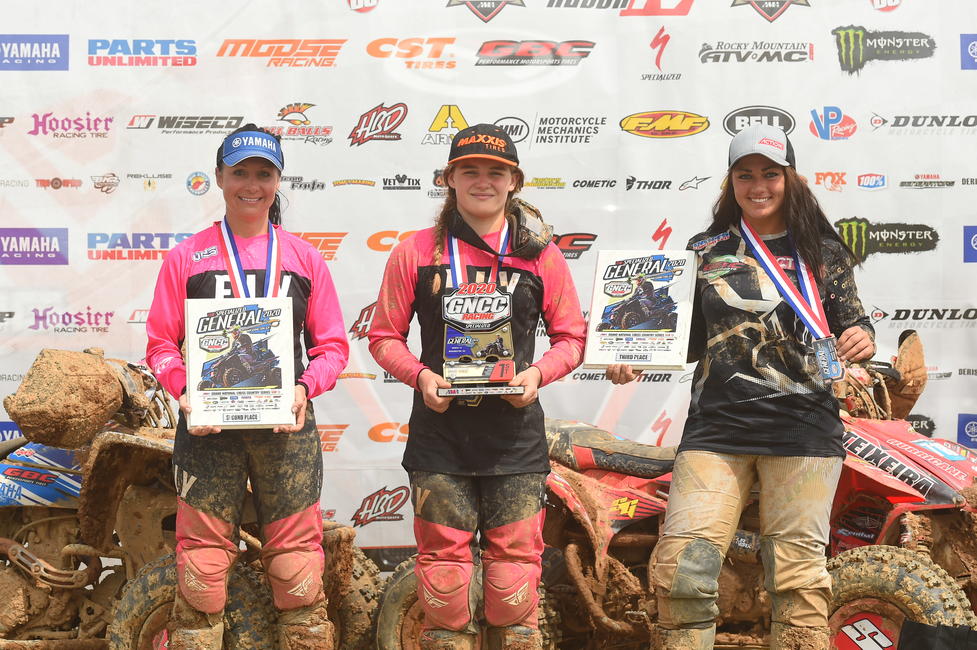 In the Girls Sr. (12-15) class, the podium was identical to last round: Anna Nicely with the win, Moore in second and Haile Fowler in third. Alyssa Rodgers won the Girls JR (8-11) class for the third time in a row. Avery Collins was second and Courtney Crump was third – the General was the first podium finish of the season for both of them. Outside of the regular Girls classes, Morgan Johnson and Chloe Harper placed fifth and sixth in YXC1, Madison Harrington was thirteenth in YXC2 and Gabryella Whitehead finished 4th in 90 Limited (8-12)
In the Women's class Karlie Martin earned both her first win and her first podium this season. Andrea Rodgers, the current points leader, was second. Amie Dunlap finished third, also her first podium of the season.
In the Micro ATV race, Khyler Davis was the top finishing girl, placing fourth overall. She was followed by Camy Crump (17th), Brinlee Royster (23rd), Raelynn Dickerson (26th), Adeline Nicely (30th) and Aryanna Neville (32nd).
In the WXC bike race, Mackenzie Tricker once again took the $100 Trail Jesters WXC Holeshot award. Rachel Gutish went down in the first corner, taking Tricker down with her, putting them both near the back of the pack headed into the woods. Korie Steede entered the woods first, though before the first mile marker Becca Sheets had passed for the lead. It was a short-lived lead though, as she went down hard near mile marker seven. This left Rachael Archer in the lead, with Tayla Jones in second, Tricker in third, and even with her crash, Sheets only nine seconds out of the lead in fourth place.
Gutish came through another thirty seconds later, but with the leaders out of sight was unable to keep a good pace and ended the day in a distant fifth. After the riders sorted themselves out on the first lap there weren't many battles between fifth though tenth place. Shelby Turner finished sixth, a minute down from Gutish. Brooke Cosner charged hard and made up twenty seconds on Turner, but still finished eleven more down. After jamming her hip while slamming through a g-out, Steede limped her way to an eighth-place finish. Jocelyn Barnes and Shyann Phelps rounded out the top ten.
For the top four, however, the battles only intensified. All the riders in the lead pack stayed right together, only seconds apart. Over the course of the second lap, Jones went down, falling back to fourth and Tricker passed her way into the lead. Sheets moved back into second with Archer in third.
On the last two laps, Archer began to struggle with an overly soft setup as the track got rougher. She slowly drifted back and finished the day off the podium by a minute and a half. Jones had her own struggle on the last lap, with "lappers and silly mistakes" costing her precious time, but still held on to a third place finish. She said that she "wasn't riding like I know I can, and the rough start to my season is only more fuel for my motivation to come in swinging next round."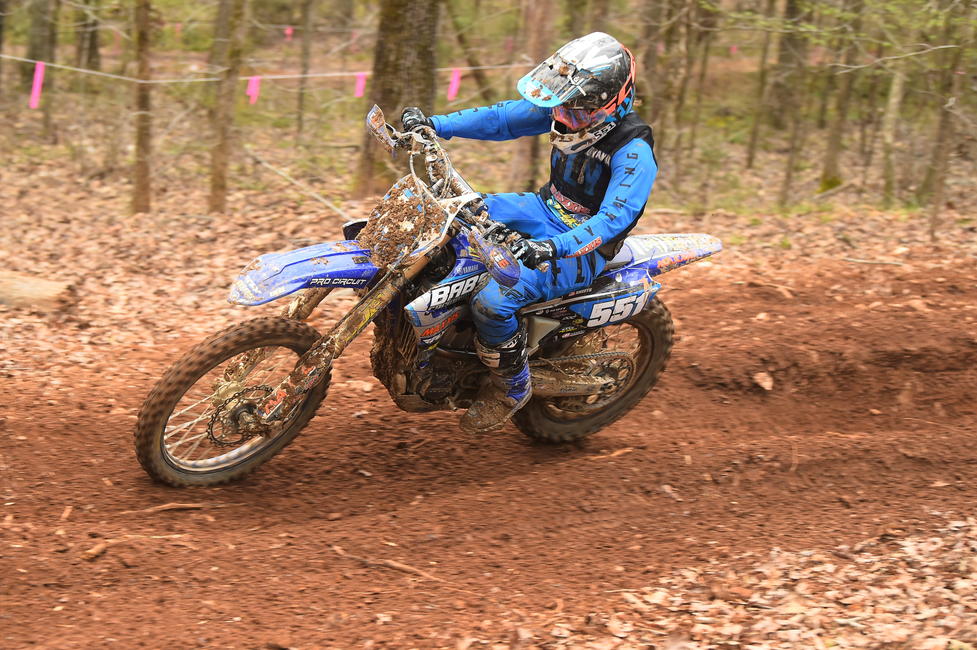 Going into the last lap, Sheets had moved back into the lead, but Tricker was only eighteen seconds behind. Tricker charged her way back up to Sheets by the seven-mile marker, and from the seven to the nine the two were wheel to wheel. After the nine, Sheets was able to start pulling away again and earned her third win of the season. When asked about her race, Sheets said "It was a close race and intense for the whole two hours… we had a sick four-way battle going which made for some extra fun racing on a challenging course" Tricker said "I was pretty stoked on how I rode. The track was mint in some spots and gnarly rutted in others. I was so close to the win, but it's all a learning process."
In the Girls (8-15) class, Gracie Gooch is now three for three after winning The General. Kaitlyn Lindsey was second again, while Addison Elliot earned her first podium of the year with a third-place finish. In the Women's class, Marina Cancro once again edged out Prestin Raines for the win, this time only by five seconds. Kayla O'Neil rounded out the podium in Florida. In Women's C, Roni Merrill took the win, followed by Shelbie Roman in second and Alexis Sullivan in third.
In the micro bike race, Paisley Harris was the fastest girl, finishing 18th overall. She was followed by Rylee Mattison (25th), Matilda Revoyr (28th), Mya Dexter (38th) and Madisyn Marsh (43rd).
Round four of the series is currently set to take place on April 18th and 19th in Society Hill, South Carolina with the Camp Coker Bullet. ATV and Micro racing will take place on Saturday, while Bike racing will take place on Sunday. However, please keep an eye on the GNCC Racing website and social media accounts to stay up to date on any potential changes to the schedule.
For more information on the GNCC Series, visit the official website at www.gnccracing.com or call (304) 284-0084. Join the conversation and be sure to always hashtag #GNCC.
The General GNCC
Washington, GA
Round 3 of 13
March 14th and 15th
ATV WXC Pro Event Results:
Hannah Hunter (HON) Malaska Motorsports/HMF/Cecco Racing
Traci Pickens (YAM) GBC/Fly/Yamaha
Kate Osburn (HON) Action Off-Road/Moose Racing/GBC
Sydney Sams (HON) GMR/FTR Powersports/Derisi Racing/Tire Spine
Alicia McCormick (YAM) Ye Olde Cycle Barn/Maxxis/Fly Racing/Pierce Performance
Morgan Solesbee (YAM) DeRisi Racing/Fly/CST Tire
Abbi Troy (HON)
Jaida Phillips (YAM) Rekluse/Tirespine/Estes Motorsports
Jill Zink (HON)
Sadiee Gorrell (YAM) Maxxis /Fivesixo Graphics/Custom Axis/Pierce Performance
ATV WXC National Championship Standings:
Hannah Hunter 90
Traci Pickens 75
Kate Osburn 53
Sydney Sams 49
Morgan Solesbee 46
Sadiee Gorrell 44
Abbi Troy 37
Alicia McCormick 34
Jaida Phillips 26
Angel Magee 18
Bike WXC Pro Event Results:
Becca Sheets (YAM) Maxxis/BABS Racing/Yamaha/Fly
Mackenzie Tricker (KTM) KTM/Enduro Engineering/MEP MX/Fly/Grizzly Peak
Tayla Jones (HSQ) Rockstar Energy/Husqvarna/Moose
Rachael Archer (YAM) Ampro Yamaha/Moose/PWR
Rachel Gutish (BET) Beta USA/Moose/Arai/Mobius
Shelby Turner (KTM) KTM/A&E Racing/FXR/Blud Lubricants/Atlas
Brooke Cosner (KTM) Moose Racing/Wiesco/FMF
Korie Steede (TM) TM Racing USA/Dover Race Ready Cycle/Trail Pros Racing
Jocelyn Barnes (HQV) Crossfit Honesdale/Moose Racing/Bell/Scott Motorsports
Shyann Phelps (KTM) Racer's Edge / Mike Beeler
Bike WXC Pro National Championship Standings:
Becca Sheets 90
Tayla Jones 71
Rachael Archer 61
Mackenzie Tricker 57
Shelby Turner 49
Rachel Gutish 46
Brooke Cosner 40
Taylor Johnston 31
Jocelyn Barnes 31
Korie Steede 28
How to Watch
Racer TV and MAVTV are the official homes for coverage of the Grand National Cross Country (GNCC) events. All 13 rounds, from the season opening Big Buck GNCC in South Carolina to the finale at Ironman Raceway in Indiana, will air in taped-delayed telecasts on MAVTV, while Racer TV provides live streaming coverage of the 2 p.m. ATV and 1 p.m. motorcycle races from each event. Catch all the action at http://www.mavtv.com/ and http://www.racertv.com/.
About GNCC Racing
The Grand National Cross Country Series presented by Specialized is the World's premier off-road racing series for motorcycles, ATV's and eMTB's. Founded in 1975, the 13-round championship is produced exclusively by Racer Productions. Cross-country racing is one of the most physically demanding sports in the world. The grueling two and three-hour GNCC races lead as many as 2,400 riders through racetracks ranging in length from eight to 12 miles. With varied terrain, including hills, woods, mud, dirt, rocks, and motocross sections, GNCC events are tests of both survival and speed. The series draws talent from all over the U.S., Central America, South America, Europe, Japan, Australia and New Zealand. Visit www.gnccracing.com.
About eMTB Racing
The Specialized Turbo eMTB GNCC National Championship brings off-road racing and pedal-assist or electric bicycles together for an eight-round championship produced by Racer Productions. Much like a typical cross-country racing event, these races feature varied terrain including hills, rocks, roots, and more. Limited to electric or pedal assist model mountain bikes only, the championship was added to the GNCC Series in 2019. Visit www.gnccracing.com.
About the American Motorcyclist Association
Founded in 1924, the AMA is a not-for-profit member-based association whose mission is to promote the motorcycle lifestyle and protect the future of motorcycling. As the world's largest motorcycling rights and event sanctioning organization, the AMA advocates for riders' interests at all levels of government and sanctions thousands of competition and recreational events every year. The AMA also provides money-saving discounts on products and services for its members. Through the AMA Motorcycle Hall of Fame in Pickerington, Ohio, the AMA honors the heroes and heritage of motorcycling. Visit www.americanmotorcyclist.com. Not a member? Join the AMA today: www.americanmotorcyclist.com/membership/join.