Kayla Bolton
Wednesday, October 23, 2019 | 10:55 AM
FOR IMMEDIATE RELEASE
Kayla Bolton
(304) 284-0084
[email protected]
AMSOIL GNCC Racing Heads to Ironman Raceway For Season Finale
Walker Fowler and More Look to Earn Last Win of 2019
MORGANTOWN, W.Va. (October 23, 2019) – The 2019 AMSOIL Grand National Cross Country (GNCC) Series presented by Specialized, an AMA National Championship, comes to a conclusion this weekend, October 26 and 27 with the AMSOIL Ironman GNCC at Ironman Raceway in Crawfordsville, Indiana.
Coming into this weekend Yamaha/AmPro/Action Off-Road/GBC's Cole Richardson will once again be looking to earn that number one spot on the podium. Richardson came through to earn his first overall win of the season two weeks ago in West Virginia. With this weekend's event being the season finale, Richardson will be aiming to end the 2019 season on a high note.
Making his way back to the podium two weeks ago was LanMills XC/CST Tires/Houser Racing's Brycen Neal. This weekend Neal will be aiming to take his second overall win of the season. Neal sits second in the points standings, and is looking to solidify that position by putting in one of his best races of the season in Indiana on Saturday.
WFR/GBC/Fly Racing/Yamaha's Walker Fowler came through to finish in the third overall position at the previous round. This weekend, Fowler will be aiming to finish out the season with his 10th overall win of the year. Fowler, who clinched the title back at the Mason-Dixon round, will battle with his fellow XC1 Pro competitors this weekend as the series comes to a conclusion.
Currently sitting third in the points standings is Maxxis/Fly Racing/Ye Olde Cycle Barn's Chris Borich. As the series heads into the final round, Borich is aiming to snag one more overall win this season. OBOR/Moose Racing/Parts Unlimited/McGill Mafia's Adam McGill remains sixth in the points standings, but is hoping to improve his standings by earning a podium finish this weekend. McGill is hoping to turn his luck around at Ironman after being unable to finish the race one year ago.
JMR/Maxxis/Elka/Moose Racing's Jarrod McClure came through sixth at the previous round, but will be aiming to return to the podium this weekend in Indiana. McClure has moved himself up to fifth in the points standings, and is looking to hold onto his top five spot in the National Championship by battling for his first win of the season on Saturday.
Maxxis/Ithaca Recreation Sports/Fly Racing's Hunter Hart is excited to finish out his XC1 Pro rookie year on a high-note. Hart is looking forward to battling some of the top riders this weekend to conclude his rookie year. He is ultimately hoping to battle for his first overall podium finish of the season and in the XC1 class.
Ryland Johnson Racing/GBC Motorsports/Ye Olde Cycle Barn's Westley Wolfe will be aiming to battle for a top five overall finish as the season comes to a close on Saturday afternoon. Another rider hoping to end 2019 with a season best finish will be BNR Motorsports/GBC Motorsports/HMF Racing's Joshua Merritt. Merritt currently sits 11th overall in the standings, but will aiming to break into the top 10 this weekend.
In the XC2 Pro-Am class it was Jordon Poplaski taking the win two weeks ago after Glauda Jr. made the move to the XC1 Pro class. This weekend Poplaski will look to earn another class win and improve his standings for the coming year. LanMills XC/CST Tires/Moose Racing's Drew Landers is eager to grab his second win in the XC2 class this season. Landers will be aiming to end his season with a win at the conclusion of the 2-hour race on Saturday. Coming through to round out the XC2 class podium was Wyatt Wilkin. This weekend Wilkin will aim to battle at the front once again.
An exciting lineup of live musical entertainment presented by Monster Energy will take place on Friday, October 25 and Saturday, October 26. The Davisson Brothers Band (DBB) will kick off the weekend on Friday at 9:00 p.m. The Davisson Brothers Band have performed at many different GNCC Racing events throughout the years, and have proven time and time again that they are a fan favorite. They are hailed as Rolling Stone Country and have that classic musical foundation as they carry on their West Virginia roots. Check out The Davisson Brothers Band's other music "Po' Boyz," "Jesse James" and "Get Down South" on their YouTube Channel.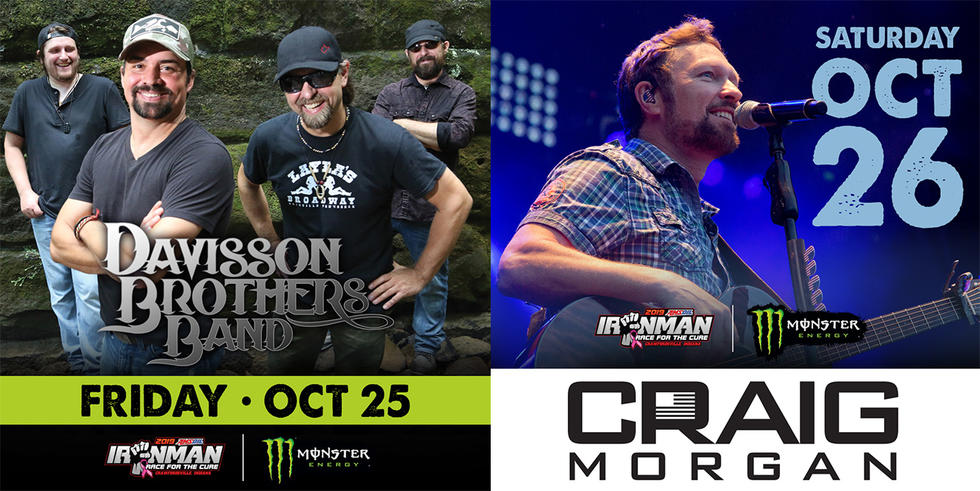 On Saturday, country music star and outdoor enthusiast, Craig Morgan will take to the Monster Energy Stage at 9:30 p.m. After releasing his first new music in over three years, Craig Morgan is set to hit the stage at Ironman Raceway on Saturday night. Craig Morgan's new song "The Father, My Son and The Holy Ghost" was written in memory of his late son, Jerri, who died in 2016 at the age of 19 in a tubing accident in Tennessee. Morgan's new song quickly caught the attention of fellow country music icons, and with the help from the country community rose to the top of the iTunes charts. Morgan's multi-week number one songs included "That's What I love About Sunday," "International Harvester," "Bonfire," "This Ole Boy," and "Wake Up Lovin' You." Check out more music from Craig Morgan on his YouTube Channel.
Four-wheeled ATVs will compete throughout the day on Saturday, October 26. Youth ATV racing begins at 8 a.m., followed by Micro ATVs at 9:15 a.m. and Micro bike racing at 10 a.m., then the amateurs, 4x4 pro and women at 10:30 a.m., and the pros and top amateurs' race at 1:30 p.m. On Sunday, October 27, the motorcycles will take to the woods of Indiana following the race schedule of youth racing action starting the day off at 8 a.m., women and amateur riders race at 10 a.m. and the pros and top amateurs will start at 1 p.m.
For more information on the GNCC series, visit the official website at www.gnccracing.com or call (304) 284-0084. Join the conversation on the series Facebook page, follow us on Twitter and Instagram, and be sure to always hashtag #GNCC.
Previous Rounds Results and Points Standings
Yamaha Mountaineer at Summit Bechtel Reserve
Beckley, West Virginia
Round 12 of 13
Saturday, October 12, 2019
XC1 Pro Event Results:
Cole Richardson (YAM)
Brycen Neal (YAM)
Walker Fowler (YAM)
Chris Borich (SUZ)
Adam McGill (HON)
Jarrod McClure (HON)
Hunter Hart (YAM)
Westley Wolfe (SUZ)
Joshua Merritt (YAM)
Greg Covert (YAM)
*Overall National Championship Standings:
Walker Fowler (377)
Brycen Neal (242)
Chris Borich (235)
Cole Richardson (228)
Jarrod McClure (190)
Adam McGill (177)
Hunter Hart (138)
John Glauda Jr. (133)
Westley Wolfe (132)
Johnny Gallagher (114)
*Indicates that the Overall National Championship Standings will determine the 2019 National Champion.
XC2 Pro-Am Event Results:
Jordon Poplaski (YAM)
Drew Landers (YAM)
Wyatt Wilkin (HON)
Ben Kowalewski (HON)
Ronnie Rusch (YAM)
Tanner Walker (YAM)
Charles Dunn III (HON)
Matthew Blankenship (YAM)
Kenny Shick (YAM)
Brent Henke (YAM)
XC2 Pro-Am Series Standings:
John Glauda Jr. (321)
Drew Landers (245)
Jordon Poplaski (240)
Ben Kowalewski (196)
Wyatt Wilkin (185)
Tanner Walker (179)
Ronnie Rusch (143)
Kenny Shick (131)
Matthew Blankenship (130)
Charles Dunn III (105)
About GNCC Racing
The AMSOIL Grand National Cross Country Series presented by Specialized is America's premier off-road racing series. Founded in 1975, the 13-round championship is produced exclusively by Racer Productions. Cross-country racing is one of the most physically demanding sports in the world. The grueling three-hour GNCC races lead as many as 2,400 riders through tracks ranging in length from eight to 12 miles. With varied terrain, including hills, woods, mud, dirt, rocks, and motocross sections, GNCC events are tests of both survival and speed. The series draws talent from all over the U.S., Central America, South America, Europe, Japan, Australia, and New Zealand. GNCC Racing is televised weekly on NBC Sports and RacerTV.com. For more information, please visit www.gnccracing.com.
How to Watch
Racer TV and NBC Sports Network (NBCSN) are the official homes for coverage of the AMSOIL Grand National Cross Country (GNCC) events. All 13 rounds, from the season opening Big Buck GNCC in South Carolina to the finale at Ironman Raceway in Indiana, will air in 30-minute, taped-delayed telecasts on NBCSN, while Racer TV provides live streaming coverage of the 1 p.m. ATV and motorcycle races from each event. Catch all the action at http://www.nbcsports.com/ and http://www.racertv.com/.
About the American Motorcyclist Association
Founded in 1924, the AMA is a not-for-profit member-based association whose mission is to promote the motorcycle lifestyle and protect the future of motorcycling. As the world's largest motorcycling rights and event sanctioning organization, the AMA advocates for riders' interests at all levels of government and sanctions thousands of competition and recreational events every year. The AMA also provides money-saving discounts on products and services for its members. Through the AMA Motorcycle Hall of Fame in Pickerington, Ohio, the AMA honors the heroes and heritage of motorcycling. For more information, visit www.americanmotorcyclist.com. Not a member? Join the AMA today: www.americanmotorcyclist.com/membership/join.