Jared Bolton
Time
Thursday, July 11, 2019 | 11:45 AM
AMSOIL is proud to be the title sponsor of the GNCC Racing series for the past 7 years. New for 2019, AMSOIL is partnering with the series to bring a GNCC AMSOIL Moto Hero to each and every round. Racers, Fans, and Industry Personnel are welcome to nominate themselves or someone they know who are currently serving in the military, retired from the military, are a first responder or former first responder for this prestigious honor.
Welcome to Quick Fill.
Summer break is finally here and although it's a few weeks later than what we traditionally see, last weekend's High Voltage GNCC was well worth the delay. It was a pretty interesting weekend to put it lightly. It started out with really good conditions, then the final lap of the 11AM ATV race saw rain fall on just the last three miles of the racecourse. The opening lap of the 2PM ATV race was pretty good, but then heavy rainfalls would absolutely saturate the facility making for a slippery ride. Another bit of rain on Saturday evening would leave some folks either dreading or very excited for Sunday morning.
However, the track crew would take to the woods early Sunday morning and begin running the Sutter Trail Dozers around the entire course. The track had gotten very hard packed on Saturday, which means that rain never really had the chance to soak into the ground. It either ran off the sides or just kind of sat on top of the hard pack. When the guys started dozing, just cutting down a couple of inches led to some really tacky dirt early in the morning that dried out throughout the day. So, what could've been a pretty sloppy and slick day ended up being as close to perfect as you can get!
Overall the High Voltage GNCC proved to be a pretty great event. We do have plans to return to Big Buck in 2020 but obviously we're still in the thick of the 2019 season and haven't began planning the entire GNCC schedule but if there's a fit to return to High Voltage, it very well could be a possibility. A lot of folks I talked to really enjoyed the track and if you skipped it then you definitely missed out!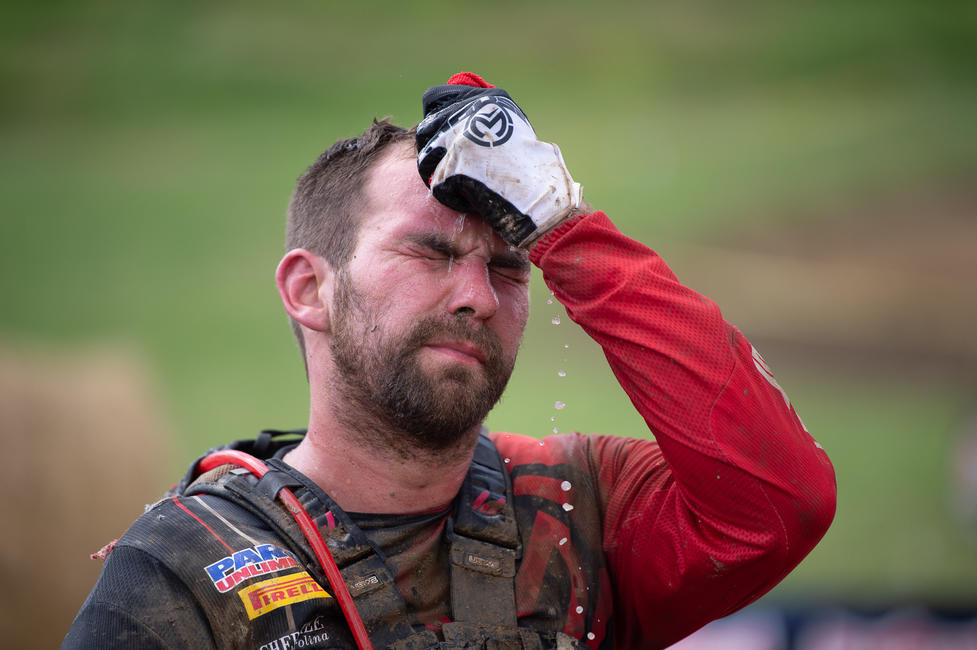 So now we roll into the summer break. For many, it's a chance to regroup and get prepared for the final rounds of the season. You have to stay on top of your game though, and you really can't spend too much time off or those final four rounds will sneak up on you faster than you think. Of course, most racers still squeeze in a number or races through the summer and if you're one of them, enjoy the seat time but stay safe!
For the GNCC staff, a lot of us will spend the summer break still hard at work. The Racer Productions/MX Sports staff will have our hands full with the Rocky Mountain ATV/MC AMA Amateur National Motocross Championship at Loretta Lynn's, as well as the Budds Creek and Ironman rounds of Pro Motocross. We'll actually be heading for Loretta's in just a couple of weeks, so there's really no time to rest as we're full force in making preparations for that event. There's always some familiar faces from the GNCC crowd around at Loretta's, and we'll be sure to keep an eye on those folks as the week wears on. We're still finalizing the Rider Roster for Loretta's, but once it's done we'll be sure to let the GNCC Racing Nation know who will be racing at Loretta Lynn's.
As we've done after most rounds this season, the folks over at Racer X tasked me with highlighting some things we learned from the High Voltage GNCC. You can check that out HERE. Some of the things covered include Thad Duvall's redemption after a tough race at Snowshoe, great rides by the Kawasaki guys, the racecourse conditions, and more. I think I say this each week but these have been pretty fun to write as it gives a slightly different outlook on the races each week. Of course, it is geared toward the two-wheeled crowd, but we'll discuss some good old fashion four-wheeled racing right here in Quick Fill this week.
In fact, let's jump right into that right now! The ATV guys had a slick and slippery race on their hands as those heavy rains we mentioned early dumped on the facility during the 2PM ATV race. This ended up making one of the most exciting finishes we've seen in recent history with Walker Fowler and Chris Borich battling through the final turns leading up to the finish. As they approached the final field section, Borich would attempt an inside line around Fowler which resulted in a little contact and Borich finding his way into the lead. Heading into the next corner, Fowler would run in a bit hot, making contact with Borich and finding his way back into the lead.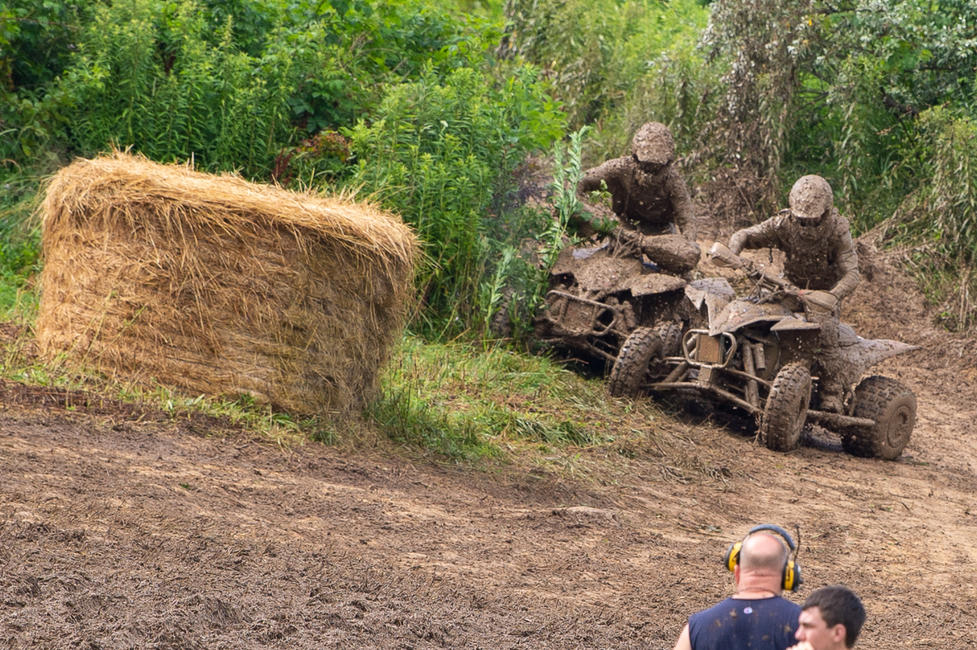 The two would head into the next to last turn hot and heavy, making contact with each other but it would be Fowler coming out of the corner with the lead and crossing the finish line for the win just around two seconds ahead of Borich. There's no doubt these guys put on a show, and while they both had differing opinions on it in the moments after the race, none of this contact could be perceived as a "take out" move, but rather just good old fashioned hard racing by both riders. They may have been a touch upset with each other at the end, but this display by both riders was nothing short of two competitors giving it their all to take the win.
Meanwhile, in all of this, Cole Richardson was putting in a great ride of his own as he would cross the finish line in third only around 11 seconds behind this lead duo. Imagine how exciting that battle could have been if Cole would've been a little closer to those guys at the end? There's no doubt this was a great way to roll into summer break and this means we could definitely be in store for some very exciting racing when we return to racing in September.
The XC1 guys weren't the only ones with exciting racing. The battle for the 4x4 Pro class win was decided by less than one-second! Robbie Pecorari would lead the race early, but it would be an all-out battle between Landon Wolfe and Dwight Pollard through the last stages of the race. Pollard would hold the lead when the white flag flew, but Wolfe would find his way into the lead on the final lap. These two would battle all the way down to the wire with Wolfe taking the win by just 0.825 second ahead of Pollard.
Of course, while these guys were battling for the 4x4 Pro win, it would actually be Layne McCormick out of the Schoolboy Sr. class who would take the overall win in the 11AM race. In doing so, Layne becomes the first rider outside of the 4x4 Pro class to take the 11AM overall this season. Actually, the last rider to do this was Branden Owens who took the Schoolboy Sr and AM ATV overall win at the opening round at Big Buck in 2018. Congratulations go out to Layne because it's definitely no easy task to beat those 4x4 guys for the overall!
Well, that's going to do it for this week. It's a long summer break, so we've got a lot of time to talk about some of the other happenings in the GNCC world, so we'll keep this week's to a good length and see you back here next week. Enjoy your weekend, and your summer break!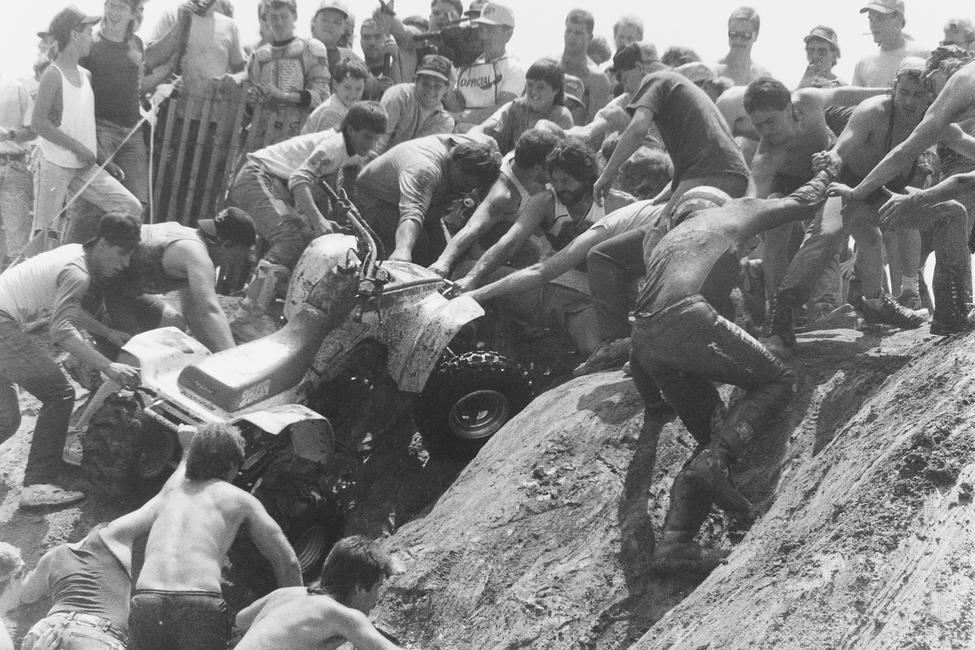 #ThrowbackThursday
It's been a while since we've had a Throwback Thursday segment, so here's a few choice photos from back in the day, and a little something special. A couple of weeks ago, I took one of our Specialized Kenevo eMTBs down to Davis, West Virginia to do a little mountain biking. For those who may not know, you can actually still ride mountain bikes on some of the old Blackwater 100 trails! If you're ever around, I highly recommend checking it out.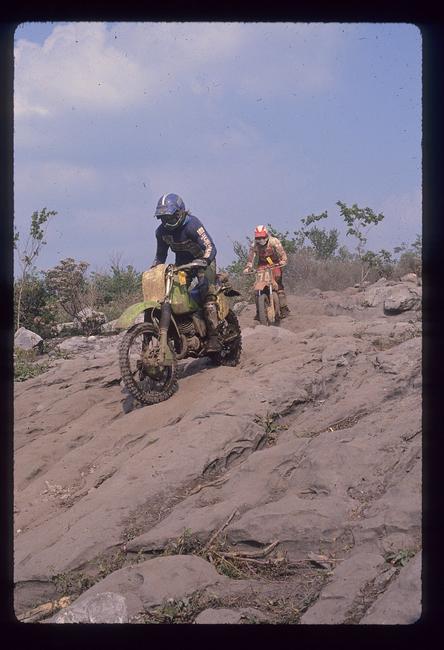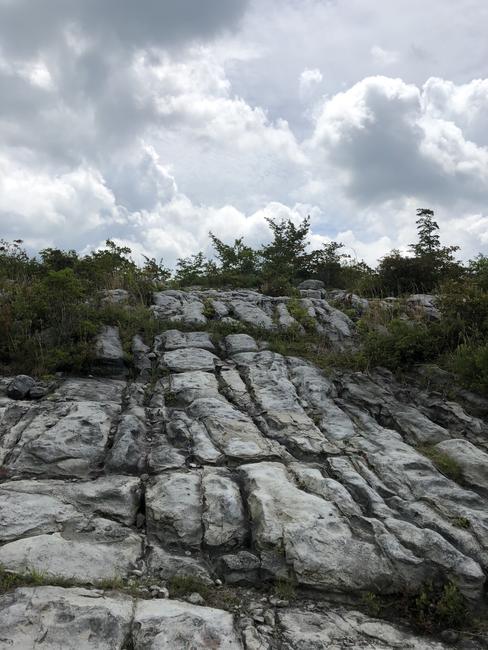 It's kind of a funny story as I started out riding by myself but when I thought I had missed a turn, I stopped to check back and see if I actually did or if I was just anticipating my turn-off too soon. When I stopped, a group of guys who were also on eMTBs caught me and when they did, I recognized Justin Haines who is a fellow off-road racer out of Virginia. Along with him was Brian Bolyard who was a long-time racer with a number of GNCC events under his belt. I jumped in with those guys and rode along with them. We made it to the famous Moon Rocks and the exit side of the first river crossing that were on the Blackwater course.
All of this you can legally ride to on a mountain bike, but of course please respect the trails, stay on them and of course don't even think about riding your dirt bike or ATV out there! It's definitely a tough ride if you're not a serious mountain biker, but if I survived then anyone who owns a mountain bike should be able to make it as well!