Kayla Bolton
Time
Sunday, June 2, 2019 | 8:40 AM
FOR IMMEDIATE RELEASE
Kayla Bolton
(304) 284-0084
[email protected]
Walker Fowler Earns 50th Career Overall ATV Win at Dunlop Tomahawk GNCC
John Glauda Jr. Keeps XC2 Win Streak Alive
ODESSA, N.Y. (June 2, 2019) – The 2019 AMSOIL Grand National Cross Country (GNCC) Series presented by Specialized, an AMA National Championship, kicked off on Saturday, June 1 with some of the most action-packed racing the series has seen thus far in the season. WFR/GBC/Fly Racing/Yamaha's Walker Fowler was at the front of the pack as the checkered flag flew in New York.
Fowler got out to an early lead grabbing the $250 Wiseco XC1 Holeshot Award, but he would soon be accompanied by LanMills XC/CST Tires/Houser/Yamaha's Brycen Neal and Yamaha/AmPro/Action Offroad/GBC's Cole Richardson. As they came through timing and scoring on the opening lap, only seconds separated the top four as Maxxis/Fly Racing/Ye Olde Cycle Barn's Chris Borich joined the group to battle.
As they made their way around to head out on the third lap, Neal had caught Fowler and was 1.722 seconds behind him. For the next two laps, Neal would continue to follow Fowler looking for a way around. Neal would make the pass and lead on the last lap, unfortunately as the riders came into sight Fowler would come out in the lead with Richardson two seconds behind him.
Fowler would come through taking his fifth win of the season, Richardson followed in second and emerging in third would be Neal who was 27 seconds off the leaders. Borich, who ran in the fourth place position for the duration of the race, would come through minutes later finishing just off the podium.
JMR/Maxxis/Elka/Moose Racing's Jarrod McClure also had a consistent day of racing after starting in the fifth place position. McClure continued to press on, but was unable to catch his competitors ahead of him. After finishing fifth overall McClure moves up to sixth place in the National Championship standings.
Starting out seventh was Maxxis/Ithaca Recreation Sports/Fly Racing's Hunter Hart. As the race wore on Hart would find himself in the sixth place position. Hart would continue to push, but would only manage to the sixth overall. OBOR/Moose Racing/Parts Unlimited/McGill Mafia's Adam McGill came through seventh overall after battling back from his ninth place start.
Pierce Performance/Moose Racing/Spider Graphix Cody Collier earned his best XC1 finish of the season yesterday with an 8th in the class and 9th overall. Collier worked his way up and battled with his fellow XC1 competitors from a 13th place start to capture his eight place finish. BNR Motorsports/GBC Motorsports/HMF Racing's Joshua Merritt came through ninth in the class, while finishing 11th overall. Merritt came through 12th on the opening lap, but would manage to put his head down and push forward to capture his top 10 finish in his class.
Spider Graphix/GBC Motorsports/Moose Racing/Custom Axis' Martin Christofferson rounded out the top 10 in the XC1 Pro class. Christofferson unfortunately would fall back from his eighth place start to the day. GBC/Fly Racing/HMF/Yamaha's Johnny Gallagher and Ryland Johnson Racing/GBC Motorsports/Ye Olde Cycle Barn's Westley Wolfe came through on the fifth and final lap in 11th and 12th place.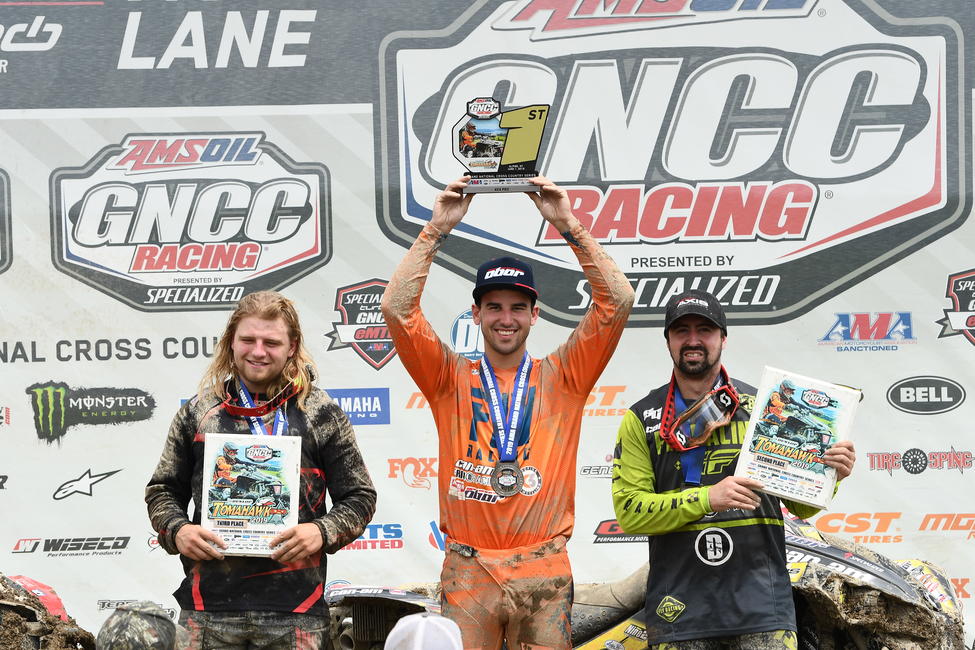 As the 10 a.m. race got underway is was Can-Am/OBOR Tires/Derisi Racing's Landon Wolfe grabbing the holeshot and early lead. Wolfe would battle throughout the day, but would find himself back in the center of the podium as he made his way to the checkered flag first. Derisi Racing/Cometic Gasket/Savage Designs' Robbie Pecorari came through in the second place position, while Phoenix Honda Racing's Haedyn Mickelson rounded out the overall 10 a.m. and 4x4 Pro podium.
The battle was on in the WXC class, as they took off it was Stewart Boys Racing's Megan Shepherd grabbing the holeshot and early lead. As the women made their way around the course, GBC Motorsports/Yamaha/Fly Racing's Traci Pickens and Action Offroad/Moose Racing/GBC Motorsports' Katelyn Osburn would find themselves battling until a lapped rider got in between them causing Pickens to brake hard and unfortunately move her back to the fourth place position.
Shepherd would come through in first just three seconds ahead of Osburn, earning her first WXC victory. Shepherd is the first WXC competitor to win a GNCC and ATV Motocross race. Ye Olde Cycle Barn/Pierce Performance/Hammer Nutrition's Alicia McCormick would make her move to third after getting a near dead last start.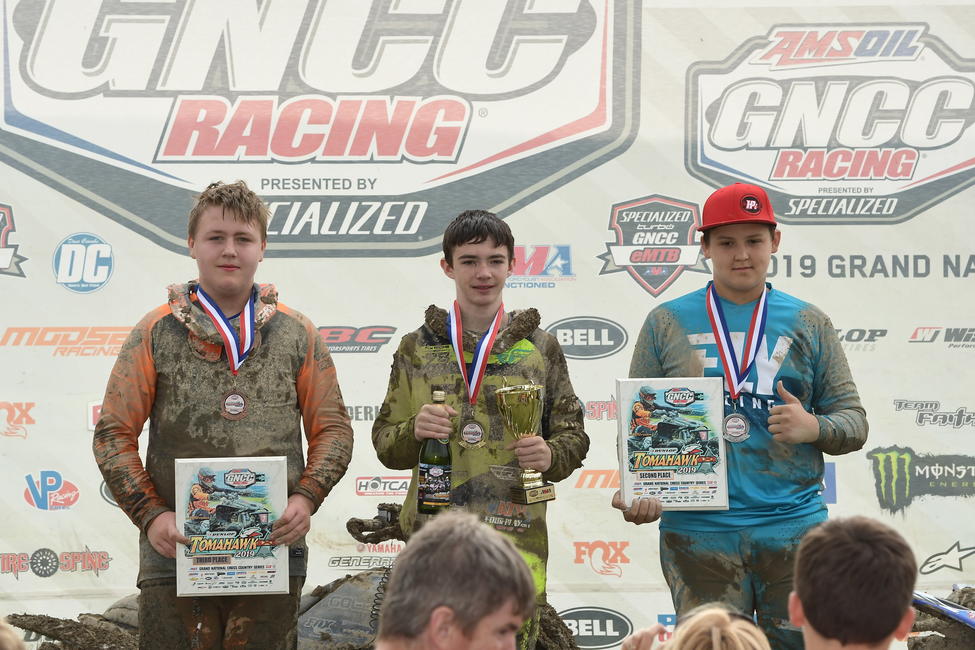 The youth riders took off at 8 a.m., and coming through first was Damien Hawkins taking his fifth overall youth win and sixth YXC1 Super Mini Sr. class win. Parker Henderson came through second overall and second in the YXC1 class followed by Nicholas Dearing of the YXC2 Super Mini Jr. class rounding out the overall podium.
Charlie Stewart made his way onto the podium with a second in the YXC2 class, a fourth overall, and Kaden Lambruno came through third in the YXC2 class. Morgan Johnson earned her first YXC1 Super Mini Sr podium with a third in the class, fifth overall, after she earned the Girls (8-15) class National Championship last year.
Round four of the Specialized Turbo eMTB GNCC National Championship took place Saturday evening. Charlie Mullins earned his fourth straight win, leading from the start until the checkered flag flew. Specialized's Seth Stevens came through second overall, while Nate Annon took the final podium position. Mullins continues to lead in the points standings.
The 2 p.m. ATV Pro race was broadcast LIVE in its entirety on RacerTV.com and can be viewed as archived video online by visiting the GNCC LIVE page online. A highlight show featuring the event will air on NBC Sports Network on Saturday, August 31 at 3:30 p.m. ET.
For more information on the GNCC series, visit the official website at www.gnccracing.com or call (304) 284-0084. Join the conversation on the series Facebook page, follow us on Twitter and Instagram, and be sure to always hashtag #GNCC.
Dunlop Tomahawk
Odessa, New York
Round 7 of 13
Saturday, June 1, 2019
XC1 Pro Event Results:
Walker Fowler (YAM)
Cole Richardson (YAM)
Brycen Neal (YAM)
Chris Borich (SUZ)
Jarrod McClure (HON)
Hunter Hart (YAM)
Adam McGill (HON)
Cody Collier (YAM)
Joshua Merritt (YAM)
Martin Christofferson (HON)
*Overall National Championship Standings:
Walker Fowler (196)
Chris Borich (145)
Brycen Neal (138)
Cole Richardson (127)
Adam McGill (102)
Jarrod McClure (91)
Hunter Hart (90)
John Glauda Jr. (85)
Westley Wolfe (80)
Johnny Gallagher (77)
*Indicates that the Overall National Championship Standings will determine the 2019 National Champion.
XC2 Pro-Am Event Results:
John Glauda Jr. (YAM)
Drew Landers (YAM)
Jordon Poplaski (YAM)
Tanner Walker (YAM)
Wyatt Wilkin (HON)
Ronnie Rusch (YAM)
Steven Covert (YAM)
Kenny Shick (YAM)
Ben Kowalewski (HON)
Boedy Lamoreaux (HON)
XC2 Pro-Am Series Standings:
John Glauda Jr. (210)
Drew Landers (155)
Jordon Poplaski (136)
Ben Kowalewski (115)
Tanner Walker (105)
Wyatt Wilkin (95)
Ronnie Rusch (83)
Matthew Blankenship (82)
Steven Covert (74)
Matthew Lindle (69)
About GNCC Racing
The AMSOIL Grand National Cross Country Series presented by Specialized is America's premier off-road racing series. Founded in 1975, the 13-round championship is produced exclusively by Racer Productions. Cross-country racing is one of the most physically demanding sports in the world. The grueling three-hour GNCC races lead as many as 2,400 riders through tracks ranging in length from eight to 12 miles. With varied terrain, including hills, woods, mud, dirt, rocks, and motocross sections, GNCC events are tests of both survival and speed. The series draws talent from all over the U.S., Central America, South America, Europe, Japan, Australia, and New Zealand. GNCC Racing is televised weekly on NBC Sports and RacerTV.com. For more information, please visit www.gnccracing.com.
About eMTB Racing
The Specialized Turbo eMTB GNCC National Championship brings off-road racing and pedal-assist or electric bicycles together for an eight-round championship produced by Racer Productions. Much like a typical cross-country racing event, these races feature varied terrain featuring hills, rocks, roots, and more but are limited to electric, or pedal assist model mountain bikes only. For more information, please visit www.gnccracing.com.
How to Watch
Racer TV and NBC Sports Network (NBCSN) are the official homes for coverage of the AMSOIL Grand National Cross Country (GNCC) events. All 13 rounds, from the season opening Big Buck GNCC in South Carolina to the finale at Ironman Raceway in Indiana, will air in 30-minute, taped-delayed telecasts on NBCSN, while Racer TV provides live streaming coverage of the 1 p.m. ATV and motorcycle races from each event. Catch all the action at http://www.nbcsports.com/ and http://www.racertv.com/.
About the American Motorcyclist Association
Founded in 1924, the AMA is a not-for-profit member-based association whose mission is to promote the motorcycle lifestyle and protect the future of motorcycling. As the world's largest motorcycling rights and event sanctioning organization, the AMA advocates for riders' interests at all levels of government and sanctions thousands of competition and recreational events every year. The AMA also provides money-saving discounts on products and services for its members. Through the AMA Motorcycle Hall of Fame in Pickerington, Ohio, the AMA honors the heroes and heritage of motorcycling. For more information, visit www.americanmotorcyclist.com. Not a member? Join the AMA today: www.americanmotorcyclist.com/membership/join.