Rachel Gutish
Time
Tuesday, May 14, 2019 | 3:00 PM
Stemming from the grassroots of family racing, Wiseco has over 75 years experience manufacturing pistons, whether it be for fun, weekend riding, or professional racing. Wiseco is one of the few manufacturers forging pistons in the U.S., providing quality and performance you can trust. 
Click here
 to see the latest Tech Tips from Wiseco.
The Stewart family has only been involved in GNCC racing since 2016, but I would be surprised if you haven't seen their tent or encountered one of their riders during the ATV races on Saturday. Jason Stewart founded Stewart Boys Racing both to expose his kids to good role models and provide support to talented racers who were in need of support and sponsorship. His kids, the brothers for which the team is named, are both talented youth riders. Cooper, the oldest, races in YXC1, while his younger brother, Charlie, has won every race in YXC2 so far this year.
GNCCRacing.com: Let's start with you Jason. How did you and your family get involved with the motorsports community.
Jason Stewart: The main reason I got involved with GNCC racing was my kids. From an early age I always craved an adrenaline rush which I felt needed to be explored, so getting into motorsports was natural. I started off on ATVs then got into jet skis and UTV's. My sons began riding leisurely once they were old enough, and we immediately all noticed that this could be something more for them than just taking a few quads out after they finished their homework on a weekday. As far as getting into GNCC racing, one day while I was dropping off our quads for maintenance, I saw a poster for the Cannonball GNCC in Georgia. That's when we decided to attend our first GNCC race as spectators, then decided to try our hand at actually racing one. The 2016 Steele Creek GNCC was the first one we raced, and honestly it was a huge learning experience. There was mud, we were late, couldn't find parking, didn't know where tech was or where to get transponders. I owe a big thank you to Tina at GNCC for helping us get everything figured out. Despite the rough start, we fell in love and haven't stopped since. In 2016 we competed in nine races and since then we haven't missed a single one.
And what made you decide to start a team?
Jason: I started the team to help my kids see how other people raced, trained and competed in the series we run. As an extension of this team I'm constantly trying to give back and help people grow.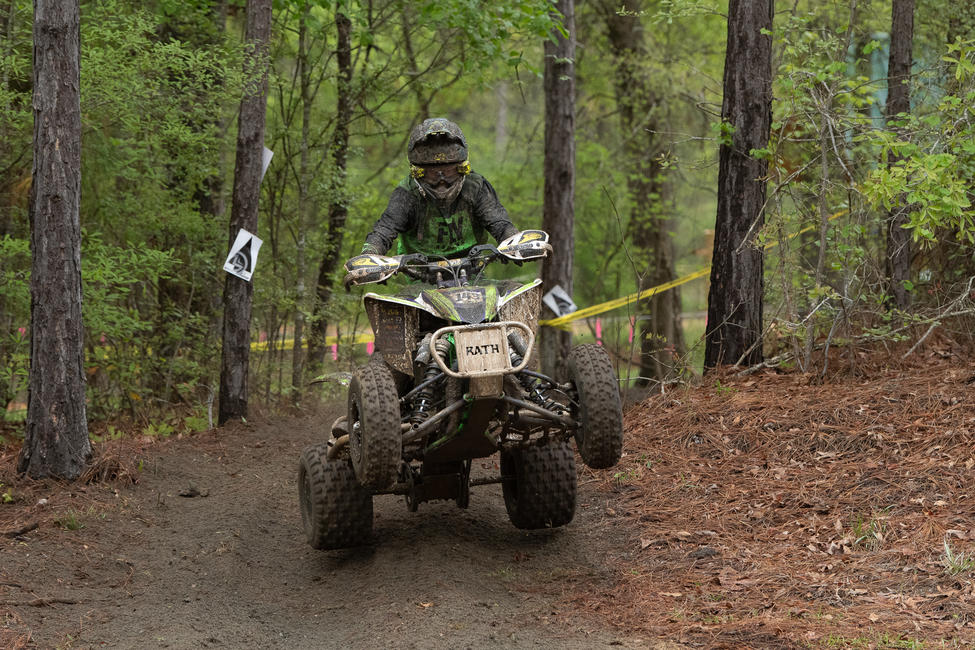 What does the team provide for its riders?
Jason: As part of the team we help with all aspects of racing. Providing help with sponsors, parts, training and whatever else is needed to help each team member compete.
How many riders are a part of Stewart Boys Racing?
Jason: We currently have 6 sponsored riders. Cooper and Charlie Stewart, Andrea Rodgers (Girls 8-15) Dylan Walraven (College A) Luke Shepard (Junior A) and Megan Shepard (WXC).
What do you look for in a rider on your team?
Jason: As parents we look for the best folks to surround our boys with. As team managers we look for talented riders that need help at the race or with their program. With a little bit of support, we can help grow the sport by helping these riders. As well as help our boys continue to grow and learn.
What does your own work with the team entail?
Jason: Our riders are doing the real work. Honestly all I do is coordinate sponsors, order parts and make sure everyone has what's needed to be the best they can on race day. Motivation, food, fuel, socks, duct tape or just a fist bump and a smile to start their race off.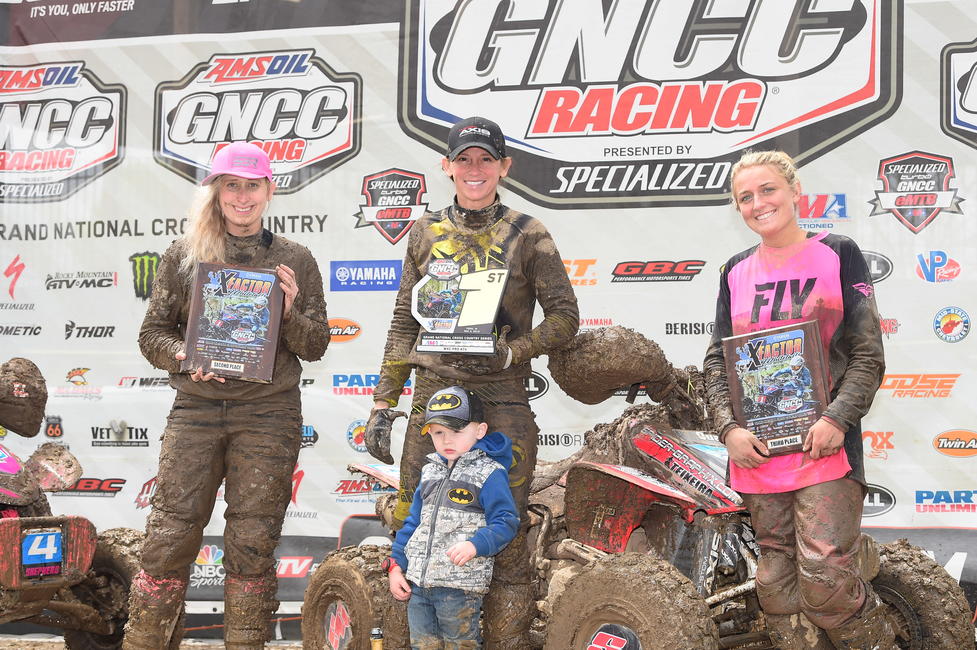 Is it difficult to manage a team in addition to helping your kids, or is it more a natural extension of what you would already be doing with them?
Jason: It's not really difficult. Managing a team is similar to what I do at Action Tire Co., so it's definitely a natural extension of my day. I really feel that the values I have been taught working in that industry are the same values that I'm trying to instill in my kids and team. These values have helped me in my daily successes. Some of the things I want them to learn and I think racing can teach is, being a good leader, having a never quit attitude, good communication, learning to lose and accept failure, to never burn bridges and to treat everyone with respect.
Moving on to Charlie, congrats on your perfect season so far! How do you feel about it?
Charlie Stewart: Thanks, I appreciate it! After last year with some mechanical stuff and just plain bad luck, I was ready to come back swinging this season! After coming off my favorite track (Camp Coker) with a 3rd overall I feel good! Another win in Indiana put me in a good position in the points too.
Do you think you can win the rest of the races?
Charlie: I'm a Southern guy, and I like the southern tracks. I haven't had the best luck in the North but hopefully I can pull off more wins.
Hey Cooper, I was sorry to hear you had a nasty get-off at Camp Coker. What happened?
Cooper Stewart: Thanks, it was a rough one! That's the first pretty bad one I've had. I was pushing for 3rd when my rear slid out of a rut then clipped a tree. I went flying, my quad flipped and landed on me. I'm thankful that my Leatt protective gear kept my melon in one piece.
Are you feeling better now?
Cooper: Yep, I was just a little sore for a couple of days but all good now. I felt good getting back on the practice bike the weekend after at Mideast. At X-Factor I had a better finish than my last few rides, but I'm hoping to improve even more.
What are the goals you guys have for the rest of the season?
Charlie: My goal is to win every race. I want that AMA guy to hand me the #1 plate!
Cooper: After getting a taste of that #1 Youth Overall in Florida I'd like to do that a few more times!
Based on the results, it looks like you both are very close in speed. Is it hard to be that competitive with each other? Are you guys able to benefit from training together?
Charlie: I really like to goon ride around on my 90 and do wheelies all day having fun, but my brother and I do enjoy riding together
Coop: We both have our strengths and weaknesses and learn from each other. Even though we are in different classes this season we are both pushing for that overall.
Alicia Stewart: Mom can chime in on this one! There is nothing more competitive than two teenaged boys. The trash-talking leading up to race days is REAL! They train together as well as have identical quads so they go in on equal footing. They definitely push each other to be the best.
What is your favorite part of racing?
Charlie: Winning and hanging out with my friends
Cooper: The satisfaction of finishing on the podium!
Is there anything you guys would like to talk about or say that I didn't ask about?
Jason: We'd like everyone to take a look at www.actionoffroad.com, it's a new site that can help supply your racing needs for ATV, UTV and motorcycle parts. It's new to the market but it has helped our team a bunch.
And who would you all like to thank?
First, the families and friends that we have met at GNCC and the Mideast Hare Scramble. The racing family is like no other, always there to help!
We would also like to thank the many sponsors that help us with our program. Matt @ Pierce Performance is an absolute master with the Hybrid Super Mini 150's, Derisi Racing for dialing in our suspension and building sweet Honda 450's, LS4 for making custom hoods to set us apart, Houser, Rath Racing for bumpers and nerf bars, Hinson for the 150 clutches, Micah @ Custom Axis Shocks making the 150s float across the roughest terrain, Fly Racing for keeping us looking amazing in great gear, Leatt for keeping us safe with helmets and neck braces, Scott Goggles for the clear vision, SSI for the unique graphics, Goldspeed wheels, ATV 4 play, Action Offroad, Action Tire Company, Sidi, Gaerne, Honda East Toledo, Waynesburg Yamaha, Tire Spines for keeping us flat proof, Rage ATV for motors in the 450s, All Balls Racing, Stream Line brakes, HMF exhaust, Works Connection, RJR, Lonestar racing, No Toil, Pit Posse, ODI grips, Sunstar, IMS for fuel tanks, Pro Design for air filters