Kayla Bolton
Time
Friday, February 8, 2019 | 9:35 AM
FOR IMMEDIATE RELEASE
Kayla Bolton
(304) 284-0084
[email protected]
100% Extends Partnership with GNCC Racing
Hometown Hero Program Continues for Fourth-Consecutive Year
MORGANTOWN, W.Va. (February 8, 2019) – 100% and Racer Productions, producer of the AMSOIL Grand National Cross Country (GNCC) Series presented by Specialized, an AMA National Championship, are pleased to announce their multi-year partnership extension along with their continued support of the GNCC 100% Hometown Hero program.
100% has been linked to several iconic moments within the motocross industry dating back to the early 1980's when the 100% logo decorated racing equipment of some of the biggest names in motocross. They have been part of GNCC Racing since 2013 and have continued their support with the Hometown Hero program for the past three-consecutive years.
In 2015, GNCC Racing introduced the Hometown Hero program to help local GNCC racers promote and grow their favorite sport by participating in marketing campaigns. GNCC Hometown Heroes receive a detailed letter along with 10-15 posters to hang up in various local businesses, and then use social media outlets to get the word out by using the official hashtags #GNCCHometownHero and #GNCCRacing.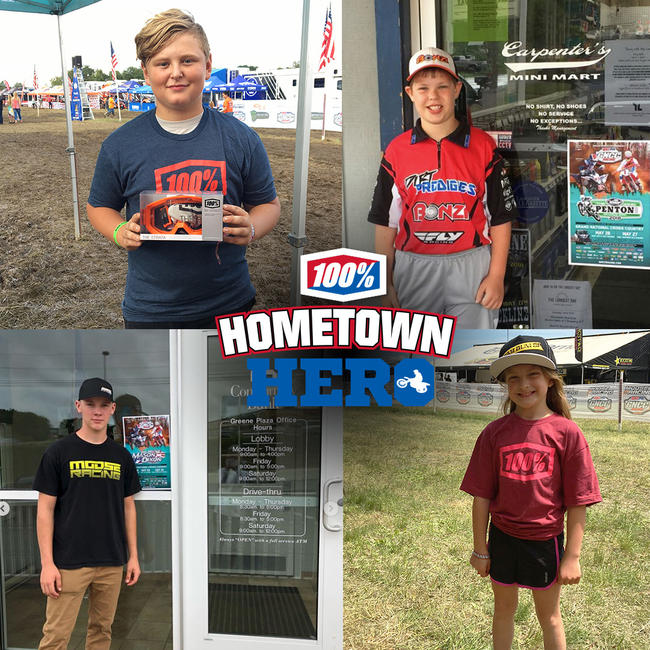 "The Hometown Hero program has become an honorable selection for many of our racers of any age," said Debby Hawk, GNCC Hometown Hero Program Manager. "I love meeting all of our Hometown Heroes, while also having the pleasure of becoming friends with many of them. Plus, handing out their 100% goggles at the races for their participation and seeing those smiles is icing on the cake!"
100% will be returning as the title sponsor for the Hometown Hero program in 2019. They will also be giving a pair of goggles, along with a free race entry, to each Hometown Hero who uses the hashtags above and tags @gnccracing and @lildeb55. Interested in becoming a 100% Hometown Hero? Email Debby Hawk at [email protected].
The 2019 AMSOIL Grand National Cross Country Series begins on February 23 and 24 with the 23rd Annual VP Racing Fuels Big Buck GNCC in Union, South Carolina. Saturday's 2 p.m. pro ATV race as well as Sunday's 1 p.m. pro bike race will be broadcasted LIVE on the internet via Racer TV on www.racertv.com. A highlight show featuring the event will air on NBC Sports Network on Saturday, May 25 at 1:30 p.m.
For more information on the GNCC series, visit the official website at www.gnccracing.com or call (304) 284-0084. Join the conversation on the series Facebook page, follow us on Twitter and Instagram, and be sure to always hashtag #GNCC.
About GNCC Racing
The AMSOIL Grand National Cross Country Series presented by Specialized is America's premier off-road racing series. Founded in 1975, the 13-round championship is produced exclusively by Racer Productions. Cross-country racing is one of the most physically demanding sports in the world. The grueling three-hour GNCC races lead as many as 2,400 riders through tracks ranging in length from eight to 12 miles. With varied terrain, including hills, woods, mud, dirt, rocks, and motocross sections, GNCC events are tests of both survival and speed. The series draws talent from all over the U.S., Central America, South America, Europe, Japan, Australia, and New Zealand. GNCC Racing is televised weekly on NBC Sports and RacerTV.com. For more information, please visit www.gnccracing.com.
About eMTB Racing
The Specialized Turbo eMTB GNCC National Championship brings off-road racing and pedal-assist or electric bicycles together for an eight-round championship produced by Racer Productions. Much like a typical cross-country racing event, these races feature varied terrain featuring hills, rocks, roots, and more but are limited to electric, or pedal assist model mountain bikes only. For more information, please visit www.gnccracing.com.
How to Watch
Racer TV and NBC Sports Network (NBCSN) are the official homes for coverage of the AMSOIL Grand National Cross Country (GNCC) events. All 13 rounds, from the season opening Big Buck GNCC in South Carolina to the finale at Ironman Raceway in Indiana, will air in 30-minute, taped-delayed telecasts on NBCSN, while Racer TV provides live streaming coverage of the 1 p.m. ATV and motorcycle races from each event. Catch all the action at http://www.nbcsports.com/ and http://www.racertv.com/.
About the American Motorcyclist Association
Founded in 1924, the AMA is a not-for-profit member-based association whose mission is to promote the motorcycle lifestyle and protect the future of motorcycling. As the world's largest motorcycling rights and event sanctioning organization, the AMA advocates for riders' interests at all levels of government and sanctions thousands of competition and recreational events every year. The AMA also provides money-saving discounts on products and services for its members. Through the AMA Motorcycle Hall of Fame in Pickerington, Ohio, the AMA honors the heroes and heritage of motorcycling. For more information, visit www.americanmotorcyclist.com. Not a member? Join the AMA today: www.americanmotorcyclist.com/membership/join.