Kayla Bolton
Time
Monday, January 7, 2019 | 12:30 PM
FOR IMMEDIATE RELEASE
Kayla Olliver
(304) 284-0084
[email protected]
2019 NBCSN Television Schedule Announced for AMSOIL GNCC Season
Each Round to be Broadcasted Live on RacerTV.com
MORGANTOWN, W.Va. (January 7, 2019) – As the start of the 45th annual AMSOIL Grand National Cross Country (GNCC) Series presented by Specialized, an AMA National Championship, draws closer, Racer Productions is excited to announce the 2019 NBC Sports Network (NBCSN) broadcast cable television schedule.
The Big Buck season opener kicks off on Saturday, May 25 at 1:30 p.m. EST. This year GNCC celebrates its eighth-straight year being televised on NBCSN, and the 19th straight year the series has been televised on network cable. NBCSN will broadcast highlight episodes of all 13-rounds, and programming will continue until Saturday, November 23 with the Ironman GNCC airing at 12:30 p.m. EST.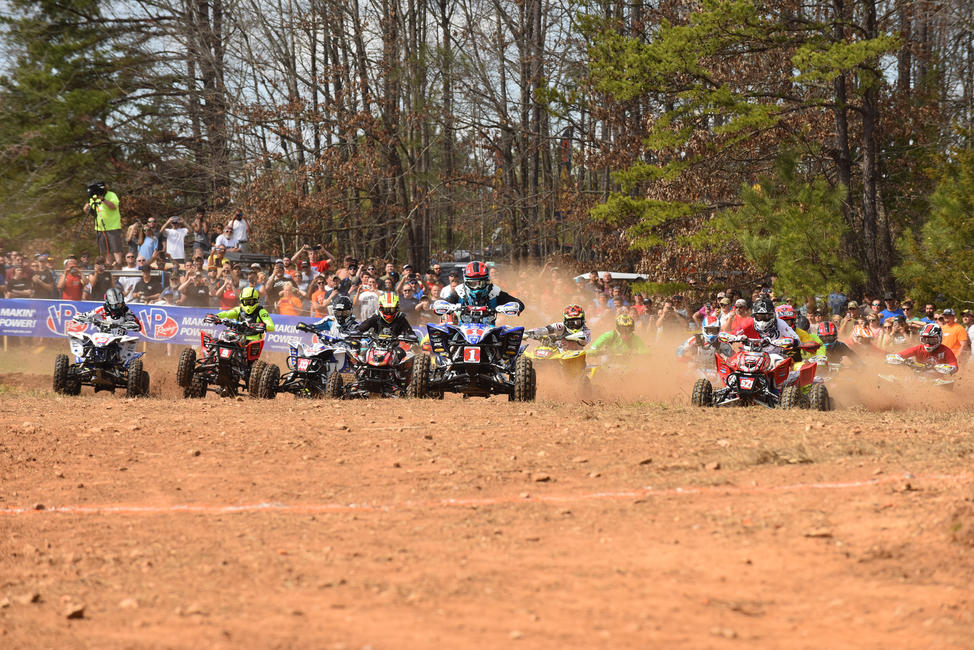 Each 30-minute episode will focus on the most bar-banging racing action of the weekend, either pro ATV or bikes. As a bonus, 13 full-length episodes will be released separately on RacerTV.com highlighting the discipline that was not featured on NBCSN.
GNCC LIVE returns with coverage from all 13 ATV and bike pro races for a total of 26 live racing programs online at RacerTV.com. Race fans and family members can watch their favorite professional and top amateur off-road racers compete for the win at each round throughout the season, and keep up-to-date with their quest for the 2019 National Championship.
Finally, throughout the off-season RacerTV has been busy uploading GNCC television footage from the archives. Multiple playlists can be found on YouTube featuring specific years and events with both ATV and bike episodes. Please check back frequently as new shows are becoming available weekly.
All highlight and GNCC LIVE shows will be archived on www.RacerTV.com for viewing. See below to view the full NBCSN television schedule.
2019 GNCC NBCSN Television Schedule
Round
Event Date
Broadcast Date
Time
Event
Location
1
Feb 23-24
May 25
1:30 PM
Big Buck
Union, SC
2
Mar 9-10
Jun 1
12:00 PM
Wild Boar
Palatka, FL
3
Mar 16-17
Jun 15
2:30 PM
The General
Washington, GA
4
Mar 30-31
Jun 23
2:00 PM
Steele Creek
Morganton, NC
5
Apr 13-14
Jul 14
1:00 PM
Camp Coker Bullet
Society Hill, SC
6
May 4-5
Jul 27
1:00 PM
X-Factor Whitetails
Peru, IN
7
May 18-19
Aug 25
6:30 PM
The John Penton
Millfield, OH
8
Jun 1-2
Sep 8
2:30 PM
Tomahawk
Alpine, NY
9
Jun 22-23
Sep 14
12:30 PM
Snowshoe
Snowshoe, WV
10
Sep 14-15
Oct 13
12:00 PM
Black Sky
Harpursville, NY
11
Sep 28-29
Oct 26
3:30 PM
Mason-Dixon
Mount Morris, PA
12
Oct 12-13
Nov 17
2:00 PM
TBA
TBA
13
Oct 26-27
Nov 23
12:30 PM
Ironman
Crawfordsville, IN
For more information on the GNCC series, visit the official website at www.gnccracing.com or call (304) 284-0084. Join the conversation on the series Facebook page, follow us on Twitter and Instagram, and be sure to always hashtag #GNCC.
About GNCC Racing
The AMSOIL Grand National Cross Country Series presented by Specialized is America's premier off-road racing series. Founded in 1975, the 13-round championship is produced exclusively by Racer Productions. Cross-country racing is one of the most physically demanding sports in the world. The grueling three-hour GNCC races lead as many as 2,400 riders through tracks ranging in length from eight to 12 miles. With varied terrain, including hills, woods, mud, dirt, rocks and motocross sections, GNCC events are tests of both survival and speed. The series draws talent from all over the U.S., Central America, South America, Europe, Japan, Australia and New Zealand. GNCC Racing is televised weekly on NBC Sports and RacerTV.com. For more information, please visit www.gnccracing.com.
About eMTB Racing
The Specialized Turbo eMTB GNCC National Championship brings off-road racing and pedal-assist or electric bicycles together for an eight-round championship produced by Racer Productions. Much like a typical cross-country racing event, these races feature varied terrain featuring hills, rocks, roots, and more but are limited to electric, or pedal assist model mountain bikes only. For more information, please visit www.gnccracing.com.
How to Watch
Racer TV and NBC Sports Network (NBCSN) are the official homes for coverage of the AMSOIL Grand National Cross Country (GNCC) events. All 13 rounds, from the season opening Big Buck GNCC in South Carolina to the finale at Ironman Raceway in Indiana, will air in 30-minue; taped-delayed telecasts on NBCSN, while Racer TV provides live streaming coverage of the 1 p.m. ATV and motorcycle races from each event. Catch all the action at http://www.nbcsports.com/ and http://www.racertv.com/.
About the American Motorcyclist Association
Founded in 1924, the AMA is a not-for-profit member-based association whose mission is to promote the motorcycle lifestyle and protect the future of motorcycling. As the world's largest motorcycling rights and event sanctioning organization, the AMA advocates for riders' interests at all levels of government and sanctions thousands of competition and recreational events every year. The AMA also provides money-saving discounts on products and services for its members. Through the AMA Motorcycle Hall of Fame in Pickerington, Ohio, the AMA honors the heroes and heritage of motorcycling. For more information, visit www.americanmotorcyclist.com. Not a member? Join the AMA today: www.americanmotorcyclist.com/membership/join.