KTM's Ben Kelley Crowned 2018 XC2 250 Pro Champion at Ironman GNCC Finale
Time
Tuesday, October 30, 2018 | 11:00 AM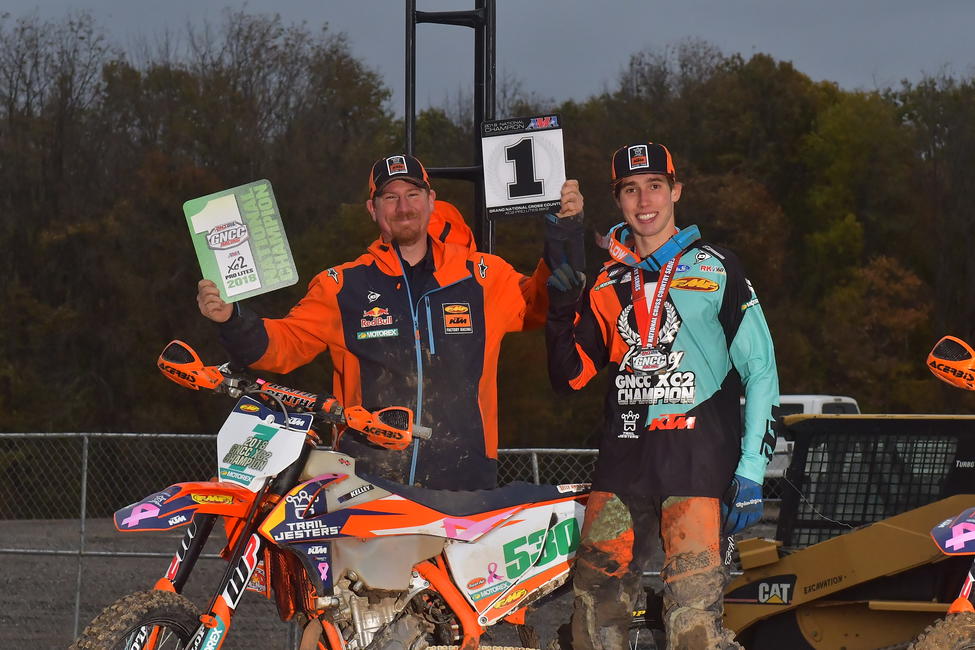 Round 13 (Finale) - GNCC Series - October 28, 2018
CRAWFORDSVILLE, Ind. – The 2018 AMA Grand National Cross Country (GNCC) Series finale delivered amazing results for the orange brand on Sunday with multiple winning performances from KTM's factory and support-riders. Highlighting KTM's achievements, Trail Jesters Racing KTM's Ben Kelley was crowned 2018 XC2 250 Pro Champion following an impressive and hard-fought second-place finish at the Ironman GNCC.
Additionally, KTM riders topped all three of GNCC's premier classes with Tely Energy Racing's Steward Baylor Jr. claiming the overall victory, FMF KTM Factory Racing's Josh Toth racing to his sixth XC2 win of the season and FMF/RPM/KTM Team Maxxis Racing's Jesse Ansley earning win number seven in the FMF 125 Pro-Am class.
XC2 250 Pro
The 2018 XC2 250 Pro Championship showcased an exciting season-long battle between KTM-mounted riders Toth and Kelley, who came into Sunday's finale with a 23-point difference for the title. While Kelley held a significant upper-hand in the points, he still had to complete three hours of tough racing before the title could be his. As for Toth, the defending class champion, he had nothing to lose and everything to gain as he battled for a win in what would serve as his final-career XC2 race before moving onto the front row in 2019.
As the green flag waived for the start of the XC2 race, it was Toth who powered his KTM 250 XC-F into the holeshot and early lead, with Kelley close in tow. The duo put on an early charge as they swapped the lead position through the XC1 field, and it wasn't long before they were in the running for an overall podium. While holding the XC2 lead, Kelley upped the pace even more to catapult himself into the overall lead on time adjustment. However, with two laps to go Kelley felt like his front tire was locking up and with the title on the line, he pulled into the KTM pit where the crew performed a quick tire change and he returned to the course in second-place.
Meanwhile, Toth reclaimed the XC2 lead and continued to charge on the adjusted timeclock, finishing over a minute ahead of Kelley for the class victory and also earning second overall against his 450cc competitors.
Kelley was able to maintain a steady pace on the final lap bring it home for his first-career XC2 Championship.
Kelley:"I'm pumped to wrap up the XC2 Championship, it means so much. It was a crazy year – Josh [Toth] and I were just battling back and forth the whole year, so it wasn't easy at all. I had to really work for it. I had a really good race, Josh and I got off to a good start and we were both pushing from the beginning. He was leading for a while and I was able to get around and put a little gap in. The second-to-last lap I felt like my front tire was locking up a little bit – it was probably just jammed up with mud – but I was nervous so I played it safe and pulled in had the boys rush and do a quick tire change. They did an awesome job and I was able to finish second on the podium still and get the championship so I'm really happy."
Toth:"Today went pretty good. We started off good, I got the holeshot and I think it's my first-ever, so it's about time! And this was my last XC2 race so that's good. Ben [Kelley] and I ran up front and charged again just like last race. We pushed into the XC1 riders and kept the pace going. So overall, it was a really good day.
It's been a crazy ride, it seems like just yesterday I started doing GNCCs in the XC2 class. It's flown by – this is my third GNCC season and I'm already going to XC1 next year. It seems like it's been a blink of an eye but it's been awesome and I'm looking forward to next season!"
Team Manager, Antti Kallonen: "Congratulations to Ben, he truly deserved it this year. I'm pleased to see how Ben's determination and hard work got awarded today. He progressed this year to become not only the XC2 Champion, but also a serious overall win contender. Again, I'm very pleased to continue with Ben next year to shoot for even bigger and better goals."
XC1 Open Pro
It was a great ending to the 2018 GNCC Season for Steward Baylor Jr., who captured his first victory of the season in Indiana. Baylor didn't get the best start but he powered his KTM 450 XC-F into third early on. While making his charge, Baylor ended up getting tangled in the woods with a few riders on the opening lap and he was forced to climb his way up from the last-place position. From there, Baylor worked his way through the pack once again to assume the lead on lap two and he never looked back finishing over a minute ahead of the second-place rider.
With a consistent string of finishes behind him this season, including four podiums, four top-five finishes and one victory, Baylor will finish third overall in the XC1 Open Pro Championship Standings.
FMF KTM Factory Racing's Kailub Russell missed the final GNCC round as he is recovering from a recent surgery to repair his left labrum. The six-time GNCC National Champion will also miss the upcoming FIM International Six Days Enduro (ISDE) in Chile, in which he was originally scheduled to represent the U.S. World Trophy Team.
Overall Results
Steward Baylor Jr., KTM
Josh Toth, KTM
Josh Strang, HQV
Trevor Bollinger, HON
Ben Kelley, KTM
XC1 Open Pro Results
Steward Baylor Jr., KTM
Josh Strang, HQV
Trevor Bollinger, HON
XC2 250 Pro Results
Ben Kelley, KTM
Josh Toth, KTM
Mike Witkowski, BET
Overall Championship Standings
Kailub Russell, 7 wins, 297 points
Thad DuVall, 4 wins, 262
Steward Baylor Jr., 1 win, 219
XC2 250 Pro Standings
Ben Kelley, 6 wins, 323 points
Josh Toth, 6 wins, 305
Craig DeLong, 199