Kayla Bolton
Time
Tuesday, October 9, 2018 | 11:40 AM
FOR IMMEDIATE RELEASE
(304) 284-0084
[email protected]
Easton Corbin and Davisson Brothers Band
to Perform at AMSOIL Ironman GNCC
MORGANTOWN, W.Va. (October 9, 2018) –The 2018 AMSOIL Grand National Cross Country (GNCC) Series, an AMA National Championship, is pleased to announce an exciting lineup of live musical entertainment presented by Monster Energy on October 26 and 27 at the AMSOIL Ironman GNCC in Crawfordsville, Indiana. The Davisson Brothers Band (DBB) will kick off the weekend on Friday at 8:30 p.m., followed by country music artist and ACA Award Winner, Easton Corbin at 9:30 p.m. on Saturday.
The Davisson Brothers Band have performed at various GNCC Racing events throughout the years, and have proven to be a fan favorite. They are hailed as Rolling Stone Country and have that classic musical foundation as they carry on their West Virginia roots. DBB just recently released their newest album, Fighter, representing their all-American fundamentals of family, self-determination and satisfaction in a job well done. Check out The Davisson Brothers Band's music like "Po' Boyz," "Jesse James" and "Get Down South" on their YouTube Channel.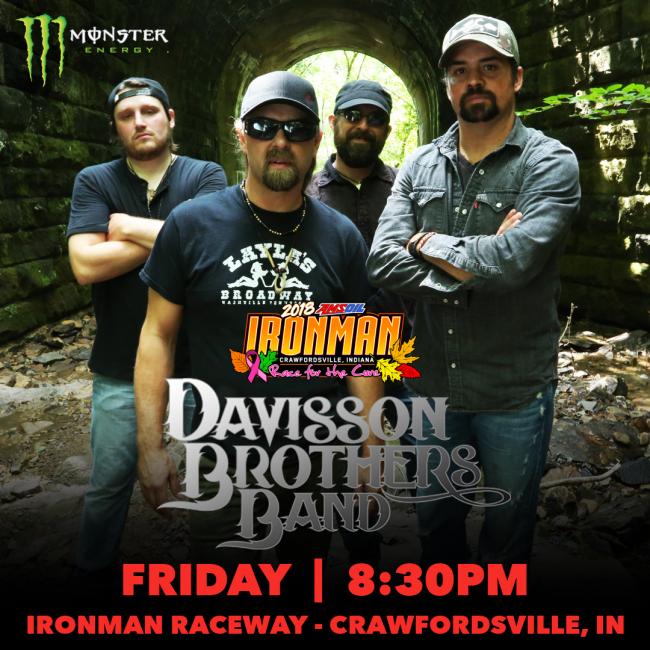 "What a way to cap off the season with these two great acts," said GNCC Event Director, Tim Cotter. "The Davisson Brother's is the unofficial band of GNCC and Easton Corbin's record speaks for itself. Monster Energy's vision to enhance the GNCC fan experience is going to be unbelievable."
With two number one singles, multiple awards and nominations, country music artist Easton Corbin is set to hit the stage Saturday night. Easton Corbin's back-to-back number one songs include "A Little More Country Than That" and "Roll With It" along with his top-five hits such as "Lovin' You Is Fun," "All Over The Road," and "A Girl Like You." Check out more music from East Corbin on his YouTube Channel. It is said that Easton Corbin has one of those rare, outstanding voices that was made for singing country music. Along with his number one hits, Corbin has earned multiple American Country Association Awards along with nominations in the Country Music Awards (CMAs) and Academy of Country Music Awards (ACMs).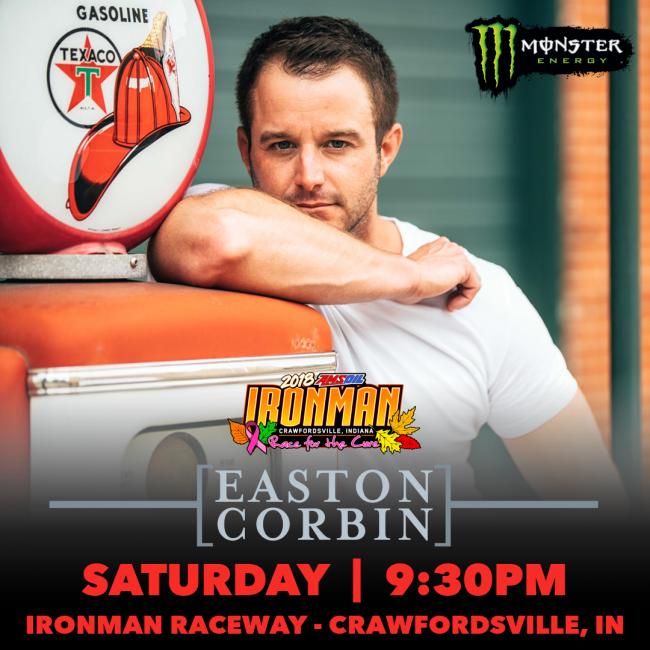 Admission to each performance is included in your weekend gate admission of $20 for adults and $10 for children (6-11), and kids five and under are free for the full weekend (Saturday through Sunday), with pro pit access and pro autographs at no additional charge.
For more information on the GNCC series, visit the official website at www.gnccracing.com or call (304) 284-0084. Join the conversation on the series social media channels, along with receiving the most up-to-date news and exclusive content.
About GNCC Racing
The AMSOIL Grand National Cross Country Series is America's premier off-road racing series. Founded in 1975, the 13-round championship is produced exclusively by Racer Productions. Cross-country racing is one of the most physically demanding sports in the world. The grueling three-hour GNCC races lead as many as 2,400 riders through tracks ranging in length from eight to 12 miles. With varied terrain, including hills, woods, mud, dirt, rocks and motocross sections, GNCC events are tests of both survival and speed. The series draws talent from all over the U.S., Central America, South America, Europe, Japan, Australia and New Zealand. GNCC Racing is televised weekly on NBC Sports and RacerTV.com. For more information, please visit www.gnccracing.com.
How to Watch
Racer TV and NBC Sports Network (NBCSN) are the official homes for coverage of the AMSOIL Grand National Cross Country (GNCC) events. All 13 rounds, from the season opening Big Buck GNCC in South Carolina to the finale at Ironman Raceway in Indiana, will air in 30-minue; taped-delayed telecasts on NBCSN, while Racer TV provides live streaming coverage of the 1 p.m. ATV and motorcycle races from each event, in addition to the six UTV rounds. Catch all the action at http://www.nbcsports.com/ and http://www.racertv.com/.
About the American Motorcyclist Association
Founded in 1924, the AMA is a not-for-profit member-based association whose mission is to promote the motorcycle lifestyle and protect the future of motorcycling. As the world's largest motorcycling rights and event sanctioning organization, the AMA advocates for riders' interests at all levels of government and sanctions thousands of competition and recreational events every year. The AMA also provides money-saving discounts on products and services for its members. Through the AMA Motorcycle Hall of Fame in Pickerington, Ohio, the AMA honors the heroes and heritage of motorcycling. For more information, visit www.americanmotorcyclist.com. Not a member? Join the AMA today: www.americanmotorcyclist.com/membership/join.
About Easton Corbin
With two No. 1 singles, four Top 5 singles, multiple awards and nominations, performances on some of the biggest stages in the world, and a spot on one of the biggest tours in country music, Carrie Underwood's 2016 The Storyteller Tour, Easton Corbin has made a lasting impression on the country music landscape. He is lauded for his traditional country sound, authentic lyrics and mastery of understatement. American Songwriter says, "Easton Corbin has one of those rare, glorious voices that was made—just made—for singing country music." Easton is known for his signature hits including "A Little More Country Than That," "Roll With It," "Lovin' You Is Fun," and "Baby Be My Love Song" from his No. 1 debuting album About To Get Real, and his emotional "Are You With Me" was the most added song at radio the day it was released.
Corbin's latest Top 5 single "A Girl Like You" garnered rave reviews. Taste of Country picked it as a Critics Pick saying, "It takes a fraction of a second to know Easton Corbin is on to something different with 'A Girl Like You.'"
Corbin is currently in the studio finishing new music for his fourth studio album.