Kayla Bolton
Wednesday, June 20, 2018 | 10:20 AM
FOR IMMEDIATE RELEASE
(304) 284-0084
[email protected]
AMSOIL GNCC Racing Returns to Snowshoe Mountain Resort Saturday, June 23
Fowler Looks to Earn Sixth Overall Win at 12th Annual AMSOIL Snowshoe GNCC
MORGANTOWN, W.Va. (June 20, 2018) – This Saturday, June 23, the world's fastest off-road ATV racers will take to Snowshoe Mountain for the 12th Annual AMSOIL Snowshoe GNCC. Shaped after the famed Blackwater 100 race, the Snowshoe GNCC in West Virginia is known as one of the most challenging races on the circuit. This year it serves as the ninth round of the 2018 AMSOIL Grand National Cross Country (GNCC) Series, an AMA National Championship.
WFR/GBC/Fly Racing/Yamaha's Walker Fowler is heading into this weekend's race after earning his fifth win of the season just two weeks ago in New York. Fowler continues to lead the way in the National Championship standings, and he is once again looking to conquer the mountain like he did at last year's event. However, anything is possible in GNCC Racing, and Fowler knows that all too well also as he has only managed to earn the overall win twice at Snowshoe.
Sitting 35 points behind Fowler in second is Bneal Motorsports/CST Tires/Houser Racing's Brycen Neal. Neal, who earned his first-ever win at round three this year, has managed to finish inside the top five at every round thus far in the season. Neal is aiming to earn his second overall win this Saturday atop the Snowshoe Mountain Resort.
JMR/ATVriders.com/Maxxis' Jarrod McClure has some good memories from Snowshoe, this is where he took his first overall win back in 2015. Now as we head into round nine of the 2018 season McClure has already earned an overall win, and a string of top-three and top-five finishes. McClure currently sits third in the National Championship standings, but he will have his eyes set on the middle of the podium as he looks to repeat his success.
After finishing second at the past three events, Maxxis/Fly Racing/Ye Olde Cycle Barn's Chris Borich comes into this weekend ready to battle for his first overall win of the season. Borich, who holds the lead for most ATV Overall Wins at 73, has only been victorious once at the Snowshoe GNCC. However, Borich knows what it takes to be on top and he is hungry for his 74th overall win.
Since taking time off to fully heal from his injuries, AmPro Yamaha's Cole Richardson sits fifth in the National Championship standings as we make our way to the final round before the GNCC Summer Break. Richardson landed on the podium earlier in the season and is looking to battle at the front of the pack once again for a podium finish this Saturday afternoon.
McGill Mafia/CST Tires/Moose Racing's Adam McGill is no stranger to the center of the podium at Snowshoe, considering he has won the event four times. McGill is a West Virginia native; therefore, he will be competing on his home turf hoping to utilize that as an advantage and earn his fifth Snowshoe overall win.
XC1 Pro Rookie M.R. Unlimited/GBC Tires/RJR's Devon Feehan sits seventh in points heading into this weekend's race at Snowshoe. Spider Graphix/GBC Motorsports/Moose Racing's Marty Christofferson holds onto the eighth place position, and is looking to improve his standings and finish inside the top ten this weekend. GBC Motorsports/RJR/Solo Pilot's Westley Wolfe is currently ninth in points, just four points behind Christofferson. Wolfe will be aiming to find himself inside the top five on Saturday and earn valuable championship points.
Current XC2 Pro-Am points leader Maxxis/Ithaca Recreation Sports/Fly Racing's Hunter Hart sits in the 10th overall position and has earned five class wins in a row. After only making one lap last year, Hart comes into this weekend looking for redemption. Demaree Motorsports/LSR/Fly Racing's Austin Abney is looking to earn his second XC2 Pro-Am class win of the season this weekend, as he sits just 40 points behind Hart. Coastal Racing/Waynesburg Yamaha's Drew Landers rounds out the top three in the XC2 Pro-Am class; however, he is still without a class win this season. Landers will be looking to battle at the front of his class for his first win.
Four-wheeled ATVs will compete throughout the day on Saturday, June 23. Youth ATV racing begins at 8 a.m., followed by amateurs, 4x4 Pro and Women at 10 a.m., and the top amateurs and pros race at 1 p.m.
This event will also play host to GNCC's second Fantic eMTB race on Friday, June 22 at 6 p.m. Fantic eMTB Racing will feature 7 classes, with no pre-qualifying: Pro, Schoolboy (12-18), Junior (19-29), Vet (30-39), Senior (40-49), Masters (50+) and Women. Class 1 Pedal Assist Bicycles with a motor powered speed of 20 mph and motor wattage of <=750 watts eligible only. Bicycle helmet and eye protection are required.
Local racers expected to compete Saturday on ATVs will be: Jared Little (Vet B 30+), Bryan W. Buckhannon (4x4 B), John Rogers (4x4 B), Dustin Atkinson (College A 16-21), Adam McGill (XC1 Pro), Jon Barker (Masters 50+), Alan Blavos (Junior B 22+), Tanner Bowles (4x4 Pro) and Tyler Cox (90 8-12).
All local riders are invited and encouraged to compete in the event, as GNCC Racing offers classes for riders of all skill and experience levels. The amateur race entry fee is $50, and riders can sign up at the track or pre-enter. To learn more about GNCC Racing, refer to the GNCC 101 webpage.
Adult (12+) gate admission is $25 for the full weekend and $15 for kids (6-11), with kids five and under free for the full weekend. Gate admission includes pro pit access and pro autographs at no additional charge in addition to a free ski lift ticket, so fans can enjoy the race action below as they glide through the sky.
For a complete schedule of the weekend's activities including live music, a graduation commencement, mountain biking and more, please visit the AMSOIL Snowshoe GNCC event page on the series website by clicking HERE.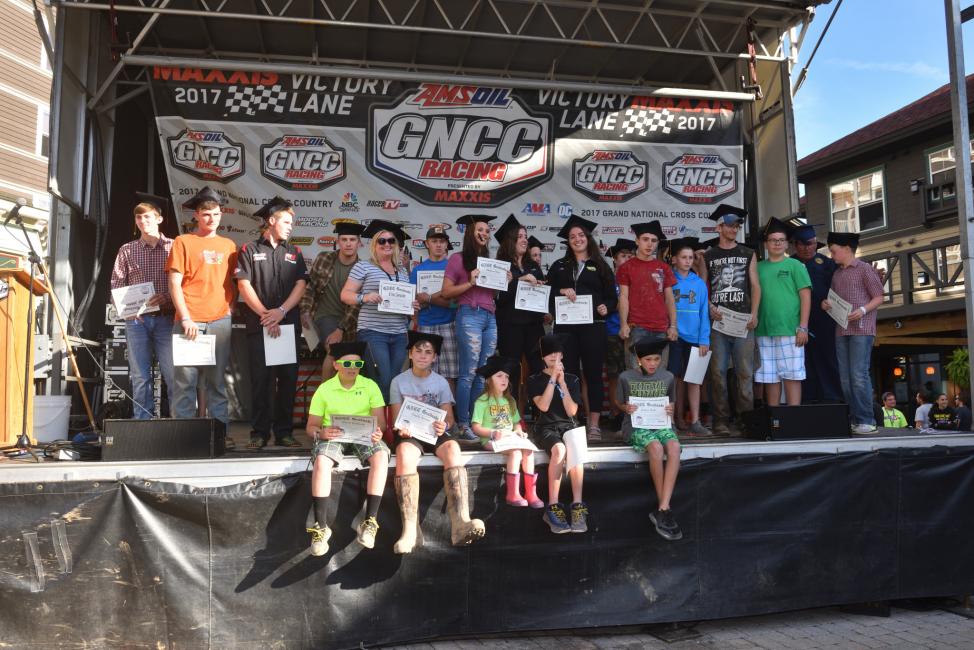 The 1 p.m. pro races will be broadcast LIVE on the Internet via RacerTV on www.racertv.com both days. A highlight show featuring the event will air on NBC Sports Network on Saturday, July 28 at 1 p.m. ET.
For more information on the GNCC series, visit the official website at www.gnccracing.com or call (304) 284-0084. Join the conversation on the series Facebook page, follow us on Twitter and Instagram, and be sure to always hashtag #GNCC.
Previous Round Results and Points Standings
Dunlop Tomahawk
Odessa, New York
Round 8 of 13
Saturday, June 9
XC1 Pro Event Results:
Walker Fowler (YAM)
Chris Borich (SUZ)
Brycen Neal (YAM)
Jarrod McClure (HON)
Cole Richardson (YAM)
Adam McGill (HON)
Devon Feehan (HON)
Cody Collier (YAM)
Westley Wolfe (SUZ)
Martin Christofferson
*Overall National Championship Standings:
Walker Fowler (205)
Brycen Neal (170)
Jarrod McClure (167)
Chris Borich (155)
Cole Richardson (119)
Adam McGill (117)
Devon Feehan (92)
Marty Christofferson (86)
Westley Wolfe (82)
Hunter Hart (75)
*Indicates that the Overall National Championship Standings will determine the 2018 National Champion.
XC2 Pro-Am Event Results:
Hunter Hart (YAM)
Drew Landers (YAM)
Austin Abney (HON)
Ben Kowalewski (HON)
Tanner Walker (HON)
Brody Livengood (YAM)
Nicholas Royalty (HON)
Zachary Dean (YAM)
Charles Dunn (HON)
Devin Masters (SUZ)
XC2 Pro-Am Series Standings:
Hunter Hart (196)
Austin Abney (156)
Drew Landers (152)
John Glauda Jr. (138)
Ben Kowalewski (125)
Matthew Lindle (117)
Tanner Walker (107)
Brody Livengood (92)
Kenny Shick (89)
Steven Covert (84)
About GNCC Racing
The AMSOIL Grand National Cross Country Series is America's premier off-road racing series. Founded in 1975, the 13-round championship is produced exclusively by Racer Productions. Cross-country racing is one of the most physically demanding sports in the world. The grueling three-hour GNCC races lead as many as 2,400 riders through tracks ranging in length from eight to 12 miles. With varied terrain, including hills, woods, mud, dirt, rocks and motocross sections, GNCC events are tests of both survival and speed. The series draws talent from all over the U.S., Central America, South America, Europe, Japan, Australia and New Zealand. GNCC Racing is televised weekly on NBC Sports and RacerTV.com. For more information, please visit www.gnccracing.com.
How to Watch
Racer TV and NBC Sports Network (NBCSN) are the official homes for coverage of the AMSOIL Grand National Cross Country (GNCC) events. All 13 rounds, from the season opening Big Buck GNCC in South Carolina to the finale at Ironman Raceway in Indiana, will air in 30-minue; taped-delayed telecasts on NBCSN, while Racer TV provides live streaming coverage of the 1 p.m. ATV and motorcycle races from each event, in addition to the six UTV rounds. Catch all the action at http://www.nbcsports.com/ and http://www.racertv.com/.
About the American Motorcyclist Association
Founded in 1924, the AMA is a not-for-profit member-based association whose mission is to promote the motorcycle lifestyle and protect the future of motorcycling. As the world's largest motorcycling rights and event sanctioning organization, the AMA advocates for riders' interests at all levels of government and sanctions thousands of competition and recreational events every year. The AMA also provides money-saving discounts on products and services for its members. Through the AMA Motorcycle Hall of Fame in Pickerington, Ohio, the AMA honors the heroes and heritage of motorcycling. For more information, visit www.americanmotorcyclist.com. Not a member? Join the AMA today: www.americanmotorcyclist.com/membership/join.