FMF KTM Factory Racing Team Proves to be Unstoppable at the X-Factor GNCC
Time
Monday, May 14, 2018 | 11:35 AM
Kailub Russell and Josh Toth Emerge Victorious at Round 6
Round 6 - GNCC Series - May 13, 2018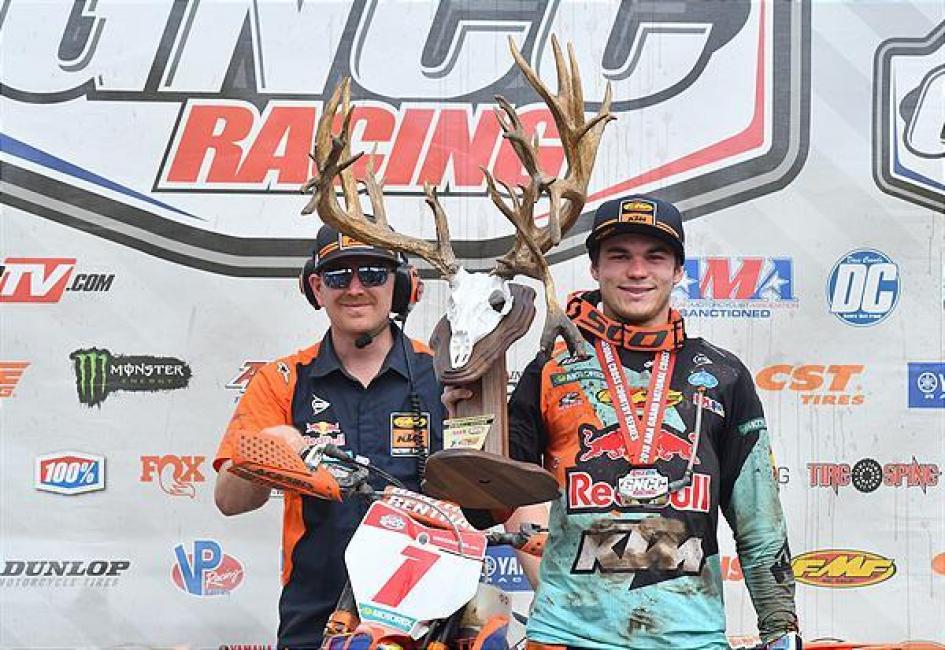 PERU, Ind. – The FMF KTM Factory Racing Team put forth a dominant performance on Sunday for Round 6 of the AMA Grand National Cross Country (GNCC) Series in Peru, Indiana. Factory teammates Kailub Russell and Josh Toth once again swept the XC1 Open Pro and XC2 250 Pro classes, respectively, as they each extended their win-streak to two-in-a-row after a grueling three-hours at the X-Factor GNCC.
XC1 Open Pro
When the green flag waved for the start of the XC1 race, Russell shot off the line to capture a top-three position aboard his KTM 350 XC-F. He made a quick move into second, where he chased Tely Energy Racing KTM's Steward Baylor Jr. for the lead position early on. On lap three, Steward ran into an issue and Russell capitalized, taking over the lead position with a clear trail ahead. However, Russell soon began to hit lapped-traffic and the battle for second-place caught up to him, creating a three-way battle the lead. Russell briefly lost the lead on lap four but he quickly re-claimed the position and never looked back, finishing strong to secure his fifth victory of the season.
Russell: "It was pretty brutal, the fields were super dusty and the woods had a lot of moisture, which made it really slick out there. It was good for about the first four laps but after that, it just kind of slicked off. It was physically and mentally demanding – it was hard to stay focused on the last lap – but I just tried to hold it there and not push too hard."
Tely Energy Racing KTM's Grant Baylor secured his best GNCC finish of the season with third overall, just ahead of his teammate and brother Steward, who finished fourth after leading the opening laps of the race.
XC2 250 Pro
FMF KTM Factory Racing's Josh Toth continues to put his season back on-track after a hand injury put a dent in his championship hopes earlier in the season. Coming off his second win at the last round, Toth came entered the X-Factor GNCC with confidence behind him and he kept that ball rolling into the start of the XC2 race. Toth grabbed a top-five position off the start and worked his KTM 250 XC-F into the lead on lap one. He spent the next two laps swapping the lead position with another rider but he established a solid position out front by lap four and he maintained that for the remainder of the seven-lap race.
Toth: "I'm really happy to put it in the center of the podium for the second-straight round. Things are starting to turn around for us this season and we're looking to get some more wins and close the points gap before we head into the summer break."
Trail Jesters KTM Racing's Ben Kelley had his work cut out for him on Sunday after getting a start outside the top-20. Kelley struggled to make his way through the pack of riders and extreme dust but he managed to work his way inside the top-ten by the end of the opening lap. Kelley didn't stop charging as he reached podium contention by the halfway point and into second with three laps to go. He made one last push to reel in Toth with two laps remaining, where he finished only nine seconds back for the second-place position.
After six rounds, it's Kelley who still holds the championship lead with three wins behind him, while Toth sits within striking distance in second, with three wins under his belt as well.
Round 7: May 27 – Millfield, Ohio
XC1 Open Pro Results
Kailub Russell, KTM
Thad DuVall, HQV
Grant Baylor, KTM
Steward Baylor Jr., KTM
Trevor Bollinger, HON
Overall Championship Standings
Kailub Russell, 5 wins, 175 points
Thad DuVall, 1 win, 151
Steward Baylor Jr., 117
XC2 250 Pro Results
Josh Toth, KTM
Ben Kelley, KTM
Craig DeLong, HQV
XC2 250 Pro Standings
Ben Kelley, 3 wins, 165 points
Josh Toth, 3 wins, 140
Pascal Rauchenecker, 112