Jared Bolton
Time
Thursday, April 12, 2018 | 1:30 PM
AMSOIL is proud to be the title sponsor of the GNCC Racing series for the past 7 years. New for 2019, AMSOIL is partnering with the series to bring a GNCC AMSOIL Moto Hero to each and every round. Racers, Fans, and Industry Personnel are welcome to nominate themselves or someone they know who are currently serving in the military, retired from the military, are a first responder or former first responder for this prestigious honor.
Welcome to Quick Fill.
Wow, what a weekend! We've talked time and time again about how Steele Creek stands out as one of the most exciting and interesting GNCC events of the season and this year was no different. We saw two different riders earn their first overall wins of the season but both were hard fought battles down to the wire. We were faced with some less than ideal weather conditions at times throughout the weekend, but by the end things had taken a turn for the best and we ended up with a great weekend of GNCC Racing.
Now we get ready to turn our attention to the final southern round of the season with the Camp Coker Bullet GNCC in Society Hill, South Carolina. If you're on the fence about attending this event or have not attended it in the past, well, get your stuff ready and head down because this is an amazing facility. Moree's Sportsman's Preserve plays host to this round and while GNCC Racing is still a fairly new addition here, the property is no stranger to racing as the Camp Coker Motocross facility was located on this property and was a pretty popular track through the 90s and early 2000s.
Of course, when they ended racing at Camp Coker they didn't tear the track down. It's still there and it's incorporated to the GNCC course. Even for riders who aren't big fans of airtime, the motocross portion of the Camp Coker Bullet course is a popular section as it's a little more old school, flows really well with a couple of big berms and has no "big" jumps. Of course, there is a lot more to the course than that. The woods here are a lot of fun. They tend to be a little tighter than some of the other tracks and there's enough property available to find some areas where the bikes and ATVs run different sections of the course.
There are also a couple of big grass track sections that not only allow for passing, but they're a lot of fun to ride as well. Another thing that makes Camp Coker fun is the sand. This isn't deep, rough sand like what we see down in Florida. This has more of a black dirt mix to it that still gets rough by the end of the race, but nothing like we see down in Florida.
However, the fun course isn't the only thing that makes Camp Coker such a great event. There are multiple ponds around the property that are good for fishing and there's a big pond by the motocross track that is perfect for swimming and it even has a rope swing ready for action. So if you've never attended the Camp Coker Bullet, don't miss out! This is a great event and traditionally temperatures begin to hit the upper 70s in that area this time of the year, so that pond will be looking good to anyone ready to take a break from the heat.
We're pleased to announce that our friends at Monster Energy also have something special for the Camp Coker Bullet. They're bringing high quality entertainment to the facility, as The New Black 7 will take to the stage for a special Saturday night concert. These guys are a good mix of country, southern rock and have a classic rock vibe all rolled into one, so they should have a little something for everyone. As usual, this is included as part of your regular weekend GNCC admission, so don't miss out because it's going to be a good time!
That's going to do it for this week's intro. We hope you enjoy this week's Quick Fill goodies and we'll see you in South Carolina!
Catching Up With Ken (Ken Hill)
I mentioned in last week's Quick Fill that Steele Creek has a tendency to throw a wrench in your best plans and I was correct as we saw two new winners grace the center of the podium in both pro races. Lappers, limited passing and an incredible turn out all have a way of making things interesting here along with the weather, which showed us such a mix of conditions that preparing for it was difficult.
The slick conditions Saturday afternoon set the stage for a great battle to form late in the race as Walker Fowler, Adam McGill and Cole Richardson had become entangled in a last lap run to the checkered flag. This battle had everyone surrounding the finish line and listening to the play by play over the speakers as they finally came in to sight with just a few turns to go. McGill had the lead but one mistake could have easily handed Richardson his first XC1 Pro win. The action was that close and all three badly wanted to win. The racing was fairly clean. Some bumping and rubbing in these conditions can be expected and it sure put on quite the show for the fans lined up cheering on their favorite racer. When the roost settled, Adam McGill had claimed his first win of the 2018 season.
McGill's win was well earned and the RacerTV crew caught the pass for the lead as Fowler and Richardson sat hung up at the bottom of a slick hill. With one hard charge, McGill scooted past the two Yamaha riders and overtook the lead, which he was able to hold to the finish. The race itself had been shortened slightly and one has to wonder what would have happened if they had to go out for one more lap. The podium celebration was typical; full of laughs and fun and the chaos that McGill brings when he is ready to get the fans fired up for some free swag. His win is now written into the history books and it's on to the next round.
For Cole Richardson, his return to the top of the XC1 ranks has been a long and hard journey. After surgery almost a year to the day, Richardson had watched from the sidelines as he healed and dealt with the emotions that come from a gladiator in the stands watching instead of in the pit fighting for his own glory. No one, not Cole or even his family knew if he could rebound and get back to being able to compete at the highest level with the fastest off-road racers in the world. I think that question has been answered and now we have to watch how things play out in upcoming rounds to see if he can remain in podium contention. Cole was very proud of his result and this finish should help him move beyond the demons that he has been fighting on the sidelines and allow him to focus on a win.
Walker Fowler, on the other hand, was quite disappointed in himself as he pulled off his helmet and accepted his third place finish. A champion doesn't like settling for anything other than being a victor and Fowler is no exception. The pressure they apply to themselves is immense and anything but outright success is viewed as defeat, at least in the minutes following a two-hour race. This marks the second race in a row that Fowler has fallen from grace and not been center stage on the box, so he has some right to beat himself up. However, he should be able to rebound and get back to his winning ways, as that's what champions do. By the time the podium celebration had started, Fowler was enjoying himself and was quick to put his performance behind him although the majority felt he had not let them down and were eager to show him tons of love.
The weekend itself was about as good as it could have been given the changing weather. Most folks I chatted with were happy, excited and generally happy to be racing instead of home where many got more snow and ice over the weekend. The food court stayed packed all weekend and there was no shortage of good times in just about every pit I visited. I do want to extend a hearty "get well soon" to WXC racer Alicia McCormick who took a nasty spill that had her becoming the inaugural patient on the newly acquired Kurt Caselli Foundation rescue rig. Knowing Alicia, she probably found some way to see the positive, as she was first at something if she couldn't battle for the actual race win! Heal up soon, the WXC class won't be the same without you!
That is about it from me this week. Currently, I'm sitting in the shade at a Flying J just outside Texarkana, Texas drinking coffee number two and knocking this contribution out. I want to thank all those who offered me help or the willingness to take a try at knocking out my bum tooth that made the weekend very miserable for myself. The antibiotics are working and I'm feeling human again so thanks for the concerns. This weekend's ATVMX event at Underground MX in Kemp, Texas is where I'm headed before I turn the good ship Dodge east and rejoin you all for the Camp Coker Bullet. As always, be safe in all you do and may God bless you all!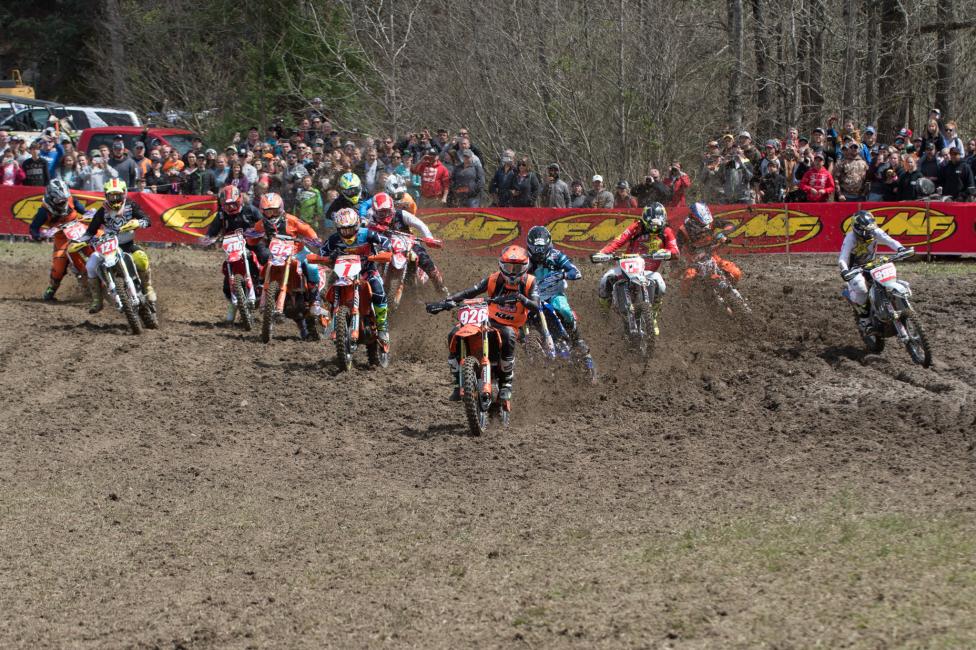 What a Race! (Jared Bolton)
By now all the excitement from Steele Creek has began to settle down a bit and it makes for a good time to take a look back at the past weekend's race. Ken gave a little run down on the ATV side, so I figured I would talk a little bit about the bike race because there's no doubt that those guys put on a great show. It would be a similar story to the previous three rounds, but things would be a bit different in the end.
In the previous rounds, Kailub Russell and Thad Duvall have both taken a slow approach to the beginning of the races while guys like Steward Baylor and Trevor Bollinger have charged to the front early. Steele Creek would see a different scenario, as both Kailub Russell and Thad Duvall would pull away from the field in the early stages of the race. In fact, those guys would be over a minute ahead of third place at the end of the second lap! A number of factors could contribute to this. One, or both of those guys could've decided to change the strategy and push early, or they were both just really enjoying the good dirt that had developed and were focused on having fun.
Regardless, those guys were riding really well all throughout the race and they swapped the lead a number of times. Russell had taken the lead back when the white flag flew, but an encounter with a slower rider would cause Kailub to check up for just a second and gave Thad the opportunity to make a pass for the lead. He was able to hold that lead to the finish line, even with Kailub making a last second push to take the win.
Also interesting to me was Kailub's reaction after the finish. In the past, KR has not been afraid to say that he hates losing more than he enjoys winning, and there were times in the past where Kailub may have let his frustration show at the finish. However, a different Kailub crossed that finish line and with a smile on his face he congratulated Thad on a good ride as they came off the track. This is pretty cool to see and that's the type of finish a fan wants to see. There's nothing cooler than two guys battling back and forth all day, then letting each other know the other one rode a great race. That's called "sportsmanship" and sportsmanship at the top tier level of the sport is just flat out great to see from a fan's perspective.
Of course, they great performance out of these riders shouldn't take anything away from the rest of the pack. Trevor Bollinger put in a great ride in front of his hometown crowd to come away with his first-ever XC1 class podium. This leaves you to wonder what Trevor can accomplish moving forward. Now that he's put together that first podium performance, future ones should come much easier and you can't help put wonder if an overall win is in Trevor's near future. It's not impossible!
Steward Baylor was admittedly a little disappointed in his fourth place XC1 finish, but that's nothing to scoff at. While it may not be a podium finish, this is still a good consistent finish for Stu who currently sits third place in the overall series points. Josh Strang also had a good day, finishing fifth place in the XC1 class and seventh overall. For the 2010 champ, this is still certainly not where he wants to be but he's on a good, consistent return towards the front of the pack.
As for the XC2 class, well it was a pretty interesting race for those guys as well. Ben Kelley would ride to his third consecutive win and finish an impressive fourth place overall. This would be key in his hunt for the XC2 class championship as he's now been able to pull out a 27-point lead. Defending XC2 champ Josh Toth would return to the podium in second place after a disappointing ride in Georgia left him scoring no points. Also consistent this season is Pascal Rauchenecker, who took another third place finish making him and Kelley the only riders to finish on the XC2 podium in all four rounds thus far.
In the FMF XC3 class, Jesse Ansley would become the first repeat winner of the season after a hard-fought race. There would be four different riders to lead laps in the XC3 class with Jason Raines taking the early lead before a couple of crashes would set him back and eventually end his day early. From there, Jason Langenbeck would take the lead for a couple of laps until Chris Venditti would take the lead for a bit before Ansley holding the lead to the end. Venditti would finish second while Alex Teagarden would work his way through the pack, coming from as far back as eighth place to round out the podium in third.
Overall, this proved to be one of the most exciting Steele Creek events in several years. The amount of lead changes in multiple classes made for an action-packed day of racing on Sunday and even though some rain throughout the weekend made for challenging conditions early, the course came around by the 1pm race and the dirt ended up being almost perfect. Hopefully this close racing is a sign of things to come in the following rounds. Stay tuned!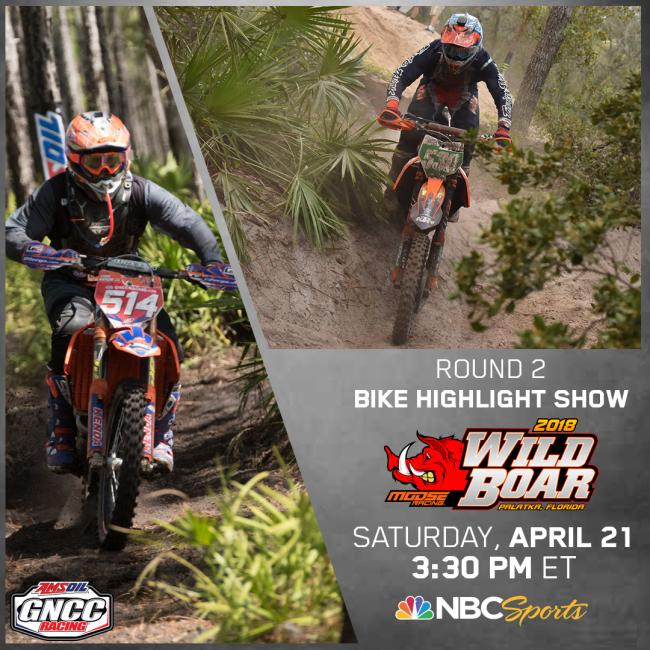 GNCC on NBCSN April 21
Don't miss out on the Wild Boar bike highlight show because you're coming to Camp Coker, make sure you set your DVR before you leave!
The Wild Boar bike highlight show is on NBCSN and will broadcast April 21, at 3:30 p.m. EST.
2018 NBCSN Broadcast Schedule
| | | | | |
| --- | --- | --- | --- | --- |
| Rd | Premiere Date | Time | Event | Location |
| 2 | April 21 | 03:30 PM | Wild Boar | Palatka, FL |
| 3 | May 6 | 05:00 PM | The General | Washington, GA |
| 4 | May 26 | 02:30 PM | Steele Creek | Morganton, NC |
| 5 | June 3 | 03:00 PM | Camp Coker Bullet | Society Hill, SC |
| 6 | June 9 | 06:00 PM | X-Factor | Peru, IN |
| 7 | June 23 | 06:00 PM | The John Penton | Millfield, OH |
| 8 | July 8 | 06:00 PM | Tomahawk | Odessa, NY |
| 9 | July 28 | 01:00 PM | Snowshoe | Snowshoe, WV |
| 10 | November 10 | 03:00 PM | Black Sky | Harpursville, NY |
| 11 | November 11 | 03:00 PM | Mason-Dixon | Mount Morris, PA |
| 12 | November 18 | 01:30 PM | Powerline Park | St. Clairsville, OH |
| 13 | November 25 | 05:30 PM | Ironman | Crawfordsville, IN |