KR4/Husqvarna Team Report: Steele Creek GNCC
Time
Tuesday, April 10, 2018 | 11:40 AM
After two weeks without racing, the KR4/Husqvarna team loaded up the trailers and headed to the picturesque North Carolina mountains for round 4 of the AMSOIL Grand National Cross Country (GNCC) series - the FMF Steele Creek GNCC.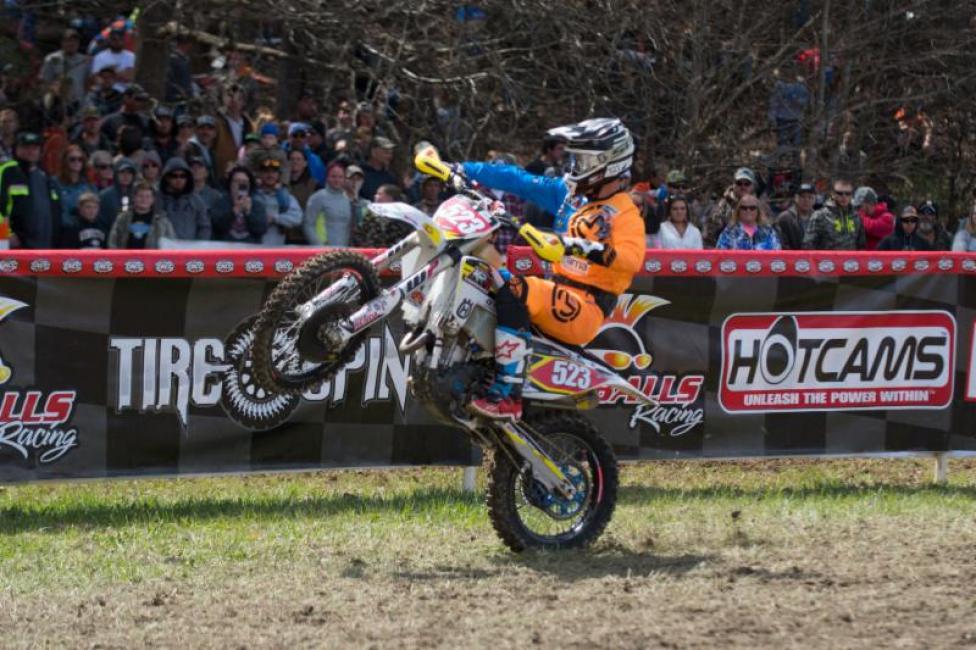 The Steele Creek GNCC is one of the longest running races on the 13-round circuit, and once you arrive it's no surprise why. The landscape is absolutely breathtaking and features just about every obstacle that a GNCC is known for such as steep uphills and downhills, creek crossing and fun features. This weekend even came with the added bonus of rain in the days leading up to the event, which created some rough trails for the bikes on Sunday.
With a plethora of local riders, the AMSOIL Garage was a huge hit! The knowledgeable KR4 mechanics were able to assist riders with changing their oil, bleeding their brakes, and more. The ODI grips nearly flew off the shelves!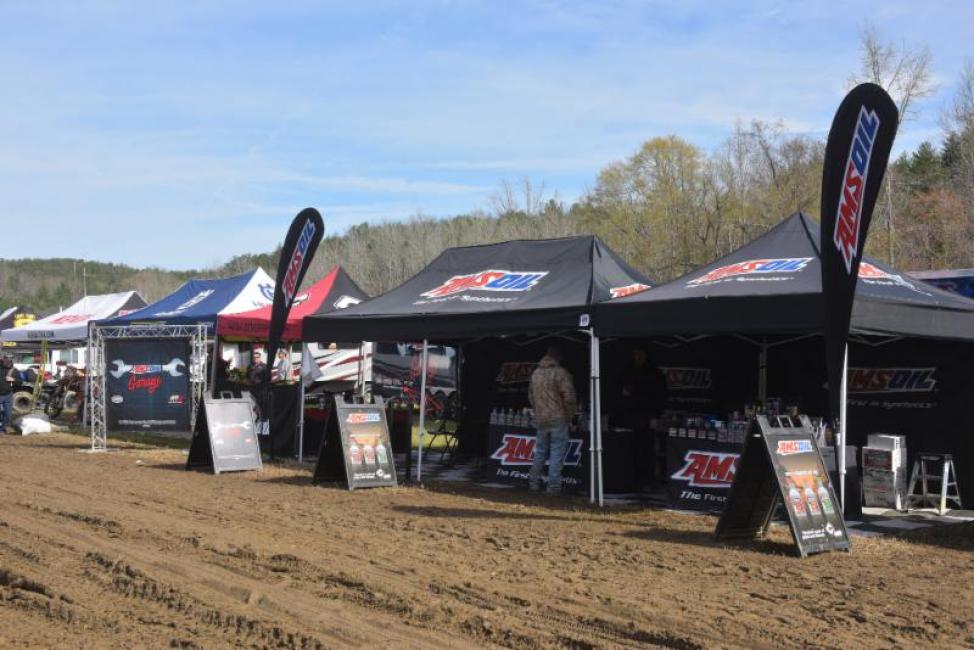 When it came time to race, the starts were delayed due to technical problems with scoring. Once finally underway, the KR4/Husqvarna team had another strong showing with seven top-ten finishes.
Tayla Jones started the two-hour race in her normal fashion checking through timing and and scoring in the lead on lap one, but unfortunately got stuck and then spent the rest of the race working her way through the many lapped riders to finish second in the Women's premier class. Bill Gold backed up his last performance with another win in the Silver Masters A (55+) class. Both Jones and Gold continue to lead the points chase in their classes. KR4 National Enduro racer, Maximo Gutierrez made the trip from Texas to compete in this first GNCC event of the year where he rounded out the 200 C Schoolboy (12-15) class podium in third.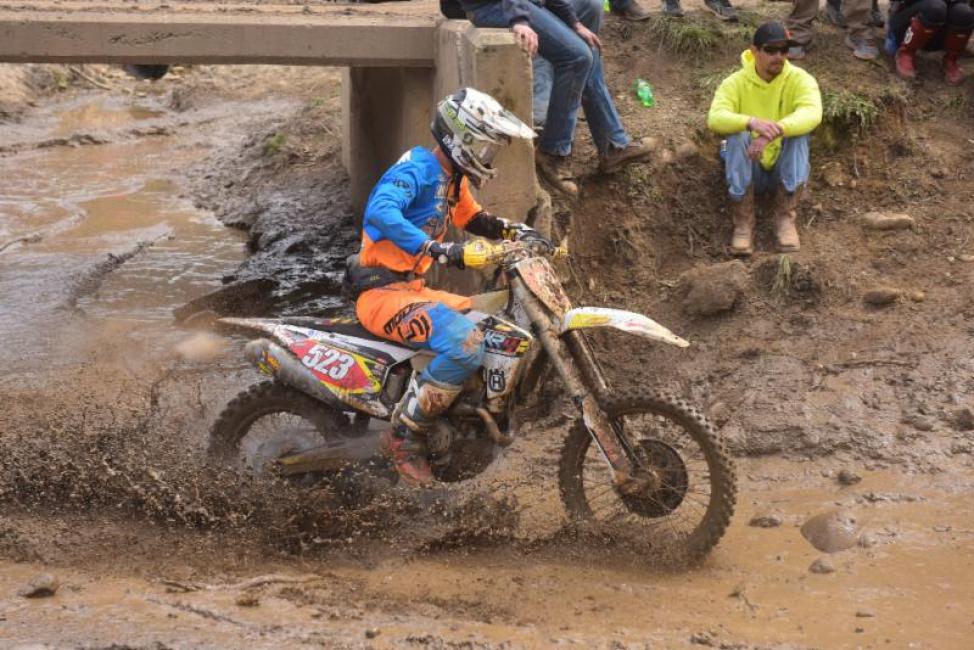 Layne Michael and Cory Buttrick were able to battle back and forth with each other during the first half of the race, until Michael settled into seventh place. Michael bent his front brake system on the white flag lap, but remained calm and finsihed the race in seventh, with Butttrick following in ninth.
The New Zealand rockstar, Liam Draper, had his best finish of his career in the XC2 250 Pro division. Draper raced his way to the finish in fifth, which resulted in an impressive 14th overall. Colin Keegan ended the day in 12th on his FC125 in the FMF XC3 125 Pro-Am class.
Brandon and Conner Keegan duked it out in the 4-Stroke A Lites class. Conner placed seventh, while Brandon crossed the line in 16th.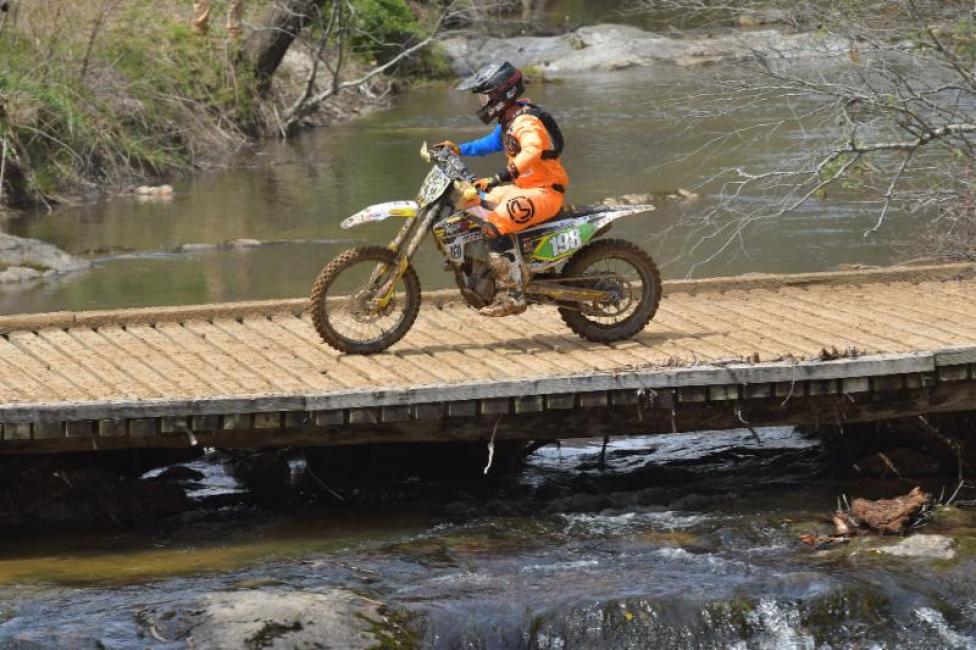 KR4 Performance Team 1 p.m. Race Results:
Layne Michael – XC1 Open Pro – 7th (9th overall)
Cory Buttrick – XC1 Open Pro – 9th (12th overall)
Liam Draper – XC2 250 Pro – 5th (14th overall)
Colin Keegan – FMF XC3 125 Pro-Am – 12th (101st overall)
Conner Keegan – 4-Stroke A Lites – 7th (78th overall)
Brandon Keegan – 4-Stroke A Lites – 16th (116th overall)
KR4 Performance Team 10 a.m. Race Results:
Tayla Jones – WXC – 2nd (2nd overall)
Bill Gold – Silver Masters A (55+) – 1st (46th overall)
Maximo Gutierrez – 200 C Schoolboy (12-15) – 3rd (114th overall)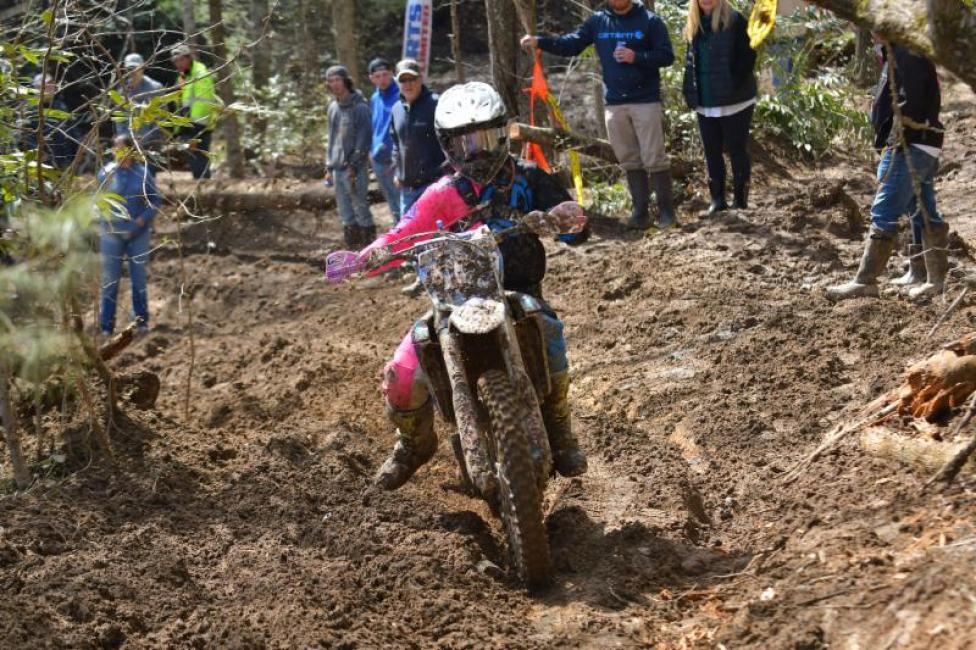 **All photos courtesy of Ken Hill
The KR4 team will travel to Lynnville, Indiana this weekend for the third round of the Kenda AMA National Enduro series. GNCC Racing will resume in two weeks with the Camp Coker Bullet GNCC in Society Hill, South Carolina.
Next GNCC Event: Round 5 – Society Hill, SC – April 22, 2018
KR4/Husqvarna Team Sponsors:
Husqvarna, Kenda Tire, Moose Racing, AMSOIL, Enduro Engineering, GTR Complex, FMF Racing, Schulz Cycle, Seat Concepts, P3 Carbon, Wiseco Performance Products, ProX Racing Parts, Engine Ice, ODI Bars & Grips, IMS Products, Alco Cleaners, G2 Ergonomics, Twin Air, Moto-Master Brakes, Rekluse, Motion Pro, Cometic Gaskets, X Brand Goggles, TM Design Works, Regina Chains, HBD MotoGraphx, Trail Tech, FPS Racing, Bell Helmets, All Balls Racing, Sidi Boots, Super B Batteries and Nitro Mousse Bibs
About KR4 Performance:
KR4 Performance is a leading professional and amateur race team that participates in the Grand National Cross Country Championships (GNCC), the Full Gas Sprint Enduro Series (FGSE) and the National Enduro Promotions Group (NEPG) series. The 2017 KR4 team took home championships in each respective series. This year Layne Michael will make his XC1 Open Pro debut with the KR4 team, while Tayla Jones will look to repeat her Women's Pro championships. KR4's solid team structure is made up of former GNCC pros, expert motorcycle mechanics, and industry enthusiasts that are 100% dedicated to helping clients achieve their racing goals. Visit www.kr4performance.com for more information. 
About the KR4 Arrive-N-Ride Program:
KR4 is paving the way for the future of off-road racing with its unparalleled Arrive-N-Ride Program, saving riders time, money and hassle. For an affordable fee, KR4 can offset the cost of racing and have everything ready for riders on race day. With the KR4 Arrive-N-Ride program, bikes are prepped by the KR4 team before a race and delivered with gear to riders on race day to the location of their choosing. To learn more or sign up for the Arrive-N-Ride experience, please contact  [email protected] or visit www.kr4performance.com. For additional information, follow the team on Facebook, Twitter and Instagram. For the team's photo gallery, visit their Flickr page.